Wayne Ford represented part of Des Moines in the Iowa House and is the founder of the nonprofit organization Urban Dreams.
I founded and built Urban Dreams on the premise that our community should be safe and inclusive. I have always believed in the American dream; that if given the same opportunity, all Americans should have a chance to fulfill their dreams.
In the early 2000s, Izaah Knox saw me on a television news station talking about a recent shooting in our community. He came down to the office wanting to talk with me and looking for a job.
I built Urban Dreams on being open late at night, when everything else is closed, and having a staff that truly had no fear. I was surprised this young man would consider putting himself in the path of possible bullets while others were running away from them.
I liked and admired his attitude and offered him a job. But I also told him that like all my staff, he would have paid life insurance and must understand the risk he was taking by being part of my organization.
Before Izaah left Urban Dreams, he was a program coordinator and he was beginning to be respected and recognized in the human service field, in the community and the metropolitan area.
I kept up with Izaah and was excited when he got a job working with young people under the Youth Build Program sponsored by Des Moines Area Community College. Some of the successful program participants told me Izaah was viewed as a good instructor and had good sensitivity toward the youth involved.
After serving as director of Urban Dreams for more than 30 years, I recognized that I wanted the organization to live on. John Forsyth, past CEO of Wellmark Blue Cross/Blue Shield and a longtime supporter of Urban Dreams, helped me develop a three-year succession plan, with the thought of looking for individuals with strengths where I had weaknesses. I chose Izaah to succeed me in 2014, and I retired in 2017.
This year, the Des Moines Business Record recognized Urban Dreams as number 19 on the area's 25 most influential nonprofits. The publication also named Izaah as number 9 on a list of 25 most influential business leaders in the city of Des Moines.
When I served as a state legislator from 1997 to 2011, I know I made a difference. Since I passed the baton to Izaah, he has taken Urban Dreams to a new height.
I am endorsing Izaah Knox for Iowa Senate District 17 because I know with his years of experience in the community, his sensitivity, his networking, his dedication, and his integrity, he will move his district and the state of Iowa forward.
Top photo of Wayne Ford (left) with Izaah Knox provided by the author and published with permission.
Iowa Senate district 17 covers part of the city of Des Moines.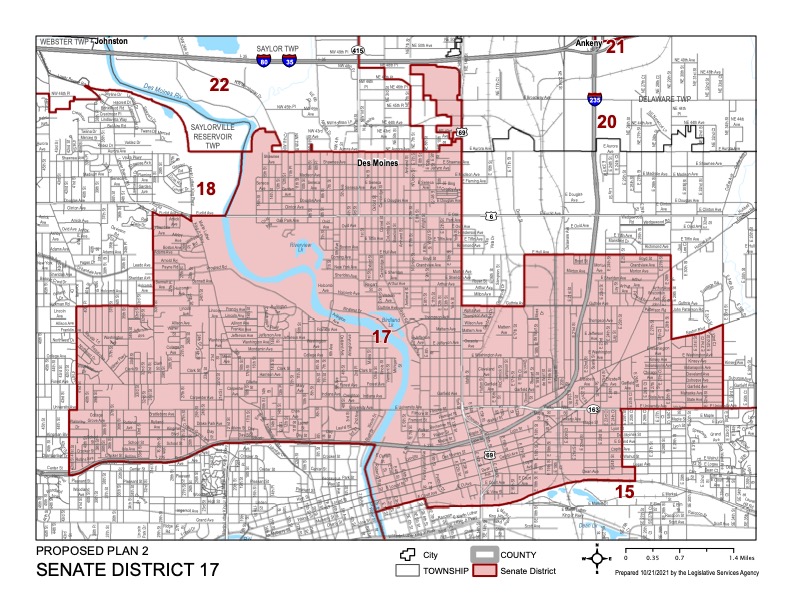 Editor's note: Bleeding Heartland welcomes guest posts advocating for Democratic candidates in competitive primaries for local, state, or federal offices. Please read these guidelines and contact Laura Belin if you are interested in writing.