Bruce Morrison is a working artist and photographer living with his wife Georgeann in rural southeast O'Brien County, Iowa. Bruce works from his studio/gallery – a renovated late 1920s brooding house/sheep barn. You can follow Morrison on his artist blog, Prairie Hill Farm Studio, or visit his website at Morrison's studio.
My first experience/introduction to Fringed Puccoon (Lithospermum incisum) was somewhat embarrassing—to me, anyway. We had just moved to our present acreage in southeast O'Brien County and I was taking inventory, trying to figure out what was there and what "could" be there.
My only acquaintance from the Borage family (Boraginaceae) was Hoary Puccoon (Lithospermum canescens). I found none here. Since I'd seen it in many locations within 15 to 20 minutes of our new home, I was disappointed.
However a prairie friend of some years had recently suggested the ground I described (gravel hillside mostly) would work for fringed puccoon. She offered to send me a handful of seed from her prairie near the Loess Hills. I gladly accepted and found a spot on top our north pasture's east facing slope, that was mostly brome. I marked it and figured next year we'd see what comes of it.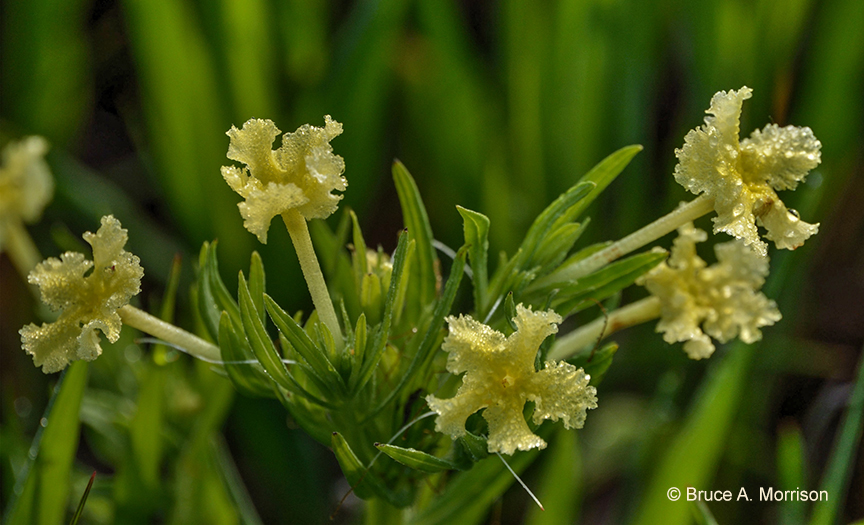 Well, wouldn't you know...our south pasture, which was being grazed by the former owner's sheep, had some bloom that first spring - and we hadn't planted anything there yet! The sheep made short work of it, and that was that till next season. If the sheep had been brought into pasture any earlier, I doubt we would have known it was there. More likely, it would have been grazed before having a chance to bloom.
When I try to learn about certain forb or grass, I often gravitate to the Illinois Wildfowers website. It is easily navigated and quite informative. Here is its page on fringed puccoon. There are plenty of other places to learn about wildflowers online. I won't try and list them, for fear of leaving some out!
But I do have a small prairie plant library here in the studio that I refer to often. My favorites are:
Wildflowers of the Tallgrass Prairie by Sylvan T. Runkel and Dean Roosa (with outstanding photographs by Tom Rosburg);
An Illustrated Guide to Iowa Prairie Plants by Paul Christiansen and Mark Muller (excellent illustrations by Mark Muller);
Restoring the Tallgrass Prairie: An Illustrated Manual for Iowa and the Upper Midwest, by Shirley Shirley (great location, plant description, propagation, germination and harvest information);
Tallgrass Prairie Wildflowers: A Falcon Field Guide, by Doug Ladd;
And I'd be remiss if I didn't include the old Peterson Field Guide - A Field Guide to Wildflowers, by Roger Tory Peterson and Margaret McKenny. I probably used it for 30 years before I discovered these other texts!
(Editor's note: Lora Conrad reviewed some of these and other wildflower and plant identification books for Bleeding Heartland last year.)
Interestingly, two of the aforementioned texts do not mention fringed puccoon. Shirley's book covers it only briefly, the Christansen and Muller book has a shared page. The Doug Ladd Falcon Guide and the old Peterson Field Guide discuss this forb as well.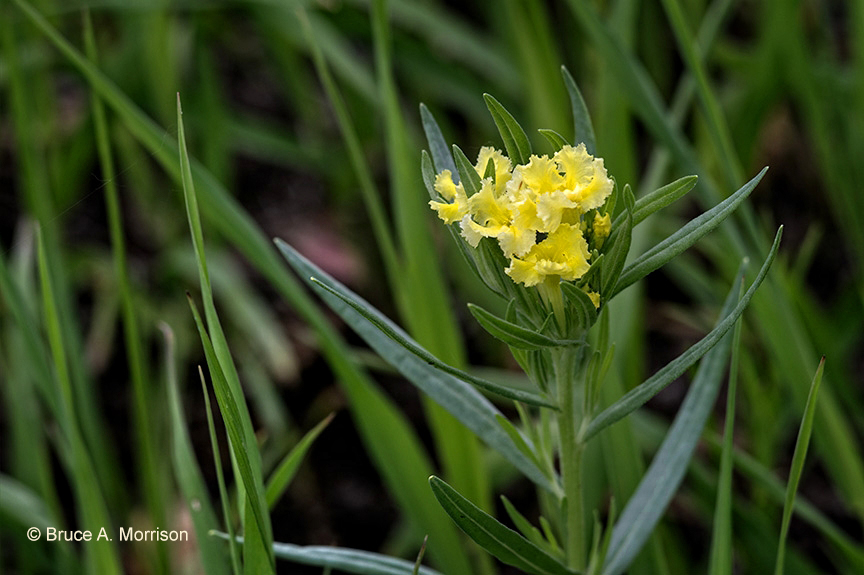 I was curious just where in the U.S. this forb may be present and was surprised to learn of its the wide range. According to the USDA database, populations have been documented in 25 states and five Canadian provinces.
Oh, and don't be confused by other common names given plants. That's why the scientific names are so important to follow. Lithospermum incisum translates to "narrowleaf stoneseed."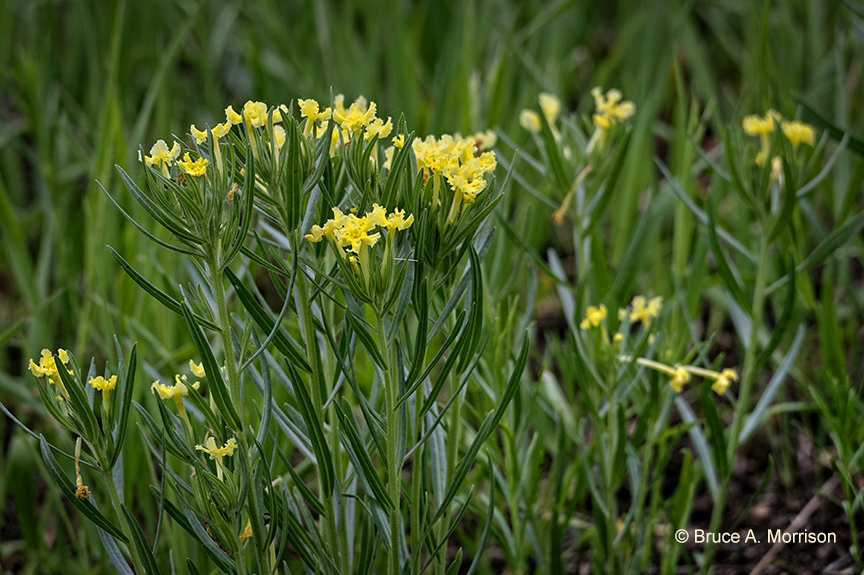 In Iowa, fringed puccoon seems to range more predominantly through the north, central, and western counties. The Christansen and Muller book cites it being frequent on rocky and sandy prairie; that jives with the location here and from where my prairie acquaintance collected her seed near the Loess Hills.
The gravel hillsides on our north and south pastures are very dry during drought. The past three years we've been listed in the severe to exceptional drought category, yet the fringed puccoon has obliged and fruited each year. In my area it blooms in mid to late May, with seed collection possible in mid to late June.
This photograph shows an individual plant in mid May, about 5-6 inches tall with the first blooms of spring. It's on a gravel hill top, and the brome grass dominates in this location, but seemingly not too aggressive because of the poor soil and drainage conditions.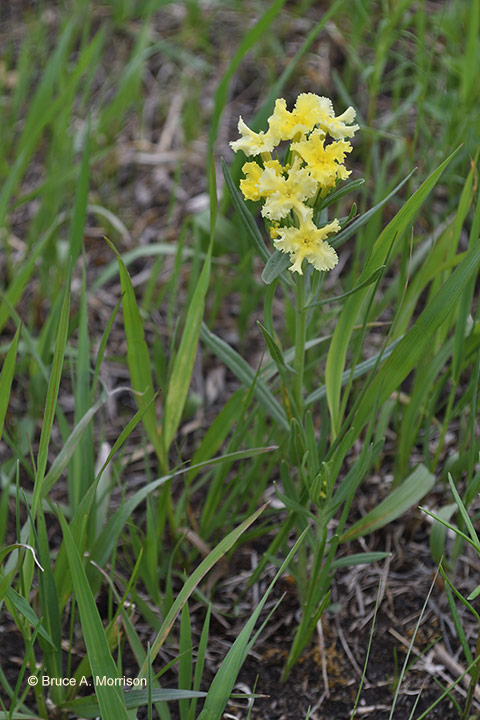 Without close observation before bloom, fringed puccoon would be difficult to see among the grass. These plants are rarely taller than 8 or 9 inches, and the majority on our land seem a bit shorter than that, on average.
The buttery yellow of the flowers give their locations away easily once boom starts, and these blossoms up close are very showy with a long (maybe an inch or slightly longer) corrola tube with 5 rounded spreading lobes - flared crinkley/fringed lobes.
From all the previous photos you can see the plant's leaves have prominent central veins, are alternate, very narrow and long for the plant's size, maybe a quarter-inch wide and 3 inches long. The longest leaves are closer to the stem's base.
Before reading up on this plant while writing this post, I was unaware that the first blooms of this forb are usually sterile. The later flowers of fringed puccoon are self pollinating and have a tiny corolla smaller than the calyx. (Merriam-Webster defines the "calyx" as the usually green outer whorl of a flower consisting of separate or fused sepals. Except for their small size, the calyx resemble the leaves.)
The next two photographs show how the seed appears on the plants, and how small they are. When handling fringed puccoon seed, you understand why they are sometimes called "stoneseed"—very hard!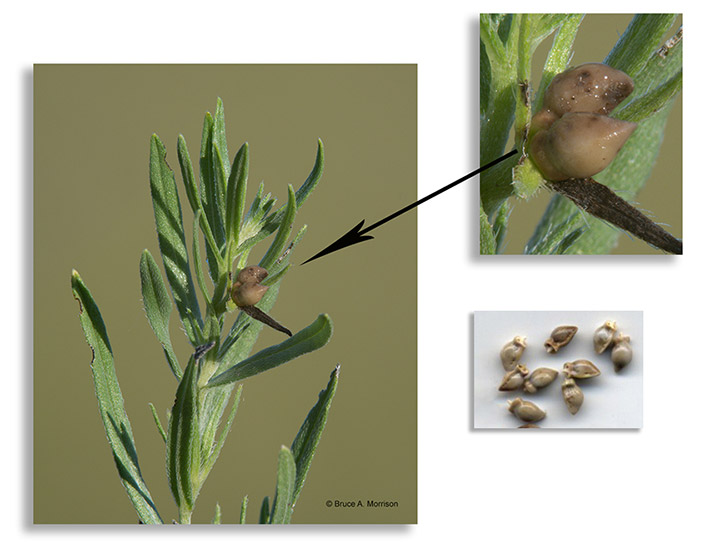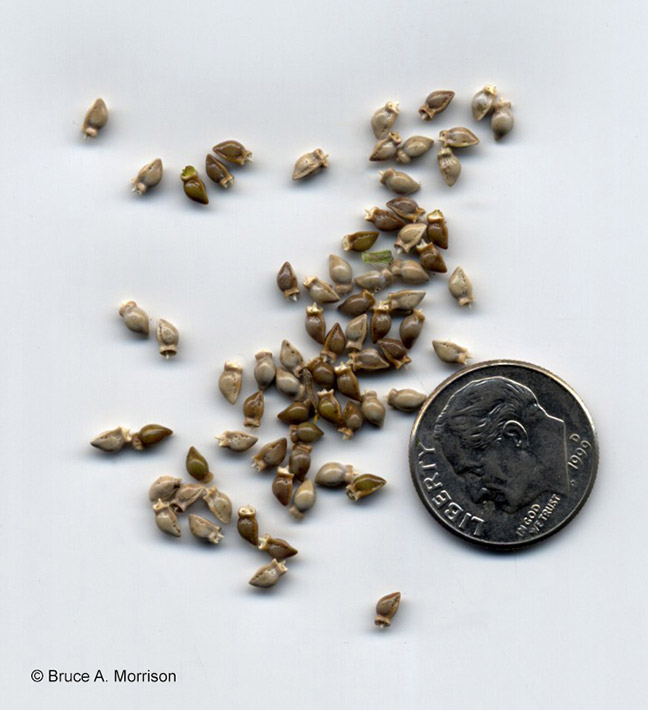 I am reminded of seed collected from false gromwell, which are also very hard. False gromwell (Onosmodium molle) is sometimes referred to as "marble seed." Like fringed puccoon, it is a member of the Borage family.
Here is another view of the top of a fringed puccoon plant with seed. Just below and slightly to the left, you can see where the seed has already dropped.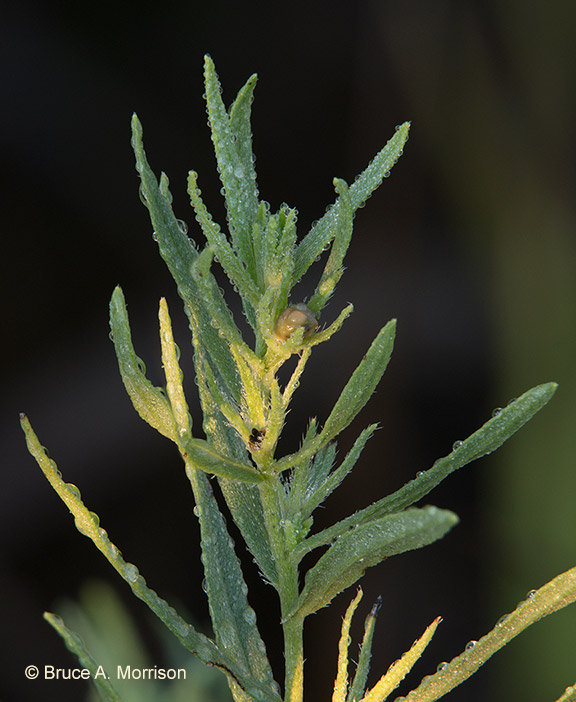 As I mentioned earlier, we have been very dry in our location the past three years. Dry periods can bring on a healthy population of grasshoppers, and this year is amazing. The pasture literally comes alive, with thousands of grasshoppers moving ahead of you like a wave while wading in a pond.
Interestingly, although I see grasshoppers on the fringed puccoon, very little seems to be browsed or fallen to these ravenous insects.
Illinois Wildflowers does mention different grasshopper species known to feed on it, however. I know that in vegetable gardens, Borage family plants seem resistant to insect defoliation. Maybe there's a connection, or maybe just coincidence? They do seem to attract pollinators very well; having an early blooming period may give them a lot of attention in that regard.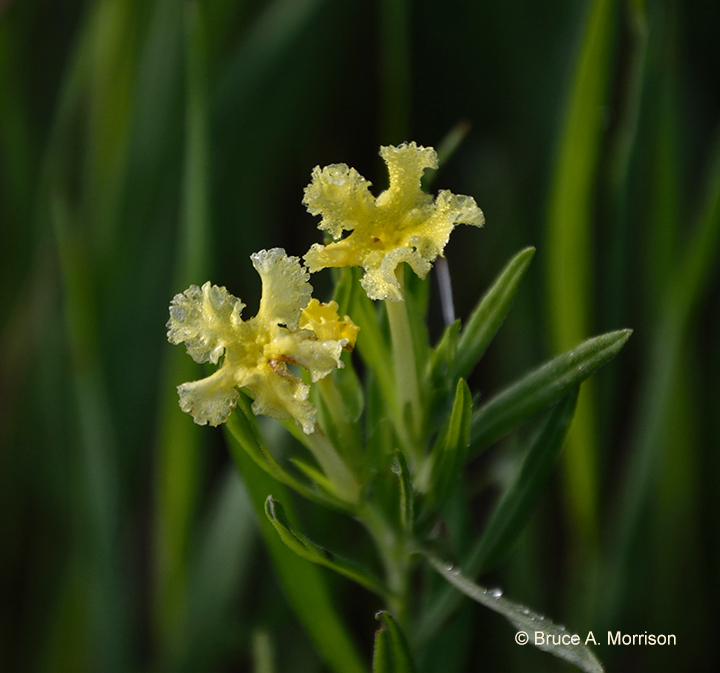 A couple of parting thoughts and observations here from our 20-year exposure to fringed puccoon. This is probably the easiest puccoon to propagate by seed. They are not a very long-lived plant - some sources site a five-year life span. But they reseed so readily that they can fill an area, maintain a presence, and "migrate" around to new locations with ease. (Are ants carrying the seed about?)
Since our pastures have been free from domestic grazing for many years, this plant has found niches all on its own in very inhospitable/dry gravelly spots. On the other hand, it isn't so fond of heavy or taller competition.
I do get a kick out of finding it in new places as the years pass!
Keep an eye out for it next May if you're out and about in rocky or dry habitat.