Kurt Meyer writes a weekly column for the Nora Springs – Rockford Register, where this essay first appeared. He serves as chair of the executive committee (the equivalent of board chair) of Americans for Democratic Action, America's most experienced liberal organization.
Hang in there, it won't last much longer. This election cycle is winding down, although a new season will begin even before we fully understand what took place this go-'round. With politics top of mind, I drove to Charles City last week to meet with someone about whom I'd heard positive reports.
This someone is Dené Lundberg, her first name rhyming with "Renee." Dené seeks to represent House District 58 in the Iowa legislature.
After redistricting, the new district 58 is reasonably similar to the district currently served by Todd Prichard from Charles City, who's not seeking re-election. It consists of Chickasaw County, most of Floyd County (including Charles City, but not Nora Springs or Rockford), and part of Bremer County.
Like Representative Prichard, Dené is from Charles City, a community where she's lived for four decades. It's where she and her husband have worked and raised their three children, now adults. The Lundbergs' careers have been in education. Driven by a commitment to community service, they have both placed their names on the ballot this election cycle. Dené's husband, Jim, is a candidate for Floyd County supervisor in district 3.
Early in our conversation, Dené and I discovered we shared several points of connection. First, we both adopted children from thousands of miles away; two of the Lundbergs' children were born in Korea. Second, our adopted children confronted special educational challenges. In Dené's case, real-life experiences have enhanced her sensitivity and her empathy, qualities beneficial in a legislative role.
Like many legislative candidates, Dené is conducting a relatively low-key, low-budget campaign, meeting people at their doors. (Note: low-budget in part by not being selected for assistance by the House Truman Fund / Iowa Democratic Party, about which I have conveyed my disappointment.) She's knocked on as many as 3,000 households, with two weeks remaining from the time we met.
"You really have to know your voters," she noted. So, what's she hearing? "Not surprisingly," she said, "people are turned off by politics and, in some cases, by politicians. Yet, people need and want the kind of assistance that effective government can and should provide." It motivates her.      
What's her response when someone tells her they hate politics? "I ask them why. There must still be things we can talk about… and agree upon. We simply can't make assumptions and put people in categories. That's not how it works."
I asked her about the most positive aspect of seeking office. "Oh, it's connecting with people… people passionate about our state, about our future. And in some cases, it's seeing a need and knowing I can do something about it."
Her greatest disappointment? "It's the realization that a lot of people are just not interested or involved, something that seems to be especially true for many younger people."
If our state is to fully embrace the message on the Iowa quarter coin, "Foundation in Education," we must commit collectively to fund learning and support teaching, starting with early childhood. Unfortunately, it seems Iowa's once-solid foundation has deteriorated, which concerns me greatly and should concern us all. While there are no quick fixes, electing more educators to the state legislature could be an effective starting point. Here, Dené is certainly well qualified.    
While new to office-seeking, Dené Lundberg has learned a great deal since embarking on her campaign in early summer. She's smart and a fast study. As important, Dené is a person of notable compassion and integrity, qualities evident upon first meeting and validated by those who know her far better than me.
Dené would be an exceptional state representative, in the tradition of Ralph McCartney, Mark Kuhn, and Todd Prichard, all of whom brought distinction to Floyd County. While I generally seek to avoid overt political statements here – something I'll admit can be difficult for me – I'm familiar with both candidates in this legislative race. The differences are apparent and significant.
For all the reasons cited above, voters in House district 58 would be most fortunate to have Dene Lundberg represent them in the Iowa House.   
Editor's note: Iowa House district 58 covers most of Floyd County, all of Chickasaw County, and part of Bremer County.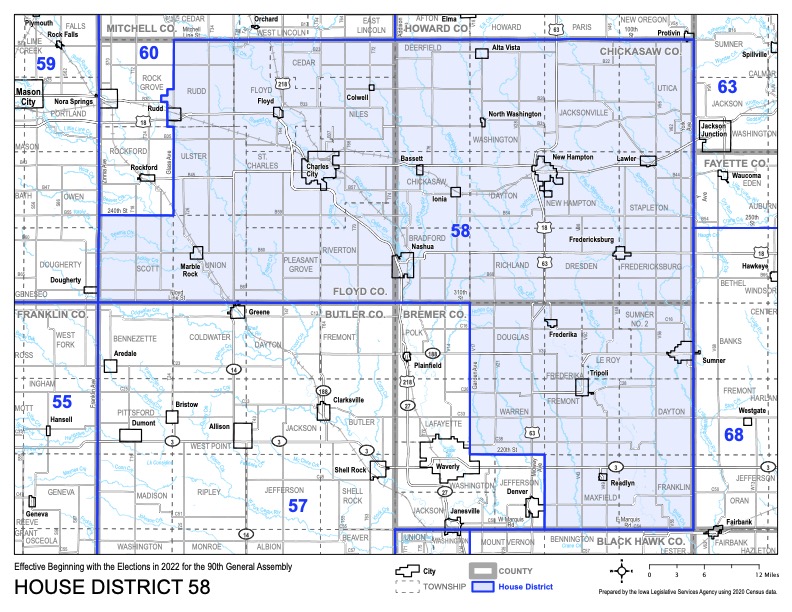 Bleeding Heartland welcomes guest posts about the 2022 general election, including endorsements of Democratic or progressive candidates. Please reach out to Laura Belin if you are interested in writing.
Top image of Dené Lundberg cropped from a photo on her campaign's Facebook page.