Emma Schmit is senior Iowa organizer with Food & Water Action.
The hazardous carbon pipeline proposals rocking Iowa are on the ballot this year. Next year's legislative session will be key to stopping these dangerous pipelines. Iowans need to elect leaders who will stand up for their constituents, not scheming carbon pipeline corporations. 
Thanks to billions of dollars in potential federal subsidies, three companies have proposed to build two thousand miles of carbon pipelines through our state. The pipelines would transport carbon dioxide from Iowa's ethanol and fertilizer plants across the Midwest to underground injection sites.
While these companies and their wealthy investors stand to profit heavily from the scam, Iowans would shoulder all of the risks, including serious safety concerns associated with carbon pipeline ruptures such as asphyxiation and long-term brain injury, the continued reliance on dirty energy sources that drive climate change, and threats to both our soil and water quality. Iowans could also have their land seized through eminent domain.
Every Iowan is impacted by the proposed carbon pipelines. Maybe your land is threatened by eminent domain, or maybe you can think of better things to do than waste your tax dollars on corporate giveaways. Maybe you are already seeing the climate crisis impact your health and community, and you see this project for what it is — a distracting scam masquerading as climate action. It's no surprise Iowans of all stripes are united against the projects.
But, during the 2022 legislative session, our leaders failed to listen. Leadership killed multiple bills that would have put a stop to these unproven, dangerous projects. Despite thousands of calls and emails from constituents, the Iowa legislature largely ignored the demands of the people they claim to represent. Next year's legislative session must be different.
It is overwhelmingly clear that Iowans do not want carbon pipelines crisscrossing the state. Election day is our chance to do something about it.
Polling commissioned by Food & Water Action earlier this year found that about eight in ten Iowans oppose allowing private corporations to use eminent domain. This opposition crosses party lines. About seven voters out of ten want their elected officials to prevent carbon pipeline companies from using eminent domain. This also holds true across party lines.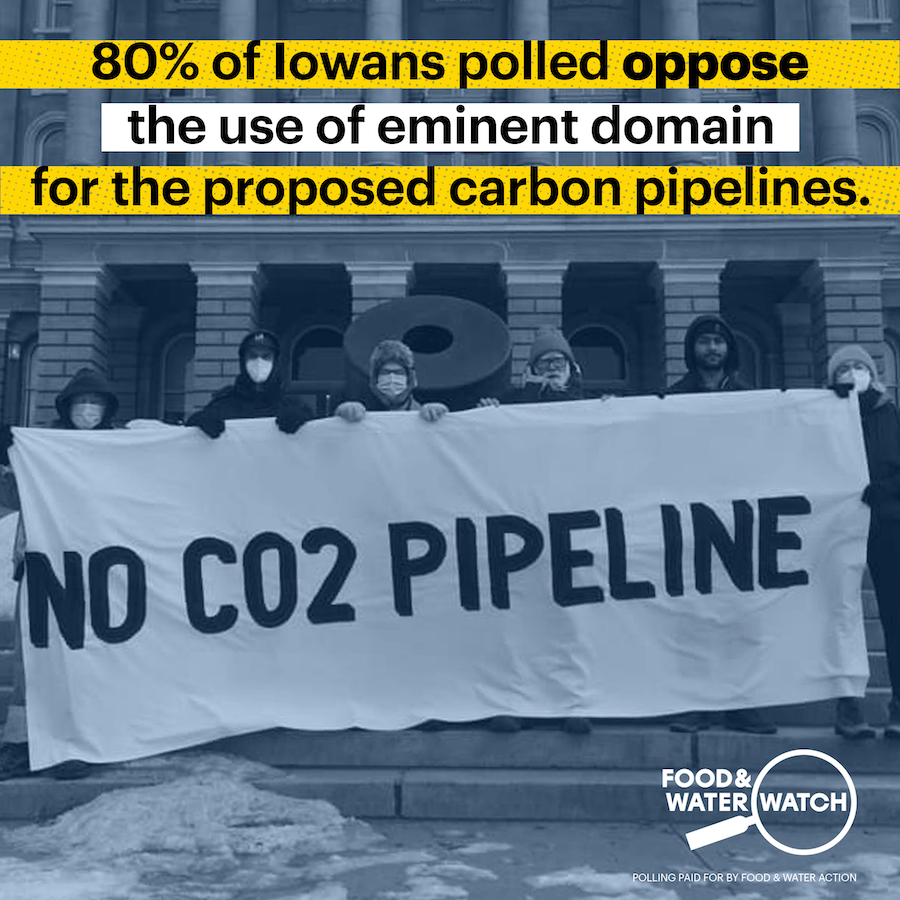 The same survey showed that nearly three in four voters, Democrat and Republican alike, say they would be less likely to vote for a candidate who supported eminent domain for carbon pipelines.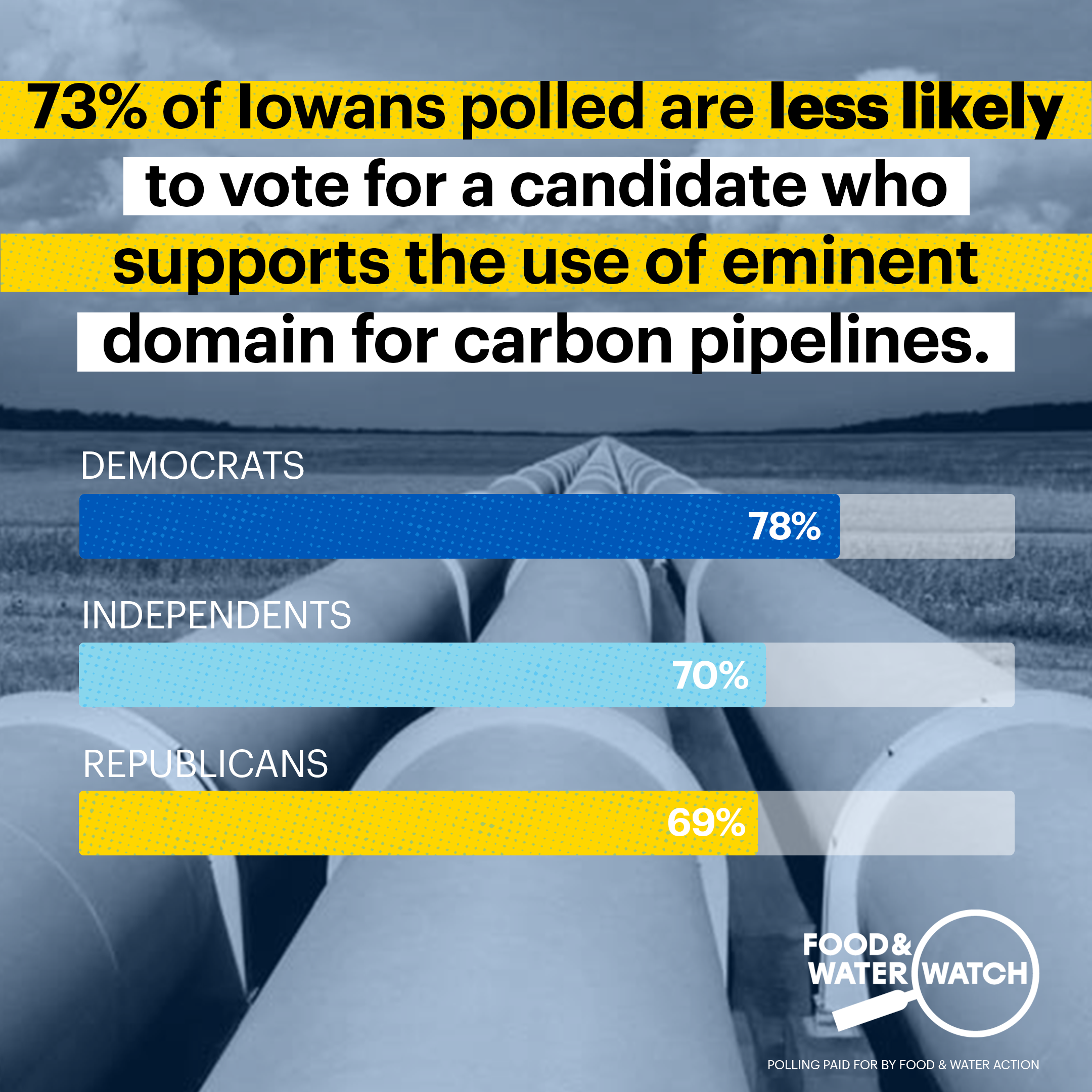 The 2023 legislative session could make or break the plans for these dirty pipeline scams. We cannot continue to elect legislators who prioritize backroom deals, dirty politics, and corporate campaign contributions over working for their constituents. We need leaders who are willing to fight for everyday Iowans, not multi-billion dollar corporations.
One Iowa Senate district in particular will be crucial. Senate District 14, which includes parts of Dallas County including West Des Moines, Adel, Clive, and Waukee, is a top-targeted race for both parties. Due to redistricting after the 2020 census, Senate President Jake Chapman (the chamber's second-ranking Republican) is running against Democratic Senator Sarah Trone Garriott.
Since Trone Garriott won an open Republican-held Senate seat in 2020, she has been an incredible advocate for the needs of everyday Iowans. In contrast, Chapman used his leadership role to stand in the way of passing a bill that would have banned the use of eminent domain for carbon pipelines last legislative session, preferring instead to focus his attention on banning books and demonizing teachers.
If Trone Garriott can edge him out on November 8, our state legislature will be one big step closer to stopping the carbon pipelines next session. Chapman has spent his career selling Iowans out to appease out-of-state interest groups and wealthy campaign donors. It's time to quit enabling bad actors like Chapman and instead elect leaders who will fight for Iowans.
Whether you live in Senate district 14 or farther afield, we all have the chance to vote the carbon pipeline issue on the ballot this year. We deserve elected officials who work for us. And we deserve legislators who are willing to stand in the way of greedy corporations taking advantage of our communities for their own gain. Nowhere is this clearer than with the hazardous carbon pipelines proposed for our state.
Cast your vote for candidates who will stand up to carbon pipelines, and bring a neighbor to do the same. The election is only days away, but its effects will have consequences for years to come.
Top image courtesy of Great Plains Action Society; published with permission.
Editor's note: Map of the new Iowa Senate district 14 in Dallas County