Iowa Senate Minority Leader Paul McKinley announced yesterday that he will not seek re-election in 2012 and will step down as leader of his party's caucus when Senate Republicans meet in Des Moines on November 10. After the jump I've posted background on the drive to oust McKinley and thoughts about which Senate Republican will take his place next week.
McKinley's retirement leaves Republicans without an obvious candidate in the new Senate district 14, which should be competitive in 2012. A map of this swing district is also below.
McKinley posted this statement on his website Wednesday:
MOVING ON TO THE NEXT CHAPTER OF MY LIFE

CHARITON – Senate Republican Leader Paul McKinley (R-Chariton) announced today that he will not seek re-election to the Iowa Senate next year.

McKinley also announced that he will step down as Senate Republican Leader when Senate Republicans meet at the Capitol on Thursday, November 10 for their previously scheduled fall caucus.

"Since I will not be seeking another term, I believe the Senate Republicans should have a new leader in place now to continue building on the momentum that is being generated as we head toward picking up the majority in November of 2012," said McKinley, who was first elected in 2000 and was elected leader in November 2008.

McKinley said this decision was not made lightly and that after speaking at length with his family, he decided it was time to move on to a new chapter of life.

"In the 80's, I purchased and grew my manufacturing business in southern Iowa. In the 90's, I sold my business, retired, raised my children and served my community in various capacities. For the past eleven years, I have served my state as a Senator and now it is time to move on to the next chapter of my life and spend more time with my grandchildren," McKinley noted.

McKinley will finish out his current term which expires in January of 2013. The upcoming session, which begins in January of 2012, will be his last.

"Serving my fellow citizens has truly been the honor of a lifetime," he concluded.
Senate Republicans elected McKinley to head their caucus shortly after the 2008 election. He drew criticism from some conservatives for being unprepared to respond to the Iowa Supreme Court's landmark marriage ruling. The court announced its Varnum v Brien decision toward the end of the 2009 legislative session. Iowa House Republicans quickly tried and failed to force a floor vote on a constitutional amendment to ban same-sex marriage. Senate Republicans could not use the same maneuver because they hadn't filed the amendment as a new bill that year. In the words of right-wing talk radio host Steve Deace,
McKinley managed to do something that is nearly impossible for a Republican leader with any shrewdness whatsoever to do: get caught with your pants down on a social issue while in the minority.

Usually Republican leaders sell out their Christian conservative base after that base works tirelessly to make the majority, not while in the minority. On the other hand, as a minority party Republicans are often the most principled politicians in the world. So for McKinley to get caught in his first go around as Republican State Senate Leader with his pants down by not having a marriage amendment on file for the 2009 legislative session is either total incompetence, the worst clerical error in the history of the office, or the most cynical brand of politics.
First-term State Senator Bill Dix has had his eye on McKinley's job for some time and announced a leadership challenge in September. Although Dix lacked the votes to oust McKinley at that time, several other Senate Republicans have indicated that they support a leadership change. It didn't help that McKinley went on a previously planned overseas vacation in September. With control of the Senate at stake in the district 18 special election, many Republicans felt McKinley should have been more involved in a vigorous effort to help Cindy Golding's campaign in Linn County.
Depending on the outcome of the November 8 election in Senate district 18, McKinley's successor will either be minority leader or co-leader with Democrat Mike Gronstal in a chamber deadlocked 25-25. I expect someone loyal to McKinley to run against Dix at next week's caucus, perhaps Senate Minority Whip Steve Kettering. I will update this post if I hear more about possible candidates for the job. Five senators served as assistant minority leaders during the 2011 legislative session: Merlin Bartz, Brad Zaun, Pat Ward, David Johnson, and Tim Kapucian. Johnson is not up for re-election in 2012. Bartz faces a tough campaign next year against Democratic State Senator Mary Jo Wilhelm in the new Senate district 26. Ward faces a more conservative Republican primary challenger in the new Senate district 22. Kapucian is up for re-election in the competitive Senate district 38. Zaun will also be on the ballot next November, but Senate district 20 looks safe for Republicans.
UPDATE: State Senator Jerry Behn of Boone will run for Senate Republican leader. In 2009, Behn was briefly a candidate for governor, although he didn't look ready for prime time.
Republicans have a good shot at winning outright control of the Iowa Senate in the 2012 elections, but I'm not surprised McKinley decided against seeking a fourth term. Being a backbencher in the majority probably isn't a lot more fun than leading the minority caucus. In addition, McKinley would have to run for re-election in a much less conservative district than the area he now represents.
Iowa's new map of political boundaries put McKinley in Senate district 14, covering Clarke, Decatur, Wayne and Lucas Counties, most of Marion County, and a small part of Jasper County.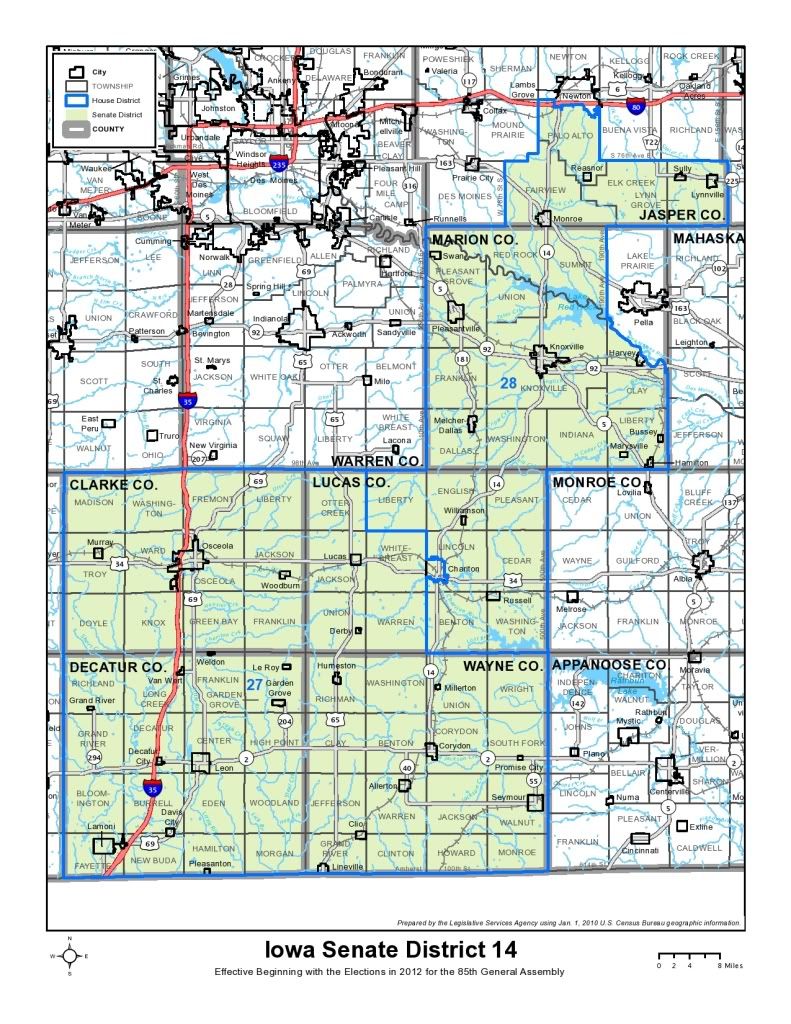 As of April 2011, Senate district 14 contained 12,299 registered Democrats, 12,921 Republicans and 14,401 no-party voters. In contrast, McKinley's current Senate district 36 is solidly Republican, with a registration advantage of roughly 4,000 for the GOP according to the Secretary of State's Office (pdf).
To my knowledge, Democrats do not yet have a candidate in the new Senate district 14. The race will clearly be more attractive without the prospect of facing an incumbent.
First-term State Representative Joel Fry could be a potential Republican candidate in Senate district 14. The redistricting process put him in House district 27, the southwestern part of the Senate district.
There is no Republican candidate yet in the new House district 28, the other half of Senate district 14. Longtime State Representative Rich Arnold is retiring. Last week Democrat Megan Day Suhr announced her candidacy for that open seat.
Share any relevant thoughts in this thread.