Republican business owner David Maxwell is running to represent the new Iowa House district 76. Previously declared GOP candidate Mark Dix dropped out of the race yesterday. A map of this swing district and background on Maxwell are after the jump.
Iowa House district 76 includes all of Poweshiek County and most of Iowa County: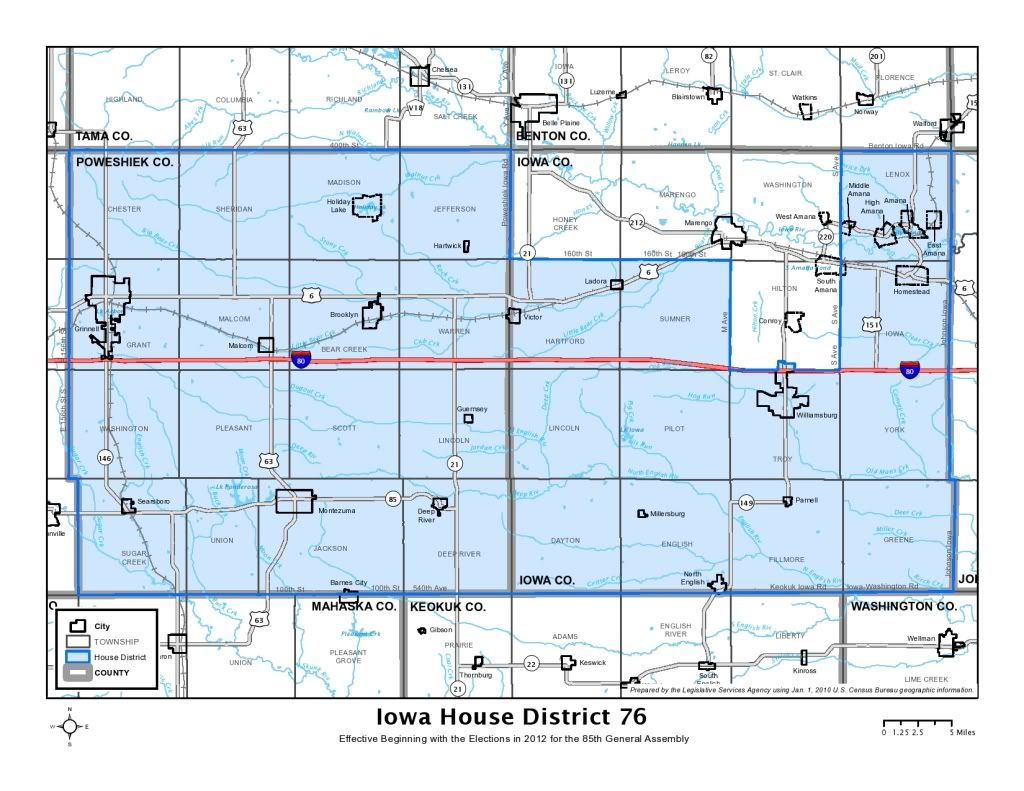 No Iowa House incumbent lives in this district, which is evenly divided politically. As of April 2011, House district 76 contained 6,685 registered Democrats, 6,468 registered Republicans and 8,148 no-party voters.
Mark Dix of Brooklyn (Poweshiek County) became a Republican candidate for House district 76 in September. Yesterday he told the Des Moines Register that he did not want to compete against a fellow Republican: "In my opinion, avoiding a primary will maintain party unity and conserve vital resources. This will increase the possibility of a Republican victory in the November 2012 general election."
I think competitive primaries can be healthy for a party, as long as the candidates don't focus on nasty personal attacks. How can it hurt to have two or more people pounding the pavement, informing potential supporters about the race? If Tod Bowman had not been forced to work in four-way Democratic primary last year, he might not have won the Iowa Senate district 13 general election.
In any event, Dix confirmed by telephone with me today that he is out of the House district 76 race. He told me that David Maxwell had recently announced, and I was able to track down a report in the October 20 edition of the Montezuma Record weekly. Unfortunately, that newspaper's archives are not online, so I can't link to the story. Maxwell grew up in the Deep River area (Poweshiek County), graduated from Montezuma high school and attended the University of Iowa and Iowa State before serving in the U.S. Army for three years. His military service included a tour in Vietnam during the war. Since 1974 the candidate has owned and operated the Maxwell Tiling business in rural Gibson. He is also a lay leader at the United Methodist church in Deep River, and he has served as commander of Legion 296 in Deep River for the past seven years.
The Montezuma Record quoted Maxwell as saying he is running for the Iowa House in order to improve the state's business climate, make Iowa number one in education, and improve our infrastructure "without breaking the bank." Although Iowa "escaped the worst of the recession," Maxwell believes we can't afford to be complacent about what he described as excessive regulation and the growth of state government.
In fact, the number of state employees per thousand Iowans has been stable over the past 20 years. During the same period, the size of state government has decreased in terms of general fund spending as a percentage of personal income.
Back to House district 76: I asked Maxwell today by telephone how he would fund needed improvements to Iowa roads and specifically whether he supports raising the gasoline tax, as Governor Terry Branstad's transportation advisory commission recently recommended. He declined to comment on a gas tax hike, on the grounds that he hadn't read the commission's report. In general, he said the large number of Iowa roads makes it "difficult" to finance the needed maintenance and said he would study the issue further before commenting on any particular infrastructure funding plan.
Assuming Maxwell becomes the Republican nominee in House district 76, his Democrat opponent will be Grinnell City Council member Rachel Bly, who announced her candidacy in August. Grinnell is the largest town in the district, with 9,218 residents according to the 2010 census. Williamsburg in Iowa County is the second-largest town with just over 3,000 residents.
Share any relevant thoughts in this thread.
UPDATE: Maxwell sent over his official campaign announcement from October 13:
Deep River, Iowa

David E. Maxwell of Gibson, Iowa is announcing that he is a candidate for the Republican nomination for the District 76 Iowa House seat.

He is running because he believes we need to improve the business climate, regain our #1 status in the nation in education, improve our infrastructure, and do it without breaking the bank. He believes that while Iowa has been fortunate to have escaped the worst of the recession, it doesn't mean that we can be complacent about the growth of state government and the rampant proliferation of regulations and subsequent spending that accompanies it. There should be no such thing as an unfunded mandate coming from Des Moines to our counties, schools, or cities.

New regulations promulgated by state bureaucracies need to be examined by lawmakers to guard against negative business impacts. The only way to keep a favorable economic and business climate in Iowa is with constant vigilance.

David grew up in the Deep River area, graduated with the Montezuma High School Class of '61, worked for 3 years to earn money for college, attended the University of Northern Iowa and Iowa State University. College was curtailed because of the Viet Nam War. He spent 3 years in the U.S. Army, one of them in Pleiku, Republic of Viet Nam.

Upon returning to civilian life he decided maybe college was a bit overblown and went into the farm tiling business with a cousin. In 1974 he went into business for himself and Maxwill Tiling, Inc., continues today.

He has been an active member of LICA (Land Improvement Contractors of America) and has served as District Chairman, State Vice-President and State President. He is also a member of AGC of Iowa (Associated General Contractors).

He was married to his first wife in 1967 and they raised two children. That marriage ended during the farm crises of the 1980's. In 1993 he married Kristin Armstrong of Montezuma and between them they have 4 children and 9 grandchildren.

He has been active in the United Church of Deep River for many years, currently serving as lay leader and is a Methodist "certified lay speaker". He is a member of Legion Post 296 of Deep River and has served as Commander for the past 7 years.

Mr. Maxwell believes that having grown up in this area, having lived in the area nearly all his life, and having operated a successful business here has given him an understanding and empathy for most of the people in this district and that he can and will do an excellent job representing the people of House District 76.