MARCH 16 UPDATE: Rasmussen did not file for re-election. The Republican candidate in this district is Jim Givant; Bleeding Heartland will cover his campaign in a future post.
Iowa's new map of political boundaries created a large number of competitive House and Senate districts in the northeast part of the state. Yesterday Democrat Bruce Bearinger announced his candidacy in the new House district 64, now represented by Republican Dan Rasmussen. A district map and background on both candidates are after the jump.
The new House district 64 covers the southern half of Fayette County, including Oelwein, and most of Buchanan County, including Independence: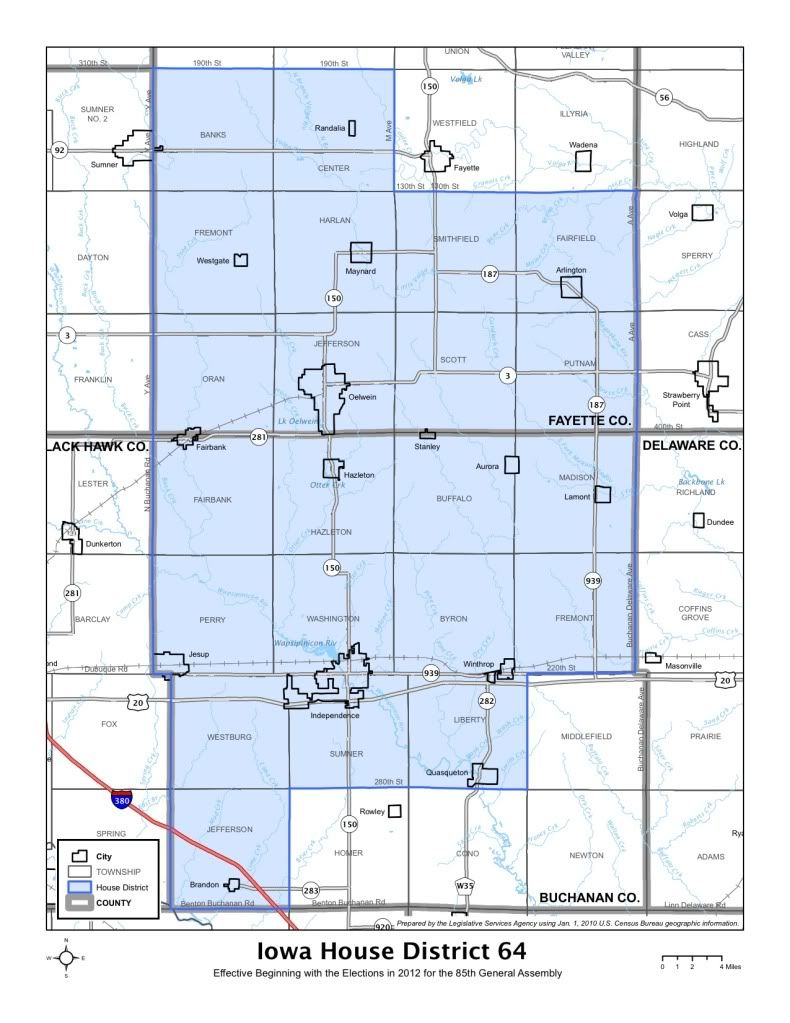 As of April 2011, the new district 64 contained 6,189 registered Democrats, 4,650 Republicans, and 7,993 no-party voters. Oelwein and Independence are by far the biggest cities in the district; each has a little more than 6,000 residents. Oelwein is slightly larger and is the population center of Fayette County (though West Union is the county seat). Incidentally, Oelwein was the setting for journalist Nick Reding's 2009 book Methland: The Death and Life of an American Small Town. Some locals did not appreciate the portrayal.
Rasmussen was first elected to the Iowa House in 2002 from the current district 23, which covers all of Buchanan County and some rural areas and small towns in Black Hawk County. He lost to Democrat Gene Ficken in the 2008 wave but won the seat back by a 208-vote margin (pdf) in November 2010. His official bio notes his strong roots in the district:
Dan Rasmussen has spent his life in House District 23. Dan was raised on a farm southeast of Quasqueton and graduated from East Buchanan Community Schools. After graduating from Iowa State University, Dan and his wife, Sheila, chose to return to Independence to work and raise their two children.

Dan was a land improvement contractor for 30 years, and is currently the Executive Director of the Iowa Land Improvement Contractors' Association. Dan also served 9 years on the Independence Community School Board.
Rasmussen doesn't have a leadership position in the Iowa House but serves on the Agriculture, Economic Growth, Natural Resources, and Transportation committees. I'll be closely watching his vote on legislation to raise Iowa's gasoline tax. Although proponents talk about big momentum for that policy at the statehouse, my hunch is that incumbents worried about their re-election prospects will balk.
Iowans' traditional love of incumbents may work in Rasmussen's favor. He has represented the Buchanan County residents of the new House district 64 for most of the past decade. A strong performance among independents could compensate for the Democratic voter registration advantage. Democratic turnout will be stronger in a presidential election year than it was in 2010, but I don't expect the same level of enthusiasm for Barack Obama that northeast Iowa voters showed in 2008.
Another potential bright spot for Rasmussen: one of the Republicans running against U.S. Representative Bruce Braley in the new first Congressional district is Ben Lange, who practices law in Independence. If Lange wins the GOP nomination, he may get a particularly strong turnout in Buchanan County. I still believe that Dr. Mariannnette Miller-Meeks' ties to the Ottumwa area helped Republican Mark Chelgren pull off an upset against Democratic State Senator Keith Kreiman in November 2010.
The big obstacles for Rasmussen are the partisan makeup of the new district and his lack of connection to the Fayette County constituents. Iowa House Democrats recruited a candidate with proven strength in the Oelwein area. From a January 24 press release:
Oelwein, Iowa – Oelwein City Councilman Bruce Bearinger announced today that he will run for state representative in House District 64, which includes parts of Buchanan and Fayette Counties.

Bearinger teaches agriculture and biology at Jesup High School and has previously worked as the Education Director for ISU Extension in Buchanan County. He is also the FFA Advisor for Jesup High School and helps with a variety of community services, including farm safety, environmental projects, and charity events.

"It's time for strong leadership at the statehouse that will put the partisanship aside and get things done for Iowa. I'll work to find common ground on the key issues we face and keep focused on putting Iowans back to work while helping the middle class grow," said Bearinger.

On the city council, Bearinger serves on the economic development finance committee, works on local food initiatives, and is helping develop a health and wellness survey for Oelwein. He has been a teacher in Oelwein, was a member of the Oelwein Jaycees, and a donor to the Fine Arts Guild in Oelwein.

Bearinger helped launch the Heartland Acres Agribition Center in Independence and served on its first Board of Directors. While working for ISU Extension, he also served on the Buchanan County Food Pantry Board and the Coop Board. He has also worked with the Maynard Coop.

"I've worked with community leaders and citizens from across the district and I'm ready to serve them in the Iowa House," said Bearinger. "Our local economies are rooted in agriculture and there is more the state must do to strengthen our economy and bring jobs to our communities."

Bearinger and his wife, Eileen, have lived in Oelwein for 19 years and are active at Sacred Heath Catholic Church. His wife works at Fidelity Bank and they have two children. Their son, Kurt, plays basketball at Luther College in Decorah and their daughter Rachel is a sophomore at Oelwein High School. Bearinger is a graduate of Iowa State University and earned a masters in professional agriculture.
Bearinger's path to victory is obvious: run up the score in Fayette County and keep it close in Buchanan County. Gene Ficken, the Democrat who defeated Rasmussen in 2008 and lost to him in 2010, was from the Independence area and nearly matched Rasmussen among Buchanan County voters in 2010 (pdf). Most of Rasmussen's margin of victory last cycle came from Black Hawk County areas that are not part of the new House district 64.
Bearinger is one of two at-large city council members in Oelwein, which means he has to campaign citywide rather than in just one neighborhood. That plus his longtime residence should give him a clear advantage in the Fayette County part of House district 64. Oelwein is also one of the 36 Iowa cities and towns that lost its Iowa Workforce Development field office last year. I don't know whether Bearinger will highlight this issue, but Iowa Democrats have repeatedly criticized the decision to replace those offices with satellite computer terminals. Governor Terry Branstad's line-item veto of language intended to keep the offices open is the subject of a lawsuit that the Iowa Supreme Court will hear in February.
The question is whether Bearinger's standing in Buchanan County is good enough to cut into Rasmussen's stronghold. The Jesup school district is split between Buchanan and Black Hawk Counties, so only some of the families who know Bearinger as a Jesup High School teacher are residents of the new House district 64. On the plus side for the Democrat, he must have made a ton of contacts across Buchanan County while working for ISU Extension in Independence and with the coop boards.
Before yesterday I hadn't heard of the Heartland Acres Agribition Center, which opened in 2007. It features antique farming equipment and hands-on exhibits about the history of farming techniques. I love Living History Farms in Urbandale, so the Heartland Acres museum is now on my list of things to see next time I'm in northeast Iowa.
House district 64 should be a good pickup opportunity for Democrats. Aside from Brian Moore, I can't think of an Iowa House GOP incumbent seeking re-election in as Democratic-leaning a district as Rasmussen. (The new map of political boundaries was also unkind to State Representative Steve Lukan, but he opted not to run for another term this year.)
Still, the incumbency advantage gives Republicans a better chance of holding district 64 than of winning some open seats with comparable Democratic voter registration advantages, such as the new House district 15 in Council Bluffs or the new district 14 in Sioux City.
Democratic State Senator Brian Schoenjahn represents the new Senate district 32, which covers House districts 63 and 64. To my knowledge, Schoenjahn does not have a Republican opponent yet, but both parties expect Senate district 32 to be competitive.
Any relevant comments are welcome in this thread.