Despite finishing a distant third in the June 5 primary, John Landon won a district nominating convention last night to be the Republican candidate in the new Iowa House district 37. Since Democrats did not field a candidate in the Ankeny area district, Landon is in effect guaranteed a seat in the Iowa House for the next two years. I've posted background on Landon and the House district 37 campaign after the jump.
The new House district 37 covers the north side of Ankeny, the small town of Alleman, and some rural parts of northern Polk County.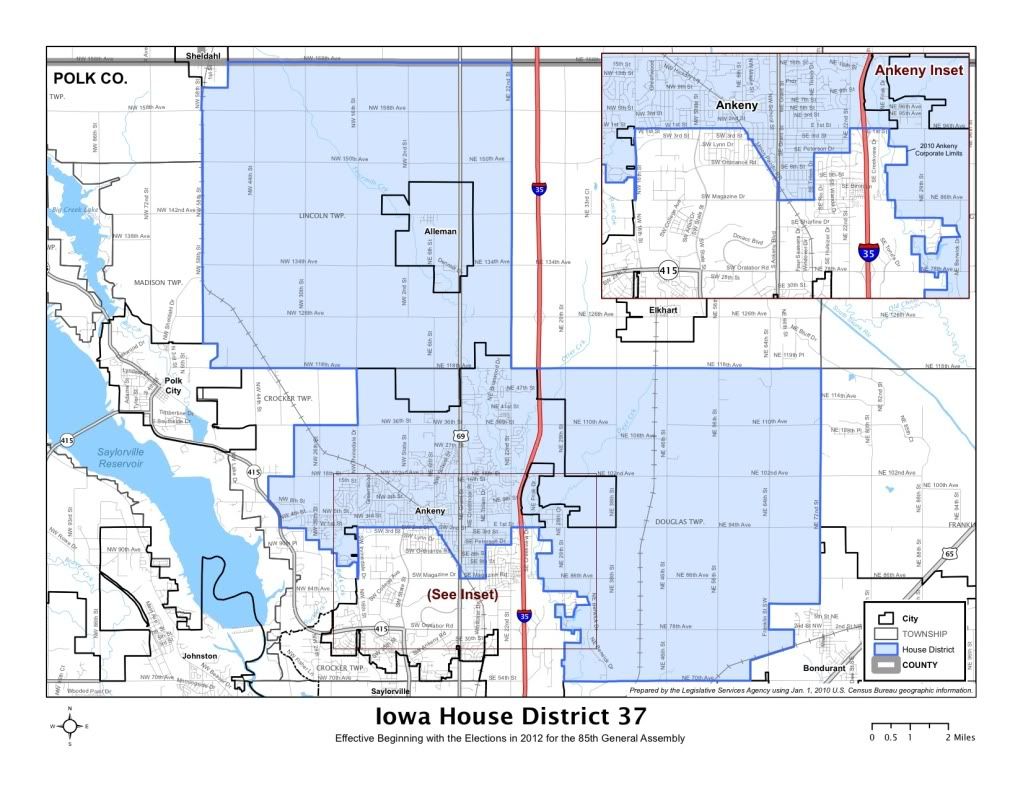 The rapidly-growing Ankeny area is a Republican stronghold, so no Democrat stepped up to the plate to run in this district. According to the Iowa Secretary of State's Office, House district 37 contained 5,712 registered Democrats, 9,025 Republicans, and 6,538 no-party voters as of July 2012 (pdf).
Landon "began campaigning for the District 37 nomination as soon as the new redistricting map was approved" and formally announced his candidacy last October. Here's the biography posted on his campaign website:
John Landon is honored to be a candidate in the June 5th Republican primary election for Iowa House District 37 State Representative which includes Northern Ankeny and Lincoln and Douglas Townships.

As a small business owner and family farmer, John will be an aggressive leader for Ankeny and surrounding townships in the state legislature. He is dedicated to balancing the state budget; creating jobs in a favorable climate for business and agricultural growth; eliminating costly regulations; and making education more cost effective.

Born and raised on the family farm near State Center, Iowa, John is a fourth generation Iowan, a veteran and a small business owner who has lived in Ankeny for the last two decades with his wife Marvis.

John is a Partner at Peoples Company, a farm management and real estate business, where he serves as a farm manager and agricultural realtor. In addition, John and his wife Marvis operate several local farms that grow corn and soybeans. John has also merchandised grain for two international grain trading companies, and managed three different grain elevators over a career in business and farming that spans three decades. John's long career in agriculture and family farming gives him a unique perspective on what drives Iowa's economy, as well as an in-depth understanding of Iowa's agrictulrual production, bi-products and related manufacturing industries.

John is a graduate of West Marshall High School, and enlisted in the Navy Seabees soon after graduation. He completed a tour of duty in Viet Nam, and also served a tour in Puerto Rico. Following his honorable discharge from the Navy, John graduated in only three years from Iowa State University with a Bachelor of Science degree in Agriculture.

John is a dedicated public servant who believes strongly in supporting his community. John is a member of the Ankeny Area Chamber of Commerce and an active leader in Polk County Republicans. He has served as a church Deacon and currently leads the Stewardship Committee at Cornerstone Baptist Church in Ankeny. He also served as a Cub Scout Pack 87 leader, and Boy Scout Troup 188 Leader over a twelve year period.

John and his wife Marvis, a realtor with Coldwell Banker who retired from the John Deere Ag Division in 2009, celebrated their 25th wedding anniversary in February 2012. Their son, a 2011 Iowa State University graduate; and their daughter, a 2012 ISU graduate, are both graduates of the Ankeny School district, having attended Ankeny schools K-12.
Speaking to Iowa conservative blogger Justin Arnold last October, Landon said he became politically active because he had grown "increasingly dissatisfied with state government over the last 12 years." In particular, Landon objected to regulations that, in his view, laid a "heavy blanket over business." Attending an Iowa House hearing over tax reform in 2009 galvanized him to become more involved:
"There became a discussion in the state about the deductibility of Federal income taxes on our state returns. There was a public hearing and we drove down to the Capital and went into the House chamber for that hearing. And I saw the Speaker of the House rule over it like a little dictator with an iron fist, and eventually he threw us all out and cleared the gallery. I realized at that point just how far state government had become removed from the average citizen, and that got me activated."
Iowa political junkies may recall that the same Iowa House hearing jump-started Christian Fong's political career and prompted the leader of Iowans for Tax Relief to compare then Speaker Pat Murphy to a "jack-booted Nazi." The tax reform plan, which would have lowered income rates but also eliminated federal deductibility, stalled in the Democratic-controlled Iowa House and failed to pass during the 2009 legislative session.
On the issues, Landon offered standard Republican fare: he's for reducing taxes and state spending, "local control" in education, and a constitutional amendment to ban same-sex marriage. He's against illegal immigration and abortion rights. Like Governor Terry Branstad, Landon considers commercial property tax relief a top priority.
Six candidates qualified for the Republican primary ballot in House district 37. Landon didn't raise a huge amount of money for his campaign. He reported $3,765 in contributions during 2011 and about $5,100 more before the primary (see financial reports here and here). That was enough for Landon to outspend his rivals before the primary, though. In fact, Landon's strong yard sign presence and full-page direct mail piece prompted The Iowa Republican publisher Craig Robinson (a House district 37 resident) to call him "the one to beat."
Landon fell short on June 5, however. He received 366 votes, or 17.5 percent of the votes cast in the GOP primary. Jim Robidoux, a teacher and business owner, received nearly twice as much support (714 votes, 34.2 percent). Matt DeVries, a longtime activist in Ron Paul's Campaign for Liberty, took second with 623 votes, or 29.8 percent. A political action committee created this year by Paul supporters had endorsed DeVries, who in late 2010 sought the GOP nomination for the special election old Senate district 35.
As they say, close only counts in horseshoes and hand-grenades. Since no candidate reached the 35 percent threshold for winning the primary outright, 22 delegates to a GOP convention in House district 37 were in a position to determine the nominee. Craig Robinson had a feeling things wouldn't go well for Robidoux.
Robidoux isn't favored to prevail at the nominating convention because he focused on trying to win the primary instead of stacking the Polk County Central Committee with his friends and allies. How foolish of him. While he was wasting time knocking on 1500 doors across the district, he should have been plotting and scheming. Instead of being involved with the Ankeny School Board, he should have been attending dysfunctional Polk County Central Committee meetings and partaking in the infighting that festers there.

Most people expect Matt DeVries, the second place finisher in the primary, to be the candidate selected on Wednesday night. While DeVries got 91 fewer votes than Robidoux on primary night, his strong ties to the Ron Paul campaign give him an advantage at the nominating convention since the Paul campaign instructed it's supporters to fill delegate and central committee spots on caucus night.

Even with the direction from the Paul campaign, 10 of the 22 positions on that Polk County Central Committee went unfilled on caucus night. As the primary in House District 37 began to heat up, so too did the effort by some campaigns to get their people in place in case no candidate met the 35 percent threshold.

While DeVries and the supporters of Ron Paul are the usual suspects when it comes to the efforts to stack the central committee to win the nominating convention, he's not alone. John Landon, who finished 348 votes behind Robidoux in the primary in third place, has probably put forth the greatest effort in putting his friends and allies on the Polk County Central committee.
All but one of the 22 district committee members showed up for last night's nominating convention. In a speech to the delegates, Robidoux espoused conservative positions and explained why he used to be a registered independent. In addition, he asked what would justify overturning the people's vote in the primary. DeVries said he could build "consensus" for smaller government and reminded delegates that he was the only candidate to emphasize the pro-life issue. Landon mentioned that 2009 Iowa House hearing and said he was fed up with high taxes and regulations. He also advocated for local control and more choice in education. Jeff Wright, the fourth-place finisher in the primary, said he was a fiscal and social conservative willing to "fight" for the state.
On the first ballot, DeVries and Landon each received ten votes, Robidoux received one vote, and Wright received zero votes. Landon then won the second ballot by twelve votes to nine. Stacking the district committee proved to be an effective strategy for Landon, though Robidoux would have succeeded if he had turned out just two dozen more votes on June 5.
House district 37 looks like a safe Republican seat for the forseeable future. The biggest threat to Landon's career in the next decade will be the prospect of a GOP primary opponent. Since only one challenger won a Republican Iowa House primary this year, it's likely that Landon will serve in the House for quite some time.
Any relevant comments are welcome in this thread.
UPDATE: I agree with John Deeth that in a crowded field, it would be better to let the primary voters determine the winner through instant runoff (ranked choice) voting, instead of leaving the decision to a small number of party insiders.
Although Robinson voted for Landon in the primary, he expressed concern about last night's events.
Landon could easily be viewed as an illegitimate candidate since his performance in the primary was so poor when compared to Robidoux and DeVries. That could invite a challenger in the general election since there currently is not one. It could also set Landon up for a primary fight in 2014 since the means of his victory is not going to sit well with some voters.

Even though Landon got the result he desired at the nominating convention on Wednesday night, it comes at a cost. There will no doubt be some hurt feelings and bad blood that linger long after the 2012 election. Ankeny is a Republican stronghold, but it shouldn't be taken for granted. The community is experiencing dynamic growth, and it's not just Republicans who are moving here. As Ankeny grows, the more diverse it becomes. The more diverse the city, the more important it will be for Republicans to be united around their candidates. I worry about the lingering effects from what took place on Wednesday night.

I have been concerned about the internal convention process for Iowa Republicans for the last two years. Instead of delegates and central committee members viewing themselves as representatives to their precincts, many now act as if they are kingmakers. And it's not just the Ron Paul supporters who are guilty of acting this way. […]

The primary results showed that my friends and neighbors preferred Robidoux over Landon by a significant margin, almost 16.65 points to be exact. I respect their decision, and feel that Landon and the central committee members did not. I have a hard time coming to grasp with that, especially in a political climate were the people are demanding that their representatives in Des Moines and Washington D.C. listen to them.