Democratic candidates for the state Senate haven't fared well in western Iowa lately, so the new Senate district 6 hasn't been on my radar, even though it's an open seat. However, campaign finance reports indicate that Democrats are not conceding this district, so I decided to post a profile of the race. Background on both candidates is below, along with a district map and some of the campaign rhetoric voters have been hearing.
Iowa Senate district 6 covers all of Audubon, Carroll, Sac, and Buena Vista counties, plus the eastern portion of Crawford County: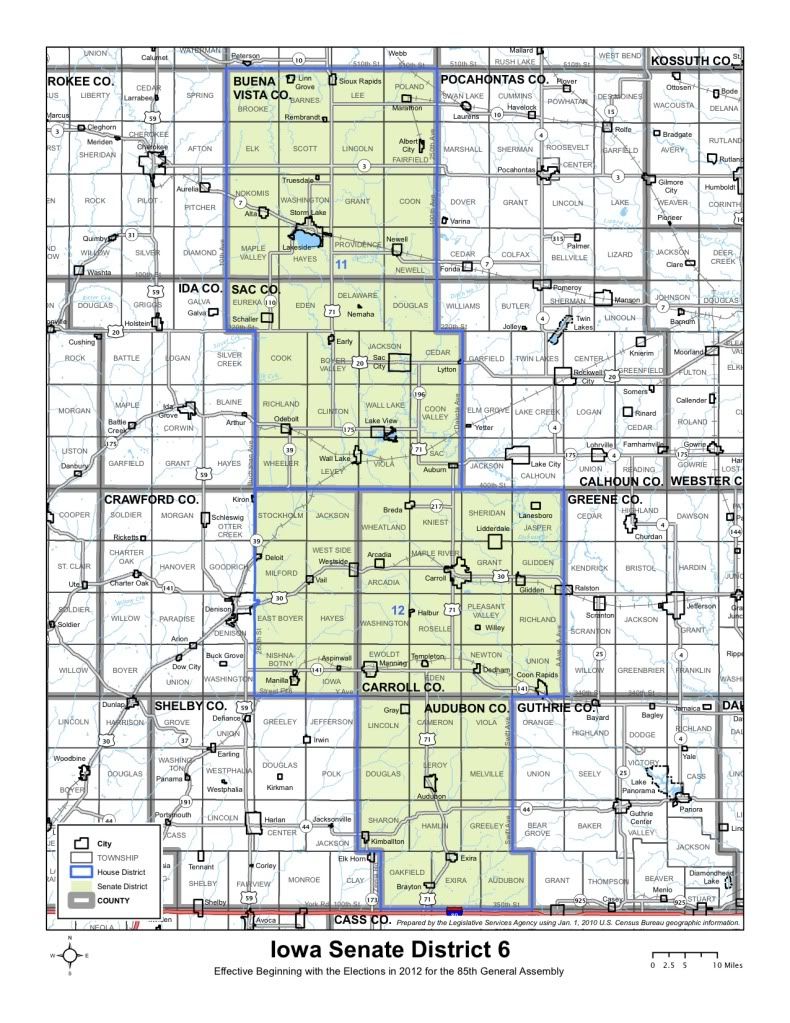 Former Senate Minority Whip Steve Kettering would have easily been re-elected in this district, but he opted to retired from the legislature instead.
Senate district 6 has no dominant population center. Both Carroll and the college town of Storm Lake have a little more than 10,000 residents. Several other towns have populations between 1,000 and 3,000.
On paper, this district is an uphill climb for Democrats. According to the Iowa Secretary of State's office, Senate district 6 contained 11,136 registered Democrats, 14,089 Republicans, and 17,343 no party voters as of November 2012 (pdf). A Democrat would need a significant lead among independents to win.
Conservative blogger Justin Arnold has Republicans heavily favored to hold this open seat. John Deeth believes that the outcome of the Republican primary created an opening for Democrat Mary Bruner. I lean toward Arnold's view. For decades, Carroll County was favorable territory for anti-choice Democrats like Bruner, but Carroll doesn't dominate this district. Still, Bruner is a strong candidate. From the official bio on her campaign website:
I believe that Western Iowa is a great place to live, work and raise a family. My husband Barry and I are from Carroll. I graduated from Kuemper Catholic, earned a bachelor's degree from College of St. Mary in Omaha, and after Barry finished law school at Drake University in Des Moines, we moved back to Carroll to raise our family. We have four children, all grown.

We've always believed in taking an active role in our community. I've served on the St. Lawrence Catholic School Board and Parish Council. I'm a past member of the Carroll Area Child Care Board of Directors. I have been a Birthright volunteer and served on the Sioux City Diocese Commission on Women. I'm a 22 year cancer survivor and Relay for Life Volunteer. And currently, I serve on the Carroll Community Foundation Board, County Compensation Board and the Community of Concern food pantry.

Bruner's husband used to serve as Carroll County attorney.
Three Republicans filed to run in this district. Governor Terry Branstad endorsed the 31-year-old mayor of Carroll, Adam Schweers, calling him a "superstar."
"He's got all the skills to be a very fine senator," Branstad said.

The governor said the political reality is that Schweers is the strongest of three GOP candidates.

"It's just a situation where I felt that we need to win control of the Senate, and I think having a strong candidate from Carroll makes a lot of sense," Branstad said. [...]

"I like to think I'm a pretty good judge of character," Branstad said in the media interview. "I see him having maturity way beyond his age. I see him having a great commitment to family and community. I see him as also being a very talented independent businessman who has done a great job and been very successful in business and has a great relationship with his employees. And I think he's got all the potential to go up the ladder in leadership, whether its leadership in the Legislature or serving in higher office in the state in the future."
Former State Representative Rod Roberts, a Carroll Republican who represented the area in the Iowa House for a decade, also endorsed Schweers in the GOP primary. Had the mayor won the nomination, he would have been well-positioned to keep Bruner from racking up a big margin of votes in Carroll. Schweers raised more than twice as much money as Crawford County Supervisor Mark Segebart before the primary.
However, Republican voters in Senate district 6 preferred Segebart by a 47 percent to 40 percent margin (the rest of the vote went to a deputy sheriff). His official bio introduces him as a sixth-generation family farmer and goes on to say,
Besides his work on the family farm and on the Crawford County Board of Supervisors, Segebart and his wife Catherine have been advocates for children their entire lives. Catherine as a long-time public school teacher and Mark as school bus driver for the ArWeVa Community School District.

Segebart is a member and past-president of the Crawford County Cattleman's Association and is also a member of the Iowa Soybean Association and the Iowa Corn Growers. He has served on the Crawford County Board of Health, the Buena Vista, Crawford, and Sac County Early Childhood Iowa Empowerment Board for 12 years, and eight years on the WESCO Industries Board of Directors based in Denison - a non-profit sheltered workshop serving over 100 clients from Crawford, Carroll, Audubon, Shelby, Monona, Ida and Harrison Counties. Segebart has also been a board member of the Crawford County Early Childhood Center since its creation ten years ago - a center that cares for over 200 children every day.
Segebart has often spoken out against abortion rights and marriage equality and for expanding gun rights. He's also taken some unusual positions, like abolishing the minimum wage. At the same time, Segebart presents himself as a candidate who can get along with and negotiate with others.
As of July, Bruner had raised just $12,358.71 for her campaign, but her fundraising picked up in the fall. Her latest disclosure report showed $39,241.47 raised since July from a long list of donors. More important, the Iowa Senate Majority Fund recently provided $106,526.72 in in-kind donations to cover printing, production, and mailing of campaign materials. Several Democrats running in universally acknowledged battleground districts received more in-kind support, like Mary Jo Wilhelm (district 26), Nate Willems (district 48), Rita Hart (district 49), Steve Sodders (district 36), and Chris Brase (district 46). But compared to Democrats in areas the party has written off (like the open Senate district 4 in north-central Iowa and Senate district 38), Bruner is still getting significant support.
Segebart spent down his campaign funds before the June primary; he had reported $6,535.99 in donations for the July disclosure and another $36,632.50 in donations on the latest filing. Click here to view all of Segebart's contributions from individuals and political action committees during the past few months. Segebart reported very little in-kind help from the Republican Party of Iowa on his October 19 disclosure report, but the Iowa GOP kicked in nearly $30,000 to help him down the stretch, according to the final pre-election report.
Several Republican-aligned interest groups have endorsed Segebart, including Iowa Right to Life, and the Iowa Farm Bureau Federation. Although Segebart didn't make the first cut for the Iowa Association of Business and Industry's PAC, he did make it onto their endorsement list earlier this month. Iowans for Tax Relief has conspicuously not endorsed Segebart. No doubt that's because he supports raising the state gasoline tax.
He's in favor of a 10-cent-a-gallon increase in the gas tax, so long as the formula doesn't disadvantage rural areas.

"They say you can't run on a tax increase, but you can't run on a bumpy road, either," Segebart said. "Transportation is vital to everything that goes on in western Iowa. It's economic development."

A Crawford County supervisor, Segebart, a longtime Vail-area farmer, sees real needs with county roads and bridges - and not enough money in government coffers to get basic work completed.
The Associated General Contractors of Iowa PAC donated $18,000 to Segebart's campaign this fall, probably because of his position on the gas tax.
Bruner's campaign website has few details about the issues and does not mention that Iowa Senate Majority Leader Mike Gronstal is one of her cousins. Segebart has been spreading the word since the spring.
"Do we really need another Gronstal in the State Senate?" Segebart said. "You know who I'm talking about. I'm not going to mention her name."
Speaking to Carroll-based journalist Douglas Burns, Bruner expressed pride in her family heritage:
Carroll would be something far less than it is now without the residency of many Gronstals.

Strong community banks are one clear reason Carroll is positioned so wonderfully as an economic-development engine for western Iowa. We have three such banks, including Carroll County State Bank with which the Gronstal family has been involved since the mid-20th century. Mary Bruner's father, John Gronstal, served as president of the bank, as did an uncle, Joe Gronstal, her brother, Bernie Gronstal, and a cousin, Tom Gronstal - a former mayor of Carroll.

"When I first heard that comment, that because I'm a Gronstal I shouldn't be elected, that's interesting to me," Bruner told the Carroll Rotary a week earlier. "My cousin Mike is one of my 33 Gronstal cousins so we have a lot of varied people in my family."

Bruner said she has great affection for Michael Gronstal but that she has "barely spoken" to him about the campaign.

"He is my cousin, I love him," Bruner said. "We played together at my grandmother's house when we were little. I'm certainly not going to deny him." [...]

"My parents, John and Margaret Gronstal, gave that name as their daughter," Bruner said. "They've lived in this community for over 60 years, and they have contributed to this community for over 60 years. I would say that I'm also very proud to be their daughter. I'm very proud to be a Gronstal."

All of that said, Mike Gronstal has been terrifically successful as a legislator in delivering economic opportunity for the people of Council Bluffs, Bruner said.

"If you want me to model that for this district, that's what I plan to do," Bruner said.
Bruner told Andrew Nelson of the Omaha World-Herald,
On the campaign trail, hardly anyone has inquired about her relationship to the Senate majority leader, she said.

"The voters are telling me they want the Legislature to get something done," she said.

Bruner touts her years as a schoolteacher in both public and private schools. For the past 12 years, she has been the human resources officer at Carroll County State Bank.

"I would say the overriding hands-down issue is what is the economic future of our community and right along with that is what's going to happen to our schools," she said. [...]

Bruner was diagnosed with breast cancer 22 years ago, an experience that she says taught her to make every moment count and to try to make a difference. She touts her ability to bring people together, citing her experience in both business and in the classroom.

"I am a good listener, which is the first step in building a consensus," she said.
Bruner opposes a constitutional amendment to ban same-sex marriage. Like many Democrats in the Carroll area, she opposes abortion rights except for in cases of rape, incest, and a threat to the mother's life. Segebart opposes abortion rights even in cases of rape and incest.
Disclosure reports on campaign spending show that both candidates are advertising on local radio and cable television. I haven't seen any of the tv ads in Senate district 6, but Bruner and Segebart have had radio commercials in heavy play on some Des Moines radio stations. Only a tiny sliver of the Des Moines listening audience lives in Iowa Senate district 6, but radio air time is a lot less expensive than tv air time.
I heard the commercial for Bruner several days before I started hearing Segebart's ads on Des Moines stations. Here is my transcript of the Bruner ad:
Male voice-over: Social Security and Medicare are promises, and Iowans keep our promises. [somber music plays softly in background]

Unless you're Mark Segebart. Segebart supports politicians out to replace Medicare with vouchers, costing each senior more than 6,000 dollars a year.

And while they cut Medicare, Segebart wants a new gas tax,

and he's already voted to raise his own pay.

Mark Segebart: putting his political buddies ahead of keeping promises to us. [slight pause, then upbeat music]

Male voice-over: Mary Bruner.

Bruner's voice: Here in Iowa, we keep our promises.

Voice-over: In the state Senate, Mary Bruner will require surprise nursing home inspections to keep seniors safe. As a teacher, she'll make education a top priority. And Mary Bruner will give Iowa companies first crack at state contracts, creating jobs here, not in China or India.

Bruner: As your state senator, I'll never stop fighting for you. That's a promise you can count on.

Voice-over: Paid for by Mary Bruner for state Senate.
A few things struck me about this ad:
Most of the case against Segebart relates to federal issues outside the scope of the Iowa Senate. Only the gas tax is directly relevant to the legislature's work. Taking a pay raise is only to be expected, given that Segebart has served as a county supervisor for 16 years.
The slight pause between the first part and second part, combined with the change in voice and background music, almost create the impression that the listener is hearing separate commercials. One might not even realize that Bruner's campaign paid for the negative message about Segebart.
I am not aware of any other Iowa Democrat campaigning on a promise to enact surprise nursing home inspections. Bringing up that issue sounds like a subtle dig at Rod Roberts, who represented the Carroll area in the Iowa House for a decade. Governor Terry Branstad offered Roberts the chance to run the Iowa Department of Inspections and Appeals shortly after the 2010 election. Roberts had not even applied for that position but had connections to nursing home owners. Soon after taking office, he cut nursing home inspectors.
On October 29 I heard what I think was Segebart's first radio commercial on Des Moines stations. I taped the commercial, and here's my transcript:
Male voice-over: When the economy is soft, we need candidates that [sic] will protect the family budget.

That's Mark Segebart. As a county supervisor, Mark Segebart voted to hold down government spending and protect homeowners from higher property taxes. In the state Senate, Mark Segebart will vote for the governor's property tax relief plan and spur job creation in Iowa.

Because of his support of agriculture, the Iowa Farm Bureau Federation endorsed Mark Segebart, and because he supports growing jobs through small business, the National Federation of Independent Businesses gave him their endorsement.

Female voice-over: And while Mark Segebart supports slowing down the growth of government, Mary Bruner does not. Bruner praises the Obamacare health care takeover as a model for good government, even though it means higher taxes and more bureaucrats. If Mary Bruner supports Obamacare, is there any part of our lives that are [sic] safe from government intrusion?

Male voice-over: Let's use our vote to control the growth of government. Put Mark Segebart to work for us in the Iowa Senate.

Different voice: Paid for by the Republican Party of Iowa. Approved by Mark Segebart for Senate.
Property tax reform will certainly be on the Senate's agenda next year, but the federal health care reform law has little to do with Iowa legislative activities. It's striking how many statehouse candidates about federal policy issues.
A second radio ad for Segebart focuses on his support for voter ID law in Iowa:
Male voice-over: Our elections in Iowa are at risk. [menacing music in background]

More than a thousand incidents of illegally registered voters have surfaced. Mark Segebart has a simple solution: show a photo ID, just like you do when you board an airplane.

But Mary Bruner says no. She's against people showing a photo ID to vote, even if it means leaving our election process unsecure [sic]. At the Carroll Chamber of Commerce forum, she said, quote, I don't believe we have a problem in Iowa with voter fraud.

Recently, the Iowa Department of Criminal Investigation brought felony charges against people for illegally voting. And the problem is all over Iowa. Mary Bruner still says a photo ID is not necessary. Mark Segebart has a different view.

[uplifting music starts playing in background] He says, it's just common sense to ask for a photo ID. Mark Segebart will vote for a photo ID law and secure our elections. Let's put Mark Segebart's common-sense solutions to work for us in the Iowa Senate.

Segebart's voice: Paid by the Republican Party of Iowa, approved by Mark Segebart for Senate.
At least this ad focuses on a genuine state issue. The Republican-controlled Iowa House has approved voter ID legislation, but the bill died in the Iowa Senate.
This statement is a lie: "More than a thousand incidents of illegally registered voters have surfaced."
No, Iowa Secretary of State Matt Schultz says about 1,200 people who weren't citizens in 2008 have voted in Iowa elections since that time. For all we know, nearly all of those people are naturalized citizens who received their citizenship during the past few years.
Moreover, voter ID requirements would not have prevented any of the alleged voter fraud uncovered by a criminal investigator this fall. Non-citizens who allegedly voted improperly had driver's licenses, as did allegedly disqualified felons who registered to vote.
Nevertheless, polls have shown that large numbers of Iowans support photo ID laws, so this commercial is probably effective.
Any comments about the race in Senate district 6 are welcome in this thread.