Whatever happens in tonight's Iowa legislative races, one mystery will remain: why couldn't Republicans recruit a stronger candidate to run against Mike Gronstal in Iowa Senate district 8?
Senate district 8 was almost unchanged from the district Gronstal represented during the last decade. It covers Council Bluffs and Carter Lake in Pottawattamie County.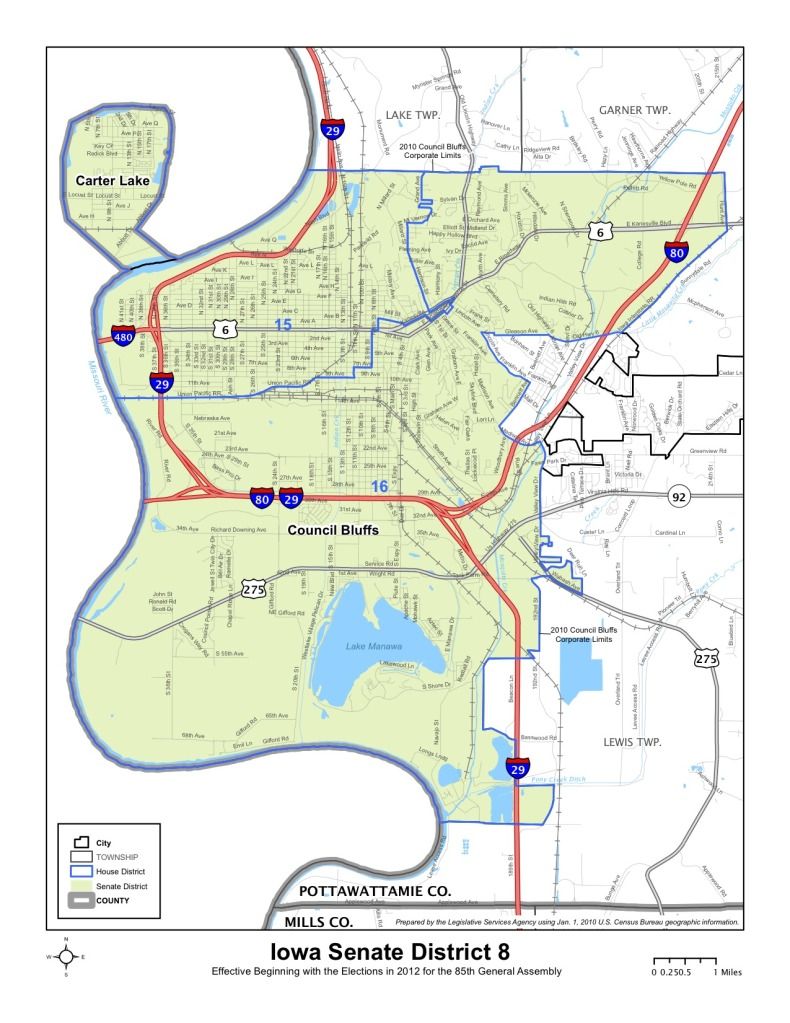 According to the latest numbers from the Iowa Secretary of State's office, Senate district 8 contained 13,232 Democrats, 11,299 Republicans, and 13,847 no-party voters as of November 2012.
It can be hard to recruit a good challenger against an entrenched incumbent, and Gronstal was first elected to the Iowa Senate in 1984 (after one term in the Iowa House). On the other hand, Republicans hold both of the Iowa House districts that cover Council Bluffs and Carter Lake. Governor Terry Branstad and GOP lawmakers detest the way Gronstal has managed to hold his small Senate majority together for the last two years, stopping many bills that emerged from the Iowa House. Considering how Gronstal welcomed the Iowa Supreme Court's Varnum v Brien ruling and has prevented a Senate floor vote on the constitutional amendment to ban same-sex marriage, I expected a strong opponent to emerge in Senate district 8.
The first clue that retired Colonel Al Ringgenberg wasn't a heavyweight came when he launched a campaign website misspelling both Gronstal's name and "Counsel" Bluffs.
The second clue arrived in the financial disclosure forms filed in January of this year. Ringgenberg raised $5,745 during 2011 and had less than $500 cash on hand. Gronstal raised $349,762 and reported $434,275 cash on hand.
"People that are looking to unseat Senator Gronstal would be disappointed with that total," [former Iowa House Speaker Brent] Siegrist said. "One would think he could raise more money than that. Senator Gronstal could take comfort in that number." […]

"The problem Ringenberg's going to have is he's not well known in Council Bluffs," Siegrist said. "That will be a big hurdle for him to overcome."

Iowa Senate Minority Leader Jerry Behn, R-Boone, said Ringgenberg is doing a great job of getting started.

"We're going to launch a credible challenge against everybody we possibly can. Senator Gronstal is just one of a whole host of candidates," Behn said. "I would particularly like to have a Republican majority and then it's irrelevant whether Senator Gronstal is in office or not, as far as controlling the majority and obstructing the bills that have been coming through."
Hear those expectations being lowered? Other prominent Republicans have used similar language this year about getting rid of Gronstal as majority leader, suggesting that they are less focused on defeating him in Senate district 8. Ringgenberg has an impressive biography but seems to be lacking in political skills.
Governor Branstad helped Behn recruit Senate candidates in a number of districts, so I assume he did some outreach in Council Bluffs, but no one else stepped up to the plate in Senate district 8 before the March deadline for candidate filings.
The May financial disclosures brought no joy for Gronstal's detractors. Ringgenberg reported raising a little more than $11,000 and spending more than $7,500, leaving just $4,038.07 cash on hand. Meanwhile, Gronstal raised more than $65,000 and spent very little money (other than a $25,000 donation to the Iowa Democratic Party), leaving $471,016.05 cash on hand.
Ringgenberg wasn't worried about the financial disparity, Ben Jacobs reported in June.
When I talked to Ringgenberg, he felt confident that he'd have the money he needed. Colonel Al was about to mention what he thought his campaign's budget would roughly be, but then he backed off, saying that he was going to use "Sun Tzu military tactics, not going to give it away." Instead, he merely noted it would be both "realistic" and "sizable." Ringgenberg did note later that he thought it would be a "conservative wave" during which he could be outspent by a margin of 7- or 8-to-1 and still prevail.
Running a grassroots campaign is essential–Gronstal himself is a legendary door-knocker–but Council Bluffs is still in the expensive Omaha media market. You need some cash to run a credible campaign there.
When the July disclosure forms came online, it was the same old story in Senate district 8. For Ringgenberg, just $6,987.91 cash on hand with more than $2,500 in unpaid bills. For Gronstal, $548,383.39 cash on hand.
This phenomenon left many Democrats scratching their heads. If you're Ringgenberg, how do you not raise more money? Like John Deeth said,
You'd think all he'd have to do is say "I'm running against Mike Gronstal," and Republican donors would simply ask "how do you spell your name" as they pulled out checkbooks.
Think of all the funding that poured into the campaign against retaining Iowa Supreme Court justices in 2010. You have to believe some of those groups and individuals would have helped Colonel Al.
By October, Ringgenberg had stepped up his fundraising, reporting $58,500 in contributions since July. But he spent almost all of that money, leaving just $14,424.68 cash on hand for the last few weeks of the campaign. He also received more than $70,000 from the Republican Party of Iowa for advertising.
Meanwhile, Gronstal reported raising more than $415,000 between June and October and donated more than $900,000 from his campaign account to the Iowa Democratic Party. The state party then spread that around many competitive Senate districts. Gronstal did receive some of that money back; he reported $135,072.44 from the Iowa Democratic Party (October 19 disclosure) and $57,597.02 from the Iowa Democratic Party (November 2 disclosure).
Ringgenberg's campaign materials aren't available online, to my knowledge. I've heard that some of his direct mail is virtually identical to what GOP candidates are sending in other Iowa Senate districts. For example, he has criticized Gronstal for failing to stop fraudulent purchases of water bottles. He has sent a mailing featuring Branstad appealing for a Senate he can work with to reduce property taxes. He has mocked allegedly wasteful projects from the I-JOBS infrastructure initiative and suggested that Iowa couldn't afford the added debt.
Ringgenberg imitates other Republican tactics in his campaign appearances.
Al Ringgenberg often carries a copy of the Council Bluffs Nonpareil while he campaigns in Iowa's 8th Senate District.

It's the one that lists delinquent taxpayers in the Nonpareil's circulation area, and it gives the retired Air Force lawyer a campaign prop as he runs for the seat held by Democrat Mike Gronstal, the powerful Senate majority leader.

"It's 16 pages in a broadsheet, that's a lot of names," said Chris Dorsey, a consultant working for Ringgenberg and a handful of other candidates this election cycle. […]

GOP candidates say some of the people delinquent on their taxes could have been helped by property tax reform.
Ringgenberg's campaign rhetoric has some unique features too. Oddly, his radio and television commercials have described Gronstal as a "27-year career bureaucrat" who's been in office too long. Talk about amateur hour: it takes a few seconds online to confirm that Gronstal was first elected to the legislature 30 years ago, not 27 years ago.
Gronstal's campaign has sent several positive direct-mail pieces to voters, touting his work to bring jobs to Council Bluffs (Google data center, Mid-American power plant). He has also sent out at least one negative mailer, which criticized comments Ringgenberg made earlier this year. The Republican depicted Council Bluffs' casinos as a "tragic shame." Gronstal's campaign literature portrays his opponent as out of touch, since those casinos employ thousands of local residents.
The Iowa Democratic Party has been running a positive television commercial (authorized by Gronstal) with two versions, long and short. They feature Gronstal talking about his legislative record and show images of him door-knocking. He is known for canvassing thousands of homes in his district every year. I can't find this commercial on YouTube, but you can watch it on Gronstal's Facebook page. Here's my transcript of the longer, 60-second version:
Gronstal: There's no finish line when it comes to helping people. You never stop. The fact is, you don't want to.

People might say these houses look the same. But behind each door, a unique story. A different challenge. A new dream. [Gronstal speaking to camera, interspersed with footage of Gronstal knocking on doors and talking to people]

I grew up here. I had kids here. I passed the toughest laws in the nation to keep our kids safe, to keep predators behind bars. Because around here you help people. You keep them safe. [Gronstal talking to family with children at playground; words on screen Mike Gronstal TOUGHEST CHILD SAFETY LAWS IN THE NATION]

I fought to end the tax on Social Security, so we have more for retirement. [Mike Gronstal ENDED SOCIAL SECURITY TAX]

Putting people back to work–our jobs shouldn't be our biggest export. That's why I fought to keep them here. Why I fought to bring jobs back. [Gronstal talking with small business owner, images of Google campus; words on screen Mike Gronstal CREATED HUNDREDS OF GOOGLE JOBS]

That's why I have a plan to give Iowa companies first crack at state contracts. [Mike Gronstal STATE CONTRACTS FOR IOWA COMPANIES]

Creating jobs at home, not in China or India. And I work to help our small businesses grow. [talks with business owners, words on screen Mike Gronstal LOANS FOR SMALL BUSINESS]

There's always another street, another house, another dream. There's no end to that. I wouldn't want it any other way.

Male voice-over: Mike Gronstal–our senator. [more footage of Gronstal walking down street, knocking on doors, talking with different people]
That strikes me as a very strong defense of Gronstal's record. He doesn't come across like the "dictator" Iowa Republicans decry.
During the final few days of the campaign, the social conservative group FAMiLY Leader, led by Bob Vander Plaats, has tried to make this election about abortion and gay marriage. Senate district 8 is one of only two seats where Vander Plaats' group is running radio ads. The FAMiLY Leader has also made several independent expenditures on behalf of Ringgenberg in the form of direct mail. Some of those pieces hit Council Bluffs mailboxes on Saturday with a message about so-called "partial birth abortions."
Background: In 2011, an Omaha doctor was rumored to be planning to open a late-term abortion clinic in Council Bluffs. The Republican-controlled Iowa House approved a bill that would ban almost all abortions after 20 weeks gestation, but the Iowa Senate declined to take it up. Instead, senators passed a different bill designed to prevent a late-term abortion clinic from opening in Iowa without restricting a woman's right to terminate a pregnancy.
No new clinic has opened in Council Bluffs, but the FAMiLY Leader is implying that voters need to oust Gronstal to prevent "partial birth abortions" from happening in their city. Council Bluffs is a heavily Catholic area, where pro-choice voices are scarce.
The Iowa Democratic Party and an outside group called Iowans for Jobs and Prosperity have made independent expenditures criticizing Ringgenberg. I've been unable to find those ads online, but they supposedly warn that Ringgenberg's plan would shift the property tax burden from business owners to homeowners, and that Ringgenburg supports the Romney/Ryan plan for Medicare.
I would be surprised if Gronstal lost his Senate seat tonight, although stranger things have happened in Iowa politics.
Any relevant comments are welcome in this thread.