Governor Terry Branstad announced his administration's alternative to Medicaid expansion this morning at his regular weekly press conference. The "Healthy Iowa Plan" would cover approximately 89,000 Iowans with income below the federal poverty level. In contrast, Medicaid expansion would cover up to 150,000 Iowans with income below 133 percent of the poverty level.
Details on the new plan are after the jump. Early reaction from Senate President Pam Jochum suggests that the Iowa Senate will not be inclined to approve this proposal. I also question whether the U.S. Department of Health and Human Services will grant a waiver for Branstad's plan. Federal officials have already denied requests from Branstad and other governors to allow a smaller Medicaid expansion than what the 2010 health care reform law provides.
Here is the one-page fact sheet the Branstad administration distributed today: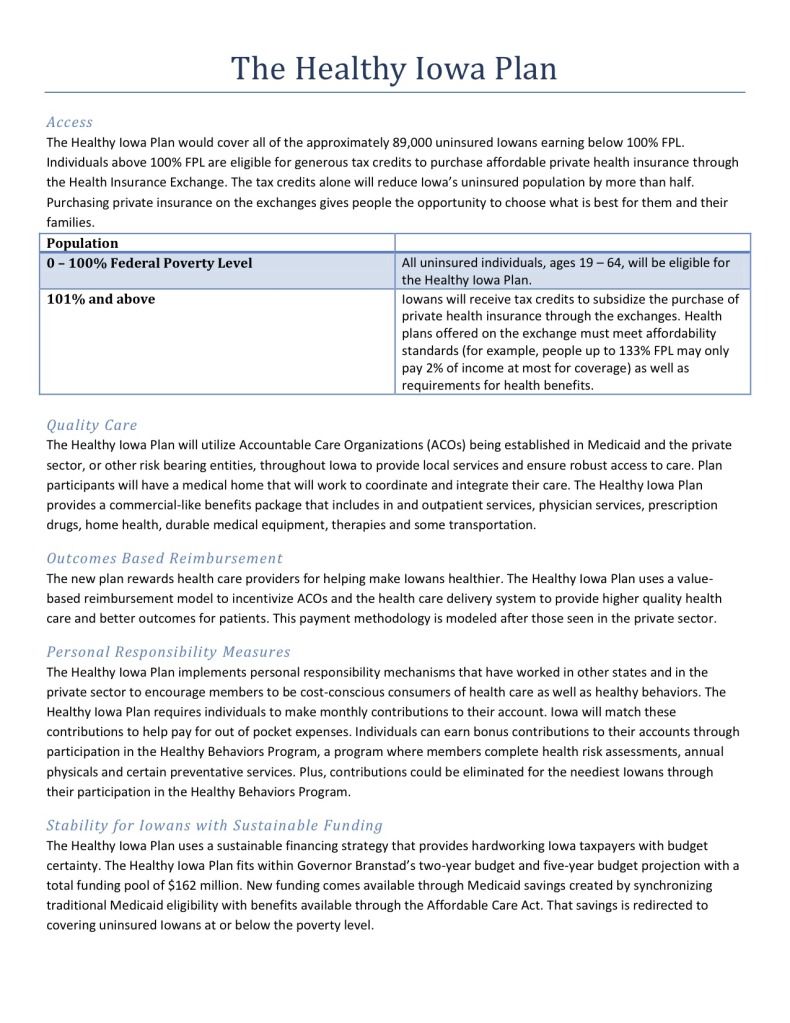 Will this plan include mental health services comparable to what Medicaid covers? It's not clear what will be covered under Branstad's "commercial-like benefits package that includes in and outpatient services, physician services, prescription drugs, home health, durable medical equipment, therapies and some transportation."
I also don't understand that last paragraph: "The Healthy Iowa Plan fits within Governor Branstad's two-year budget and five-year budget projection with a total funding pool of $162 million. New funding comes available through Medicaid savings created by synchronizing traditional Medicaid eligibility with benefits available through the Affordable Care Act. That savings is redirected to covering uninsured Iowans at or below the poverty level." Does he mean the program will cost $162 million over five years, or two years?
Branstad has repeatedly said the Medicaid expansion is unaffordable, even though his own consultant admitted it would save the state of Iowa $24 million the first year, with costs eventually increasing to $25 million to $59 million extra per year. (That consultant did not take savings to local governments into account when calculating the costs of Medicaid expansion.)
Iowans are supposed to believe that we "can't afford" to have the federal government pick up 100 percent of the cost to cover more than 100,000 people under Medicaid over the next three years. Yet somehow we can afford to have the state pay $162 million over some length of time to cover private insurance for only 89,000 people.
O.Kay Henderson covered Branstad's press conference for Radio Iowa this morning. It sounds like the governor is making a moral case: the Healthy Iowa Plan is less generous, but at least it's not an "entitlement."
"The coverage is not as rich as it is under the federal program, but then again...it doesn't put Iowa at as much risk, I guess - and the nation, for that matter - with regard to an unaffordable, unsustainable program," Branstad says. "And we can see what's going on in Washington today and it's just going to get worse and worse and worse." [...]

"If you have no skin in the game, if somebody else is paying the whole cost of it, it's like former Tim Pawlenty from Minnesota said, it's like going to a wedding where you have an open bar versus a cash bar," Branstad says. "There's going to be a whole lot more liquor consumed with an open bar."

State subsidies to "Healthy Iowa Plan" participants would increase if they take steps to live healthier lives, like undergoing a health risk assessment.

"It encourages people to make healthy choices rather than just provide a blanket entitlement," Branstad says.

State officials will submit a waiver to the federal government in May or June, hoping to get approval to run this program. The "Healthy Iowa Plan" would replace the current "Iowa Care" program, which expires December 31. It has provided health care coverage to about 70,000 Iowans. Those are all people who live at or below the poverty line. Branstad says other low-income Iowans who live just above the poverty line would be able to buy private insurance and get a tax credit equal to the premium cost.

"Right now Medicaid is where welfare was in the '90s," Branstad says. "It's a broken system. It's unaffordable, unsustainable. We need to come up with a new model."
I question whether the federal government will grant the waiver Branstad is seeking. Branstad and other Republican governors already asked whether Iowa can expand Medicaid, but not all the way up to 133 percent of the federal poverty level. The Health and Human Services department said no.
The federal government is allowing the state of Arkansas to pursue a private insurance alternative, but that plan would "use federal Medicaid dollars to buy private insurance coverage for everyone below 133 percent of the federal poverty line (about $15,000 for an individual)." Branstad is asking for something different, and not offering to go up to 133 percent of the poverty level.
Even if the feds allow this experiment, the Healthy Iowa Plan looks like a non-starter in the Democratic-controlled Iowa Senate. Senate President Pam Jochum quickly released this statement.
"Governor Branstad's plan would provide second-class health care to tens of thousands of working Iowans.

"Governor Branstad's proposal provides fewer health care services to fewer Iowans at a higher cost to Iowa taxpayers.

"The Iowa Senate's plan expands access to affordable health care to 150,000 Iowans at no cost to Iowa taxpayers for the first three years."
Based on public comments so far this year, I expect Iowa House and Senate Republicans to fall in line behind Branstad on this issue. The stalemate over Medicaid will likely cause the legislative session to drag on into the late spring and early summer.
Share any relevant thoughts in this thread.
UPDATE: Iowa Senate Minority Leader Bill Dix chimed in on Twitter: "As we look at the Healthy Iowa Plan, it should be noted that it doesn't rely on the federal government and provides outcome-based solutions"
"Outcome based solutions" is a big catch phrase for Dix.
SECOND UPDATE: Branstad's "open bar" analogy (quoted above) prompted this comment from Democratic State Senator Mary Jo Wilhelm on the Iowa Senate floor today:
Transcript provided in an Iowa Senate press release:
Everyone makes mistakes. I know I've said things I've regretted later. When that happens, I try to apologize as soon as possible. I try to limit the damage.

Governor Branstad, I think you need to apologize.

You need to apologize for the comment you made this morning about expanding Medicaid and providing health insurance to tens of thousands of working Iowans. This morning, you compared helping people get health care when they need it to having an open bar or a cash bar at a wedding.

That statement is just so wrong, I don't know where to start.

Governor, I worked in a health care clinic in Cresco for 7 years. I worked with many Iowans who did not have health insurance and struggled to get health care. I will never forget one woman who came to the clinic. She had a lump in her breast.

She worked part-time and she couldn't afford insurance. So she waited, and she waited before going to the doctor. She lived with that lump in her breast, knowing it was likely cancer, for months she had it before she came to the clinic.

She waited until she finally qualified for health care insurance. And when she did get it, it was too late.

She died, Governor Branstad. She is no longer with us.

Governor, Iowans don't have too much health care. They don't have enough.

There are plenty of Iowans over the age of 50, who lost their jobs in the recession, and are now hoping they don't get sick before they qualify for Medicare.

Governor, expand Medicaid so they can go to their doctor when they are sick.

That's all we are asking for. Let's get serious about making Iowa the healthiest state. Obviously, we should start by try by making sure everyone has health insurance.

And you should apologize for that ridiculous cash bar remark.

Really, Governor Branstad, really?
THIRD UPDATE: The Iowa Hospital Association released this web video on March 4, highlighting "myths and facts" about the Medicaid expansion.
FOURTH UPDATE: Charles Bruner raised an important point:
"Gov. Branstad's proposal is a step forward in terms of providing health coverage to all Iowans. What Iowa needs now is clarification from the federal government on whether the Centers for Medicare and Medicaid Services is in a position to approve the major aspects of the plan as presented," Child and Family Policy Center executive director Charles Bruner said in a statement Monday. "Iowa cannot afford to spend time preparing a waiver proposal that can't be approved."
The Child and Family Policy Center is a non-profit organization. Its advocacy arm, Every Child Counts, has endorsed the Medicaid expansion.