In a 5-4 decision, the U.S. Supreme Court has determined that the federal Defense of Marriage Act is unconstitutional. The ruling means that legally married gay and lesbian couples in Iowa and elsewhere will be entitled to equal treatment under federal law. More than 200 Congressional Democrats, including Senator Tom Harkin and Representatives Bruce Braley and Dave Loebsack, signed an amicus curiae brief urging justices to strike down the key provision of the DOMA, adopted in 1996 with overwhelming bipartisan support.
In a separate case, the Supreme Court ruled 5-4 that backers of California's Proposition 8 did not have standing to appeal a lower-court ruling striking down that ballot initiative. The decision means that LGBT couples will be allowed to marry in California. It does not affect other states' statutory or constitutional bans on same-sex marriage. Braley and Loebsack were among scores of Congressional Democrats who recently posed for the "NoH8" campaign supporting marriage equality and opposing Prop 8.
Excerpts from the DOMA decision and Iowa reaction to today's rulings are after the jump. I will update this post as needed. At this writing, most of the Congressional delegation has not publicly commented on the Supreme Court decisions.
I also enclose below Democratic State Representative Ako Abdul-Samad's reaction to yesterday's disgraceful 5-4 Supreme Court ruling on the Voting Rights Act.
Justice Anthony Kennedy, who often sides with the court's conservatives, joined Justices Ruth Bader Ginsburg, Sonia Sotomayor, Elena Kagan, and Steven Breyer in the majority opinion on U.S. v Windsor. Excerpt from the opinion:
DOMA is unconstitutional as a deprivation of the equal liberty of persons that is protected by the Fifth Amendment. […]

Subject to certain constitutional guarantees, see, e.g., Loving v. Virginia, 388 U. S. 1, "regulation of domestic relations" is "an area that has long been regarded as a virtually exclusive province of the States," Sosna v. Iowa, 419 U. S. 393, 404. The significance of state responsibilities for the definition and regulation of marriage dates to the Nation's beginning; for "when the Constitution was adopted the common understanding was that the domestic relations of husband and wife and parent and child were matters reserved to the States," Ohio ex rel. Popovici v. Agler, 280 U. S. 379, 383-384. Marriage laws may vary from State to State, but they are consistent within each State. DOMA rejects this long-established precept. The State's decision to give this class of persons the right to marry conferred upon them a dignity and status of immense import. But the Federal Government uses the state-defined class for the opposite purpose-to impose restrictions and disabilities. The question is whether the resulting injury and indignity is a deprivation of an essential part of the liberty protected by the Fifth Amendment, since what New York treats as alike the federal law deems unlike by a law designed to injure the same class the State seeks to protect. New York's actions were a proper exercise of its sovereign authority. They reflect both the community's considered perspective on the historical roots of the institution of marriage and its evolving understanding of the meaning of equality. […]

By seeking to injure the very class New York seeks to protect, DOMA violates basic due process and equal protection principles applicable to the Federal Government. The Constitution's guarantee of equality "must at the very least mean that a bare congressional desire to harm a politically unpopular group cannot" justify disparate treatment of that group. Department of Agriculture v. Moreno, 413U. S. 528, 534-535. DOMA cannot survive under these principles. Its unusual deviation from the tradition of recognizing and accepting state definitions of marriage operates to deprive same-sex couples of the benefits and responsibilities that come with federal recognition of their marriages. This is strong evidence of a law having the purposeand effect of disapproval of a class recognized and protected by statelaw. DOMA's avowed purpose and practical effect are to impose adisadvantage, a separate status, and so a stigma upon all who enterinto same-sex marriages made lawful by the unquestioned authority of the States. DOMA's history of enactment and its own text demonstrate that interference with the equal dignity of same-sex marriages, conferred by the States in the exercise of their sovereign power, was more than an incidental effect of the federal statute. It was its essence.
Chief Justice John Roberts and Justices Antonin Scalia, Clarence Thomas, and Samuel Alito dissented from the ruling on DOMA. Roberts, Scalia, and Alito wrote separate dissenting opinions. Scroll down this file to read the dissenting opinions, which spend a lot of time on the question of "standing." Alito argued in his dissent that it is contradictory for the majority to hold that the Bipartisan Legal Advisory Group of the House of Representatives had standing to appeal a lower-court ruling to defend DOMA after the Obama administration declined to do so, while holding in the Hollingsworth case that petitioners did not have standing to appeal in defense of Proposition 8.
Senator Tom Harkin released this statement on June 26:
"I am proud that Iowa has led the nation in recognizing marriage equality, as it has in the past on other civil rights issues. In its very first published opinion in 1839, the Iowa Supreme Court found that a slave named Ralph became free when he stepped on Iowa soil. 85 years before Brown v. Board of Education, the Iowa Supreme Court ruled that Iowa schools could not be racially segregated. And since 2009 Iowa has permitted same-sex marriage.

"Today's decision by the Supreme Court is a victory for all married Iowans, gay or straight, who can now love one another without fear of discrimination by the federal government. I am glad that the Court recognized that all American families deserve the same legal protections. We have much progress to continue to tackle discrimination and prejudice in our country, including bias based on sexual orientation, but today's decision is historic and a significant step for equality in our nation."
Braley's Congressional office released this statement:
"It's a historic day. The Supreme Court's ruling is a step forward for the cause of civil rights, affirming that loving, committed couples from all backgrounds deserve to have equal rights under federal law. This ruling is about fairness and respect for all citizens: our friends, family, and neighbors.

"Whether it's the right to adopt children, be free from discrimination, or marry the person you love, these are rights that should be available to all."
Braley's comment for the "NoH8" campaign:
"I'm proud to represent the first state to recognize the right of same sex couples to marry under the Equal Protection Clause of our state constitution. I stand with NOH8 because we share a vision for America where everyone is treated equally in the eyes of the law, no matter your sexual orientation. After all, 'freedom' means freedom for everyone."
Earlier this week, Braley changed the cover photo from his politician Facebook page to a picture of rainbow flags waving in front of the Supreme Court, with the words
PROUD TO STAND FOR EQUALITY

BRUCEBRALEY.COM/LGBT
Minutes after the Supreme Court ruling was announced, Braley's Senate campaign sent out this fundraising e-mail to supporters:
Dear [name],

Today is a historic day.

Moments ago, the Supreme Court struck down DOMA, a law that prohibited same-sex couples from receiving the same rights, privileges, and benefits under the law that everyone else does.

This decision is a tremendous step forward for the cause of civil rights, affirming that loving, committed couples from all backgrounds deserve to have equal rights under the law. The right to adopt children. The right to be free from discrimination. The right to pursue happiness. And the right to marry the person you love.

But this fight is far from over.

You know that opponents of equality will start working today to roll back the progress we've made.

That's why I need your support now more than ever.

Can I count on you to donate $5 or more to fight back against the oncoming wave of attacks from opponents of equal rights for all?

As a Senator, I'll work for all Iowans, regardless of whom they love.

Equality should not be a partisan wedge issue that its opponents use to divide the country. This issue is about fairness under the law and respect for all citizens: our friends, our family, our neighbors, and our coworkers. I know you stand with me.

This week we announced a goal of raising $50,000 by this Sunday – and I need your help to reach that goal.

Will you help me to continue standing up for what's right by making a donation to my US Senate campaign today?

I hope you're all as proud of this step forward for our nation, and as ready to continue standing for equality as I am.

Thanks again for all you do,

Bruce
Loebsack posted the following on Twitter today: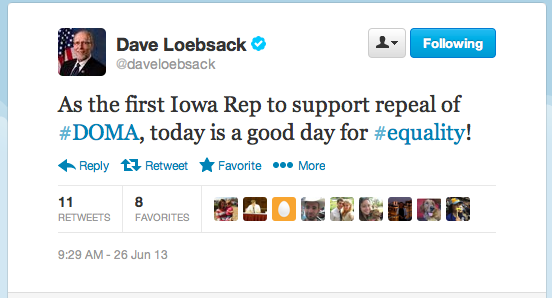 Loebsack's comment for the "NoH8" campaign:
"Iowa has long been a leader in the fight for equal rights. I am proud to stand in solidarity with millions of Americans in support of marriage equality. The time to end discrimination is now."
Johnson County Supervisor Janelle Rettig has been legally married since 2009 to her life partner of more than two decades. Earlier today, she posted on her Facebook page,
I am so ready for the end of DOMA. I have a deep memory of how it came to be with the Human Rights Campaign lobbying with President Clinton and Members of Congress telling them that we didn't care about marriage as long as we got Employment Non-Discrimination Act. Congressman Jim Leach called me after he voted for DOMA and told me about HRC [Human Rights Campaign]. HRC was wrong then, but so was Bill Clinton, Tom Harkin, Jim Leach and so many others. Let's end the discrimination today. BTW, we still do not have ENDA [Employment Non-Discrimination Act]
After the ruling was announced, Rettig provided this comment:
I'm so happy… I'm crying uncontrollably. With the end of DOMA and Proposition 8, many Americans have made a giant step to full citizenship. Our journey has been hard with so many twists and turns that my memory is just flowing with flashes of events and interactions. I also remember all of those that fought this battle that didn't get to live to see this joyous day. I simply can't explain to you what this means to us. Robin and I have spent most of our life together fighting for civil rights. It has been a very difficult journey, but also a very rewarding experience. Today we are finally full Americans and I am so proud of my City, County, and State for getting us there long before my Country. While we celebrate the Supreme Court today, I recognized the last week has not been all good news from SCOTUS. I'm also thinking of all those couples across the Country that are not able to celebrate today, because they do not have marriage equality in their State. Keep up the good fight and if you can't do that, move to Iowa or another cool state. I hope to see you all tonight at 6 pm in Iowa City at the Pentacrest, when the people of Johnson County set a local record for most hugs and kisses.
Iowa House Democrat Ako Abdul-Samad released this statement on June 25 (emphasis in original) in response to the Supreme Court tossing out a key section of the Voting Rights Act.
Iowa Representative Ako Abdul-Samad Responds Critically as SCOTUS Strikes Down Voting Law

June 25, 2013 – In an unbelievable yet, unsurprising move, the United States Supreme Court struck down key components of the Voting Rights Act of 1965. Iowa Representative Ako Abdul-Samad, one of only five African American representatives in the state, and the only practicing Muslim, responded to this decision with, "It is a sad commentary for this country when the Supreme Court sets in motion an allowance for States to reverse the strides made in voting rights for minorities over 50 years." Representative Abdul-Samad lamented in a statement.

"What this decision means is that a child who was born in 2000 must be prepared to fight the same fight as their grandparents, should the state in which they live decide to violate their right to vote." Ako continued.

"Greats Americans like Congresswoman Shirley Chisholm, Dr. King, Malcolm X, Medgar Evers, and President John F. Kennedy dedicated their lives to the struggle of creating a level playing field for the disenfranchised and disconnected. The assurance that every citizen has a voice by simply being allowed to vote is paramount to their messages. This abhorrent Supreme Court decision is clearly a slap in the face to every American who believes that all men and women are created equal. This is an issue with which we continue to struggle in an effort to make that principal a reality, fifty years later." the Iowa Democrat declared.

"The question we should be posing today, after this decision by the Supreme Court should be, 'When are we, as the people, going to make the statement as Fannie Lou Hammer made, we are sick and tired of being sick and tired?'" Mr. Abdul-Samad concluded.

Ako Abdul-Samad was elected to the Iowa House of Representatives in 2006. He is the founder of the non-profit organization, "Creative Visions" in Des Moines, which helps create peaceful remedies to vexing problems. Mr. Abdul-Samad has received many awards and accolades for his activism, humanitarian service and work toward peaceful solutions.
UPDATE: Senator Chuck Grassley's office sent out this comment this afternoon:
Senator Chuck Grassley gave the following statement after the Supreme Court declared the Defense of Marriage Act unconstitutional. Grassley voted for the bill that President Bill Clinton signed into law.

"I support traditional marriage, and I hope the states, where the debate had been for more than 200 years, will uphold marriage between one man and one woman."
In this online video, Representative Loebsack called today "a great day for equality and for marriage, but not just for the LGBT community [and] our brothers and sisters in that community, but for our entire country." His office released this statement as well:
Washington, D.C. – Congressman Dave Loebsack released the following statement today after the United States Supreme Court ruled that the federal Defense of Marriage Act (DOMA) was unconstitutional. Loebsack was the first member of the Iowa delegation to sign on to the Respect for Marriage Act, which would repeal DOMA.

"Today is a great day for equality and marriage," said Loebsack. "I am pleased the Supreme Court took two important steps towards ending discrimination. The decision today reaffirms nationwide what we Iowans already know- that love knows no bounds and all couples should have the same rights as their neighbors."
Not surprisingly, Representative Steve King took a different view:
Washington, DC- Congressman Steve King released the following statement after the Supreme Court ruled against key provisions in Proposition 8 and the Defense of Marriage Act (DOMA) in the case United States v. Windsor:

"I am disappointed in the Court's ruling today because the American people should hold the power to determine marriage policy, not the Supreme Court," said King. "I believe DOMA meets all constitutional standards and I am disappointed that a technical, standing issue means that gay marriage is legal in California despite the will of the voters who enacted Proposition 8.

It is important to realize that the Supreme Court intentionally chose not to find a constitutional right to marry anyone you choose, whether same-sex, or otherwise. The definition of marriage is not redefined this day. Legally speaking, states are now the sole body responsible for identifying legal marriages. Thirty-eight states to date have chosen to identify only traditional marriage. The attempt to redefine marriage will not change the fact that limited government should be responsible for making this decision, and that marriage marks the sacred union of one man and one woman."
Republican candidate for U.S. Senate Sam Clovis released this statement:
This morning, the Supreme Court handed down a decision on the constitutionality of a key section of DOMA (Defense of Marriage Act), the federal law that protected traditional marriage by blocking gay couples from receiving federal benefits.

In reaction to today's decision by the Supreme Court, Sam Clovis, Republican candidate for US Senate, released the following statement:

"The American family and traditional values have been under attack by progressive liberals like Congressman Braley for years. Today's decision by the Supreme Court on the Defense of Marriage Act is yet another step in the wrong direction for the social and physiological strength of our nation.

"If elected, Iowans can be assured that I will be a strong voice for the traditional nuclear family. I will uphold the premise that a family with one man and one woman brought together in holy matrimony is the most important building block of a society."
Side note: I expect a college professor like Clovis not to use dangling modifiers such as "If elected, Iowans can be assured…"
Bob Vander Plaats made similar points in his statement on behalf of the FAMiLY Leader organization:
The Family Leader CEO, Bob Vander Plaats, comments on the decisions of the U.S. Supreme Court Wednesday on the federal Defense of Marriage Act in United States v. Windsor, and the Proposition 8 case, Hollingsworth v. Perry.

Bob Vander Plaats said, "It is important to remember this is not the Roe v. Wade of marriage. It does not authorize so-called "same-sex" marriage across the board and does not grant a civil right to marriage. Both Supreme Court opinions have recognized that marriage is a state issue, and need to be decided at that level. Iowans have yet to make that decision for themselves.

Vander Plaats applauded Justice Roberts when Roberts stated that "We are judges, not policy makers." This confirms that the Iowa Supreme Court exceeded its Constitutional authority by forcing same-sex "marriage" on Iowa.

Vander Plaats continued, "We are disappointed that Justice Kennedy rationalized the decision he wanted to reach in determining that DOMA is unconstitutional. We agree with the dissenting opinion, especially Justice Scalia, where he rightfully blasted Kennedy for not using a "rational bias" or "strict scrutiny" in reaching his opinion.

"The definition of marriage affects everyone is foundational to our society, and Iowans need to decide for themselves how marriage will be defined. We will continue to defend and protect marriage at every opportunity."
The U.S. Supreme Court's DOMA ruling relies on equal protection reasoning very similar to the Iowa Supreme Court's 2009 decision in Varnum v Brien. It's quite a stretch for Vander Plaats to claim today's ruling implies that the Iowa Supreme Court exceeded their authority.
Speaking to Radio Iowa, Vander Plaats tried to find some "good news":
"The initial reaction was probably fairly good news, meaning the court is saying that the states have the right to define what marriage is and the Iowa people have yet to decide," Vander Plaats says.

Residents in 38 states have voted to ban same-sex marriage. However, same-sex couples have been marrying in Iowa since a 2009 state Supreme Court opinion that Vander Plaats has criticized. Vander Plaats points to the decision written by the U.S. Supreme Court's chief justice.

"Roberts, in writing the opinion, said: 'We are judges. We are not policymakers,' and what our argument was with the Iowa court is that they went into policymaking," Vander Plaats says. "We believe this validates what we've said. I believe for the people of Iowa this is why they need to elect office-holders and to get engaged in the marriage debate and let's have a vote on this thing."
Reality check for Vander Plaats: this year the constitutional amendment on marriage didn't even make it through the Republican-controlled Iowa House. I don't believe it's likely to clear both chambers of the legislature in 2015, even if the GOP regains the Iowa Senate majority.
Iowa Democratic Party Chair Scott Brennan released this statement:
"Today is a great day. Iowa led the way in marriage equality with the historic Varnum decision in 2009, and today, the thousands of gay and lesbian couples who have been married in the last four years will have their love and commitment recognized by the Federal government. We know that after today's ruling anti-gay forces are going to try even harder to take away the rights of LGBT Iowans. But the Iowa Democratic Party is the only party in the state that has fought to protect marriage equality, and we will never back down from the fight to protect the rights and freedoms of every Iowan."

The Iowa Democratic Party's executive director, Troy Price, served as political director and later as executive director of the LGBT advocacy group One Iowa before joining President Barack Obama's re-election campaign last year.
Democratic State Senator Jack Hatch, who is exploring a run for governor in 2014, released this statement:
"Today's victory for marriage equality is not only an affirmation of our values as Iowans but a hard-earned triumph for advocates and citizens who have fought so hard for equality in Iowa and across the country."
THURSDAY MORNING UPDATE: At this writing, I have not seen any public comment from Republican Representative Tom Latham, who voted for DOMA in 1996.
I also have not seen any comment from Governor Terry Branstad.
Republican Senate candidate David Young said, "With DOMA ditched, we must ensure religious institutions remain free from coercion and aren't forced to perform marriages against our beliefs."
That should be no problem. Catholic churches are not required to perform marriages for divorced people, even though it's been decades since divorce laws were liberalized around the country.
Iowa GOP Chair A.J. Spiker commented,
"Today's decision on DOMA is an interesting one, as it covers a hot-button issue that has strong opinions on both sides. As Chairman of the Republican Party of Iowa, I am proud to defend the principles laid out in our party's platform. One such plank is an affirmation that marriage is between one man and one woman. I firmly agree with traditional marriage and am quite comfortable defending traditional marriage regardless of this court ruling. Though some of my conservative colleagues have expressed concern with the Supreme Court's ruling today, I believe there are some positives we can take from it, including the decision that individual states should be able to play a larger role in how they define marriage.

"The court today chose a much different path than it did with a decision like Roe v. Wade over 40 years ago. The Supreme Court did not affirm gay marriage, and did not guarantee it's existence as a Constitutionally guaranteed right, as it incorrectly stated in the Roe decision. Rather the court stated the federal government did not have the authority to deny gay marriage in states in which it already existed. This is a very important distinction to make and one that can be used by traditional marriage advocates going forward. It seems that some may not be examining the full decision in its context. While gay marriage advocates seem to be applauding this decision, the court stated that the issue was first and foremost one to be left to the states. I firmly believe that this states' rights position is a decision that traditional values advocates can use to stand up for marriage all across the country and in 38 of the 50 states that do not recognize gay marriage.

"Contrary to much of what is being reported in the media, I believe this decision can actually become a victory for the supporters of traditional values in the future. If you look at the 12 states that allow gay marriage, everyone did so by the will of the people via direct vote or through their representatives; every one that is, except for Iowa. Here in Iowa we saw activist judges decide for themselves what the definition of marriage was. In response to the Supreme Court's decision, the only logical conclusion is to allow the people of Iowa to be permitted to vote on the definition of marriage within our state. The best way to uphold freedom and defend our values as both Americans and Iowans is to remove the activist judges completely from the decision making progress. We should let the people of Iowa decide what they wish the definition of marriage to be, and not activist judges."
Among likely presidential candidates in 2016, Rick Santorum was "very disappointed" while Rand Paul surprised me by praising Justice Kennedy.
President Bill Clinton and Hillary Clinton issued this joint statement:
By overturning the Defense of Marriage Act, the Court recognized that discrimination towards any group holds us all back in our efforts to form a more perfect union. We are also encouraged that marriage equality may soon return to California. We applaud the hard work of the advocates who have fought so relentlessly for this day, and congratulate Edie Windsor on her historic victory.
Supporters of marriage equality held rallies around Iowa last night: Des Moines, Sioux City, Mason City, Iowa City, Cedar Rapids, Cedar Falls, Ames, and Davenport. John Deeth posted photos from the Iowa City rally on the Pentacrest, where "one of America's first pride rallies" was held in 1970.
Former GOP State Senator Jeff Angelo, who founded Iowa Republicans for Freedom, spoke at the Des Moines rally. He also told Radio Iowa,
"Every time there's a poll taken, the numbers are moving in my direction not in the other direction," Angelo told Radio Iowa this afternoon. "No one is being convinced that it is o.k. to discriminate against Iowans who are gay when it comes to their request to be married in the eyes of the government." […]

Angelo admits there is a segment of the GOP that's very motivated by this issue, but Angelo argues that is a shrinking segment of the party.

"As far as Iowans in general and Republicans increasingly, particularly young Republicans, this issue is becoming a non-issue," Angelo said.

Iowa Republicans for Freedom and a couple of high-profile Iowa Republicans have begun to meet publicly to argue the party should moderate its message and welcome those who support same-sex marriage to be part of the GOP coalition.

"Yes, there'll be fights in the primaries, but more and more you're going to see great Republican candidates decide to run for office and they are going to be in favor of the freedom to marry," Angelo said, "and they are going to win those primaries."
LATE UPDATE: Democratic State Representative Pat Murphy, who is running for Congress in IA-01, posted on Facebook,
Today's two big victories in the US Supreme Court will mark this day for civil rights for years to come. It makes that first week in April of 2009 in Iowa small, but 1 huge step for equality in this country. We just need this equality in every state, not just the 14 that currently have it.
Murphy was Iowa House speaker when the Iowa Supreme Court paved the way for marriage equality in 2009. He and Senate Majority Leader Mike Gronstal immediately embraced that court ruling.
Via Jon's blog, I saw this hilarious reaction from Republican State Senator Sandy Greiner:
Greiner stands by her position that expanding gay marriage is increasing health care costs by extending benefits to more partners.

"We're just adding to the pool of people, and that has been my contention all along. I hate to say I was prophetic, but I was," she said.
Blogger Jon Trouten's reaction was dead on:
What does Sen. Greiner have against insured Iowans? Or is it just insured gay Iowans that she has a problem with?

I mean, if I hypothetically married a woman instead of Husband Mark and placed her on my family insurance plan (keeping in mind that Husband Mark has his own insurance and hasn't been included onto my health insurance in years), would Sen. Greiner still be concerned about one more person receiving health insurance? Probably not.

I never hear people complaining about people like me placing my children on my health insurance plan. They usually just have a problem with the idea of placing my husband on my health insurance plan. Why is that?

And where does she get the idea that it costs more to have more Iowans insured? It's not like it's free for me or pretty much anyone else to insure our family members. Would she rather people go to the Free Medical Center or the local emergency room for our health care needs?
Meanwhile, several days after the Supreme Court ruling, Governor Terry Branstad still had not issued any comment. His communications director Tim Albrecht was a guest on Dave Price's WHO-TV show The Insiders on June 30 and explained the situation:
Price: Tim, on your side you saw twitter was kind of [all] over the governor about, why has he not responded to this yet? So what's his reaction to the ruling?

Albrecht: Well, the governor has to study this ruling. There are a number of implications for Iowa on the federal level. So what he will do is he will consult with other governors, he'll consult with his department heads and agency heads, and work to really understand the implications. […]
That is simply not credible. We all know the primary implication of this ruling: thousands of legally married Iowa couples will now enjoy equal rights and benefits under federal law. Branstad could tell us whether he considers that a good or bad thing. Iowa Democratic Party Chair Scott Brennan was a guest on the same television show and commented, "I think that four days is enough time for the governor to have made some–at least given a statement. At this point, I'm surprised he hasn't."