The U.S. Election Assistance Commission has determined that spending $240,000 on criminal investigations of voter fraud in Iowa was an "allowable, allocable and reasonable" use of federal Help America Vote Act funds, Ryan Foley reported for the Associated Press today. I enclose the commission's two-page memorandum of August 13 after the jump (hat tip to Foley). A spokesman for the commission told the AP "he wasn't aware of other states using HAVA funding for similar investigations."
Former Secretary of State Matt Schultz made battling voter fraud a major theme of his four years in office. The full-time investigator, pulled from other work at the Iowa Department of Criminal Investigations, turned up a few examples of improper registration and voting but no evidence of any large-scale voter fraud problem. Democratic State Senator Tom Courtney was among the leading critics of Schultz's use of HAVA funds for that purpose. In October 2012, he requested state and federal audits of the matter. Deputy State Auditor Warren Jenkins announced in December 2013 that his office's review could not determine whether criminal investigations were a proper or improper use of HAVA funds. He advised the Secretary of State's Office to "have a plan in place" in case Iowa needed to repay the money to the federal government later.
The commission's ruling is a lucky break for Schultz, who was elected Madison County attorney last November after losing the GOP primary in the third Congressional district. He's keeping busy now as state chair for Senator Ted Cruz's presidential campaign. When Schultz seeks higher office again, he can claim he was vindicated in using federal funds to investigate fraud.
For those wondering why it took federal officials so long to consider Iowa's use of HAVA money: because Senate Republicans refused to confirm President Barack Obama's nominees, the Election Assistance Commission didn't have the necessary quorum to take any official actions from 2010 until January of this year, when three new commissioners were sworn in. Senators had confirmed them during the December 2014 lame-duck session of Congress as part of a large bloc of nominees approved by unanimous consent.
UPDATE: Added below a statement from Courtney urging Secretary of State Paul Pate "to formally pledge not to use federal funds for any future voter purge effort" and to make clear "that Iowa is no longer one of the states where election officials use tax dollars to suppress voter turnout."
SECOND UPDATE: Schultz told the AP, "This was always about improving the administration of elections." Rita Bettis, legal director for the American Civil Liberties Union of Iowa, called it "truly troublesome for our national democracy" that Schultz's "model of voter intimidation can now be exported to other states ahead of the 2016 General Election."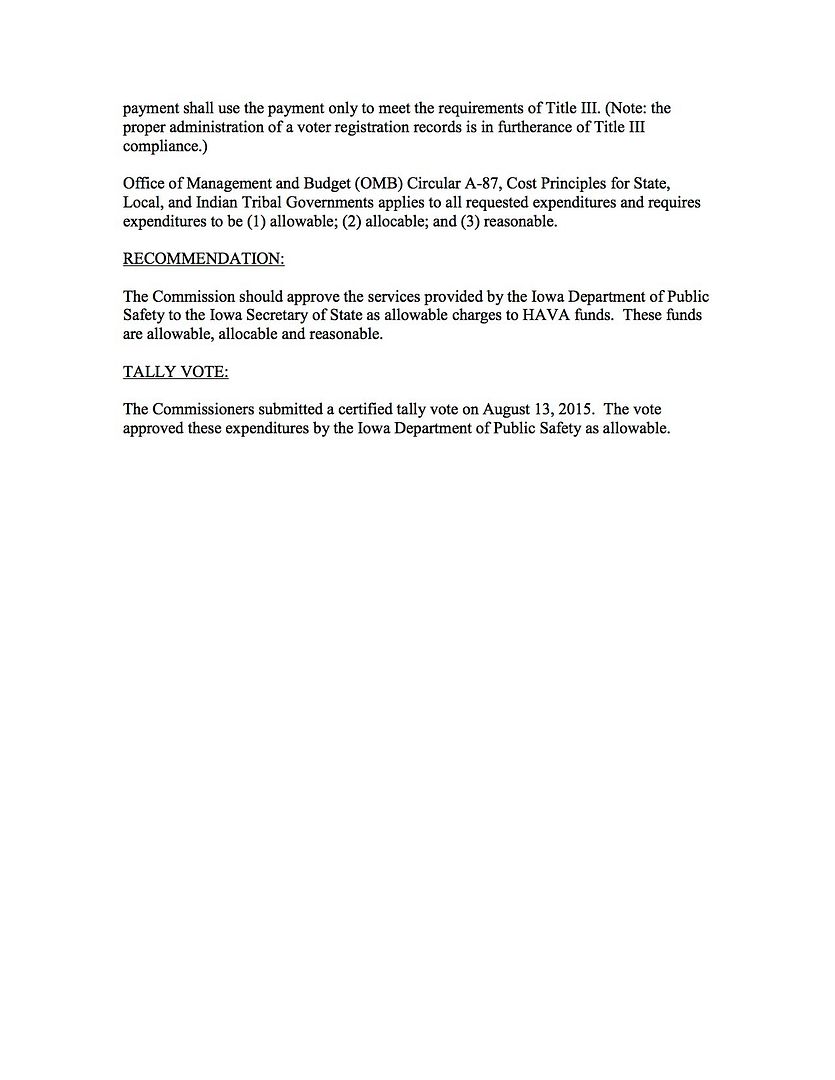 Iowa Senate press release, August 24:
Senator calls on new Secretary of State to reject new voter suppression efforts

Action needed in light of disappointing decision by federal agency

DES MOINES -- A key state senator today called on Iowa Secretary of State Paul Pate to formally pledge not to use federal funds for any future voter purge effort in Iowa.

Senator Tom Courtney of Burlington, former chair of the Senate's Government Oversight Committee, issued this challenge today in response to a ruling by the U.S. Election Assistance Commission. The commission recently ruled that it was permissible for Pate's predecessor, former Secretary of State Matt Schultz, to spend a quarter of a million dollars of Help America Vote Act (HAVA) funds to hire a law enforcement officer to conduct criminal investigations of Iowa voters.

"Other states used federal "Help America Vote" funds to making voting easier and simpler. They invested in things like better voting machines and training poll workers," said Courtney. "In Iowa, $240,000 of those dollars were diverted to partisan effort to intimidate voters and lower voter turnout."

Today, Courtney challenged Schultz's replacement, Paul Pate, to formally pledge to never use any taxpayer dollars on voter purge campaigns.

"All Iowans agree that only eligible citizens should be allowed to vote. The issue is whether Paul Pate, Iowa's new Secretary of State, will promise never to use taxpayer dollars to discourage eligible citizens from voting," said Courtney. "I urge Secretary Pate to issue a statement making it clear that Iowa is no longer one of the states where election officials use tax dollars to suppress voter turnout."