By a unanimous vote, the Iowa Board of Regents today named J. Bruce Harreld as the next president of the University of Iowa. Of the four finalists for the job, only Harreld had never worked in academic administration. Up to now, his experience at universities has been limited to some adjunct teaching.
I'm going on record now: this experiment will not end well.
From where I'm sitting, the regents just declared war on the Iowa faculty and staff. Jeff Charis-Carlson reported for the Iowa City Press-Citizen,
Only 1.8 percent of the participating [University of Iowa] faculty and 2.6 percent of other respondents answered "yes" to the question of whether Harreld was qualified to lead the university. The other candidates – Oberlin President Marvin Krislov, Tulane University Provost Michael Bernstein and Ohio State University Provost Joseph Steinmetz – each had more than 90 percent of respondents view them as qualified, with Steinmetz being viewed most favorably.
Click here for more details on that survey. Harreld drew the highest number of respondents as well as the lowest rating.
The new president of Iowa's largest state university is best known for his work at IBM and the restaurant chain Boston Chicken. What do "turnaround" experts usually do? Slash and burn. Harreld admitted during a campus forum on Tuesday "that some have questioned whether he would be a cost-cutting 'puppet for the regents,'" Ryan Foley reported for the Associated Press. He drew so much criticism from the audience during that forum that groups representing university students, faculty, and staff later issued a joint statement saying they "were embarrassed" by comments which "transformed a vigorous debate into a hostile atmosphere."
The other three finalists to replace Sally Mason as university president each have more than a decade of relevant experience. Reading more about the visions Krislov, Bernstein, and Steinmetz outlined during their visits to Iowa City this week deepened my impression that the regents made a terrible mistake today.
Don't try to tell me Board President Bruce Rastetter would put someone with no relevant management experience in charge of one of his companies. If the regents wanted the next University of Iowa president to have a business-oriented background, they could have found someone who had helped lead a graduate school of business, in addition to working outside academia.
Rastetter has much stronger connections to Iowa State University than to the University of Iowa, where his efforts to throw his weight around have not always been successful. Last year the Board of Regents approved a "performance-based" funding plan that would have hurt the University of Iowa, relative to the other two state universities. The legislature didn't adopt their proposal, in part because Iowa Senate Appropriations Committee Chair Bob Dvorsky represents a district just outside Iowa City.
The Board of Regents is expected to approve next week a funding request for the 2017 fiscal year. The draft proposal would ask Iowa legislators to allocate 8.1 percent more state funding to the University of Northern Iowa and 4.5 percent more for Iowa State, while asking for no increase in the University of Iowa's funding. That struck me as important in light of this passage from Charis-Carlson's report on Harreld's campus forum:
In responding to questions posed by UI law professor Shelly Kurtz, Harreld said he definitely could imagine a situation when he could agree with a decision by the regents to allocate money away from UI and to the other public universities, especially if it were clear that UI was better positioned to raise external funding and if there stood to be a statewide public benefit to helping the other schools.
Although the University of Iowa Foundation has raised big money in recent years, status quo state funding for the university in fiscal year 2017 would likely lead to cuts in staff or programs. (Some salary hikes and other cost increases are unavoidable.)
Dvorsky told Charis-Carlson that the new funding proposal under consideration by the regents looks like a "back door" effort to enact the funding model state legislators rejected this year. Speaking to Vanessa Miller of the Cedar Rapids Gazette,
Although it doesn't mention performance-based funding, Sen. Bob Dvorsky, D-Coralville, said this year's proposal seems similar and – in his opinion – doesn't properly address the needs at UI or ISU.

With the growth at UI and its high-cost graduate programs, Dvorsky said, he thinks an increase to its base appropriations is warranted.

"There does seem to be a vendetta against the University of Iowa, and I thought we were beyond that," he said.
The regents just hired the one guy who almost certainly will not go to bat for the University of Iowa when state lawmakers are hashing out the higher education budget during the 2016 legislative session.
At a press conference this afternoon, Rastetter defended the annual salary of $590,000 offered to Harreld, saying it was based on the University of Iowa being "more complex" than Iowa State. As one Iowa City resident noted, "the same 'complexity' doesn't apply to state appropriations requests" for the university.
Any relevant comments are welcome in this thread.
P.S.- Regents originally limited the press conference following today's announcement to fifteen minutes, I assume because it's easier to limit questions from journalists than to defend picking the least-qualified candidate for the job. The presser ended up running for 26 minutes.
P.P.S.- It doesn't inspire confidence to learn that Harreld's resume named himself as "managing principal" for a firm that does not exist. Here's how Harreld addressed that concern:
Harreld explained during Tuesday's public forum that the listing had been a mistake. He used the name of a limited liability company that he had been using in Massachusetts but no longer needed now that his clients wanted to work with him to assume liability directly. He allowed that company to lapse.

"So that's 'shame on me,'" Harreld said. "There is no Colorado corporation. That's my company. … It's me personally working."
UPDATE: Several disturbing details emerged from Foley's updated report for the Associated Press this evening.
Harreld said that he was recruited by members of a search committee to apply. Harreld spoke by phone with Branstad in August to ask "about the governor's support for the university should Harreld continue through the process," Branstad spokesman Jimmy Centers said. Branstad made the call after Harreld made an inquiry through Rastetter, Centers said, adding the governor didn't speak with any other candidates or endorse anyone for the job.
So, the guy with few relevant qualifications did not even express interest in the University of Iowa position. Rather, a search committee recruited him, and the Board of Regents president got the governor to call him with assurances of his "support for the university should Harreld continue through the process."
I'm not aware of any previous Iowa governor intervening in such a way to encourage a reluctant applicant to seek the position of university president. Likewise, to my knowledge it's unprecedented for the Regents president to go to such lengths to keep a prospect interested in the job.
Rastetter played a big role in recruiting a once-hesitant Branstad back into politics in 2009. He was the largest donor to Branstad's 2010 gubernatorial campaign and co-chaired his inaugural committee. For his part, the governor generally favors giving business leaders more influence over public policy. He has been known to recruit people for important positions who otherwise would not have applied for the job. So I'm not surprised that Branstad would pick up the phone if Rastetter asked him to, without further investigating Harreld's qualifications or his potential competition for the university presidency.
The more I think about today's news, the more depressed I feel that not one of the other eight regents was willing to stand up for hiring a more qualified candidate. The institutional problem goes way beyond Rastetter.
The University of Iowa's graduate student union didn't worry about political correctness in their statement on the hiring.
The Board of Regents' unanimous election of Bruce Harreld as President of the University of Iowa shows how far the Brandstand-appointed [sic] Board is willing to go to destroy public education at the University of Iowa. Harreld is completely unqualified for the position and his behavior during the public forum was deeply disturbing-from saying that he learned about the University of Iowa by reading Wikipedia to falsifying his credentials on his curriculum vitae. The hiring process was hijacked by the Board of Regents, resulting in a breakdown of the shared governance system with the University of Iowa faculty.

This action by the Board of Regents is a clear continuation of their attempts to defund and defame the University of Iowa, while siphoning more money from the students they purport to serve. The Board's hiring of Harreld underscores their view of the university as a business rather than an educational institution. As graduate student employees who teach the majority of classes at the University and conduct much of the research, we are opposed to a President who cannot effectively advocate for raising the quality of education at the University of Iowa, and who is neither qualified, nor equipped to fill the position for which the Board of Regents has appointed him.

We support the faculty in their efforts to advocate for the appointment of a qualified, experienced president at the University of Iowa.

Ruth Bryant

COGS Press and Publicity Chair
Harreld has a five-year contract at a starting salary $65,000 higher than what Mason was paid in her eighth year on the job. Who thinks he will still be working in Iowa City in 2020?
SECOND UPDATE: Kellie Woodhouse compiled more reaction to the hiring for Inside Higher Ed:
"Bruce Harreld is taking on the presidency under an enormous cloud and it's going to take a lot of work to begin to make his presidency work effectively and to gain the trust of the community," said Ed Folsom, an English professor who served on the presidential search that produced Sally Mason, whose retirement in August created the vacancy that the board is filling. "The fear of a good part of the university community is that he is assuming a presidency that … looks to the Board of Regents for guidance and approval, rather than looking to the university community for guidance and approval." […]

"His own philosophy, the philosophy he promised to bring to the university, is that he knows how to change organizations and he does it by building consensus," said Bob McMurray, a professor of psychological and brain sciences. "I don't see how he can possibly achieve that being hired the way he did and under the circumstances in which he was hired."

He continued, "He'll have a much more challenging time then one of the other candidates would have. It seems if you want to make changes to an organization you have to get buy-in." […]

"Faculty, staff, students, alumni and other community members were all of one mind that this man was not competent to run any university," said Katherine Tachau, a history professor and president of Iowa's AAUP chapter. Tachau served as the co-chair of a failed 2006 presidential search.

"[Regents] may think that a CEO can run a university without any support on the ground and they are mistaken," she continued, adding later, "There's no scenario in which he can be successful in the eyes of the campus community. Maybe he'll be successful in the eyes of regents, those regents who want to destroy the university."
John Deeth compares the choice of Harreld to the Ministry of Magic interfering with Hogwart's in J.K. Rowling's book Harry Potter and the Order of the Phoenix.
The faculty and student opposition, and the harsh public forum, only served to impress the Board of Regents, headed by Branstad consigliere Bruce Rastetter, that [they] were making the Right pick.

In the social media sphere, more than a few Iowa Republicans are dancing the happy dance of schadenfreude that the liberal professors would, to paraphrase one, have to learn how the real world works.

[Harreld] may turn out to be a decent guy, and may adapt to the new role. That's beside the point. The point is, this is a political appointment, in a lot of the different senses of the word "political," and a strong message to the University of Iowa community in particular and the People's Republic of Johnson County in general – a messages best abbreviated as a raised middle finger.
Deeth also points out that an "in your face choice feels a lot like payback" to Johnson County, which was the only county to vote for Jack Hatch over Branstad in the 2014 gubernatorial election.
THIRD UPDATE: The front page of the Daily Iowan features the headline REGENTS' DECISION CONDEMNED, with a prominent block quote from history and gender studies Professor Leslie Schwalm:
I AND MANY OF MY FACULTY COLLEAGUES ACROSS THE UNIVERSITY ARE STUNNED AT THIS DECISION.

WHAT A SAD DAY FOR THE UNIVERSITY OF IOWA.
The student newspaper's lead editorial on September 4 included the following comments on the "academic outsider":
Perhaps it should be anticipated that university faculty would be leery of an outsider coming in to direct the school's academic mission. But even given that caveat, preliminary backlash to Harreld has been extreme. […]

At Harreld's forum on Tuesday, he said he wanted to change the core of the UI to "make great greater." He also noted that the UI shares many of the same problems as companies, with students as the customers.

The Daily Iowan Editorial Board does not intend to preemptively criticize an incoming president, and we sincerely hope Harreld can lead the UI to greater success as its president.

However, our plea to Harreld is this: Remember that the UI is not just a business. With limited additional funding for the university, tough decisions will face you in the coming years. But the integrity of the UI's academic mission cannot be sacrificed for the bottom line.
FOURTH UPDATE: After reading that Harreld's contract includes a tenured position at the business school, I sought information on how many tenured faculty at the University of Iowa do not have a doctorate in a field related to their department's work. So far, I haven't heard back. My question may not be relevant after all. According to Vanessa Miller's September 4 story for the Cedar Rapids Gazette,
The five-year contract given to new University of Iowa President J. Bruce Harreld includes the possibility – subject to faculty recommendation – of a tenured position in the Henry B. Tippie College of Business.

But Harreld did not make tenure a condition of his employment and has said he "will not seek tenure," according to UI spokeswoman Jeneane Beck. […]

The provision for tenure in Harreld's UI contract was "simply boilerplate language," Beck said.
It makes sense for such language to be in the standard contract, because before Thursday of this week, who could have imagined the Board of Regents would hire a university president with so little academic background?
I wonder why a sharp business person didn't go through his contract carefully enough to remove inapplicable language before the document went out to the media, though.
The Des Moines Register's William Petroski posted a picture of a poster hanging in Iowa City, showing a large photo of Harreld next to the words NOT MY PRESIDENT.
FIFTH UPDATE/CORRECTION: I haven't read the contracts offered to other recently-hired presidents of Iowa public universities, but fortunately, the AP's Foley has. As it happens, the Board of Regents did not guarantee a tenured faculty position to Iowa State University President Steven Leath or to University of Northern Iowa President William Ruud. In other words, those contracts do not support official claims about "boilerplate" language offering tenure to Harreld. Foley also pointed out that language about a position at the business school was clearly tailored to Harreld, and asked why the regents would have offered the new president a $300,000 salary guarantee for a tenured position if he had no interest in such a job (as officials now maintain).
A more plausible explanation: Harreld wanted a tenured position to go along with the presidency but backed away from that goal after seeing the extremely negative reaction to his hiring. It would make for embarrassing headlines if faculty at the Tippie College of Business refused to recommend tenure for the new president.
I am still seeking information on how many other tenured faculty at the University of Iowa lack a doctoral degree in any field of study.
Meanwhile, an Iowa State University faculty member shared major concerns about how this week's news may affect all of Iowa's state universities. On the one hand, seeing the regents unanimously select Harreld made this professor even more grateful Iowa State ended up with Steven Leath as president. On the other hand, a University of Iowa president with no legitimacy on campus and the Board of Regents as his sole source of support will likely impose an "axe man" agenda, especially if the regents' preferred funding model (shifting state money away from Iowa to ISU and UNI) moves forward in the Iowa legislature.
A status-quo budget for the University of Iowa would require big cost-cutting measures, and "We will not be immune" if the regents like what they see from Harreld, the ISU professor warned. The Board of Regents has long pushed for more business-style management of the state universities. Last year, they retained Deloitte Consulting LLP to study ways to save money by consolidating some programs, services, and purchasing among the three universities. Deloitte produced a set of recommendations that ostensibly could save between $16 million and $40 million across Iowa's state university system. The board approved the plan. More recent analysis suggested,
Parts of a highly touted cost-savings push at Iowa's three public universities may not save as much money or happen as fast as initially projected, according to consultants' reports released this week [in July 2015]. […]

Mark Braun, a University of Iowa administrator leading the effort to find efficiencies at the three schools, conceded Wednesday that Deloitte's recommendations on purchasing were "much more aggressive in their approach and their timeline" than will be reality.

A report released Tuesday from Huron Consulting, which was hired to review and refine Deloitte's recommendations, projected that the universities would save between $3.9 million and $7.8 million per year in buying seven categories of items such as food and computers. […]

Another report released Tuesday from consultant Chazey Partners said the University of Iowa will save millions less than initially projected in ongoing plans to restructure its finance, human resources and information technology services. […]

The Chazey report said the changes to finance, human resources and IT staffing and services could save $14 million per year across the three universities beginning in 2017. But it warned those savings would require nearly $20 million in implementation costs, such as purchasing new technologies.
Regardless of how much money is saved through those plans, the Board of Regents clearly favors managing the state universities more like a single unit and running them all more like a business. Hiring Harreld over immense opposition from Iowa faculty and staff fits with that model. All of the above points to the new Iowa president's choices potentially extending beyond Iowa City to Ames and Cedar Falls.
Although I hadn't thought about this week's news from that perspective, those concerns seem well-founded.
SIXTH UPDATE: Harreld met with Iowa football players on September 4. University English Professor Blaine Greteman noticed the next president's "genuinely refreshing" focus on sexual assault. My transcript, from approximately the 1:15 mark of the video:
Harreld, speaking to football team: I have one request. I need your help. I've been going around the campus the last 48 hrs, and there is a firestorm of issues around sexual abuse. And here's the deal: you guys are leaders on this campus. If you see something, do something. Please. And if there's anything I can do, help. Pull me into it. Pull any of us into it. You are the sort of people that can really begin to make a difference on this whole issue. And in my experience, the men that are here need to send the message that it's not right, and [that] we'll take action.
SEVENTH UPDATE: The organization representing many faculty released this statement on September 7.
The University of Iowa chapter of The American Association of University Professors (AAUP) joins the Campaign to Organize Graduate Students (COGS) and other members of our campus community in deploring the actions of the Iowa Board of Regents in appointing Mr. Bruce Harreld to be the next president of the University of Iowa. In retrospect, it is clear that the assurances of fairness and transparency in the hiring process given to us by the Regents, the chair of the search committee, the search firm, and the Faculty Senate leadership were untrue. It is our hope and belief that those assurances made by the search committee and faculty leaders were the result of representations made to them by the Regents. Only a pre-conceived determination by the Regents to appoint Mr. Harreld regardless of campus reactions to him can explain his hiring. Had the Regents, the ultimate decision makers, been the least bit concerned with the reactions of faculty, staff, and students to Mr. Harreld's campus visit, the combination of his performance at the open forum, the problems with his resume, and the conclusion of the overwhelming majority of those responding to the survey that he is unqualified to lead the university would have produced a different decision. We sincerely regret our inability to believe that the Regents are prepared to act in the best interests of the university. And we extend our heartfelt apologies to President Krislov, Provost Bernstein, and Provost Steinmetz for the treatment they received from The University of Iowa.
University of Iowa Communications Professor Kembrew McLeod published a blistering commentary about the presidential search on September 8 at Slate.
EIGHTH UPDATE: Kristin Lang of the American Association of University Women posted a commentary about Harreld's hiring on September 8. Excerpt:
Women Excluded from University President Hiring Pool … Again […]

More women are attending college than ever before, earning almost 60 percent of undergraduate degrees and 60 percent of all master's degrees. And yet women account for only 26 percent of college and university presidents and 34 percent of senior administrators at research universities.

Time and time again, women are excluded from leadership positions due to gender bias and stereotypes. […]

The Iowa Board of Regents chose a candidate with limited higher education experience whom less than 3 percent of faculty members deemed qualified to become the next university president. Despite his low faculty ratings, J. Bruce Harreld is set to earn more than the university's outgoing woman president. News stories like this that remind me that AAUW's campus work on creating opportunities for college women's leadership development and closing the gender pay gap remain as relevant as ever in the (un)changing landscape of higher education.
From Vauhini Vara's piece in The New Yorker, "Do Businesspeople Make Good University Presidents?"
I asked Rastetter what kind of revenue-generating and cost-cutting measures he himself favored, and he mentioned investing in online learning-a controversial approach that can let professors reach more students at once but is seen by some critics as less effective than traditional pedagogical methods-and trimming expenses in administrative areas such as finance, human resources, and I.T.

It seems conceivable that Harreld's experience would be helpful on these fronts. Still, there's little precedent for installing someone like him at such a large public institution. In 2011, fewer than two per cent of newly appointed university presidents came from private business, according to a survey by the American Council on Education. When I asked Rastetter to name some similarly non-traditional appointments at other high-profile universities, he referred to the president of Purdue, Mitch Daniels, who is the former governor of Indiana, and the president of the University of Oklahoma, David Boren, who is the former governor of Oklahoma. Janet Napolitano, the president of the University of California-the largest university system in the nation-also has a background in politics, having previously served as the U.S. Secretary of Homeland Security, under President Obama, and as the governor of Arizona. Daniels, Boren, and Napolitano lacked direct experience in higher education when they took their current positions, but, as former governors, all three were required to be deeply knowledgeable about budgeting for higher education, and experienced in the highly political, consensus-based decision-making processes that prevail in both statehouses and university administrations.
As usual, Cedar Rapids Gazette columnist Todd Dorman's take is worth reading. Excerpt:
Basically, I'm sick to death of the reams of window dressing thrown up to make processes such as this one look as if people beyond the cozy corridors of power actually have a say. It happens over and over again at all levels of government. Big decisions, even small ones. It's as if our elected officials and loyal appointees have become dodgy interior decorators. The window dressing is so thick, there really are no windows.

And the drapes do not match the democracy.

Of course, the Branstad administration has become masterful at talking transparency while wielding power like a shady generalissimo. You don't have to connect many dots to figure out Harreld, a former executive at IBM, Boston Chicken and other firms, likely was Board of Regents President Bruce Rastetter's top pick from the beginning. Rastetter is Branstad's loyal GOP BFF and he even set up a phone call between Harreld and the governor in August, according to an Associated Press report. So Harreld was recruited by the search committee, which included Rastetter, and is the only candidate who spoke to Branstad.

Winner, winner, Boston Chicken dinner.

So it seems the search process, the naming of four finalists, public forums, surveys of students and faculty, interviews, etc., all were, basically, shiny public packaging for hiring the business guy. You let people speak, but there's no reason to listen. If they're not your friends or political allies, their voices are simply background noise.
Twitter user BarokBefok created a graphic comparing Harreld's qualifications with those of Iowa State University President Steven Leath and gave me permission to post it here: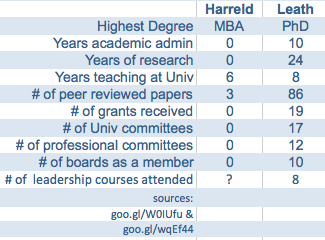 Bleeding Heartland analyzed here Rastetter's conciliatory gesture: agreeing to request $4.5 million in additional appropriations for the University of Iowa during the 2017 fiscal year.