Republican Party of Iowa Chair Jeff Kaufmann blew a gasket in March when soon-to-be presidential candidate Scott Walker hired a consultant who had said some disparaging things about Iowa:
"It's obvious she doesn't have a clue what Iowa's all about," Mr. Kaufmann said. "I find her to be shallow and ignorant," he added, "and I'll tell you, if I was Governor Walker, I'd send her her walking papers."
A few months later, Kaufmann brought down the hammer on some volunteers who displayed the Confederate flag on behalf of a county GOP committee:
"I am just absolutely, utterly disgusted on multiple levels," Kaufmann said in a telephone interview. "Shame on them and I don't want them in my party."
The Iowa GOP leader's reaction to Donald Trump's latest disgraceful, illegal idea was weak by comparison.

I haven't written about Trump's descent into more bigoted appeals, because others have expressed well my views on the subject. As Maggie Haberman and Patrick Healy revealed in this must-read linguistic analysis, Trump uses the classic techniques of demagogues: the "language of division," a "cult of personality," a "manner of categorizing and maligning people with a broad brush." It's frightening to see how many Americans support such a toxic approach to political combat.
How ugly is Trump's latest proposal to bar Muslims from entering the United States? So ugly that the co-chair of a New Hampshire veterans group for Trump defended the idea by comparing it to putting Japanese-Americans in internment camps during World War II.
So ugly that New Hampshire GOP Chair Jennifer Horn described it as "un-Republican," "unconstitutional," and "un-American."
So ugly that South Carolina GOP Chair Matt Moore said Trump's "bad idea and rhetoric send a shiver down my spine" as "a conservative who truly cares about religious liberty."
But Kaufmann pulled his punches.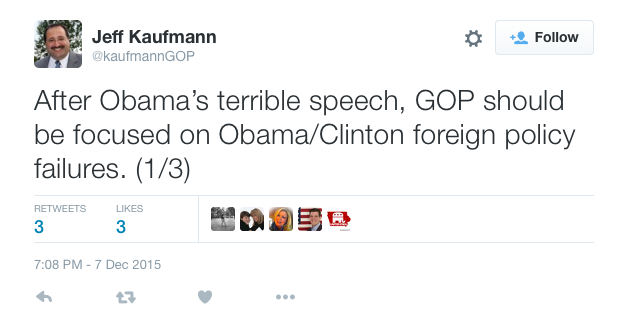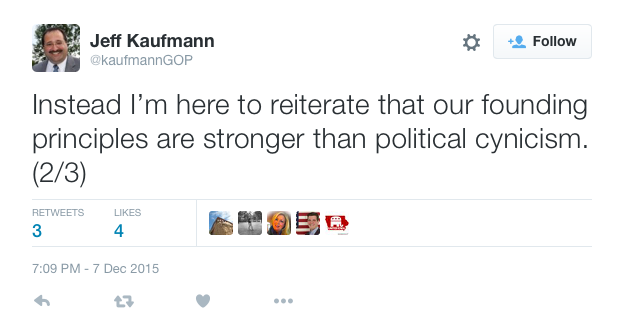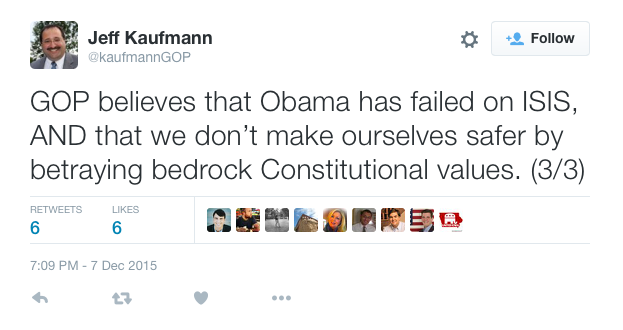 That's all you got? A swipe at Barack Obama and Hillary Clinton, followed by an oblique reference to "political cynicism," and finally, a defense of the Constitution buried under another "Obama has failed" talking point?
The unnamed person who is "betraying [our] bedrock Constitutional values" happens to be your party's front-runner for the presidential nomination. He has led most polls of Iowa Republicans for the past five months.
Not being a mind-reader, I don't know why Kaufmann hesitated to call out Trump the way he condemned Scott Walker's former consultant Liz Mair or a couple of volunteers for the Marion County GOP.
Kaufmann's been an adjunct American history professor for many years, so he of all people should recognize the danger posed by a skillful demagogue. How disappointing to see the Iowa GOP leader refuse to engage this battle.