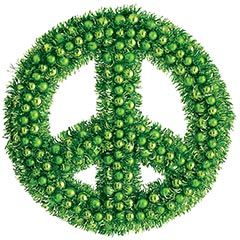 Merry Christmas to all in the Bleeding Heartland community who are celebrating today. After unseasonably warm weather for most of December, snow arrived in time to produce a white Christmas for many Iowans. We didn't get enough accumulation for sledding in central Iowa, but the trees look lovely. This is an open thread: all topics welcome.
The Des Moines Register ran this version of the Christmas story from the New King James Bible on the front page of today's Iowa Life section. The date that Jesus was born remains unknown; Andrew McGowan offers one historical perspective on how December 25 came to be celebrated as Christmas. Also unknown are the number of wise men (not identified as kings in scripture) who reportedly came to look for the baby just born. The nature of the star of Bethlehem has been a hot topic of debate among religious historians. Apparently it was not Venus, Halley's comet, a supernova, a meteor, or Uranus. Kenneth Bailey's discussion of the manger and the inn is worth a read. In his view, the birthplace of Jesus was likely a private home, which may have been in a cave.
After the jump I've enclosed the video of Mike Huckabee's famous "floating cross" Christmas-themed television commercial, which aired soon after he became the Republican front-runner for the 2008 Iowa caucuses. When Huckabee launched his second presidential campaign, I didn't see him winning the Iowa caucuses again, but I expected him to retain a solid chunk of social conservative supporters, having retained high name recognition as a Fox News network show for years. I never thought we'd see Huckabee languishing below 3 percent in the Iowa polling average, below 2 percent in the South Carolina polling average, off the stage for prime-time debates, and reducing staff salaries for lack of money.
My family doesn't celebrate Christian holidays, but we did enjoy noodle kugel last night while listening to the Klezmonauts' "Oy to the World," the only Christmas music we own and to my knowledge, the only collection of Christmas songs done in the klezmer style. If you love "Jewish jazz" and holiday music, I also recommend the Klezmatics album "Woody Guthrie's Happy Joyous Hanukkah." It's true, the legendary American folk singer wrote lots of Chanukah-themed lyrics. Members of the Klezmatics set Guthrie's words to new music.
Final note: The peace wreath image at the top of this post originally appeared at the Paint Me Plaid website. The peace symbol first became popular in this country during protests against the Vietnam War, but like so many of our political traditions, it has roots in the United Kingdom--in this case, from the 1950s British anti-nuclear movement.