Craig Robinson is among the go-to Republicans for national press covering the Iowa caucuses. His insights are partly informed by a wealth of experience: as a staffer on Steve Forbes' presidential campaign before the 2000 caucuses, as political director of the state GOP during the year before the 2008 caucuses, and as publisher of The Iowa Republican blog since 2009.
One salient fact rarely, if ever, makes it into the news stories quoting Robinson about prospects for Republican contenders in Iowa: his company Global Intermediate has been paid to do direct mail for or against certain candidates in the field.

ROBINSON'S FINANCIAL INTEREST IN THE IOWA CAUCUS CAMPAIGN
Robinson's Linked In page indicates that he has been president of the Global Intermediate company since 2014. Founded in 2011 by Nick Ryan just 47 days after he left a post in Rick Santorum's presidential campaign, Global Intermediate handles direct mail and marketing for a range of clients. Its first big customer was the pro-Santorum super-PAC Red, White, and Blue Fund, which Ryan also ran. Jennifer Jacobs reported for the Des Moines Register in February 2012 that the Red, White, and Blue super-PAC had paid Ryan's direct mail company $1.26 million. According to the Open Secrets website, Global Intermediate was the second-largest vendor or recipient of the pro-Santorum super-PAC. All told, the Red, White, and Blue Fund reported spending $2,138,915 on services provided by "Global Intermediate LLC" and another $223,477 on services provided by "Global Intermediate" during the 2012 cycle.
Ryan is connected to various entities (the American Future Fund, the NextGen PAC) that over the years have either advertised at The Iowa Republican blog or paid "professional fees" to GOP Lounge, LLC, a company owned by Robinson. Before and after the 2012 Iowa caucuses, a clear slant toward Rick Santorum was noticeable in many of Robinson's posts at The Iowa Republican blog. An unsigned e-mail distributed to many Iowa Republicans and media in 2013 criticized Robinson for publishing commentaries favorable to Terry Branstad during the 2010 GOP gubernatorial primary campaign, while the NextGen PAC, originally created as a "Draft Branstad" 527 organization, paid large monthly fees to GOP Lounge.
Ryan is no longer profiled on the Global Intermediate website, which lists Robinson and two other employees.
Donald Trump's presidential campaign paid Global Intermediate $7,208.32 for direct mail services on June 11–five days before Trump's official campaign launch. I suspect Chuck Laudner, Trump's top staffer in Iowa and a key figure in Rick Santorum's campaign before the 2012 caucuses, was behind that genius move. Robinson regularly writes about the Iowa caucus campaign at his website and would surely cover Trump's kickoff event. Federal Election Commission documents showing third-quarter expenditures by the Trump campaign list a $6,274.14 disbursement to Global Intermediate on August 26 for direct mail printing and postage. Since fourth-quarter federal campaign filings are not due until February 1, I don't know whether Robinson's company did any more mailings for the Trump campaign after October 1.
I am not saying Trump's staff bought favorable coverage at The Iowa Republican blog with a couple of small work orders. But those jobs may have been a signal to Robinson that he could hope for much more business from the billionaire later. A serious statewide direct mail effort for a presidential campaign costs hundreds of thousands of dollars. For that reason, any financial connection between a political commentator and a candidate is relevant. (UPDATE: After this post appeared, the Trump campaign made payments to Global Intermediate totaling $102,610.95. Scroll to the end for details on those late January expenditures.)
A much bigger client for Global Intermediate during 2015 was Pursuing America's Greatness, a super-PAC supporting Mike Huckabee. Nick Ryan has led that super-PAC since its creation last March. All the Pursuing America's Greatness FEC filings on independent expenditures are available here. Small disbursements from the super-PAC to Global Intermediate began in May for internet advertising.
The big bucks started pouring in a few months ago. Pursuing America's Greatness paid Global Intermediate $49,342.80 and $47,331.13 for direct mail supporting Huckabee that went out in October.
In November, Global Intermediate handled pro-Huckabee mailings that cost the super-PAC $49,342.80, $49,342.80 (disseminated on a different date from the other order costing the same amount), and $44,946.72. The same month, Pursuing America's Greatness paid Global Intermediate $22,473.36 for direct mail opposing Marco Rubio, along with $44,946.72 and $22,473.36 for two mailings opposing Ted Cruz.
December payments from Pursuing America's Greatness to Global Intermediate covered three more direct mail pieces supporting Huckabee, costing $68,902.08, $60,560.61, and $45,112.08.
So far this month, Ryan's super-PAC has reported paying Global Intermediate $46,847.16 each for two direct mail orders supporting Huckabee and $46,847.16 for mail opposing Cruz.
POST-CAUCUS UPDATE: During the final week before the Iowa caucuses, the super-PAC reported paying Global Intermediate another $24,988.50 for direct mail promoting Huckabee.
ROBINSON'S COMMENTARY DOES NOT DISCLOSE HIS SIDE BUSINESS FOR POLITICAL ENTITIES
Although FEC documents from the Trump campaign and Pursuing America's Greatness are publicly available, most readers of The Iowa Republican do not pore over presidential campaign filings or scrutinize the independent expenditures of every outside group trying to influence Iowa GOP caucus-goers. Even if they did, it's easy to miss a couple of small disbursements amid a long list of itemized expenditures. Moreover, payments to Global Intermediate would not immediately suggest any connection to Robinson, even to many political junkies.
So in an ideal world, Robinson would disclose his potential conflicts of interest whenever he comments on the Iowa caucus campaign. However, the "about the author" blurb appearing at the bottom of all his blog posts says only this:
Craig Robinson serves as the founder and Editor-in-Chief of TheIowaRepublican.com. Prior to founding Iowa's largest conservative news site, Robinson served as the Political Director of the Republican Party of Iowa during the 2008 Iowa Caucuses. In that capacity, Robinson planned and organized the largest political event in 2007, the Iowa Straw Poll, in Ames, Iowa. Robinson also organized the 2008 Republican caucuses in Iowa, and was later dispatched to Nevada to help with the caucuses there. Robinson cut his teeth in Iowa politics during the 2000 caucus campaign of businessman Steve Forbes and has been involved with most major campaigns in the state since then. His extensive political background and rolodex give him a unique perspective from which to monitor the political pulse of Iowa.
Since last summer, numerous pieces by Robinson for The Iowa Republican have put a positive spin on Trump's staying power, warned against writing off Huckabee or Santorum, and/or publicized negative information about rival candidates such as Cruz, Rubio, or Ben Carson. I do not recall ever seeing a disclosure that Robinson is president of a firm that did some work for Trump's campaign and was later paid hundreds of thousands of dollars to produce direct mail promoting Huckabee or opposing Cruz and Rubio.
Here are some examples. This list is by no means comprehensive:
• A June 17 post on Trump's official announcement contrasted the "poor reviews" in the national media to the "outstanding political theatre" of the Des Moines event Trump's campaign staged. "Trump may be the most unconventional candidate we have ever seen run for president, but last night in Des Moines, he showed that while the media might not take him seriously, there are plenty of caucus goers who are looking for a change agent that will shake up politics as usual in Washington D.C. He might not be the most polished candidate out there, but it's clear he struck a chord with his style and remarks in Iowa on Tuesday night." Readers should have been told that Global Intermediate had received a check from Trump's campaign the previous week.
• A July 28 post argued that Trump could win the GOP nomination–a scenario conventional wisdom discounted at the time.
• An August 21 post ended with this kicker: "Huckabee seems to be one of the few who really understands how this all works. That should not really be a surprise, since he's seen first hand how this all works. Cruz on the other hand, may learn the same tough lesson that Rick Perry learned in 2012."
• A September 8 post argued that other candidates were foolish to criticize Trump directly, because "You can't stop him. You can only hope to contain him." By this time Global Intermediate had received its second check from the Trump campaign.
• An October 8 post was titled "Trump's Impending Demise Has Been Greatly Overstated." In this piece, Robinson acknowledged the campaign "has work to do when it comes to voter contact and paid media" (hint hint, try more direct mail) but praised the "fantastic" voter education work at large rallies for Trump and the "instructions on how to caucus" that appear on supporter cards.
• An October 9 post looked at the state of the race with a little more than 100 days to go. Robinson argued that "typical church-goer" religious conservative voters "are not looking for someone to take a flame-thrower to Washington like Cruz and [Bobby] Jindal," but are more likely to be drawn toward Huckabee and Santorum (despite the available polling data showing those two in the low single digits). This post also talked up Trump's relatively large staff, compared to the rest of the Republican field: "Trump is unavoidable and better organized than you think."
• An October 15 post cast doubt on Cruz's campaign organization and prospects: "I have always recognized the potential Cruz has in Iowa, but I'm not sold on his ability to capitalize on it." Robinson noted that other candidates in the field have "stood and fought," including Santorum, Jindal, and Huckabee. "The only place that Cruz has fought and won during the span of his presidential campaign is on the fundraising circuit. […] While the national media is chanting, 'Here comes Cruz,' I see a campaign with a number of obstacles in Iowa."
• An October 21 post was called "Huckabee continues to piece together his 2008 coalition." Robinson touted Huckabee's endorsement by a homeschooling community leader and "an influential pastor in Central Iowa," even though many more pastors had signed on with Cruz by that time. "The polls may not reflect it, but Huckabee has been one of the few candidates who has kept his head down and focused on his own business. Since announcing his candidacy on May 5th, Huckabee has held 85 separate Iowa events in 60 of the 99 counties across the state. The Huckabee campaign has publicly announced 178 statewide Iowa leaders, including 77 county chairs." Nowhere in this post did Robinson mention that large checks from the Pursuing America's Greatness super-PAC had started to arrive at Global Intermediate.
• An October 22 post raved about the "impressive," "rowdy and enthusiastic" crowd that turned out to see Trump in Burlington, contrary to media predictions that the front-runner had peaked. Robinson's analysis may be dead on about the impact of the Trump phenomenon on Republican caucus turnout. But again, disclosure of Global Intermediate's work for the campaign was warranted.
• An October 23 post on "Carson in Command of Iowa" sought to explain Trump's "slide in the polls" and how he could turn that around using mail, radio, or tv. Robinson cautioned, "I wouldn't celebrate Trump's demise. He still had over 3,000 people in Burlington this week. There is still plenty of juice from him in Iowa, but as I have written before, this is a transitional time for his campaign. They can no longer rely solely on the power of the candidate's brand and celebrity."
• A November 9 post on how Ben Carson "doesn't deserve the benefit of the doubt" took a lot of shots at the man who was threatening to overtake Trump and was attracting voters sought by other social conservative candidates.
• A November 13 post explained that Cruz is "not so ideologically pure on immigration as you may think." Robinson praised Rubio's "brilliant move" to highlight the similarities between his and Cruz's past stands on immigration reform. The piece noted that Santorum has been hitting Cruz on the issue, which "will cause Cruz some heartburn in Iowa." It also cited Trump's "hardline position."
• A November 17 post put a pretty good spin on Representative Steve King's decision to support Cruz, looking at how the endorsement might affect not only the Iowa caucus race, but King's ability to raise money later.
• A November 23 post argued that Huckabee and Santorum were "Down in the polls but definitely not out," having given superior performances to Cruz at the FAMiLY Leader's Presidential Family Forum.
• A December 2 post showcased a radio ad bashing Cruz's stand on the Renewable Fuel Standard. The post was titled, "Yes. Cruz is a Hypocrite When it Comes to the RFS and Big Oil."
• A December 11 analysis criticized Bob Vander Plaats for endorsing Cruz based on his "viability." Robinson noted that Huckabee "had repeatedly supported Vander Plaats in all of his political endeavors over the past eight years."
• The same day, a separate Robinson commentary observed that Vander Plaats "would not be the 'kingmaker' he is today without Mike Huckabee," adding that "Huckabee runs circles around Cruz on the issues that matter the most to Vander Plaats, namely the out of control courts and personhood."
• A December 16 post bashed Cruz endorser and popular talk radio host Steve Deace for making a vulgar comment about Carly Fiorina. Robinson argued that Deace reflected poorly on the Cruz campaign. By this time Pursuing America's Greatness had paid Global Intermediate to produce negative direct mail against Cruz.
• A December 21 post on the Republican ground games defended Trump against this story by the New York Times' Trip Gabriel. Meanwhile, Robinson cast doubt on Cruz's turnout operation, contrasting it with Huckabee's 2008 caucus campaign.
• A December 28 post was headlined "Ted Cruz: The False Prophet of Social Conservatism." Robinson's lede was not subtle: "Contrary to popular belief, the 2016 presidential campaign of Texas Senator Ted Cruz does not present socially conservative and evangelical voters their best chance to put one of their own in the White House. Instead, a Cruz presidency may usher in the total demise of [the] social conservative movement in America." The closing section of that post asserted, "It's the two former caucus winners in Santorum and Huckabee that [sic] could become problematic for Cruz down the stretch," because Cruz's position on marriage could give life to "an authentic social conservative alternative." In reality a long list of self-styled "marriage defenders" in Iowa will give Cruz plenty of cover on this issue (including Vander Plaats, Deace, and Richard and Betty Odgaard). The same day Robinson published this post, Iowa social conservative blogger Shane Vander Hart came out for Cruz, having previously endorsed Jindal.
The trend continued this month, with several blog posts by Robinson targeting Cruz. For example, on January 7 he questioned whether Cruz can "deliver the goods" on issues conservatives care about.
Dozens of similar postings have appeared on Robinson's Twitter feed, which reaches many journalists covering the Iowa caucus campaign for local or national media outlets. On September 19: "For the record, you are a fool if you have written off @GovMikeHuckabee in Iowa. His performance tonight at the #iaffc clearly proves that". On December 31: "My sense of Iowa is that its far more wide open than the polling suggests." Here are a few other examples: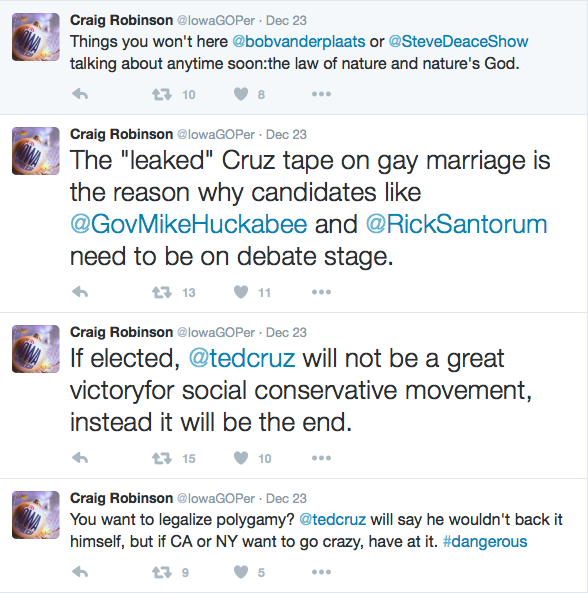 To my knowledge, Robinson has not mentioned on Twitter that his Global Intermediate company has been doing a lot of work for the pro-Huckabee super-PAC lately.
To be clear, I am not dismissing all of Robinson's analysis. I was particularly impressed by this post on the failure of this year's establishment candidates to target Iowa counties carried by Mitt Romney in either the 2008 or the 2012 caucuses. Robinson has valuable insight about Iowa politics. But he should tell readers when his other work is relevant to the topics he's covering.
The lack of disclosure is not just a problem for people who read The Iowa Republican or follow Robinson on social media.
NEWS REPORTS QUOTING ROBINSON DO NOT MENTION HIS COMPANY'S WORK FOR OR AGAINST CANDIDATES
On August 19, Robinson wrote a post for The Iowa Republican with the following lede: "I spend an inordinate amount of time talking to reporters about the presidential race every day of the week. Twitter is always a good tool to see what's trending out there politically, but so are the reporters that [sic] frequently call my cell phone."
I believe him. Robinson is one of the most frequently-quoted experts on the Iowa Republican scene.
I cannot recall seeing any news report mention that he is president of a firm getting paid to produce mail for or against certain candidates. (Please correct me if I am wrong, and I will add links to those stories.)
To cite just a few examples where disclosure of Robinson's financial interests would have been warranted:
Joel Gehrke's piece for the National Review in July quoted Robinson talking up Trump's growing organization in Iowa.
If Trump transcends the fate of the evanescent also-rans who sought the GOP nomination in 2012, he'll have to thank his Iowa political team — which is headed up by Chuck Laudner, the architect of Rick Santorum's surprise victory last cycle. "Donald Trump has nine paid staffers in the state of Iowa who work full time for him; that's significant," says Robinson. "Some of them are a little untraditional, but that's not bad, either. And so these are people who are around who have networks in which they can work, and, to me, I look at Donald Trump's team and say, 'not bad.'" Trump's worst-case scenario could look something like that guy in every game of Risk who gets bored and decides to devote all of his resources to destroying a particular opponent. Robinson believes that only a "fatal error" could consign Trump to irrelevance. The nature of his persona, however, makes it difficult to imagine what would constitute such a mistake.
Andy Sullivan and Steve Holland reported for Reuters on August 10,
But the drama has done little so far to dent Trump's appeal among less affluent, conservative-leaning voters who say his brash style is needed to shake up an overly cautious political system and that his vast wealth would help him resist corrupting influences.

"They want someone who's an outsider, who can upset the applecart," said Craig Robinson, a former political director of the Iowa Republican Party. "They're willing to deal with a less-than-perfect candidate if they believe it will actually change things in Washington."
In late August, CNN's Betsy Klein quoted Robinson on how Sam Clovis was "a score for Trump."
Peter Beinart reported for The Atlantic in early September, "Craig Robinson, former head of the Iowa GOP, told me that in the Hawkeye State, Trump has 'refocused the summer on what he wanted to talk about.'"
Eli Stokols and Alex Isenstadt reported for Politico in September,
"There is a dynamic of these typical politicians, they're just not interesting," said Craig Robinson, a prominent GOP activist in Iowa and the editor-in-chief of The Iowa Republican. "With Trump, everything he does is interesting. I don't know what Jeb Bush would do that's interesting to me. What they've done all summer just hasn't worked."
In this Washington Post story from October, Sean Sullivan and Anu Narayanswamy quoted Robinson as a former Iowa Republican Party director "who is neutral" in the caucus race. Neutral only if you don't count running a side company getting paid huge sums by Huckabee's super-PAC.
For Trip Gabriel's New York Times story on King endorsing Cruz, Robinson was quoted downplaying the potential impact:
"If you're a follower of King, you should already be in Cruz's camp,'' said Craig Robinson, a former state party official, who writes The Iowa Republican blog.
Rebecca Kaplan of CBS News quoted Robinson in mid-December about Trump "going to war" with Iowa's top pollster, Ann Selzer.
"In a sense it's smarter for him to go after the Register rather than Selzer herself," University of Iowa political science professor Timothy Hagle told CBS News. Craig Robinson, editor of The Iowa Republican, confirmed: "In Iowa, amongst Republican activists, beating up on the Des Moines Register isn't necessarily an unpopular thing to do. I just think this is kind of his way of dealing with a poll that shows him in second place."
Maggie Haberman and Jonathan Martin reported for the New York Times December 25,
"On any given day, Trump can dominate the news coverage of the entire race," said Craig Robinson, a former Republican Party of Iowa executive director who now publishes the Iowa Republican website. "I can see how such power might make a campaign think that they don't need to spend money on costly TV ads and direct mail." […]

Mr. Robinson said Mr. Trump had hurt himself in Iowa by not augmenting his news presence with a parallel effort to push his message through ads, mailers and phone banks. "Such an effort would have also inoculated him from attack," he said.

If Mr. Trump's team had researched Mr. Cruz's weaknesses, for example, then incorporated them in Mr. Trump's heavily covered speeches and ceaseless television appearances, as well as in paid advertising, he may have been able to pre-empt or at least slow the senator's rise there. Mr. Trump does not appear to have used a pollster to target his message or identify pockets of support, except for one survey early on.
Jenna Johnson reported for the Washington Post two days later,
"This is a struggle for all of the candidates, because a caucus is different from voting. . . . A caucus is very inconvenient," said Craig Robinson, a former Iowa GOP official who now runs the blog TheIowaRepublican.com. "It takes a commitment of time."

But Robinson noted that it also takes a commitment of time to attend a Trump rally, and thousands of Iowans have already done that, while other campaigns struggle to attract a couple hundred. He attended a Trump rally in eastern Iowa this fall and was surprised to see so many fans show up already wearing campaign T-shirts, suggesting a level of planning that could translate into the willingness to caucus.

"There is a committed base of support that no doubt will caucus for him," Robinson said.
You get the picture. It's not that Robinson's commentary is wrong or always tainted by his other political work. I agree with what Robinson told Neil Cavuto of Fox News about mistakes Carson made in Iowa. He had valid points when discussing problems with Jindal's campaign for stories that appeared in the Washington Post and the Los Angeles Times. Speaking to Shane Goldmacher and Alex Isenstadt, Robinson pointed to factors that certainly undermined Scott Walker's campaign. Many locals share Robinson's view, quoted here in Politico, that Rubio should make himself more available to Iowans and that Jeb Bush's campaign "is doing all the right things" but is limited by the candidate's appeal.
Writing at The Iowa Republican in late August, Robinson rightly expressed concern about "how blurry the lines are between the campaigns and their associated Super PACs" and "The all too cozy relationship between a campaign and its Super PAC." He was talking about ties between the Right to Rise super-PAC supporting Bush and the Redwave Communications firm run by David Kochel, who is a senior Bush campaign staffer. Robinson's comments could also apply to an all too cozy relationship between the super-PAC supporting Huckabee and Iowa's leading Republican blogger, who passes himself off as an independent analyst when speaking to the media.
UPDATE: Rocco Lucente of the Liberty Conservatives website discussed this post and published comments from Robinson:
Rocco Lucente: Ms. Belin put together a fairly comprehensive history detailing a string of pro Mike Huckabee and anti Ted Cruz postings on your website and comments to national media. Was this at all influenced by the PAC money received for the separate pro Huckabee and anti Cruz mail orders?

Craig Robinson: Actually if you read Ms. Belin's piece she really doesn't take issue with what I say to the media or what I publish on my website. I'm not a fan of Senator Cruz, and have some problems about his positions on a number of issues. My opinions are my own, in fact my positions are very consistent from 2009 before anyone was even aware of Mr. Cruz. […]

Rocco Lucente: How would you respond to the accusation Ms. Belin levies of an undisclosed conflict of interest between yourself and Pursuing America's Greatness as well as Donald Trump's Campaign?

Craig Robinson: First off I would argue that I have not hidden anything. Ms. Belin cites my LinkedIn page and website of the company, which clearly notes my position. Reporters sometimes call my office, or send emails to my business email address. Furthermore, I've hosted NBC, Fox, and CNN in my office multiple times.

Rocco Lucente: Do you plan to disclose your firms work for Pursuing America's Greatness PAC and the Donald Trump campaign in the future when writing pieces on their campaigns?

Craig Robinson: There are a number of changes coming to TIR [The Iowa Republican blog], which will be announced in short order.

Craig Robinson: Final note. Global Intermediate is a direct mail marketing and printing business. Our door is open to whoever would like to use our services. My focus is on my business, not any one particular campaign. If they need something printed and mailed I'm glad to assist, but in no way would I every [sic] describe my involvement as being part of their campaign.
I can't speak to how Robinson forms his opinions, but any political analyst who does business with campaigns or PACs should disclose that information up front, rather than leaving it to blog readers or reporters seeking comment to uncover the connections themselves. Standard journalistic practice is to identify when a named source or televised talking head is a paid consultant for any interested party.
Remember, documents that will show whether Trump's campaign purchased any services from Global Intermediate during the last three months of 2015 will not be publicly available until February 1. If Trump's campaign hired Robinson's company to do work during the final month before the Iowa caucuses, details on those expenditures will not appear on the FEC's website until first-quarter filings are due on April 15 February monthly reports are due.
LATE UPDATE: The Trump campaign's February 2016 FEC filing, covering receipts and disbursements for the month of January, showed a $99,960.95 payment to Global Intermediate on January 22 for "direct mail printing and postage," as well as a $2,650 payment to Global Intermediate on January 31 for "printing and design services." Page 431 from that report: