Dave Swenson
Is it extortion when one party pays up even though it was never threatened?
Recently, the state of Iowa awarded $17 million in state assistance to Dow-DuPont for pledging to keep its Pioneer-related research and development activities in Johnston. In a Des Moines Register interview of Tina Hoffman, a spokesperson for the Iowa Economic Development Authority (IEDA), we were told they were sure "Pioneer wasn't going to up and close down shop. That was clear from the beginning …." Still, the state is spinning this to be all about job retention.
Except it wasn't.
There was, as Ms. Hoffman stated, not even a hint that Dow-DuPont was going to wind down its Johnston operation. State agency due diligence would have certainly known, firstly, that the former and vaunted Pioneer Hybrid institution, then DuPont-Pioneer, and now a spun off subsidiary of the Dow-DuPont merger had invested extensively in its Johnston, Iowa, facilities as well as a range of seed production and field research operations across the state. There is a tremendous amount of very high value human and physical capital in Iowa that simply was not going to be abandoned or relocated. Iowa produces the most grain and oilseed crop values in the U.S. annually. R&D would naturally be most productive in close proximity to that comparative advantage. Yes, the Dow-DuPont merger meant job reductions worldwide, but that had translated into around 170 or so lost Iowa jobs. The remaining 2,600 were under no credible threat, nor were the high value R&D jobs.
And they would have known that the central Iowa economy hosts a diverse and potent cluster of crop and other biosciences firms. Except for an agglomeration of similar research around the St. Louis area, this is ground-zero for some of the most valuable R&D associated with crop genetics and ag product new uses. Shifting both a competitive and a spatial R&D advantage to less advantaged areas of the U.S. would make no business sense whatsoever. This is where many of the nation's best crop scientists look to find employment. This is where innovation occurs.
Concluding the R&D jobs were ever in jeopardy indicates fantasy, at best, and ungrounded hysterics, at worst.
The obvious noted, the real point of this essay is that Pioneer in all of its subsequent forms has been incredibly successful at extracting subsidies from the state of Iowa. According to that Des Moines Register story, the company in its various forms had received over a dozen state awards totaling more than $60 million prior to the most recent announcement. Summing all awards over time, however, using non-state sources leads me to believe that the total value of state and local government assistance awarded to DuPont-Pioneer over the past decade or so is substantially larger than reported thus far.
We can track economic development assistance across the states by turning to the Good Jobs First website, which maintains a running database of state awards to businesses. It indicates the state of Iowa had announced awards in the forms of grants, loans, forgivable loans, tax credits, and worker training allowances in excess of $120 million since 2005 — double the amount reported by the Des Moines Register.
The accompanying table shows that flow of awards over time. Between 2005 and 2009, Iowa doled out $15.2 million, but awards for 2010 through 2014, the last year of the data set, were an eye-popping $105.2 million. Some of these awards were rescinded in part because of some of the previous merger-related activities, according to the IEDA, but no matter, the amount of financial attention paid to this company just this decade was nothing short of staggering.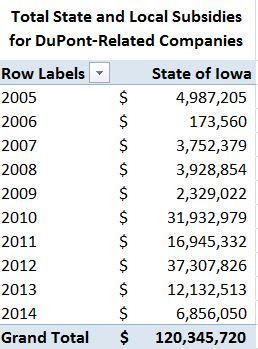 The next figure, however, is what was most surprising. Here, of the $159 million of state level economic development assistance awarded by all states to a DuPont-related industry since 2005, 76 percent of those awards came from the state of Iowa. At a very distant second was Louisiana at 13 percent where DuPont's traditional chemical operations reside. Clearly, when it comes to extra helpings of ag or ag-related economic development subsidies, Iowa is the gravy king.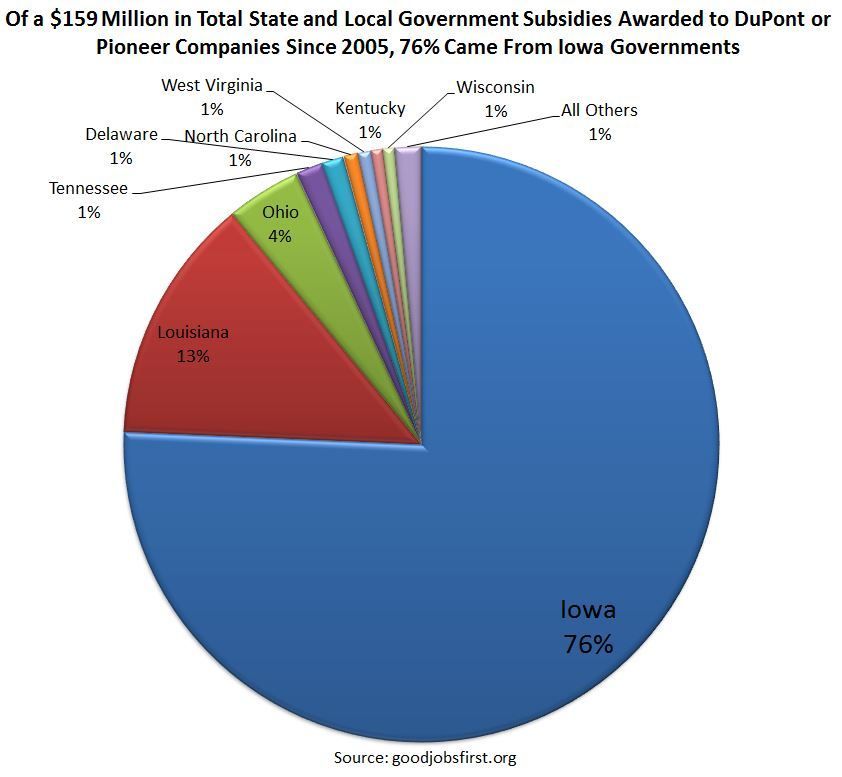 Finally, the next table shows how state aid to DuPont-Pioneer was doled out. More than 41 percent, almost $50 million, came from the state's main jobs development program. The research activities credit (RAC) was another 31 percent. This is the main funding category in the new award, but in this case it represents a fundamental difference than conventional practice: historically, RAC credits accrue to firms for net-new research activities. Here, the state is awarding, basically, the status quo so long as they maintain a minimum number of R&D professionals. The remaining quarter of the awards are divided among job training assistance via community colleges, assistance for the new cellulosic ethanol plant near Nevada, and then a set of much older programs administered during previous state administrations.
One more point. These tallies do not include the many millions of assistance afforded DuPont-Pioneer over the past decade by the city of Johnston, Polk County, or other local governments across the state. More gravy.
What do I conclude? This is business as usual anymore for Iowa's state and local economic development organizations. In recent years, IEDA has made many awards that are simply nonsensical from a fiscal point of view. Over and over, it has effectively maximized aid to firms yet yielded fewer and fewer net new jobs in the process.
The process is completely upside down from what one would expect from good fiscal stewardship. As public dollars fund so many valuable things, it is the state's duty to maximize the public good it creates and minimize the amount paid in that process. We call this the efficiency principle. Evidence suggests this is an alien principle to the current state administration.
And paying $17 million in tribute to a firm that wasn't going anywhere is nothing short of fiscal malpractice.