When the filing deadline passed for major-party candidates to run in Iowa's June 7 primary, seven Republican state senators up for re-election this year had no challengers: Randy Feenstra (Senate district 2), Dennis Guth (Senate district 4), Mark Segebart (Senate district 6), Mark Costello (Senate district 12), Amy Sinclair (Senate district 14), Tim Kapucian (Senate district 38), and Ken Rozenboom (Senate district 40). Recruitment continued, as special district conventions may nominate candidates for seats where no one filed in time to be on the primary ballot.
Based on 2012 election results and incumbent weirdness, the most potentially competitive of the uncontested GOP-held Iowa Senate seats was arguably Guth's. Democrats announced on April 25 that Susan Bangert will run in Senate district 4. I enclose below a map of this district and details about its recent voting history, along with background on Guth and Bangert.
Also on Monday, Dennis Mathahs confirmed plans to drop out of the Democratic primary in Iowa House district 75 in order to run against Kapucian in Senate district 38. A future post will preview that race.

Iowa Senate district 4 covers Emmet, Kossuth, Winnebago, Hancock, and Wright counties in north-central Iowa.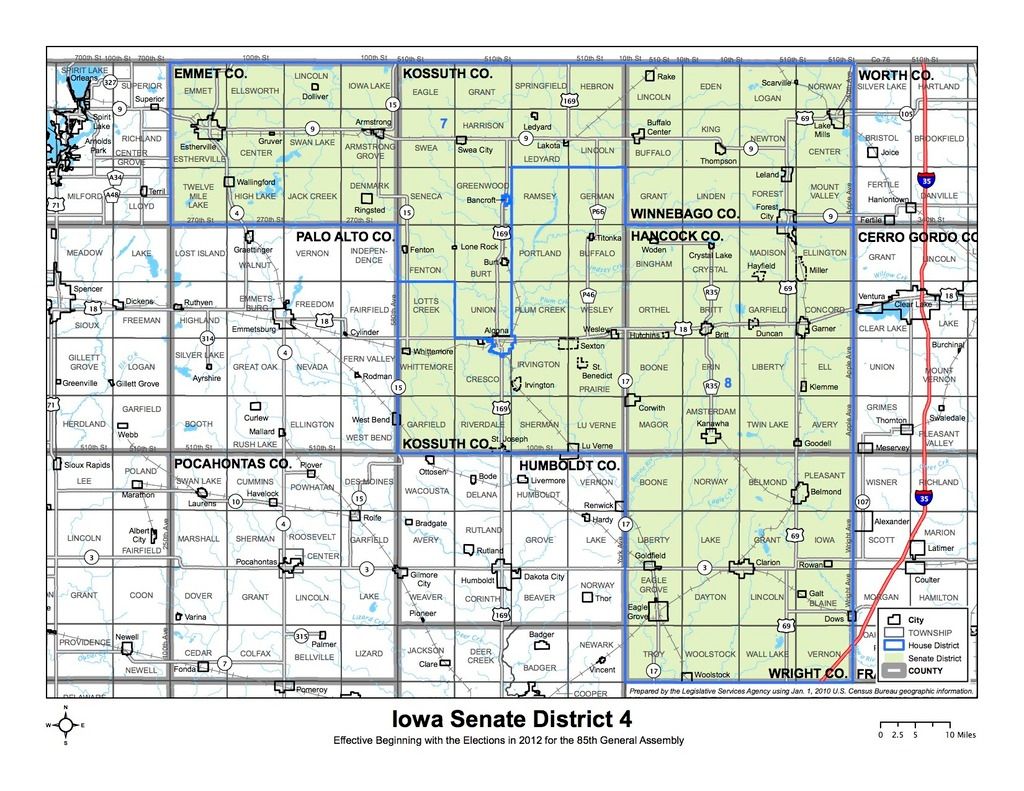 Party registration skews Republican here. The latest figures from the Iowa Secretary of State's office show that Senate district 4 contains 9,753 active registered Democrats, 14,686 Republicans, and 14,848 no-party voters. Mitt Romney outpolled President Barack Obama by 53.83 percent to 44.95 percent in the SD-04 counties, even as Obama carried the state of Iowa by 5 points. Joni Ernst took 59 percent of the vote in the district in the 2014 U.S. Senate race.
So Guth will be favored for re-election, as are most Iowa legislative incumbents.
Yet Senate district 4 topped Pat Rynard's list of seats where some Democrat needs to "step up and run" because of the potential for Donald Trump to cause a GOP meltdown:
While Obama only won 45% of the vote here in 2012, Guth himself is an extremely weak incumbent. In his first election in 2012 he won with only 53% of the vote against a Democratic candidate who didn't have any time to campaign. He's known locally as "Goofy Guth" for his peculiar personality and hard-right ideology. Tying him to Trump may sound legitimate to locals accustomed to Guth. Cruz won all of the counties in SD 4. My gut says Hancock and Wright counties go hard for Trump, but independents in Winnebago, Kossuth and especially Emmet counties could reject him outright and Republicans connected to him. Someone, anyone, really needs to get on the ballot here.
In the April 24 Sunday Des Moines Register, Richard Doak recalled the Iowa legislative elections of 1964, when Barry Goldwater's weakness sank numerous down-ballot Republicans.
It had been 30 years since the Democrats held a majority of seats in the Legislature, but in the 1964 landslide they won 101 seats in the House to only 23 for Republicans. In the Senate the Democratic majority was 34 to 25.

Some of the newly elected Democrats had agreed to have their names on the ballot as sacrificial lambs, fully expecting to lose, but they ended up winning. There is an apocryphal story about one clueless candidate who was unsure what office he had been elected to. Such was the magnitude of the stunning Democratic sweep.

Of the 183 members elected to the Legislature, 100 had no previous legislative experience. The 1965 Legislature probably had more inexperienced lawmakers than any since the first general assembly in 1846.
I'm not predicting a landslide on that scale this year, but the likely GOP nominee Trump has historically bad favorability numbers, which creates an opportunity for Democratic upsets down-ballot. The 2010 Republican wave produced victories for GOP candidates in several state House and Senate races that neither party viewed as competitive, even a few weeks before election day.
Guth didn't win by a wide margin in 2012, considering that Democrats spent virtually no money supporting Bob Jennings, their candidate in Senate district 4. In contrast, candidates in targeted Senate seats received six-figure or large five-figure support from the Iowa Democratic Party.
Although Guth was an early endorser of Ted Cruz for president, his outsider's path to the legislature could make him appealing to the kind of disaffected Republicans who favor Trump. He came out of nowhere to beat former lawmaker and GOP establishment favorite James Black in the 2012 primary, one of several surprise wins for "tea party" Iowa Senate candidates that year.
Like Trump, Guth is known to make ignorant and outrageous public statements from time to time–hence the "Goofy Guth" nickname. The classic example was a speech he gave on the Senate floor in April 2013. O.Kay Henderson reported for Radio Iowa on Guth's critique of media coverage that "has bamboozled us into thinking that having a relationship outside of the boundaries of monogamous, heterosexual marriage is positive, happy and fulfilling." Click through to listen to the audio clip. Some choice excerpts:
Guth said there are "numerous" health and mental problems associated with homosexuality that "ultimately" shorten the lives of gays and lesbians.

"There are health risks that my family incurs because of the increase of sexually transmitted infections that this lifestyle invites. For example, there are more and more medical tests required before giving blood or giving birth," Guth said.

Guth said "many civilizations have fallen" because the traditional family was not protected and he argued the homosexual lifestyle "is a lie."

"If I saw someone going the wrong way on a one-way street, I would make every effort to stop and redirect them," Guth said. "Simply put, it saves lives to have honest communication not only about the sexually transmitted diseases that shorten lifespans, but also about the deep loneliness that accompanies a life based on youth, beauty and sex."
That same year, Guth was among the Republican lawmakers who threatened to vote against appropriations for the Des Moines Area Community College "unless they withhold taxpayer's dollars from the Governors LGBTQ Youth Conference." Those sixteen legislators were apparently unaware that Iowa's community colleges are funded as a group, making it impossible for state legislators to yank funding from just one of them.
Social issues are a paramount concern for Guth. He's been active in the Iowa Family Policy Center and its successor, the FAMiLY Leader headed by Bob Vander Plaats and Chuck Hurley. Last year, Guth was the main sponsor of a constitutional amendment to ban same-sex marriage, which fewer than half his Senate GOP colleagues are now co-sponsoring. He was one of only nine senators to sign on to the latest version of a "personhood" amendment to the state constitution, which would not only ban all abortions but could threaten access to some forms of birth control.
Most Democratic statehouse candidates are focusing on education funding, Medicaid privatization, and economic issues this year. Guth votes party line on most legislation that comes to the Senate floor, so he's on record opposing a minimum wage hike and state aid levels that could have prevented staff or program cuts in his constituents' schools. He also voted against the strong Medicaid oversight bill that several of his GOP colleagues backed in March.
The April 25 press release announcing Bangert's candidacy indicated that she plans to emphasize education:
ALGONA, IA- Democrat Susan Bangert announced today that she will be a candidate for State Senate in Iowa's 4th Senate District, which includes Emmet, Kossuth, Winnebago, Hancock, and Wright counties. She will seek the Democratic Party nomination at a convention following the primary, and will face off against Republican incumbent Dennis Guth in November.

Bangert has dedicated her life to serving her community, spending all of her professional life as an educator. She worked in area schools for 30 years as a speech pathologist, and also owned her own small business, Great Minds Learning Center. Her time working with Iowa's students is the primary motivation behind her run.

"Education is such an important part of a child's life. I have had the joy and privilege of serving the children in our community and shared their excitement when they mastered a new skill. It is such a thrill. I've also experienced the heartache of students who struggle academically. It's agonizing, and I go home at night thinking, how can we do more to help."

For Susan, helping means running for office so that she can fight to ensure that our schools get the funding they need to help each and every student succeed.

Susan is a lifelong Iowan. She was born and raised in Forest City, the fifth of nine children. Her father was a factory worker, and her mother a homemaker. She is a graduate of the University of Iowa and Truman State University. Susan and her husband, Kevin, have lived in Algona since 1981, where they started a family that now includes three children and four grandchildren. Kevin also served their community, working for 30 years as a police officer, and spending 25 of them as Algona's Police Chief, before his retirement.

"I don't claim to have all the answers. But I will promise you that I will always listen to you, and with your help, seek solutions to our common problems.

I'm running for State Senate to bring people together and keep our state a wonderful place to live and work."

Susan can be reached at (515) 295-9505 or at bangertforsenate@gmail.com. Residents of the 4th district are encouraged to reach out with their ideas for what Susan can do in the Senate to move Iowa forward.
Guth's official bio on the Iowa Senate Republicans website doesn't refer to any legislative accomplishments. (In fairness, he's been in the minority caucus during his four years at the capitol.)
Senator Dennis Guth has called a farm just north of Klemme his home since birth. He graduated from Klemme Community School in 1973, and with a degree in Agriculture Mechanization from Iowa State University in 1977.

Senator Guth has served on church boards, Klemme Area Development Organization, Hancock County Pork Producers, the Hancock County Farm Bureau and the FAMiLY LEADER/Iowa Family Policy Center. In 2013 he retired from the elder board of Britt Evangelical Free church and is still active in the LUV Iowa grassroots organization.

Senator Guth has been married to his high school sweetheart, Margaret Campbell, for 37 years. They have been blessed with four biological children. In 1998, they answered God's call to adopt their fifth child, a ten year-old girl from Brazil. They have three married children and many delightful grandchildren.
"LUV Iowa" stands for Let Us Vote–on a constitutional amendment to overturn the Iowa Supreme Court's 2009 marriage equality ruling.
This race won't be Bangert's first long-shot campaign. In 2010, she ran for the state House in a Republican-leaning district vacated by the most conservative Democrat in the Iowa legislature. She lost that race by nearly a two to one margin. However, that was a midterm election in the context of a national Republican wave. Even if a Trump meltdown doesn't materialize, Bangert should draw support from many Democrats who vote only in presidential election years.
Any relevant comments are welcome in this thread.