What do state lawmakers do when they don't want to pass something the overwhelming majority of their constituents support?
A time-honored legislative strategy involves 1) keeping the popular proposal from coming up for a vote, and 2) giving your members a chance to go on record supporting a phony alternative.
Iowa House Republicans executed that statehouse two-step this week in order to block efforts to make medical cannabis more widely available to Iowans suffering from serious health problems.
The last time Bleeding Heartland checked in on the medical cannabis debate, a bill that would have slightly expanded the number of conditions for which Iowans could obtain cannabis oil was stuck in the House Ways & Means Committee, where chairman Tom Sands had not assigned it to a subcommittee. Sands had voted against the medical cannabis bill when it came before the House Commerce Committee, even though fellow Republicans had significantly reduced its scope. This year's House bill would have legalized cannabis in fewer forms and for fewer medical conditions than a bill the Iowa Senate had approved in 2015. Governor Terry Branstad wasn't ruling out some expansion of Iowa's medical cannabis law, as long as any new bill would keep marijuana away from those who might use it "for illicit purposes."
Side note: abuse of opioid painkillers is a growing problem here and nationwide, but no one suggests banning doctors from prescribing those medications to patients suffering from various conditions. Not to mention the fact that even the broadest proposal currently before Iowa lawmakers would not legalize marijuana in smokeable form.
Advocates for expanding the medical cannabis program have continued to make their case to state lawmakers, noting that very few families have benefited from the law enacted in 2014. Current law permits the use of cannabis oil only for certain seizure disorders, and Iowans affected by those illnesses cannot obtain the cannabis derivative without traveling to another state, in apparent violation of federal laws against transporting marijuana across state lines.
Meanwhile, the latest Iowa poll by Selzer & Co for the Des Moines Register showed the largest-ever majority for medical marijuana:
Iowans have steadily become more comfortable with the use of medical marijuana, which now is supported by 78 percent of the state's adults, according to the Iowa Poll. That is up from 58 percent in 2013. [...]

Sixty-five percent of Iowa Republicans now say they support legalizing marijuana for medical purposes. That's lower than the 87 percent of Democrats and 79 percent of political independents, but it's still a strong majority.

Medical marijuana also is supported by all age groups, the poll shows. Support is strongest among adults younger than 35, 87 percent of whom favor legalizing medical marijuana. But even 68 percent of those 65 or older support it, the poll shows.

The poll was conducted by Selzer & Co., which surveyed 804 Iowa adults Feb. 21-24. The poll has a margin of error of plus or minus 3.5 percentage points.
Senate File 484, which the upper chamber approved last year, would legalize medical cannabis to treat cancer, multiple sclerosis, epilepsy, AIDS or HIV, glaucoma, hepatitis C, Crohn's disease or ulcerative colitis, Amyotrophic lateral sclerosis (often known as Lou Gehrig's disease), Ehlers-danlos syndrome, or post-traumatic stress disorder. Groups supporting that legislation include Iowans for Medical Marijuana, the Brain Injury Alliance of Iowa, CHAIN, Easter Seals Iowa, the Epilepsy Foundation, the upper Midwest chapter of the National Multiple Sclerosis Society, and Visiting Nurse Services of Iowa. (Only the Iowa Medical Society, Blank Childrens Hospital in Des Moines, and the Iowa Faith & Freedom Coalition have lobbyists registered against that bill.) Last week Bishop Richard Pates of the Catholic diocese of Des Moines urged all state lawmakers to allow medical cannabis to be "legally produced, distributed and possessed in Iowa for humanitarian purposes to provide relief for those who are sick and suffering."
House leaders haven't done a thing to move Senate File 484, which has been buried in the House Public Safety Committee since last spring. That committee's chair Clel Baudler has been named one of the country's ten worst state lawmakers for marijuana policy reform, a label he proudly embraced.
House leaders also chose not to push for Representative Peter Cownie's medical cannabis bill, which was originally modeled on Senate File 484 before being largely neutered in February. Democrats on the Commerce Committee voted for that bill despite its shortcomings. But the renamed House File 2384 has been stuck in the House Ways & Means Committee for two months.
Instead, House Speaker Linda Upmeyer and others decided to offer a new proposal, which (in theory) would allow Iowans to obtain cannabis oil from Minnesota. Kyle Potter and Barbara Rodriguez broke that news for the Associated Press on April 22:
Piggybacking on Minnesota's new medical marijuana program would be a novel setup. It could give Iowa patients an outlet to buy medication while also sending more business to the manufacturers who have struggled with low patient enrollment in Minnesota.

But it would also raise concerns from the federal government about Schedule I drugs moving across state lines. Iowa patients would face long drives to get medicine — the closest dispensary is three hours northeast from Des Moines — and advocacy groups argue that Iowa should set up its own system to produce and sell medical marijuana. [...]

The idea of leaning on Minnesota originated in Des Moines but legislative leaders in St. Paul have been receptive, though they stress Minnesota's tightly controlled program would not be expanded. Minnesota would need to clarify that residents from neighboring states can purchase the medication and make some technical fixes to the law passed in 2014. [...]

Sen. Joe Bolkcom, a Democrat from Iowa City, has pushed for that kind of broader plan. He was skeptical of the Minnesota option, saying that Senate Democrats weren't consulted and calling potential issues with the federal government a significant hurdle.

"It's rather bizarre that Speaker Upmeyer is trying to cut a deal with (Minnesota) ... and she's not able to walk across the rotunda and work with other Iowans," Bolkcom said.
House Democrats tried to force the issue this week. On Monday, State Representatives Bob Kressig and John Forbes offered a medical cannabis amendment (full text) to an income tax checkoff bill that was still eligible for consideration this year. They hoped for enough Republican support to pass that amendment during floor debate on the tax checkoff bill. From an Iowa House Democrats press release on April 25:
"Iowans who suffer from conditions like epileptic seizures, cancer, and MS have waited long enough," said Rep. Forbes, a pharmacist. "As lawmakers who support a comprehensive medical cannabis bill, we believe the Iowa House should take action this year to help the thousands of Iowans who could benefit from it."

The plan offered by the lawmakers (H-8288 to House File 2467) is expected to be debated later today and would make medical cannabis available in Iowa for conditions like intractable epilepsy, cancer, MS, AIDS, HIV, Crohn's disease, intractable pain, glaucoma, or a terminal illness with less than a year to live.

"Recently, Pennsylvania became the 24th state to approve a comprehensive medical cannabis plan and it's time for Iowa to be the 25th," added Kressig. "I've gotten to know many of the families over the last several years who could benefit from this law and they deserve our support. I hope Republicans will join us and pass the bill before we adjourn this year."

So far this year, House Republicans have refused to allow Iowans with medical condition like epilepsy and cancer get life-saving medicine. Last month, Republican Rep. Dean Fisher of Tama walked away from an Iowa mother trying to get help for her son who suffers from seizures and told her to "move to Colorado."
When House members reconvened after dinner on April 25, the tax checkoff bill was not brought to the floor. Instead, GOP State Representative Jarad Klein brought up House File 567, a bill relating to controlled substances. Then State Representative Zach Nunn, a rising star in the House GOP caucus, offered an amendment to that bill and an amendment to that amendment, outlining the alternative proposal to allow Iowans to obtain some forms of cannabis from other states in order to treat a wider range of medical conditions. Key excerpts from the Nunn amendment: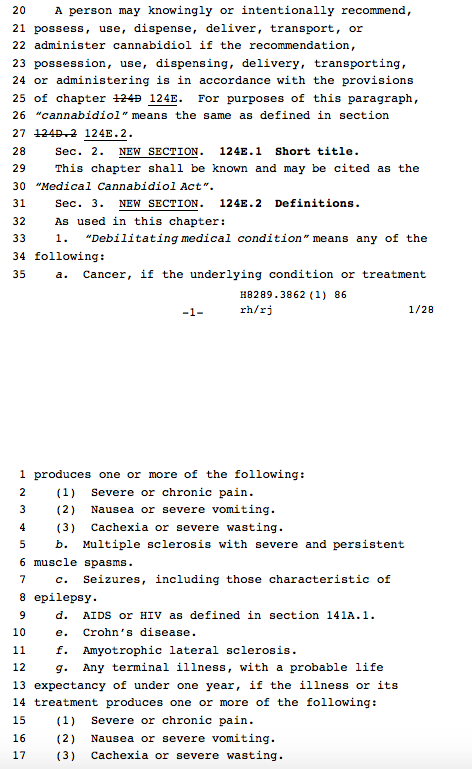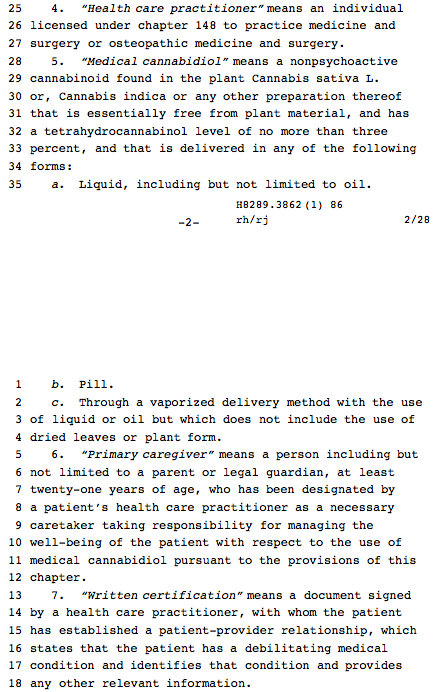 During the floor debate, Nunn spoke about a classmate of his son, who might benefit from medical cannabis. Answering a question from Democrat Todd Prichard, Nunn acknowledged that the Mayo Clinic in Rochester, Minnesota is no longer accepting Iowa Medicaid patients. Cownie expressed regret that the chamber was not passing a more comprehensive bill. (Two of his constituents, West Des Moines Mayor Steve Gaer and his wife Sally Gaer, are among the most active Iowa proponents of medical cannabis legislation.)
Many Democrats spoke against the amendment during the floor debate. Kressig asserted, "This bill at the end of the day will do absolutely nothing." Forbes pointed out that many people who are sick would not be able to drive to Minnesota. Others challenged whether cannabis derivatives from our neighbor to the north would be accessible, since current Minnesota law allows cannabis to be dispensed only to patients residing in the state. For that reason, Mary Wolfe argued, Nunn's legislation would allow sick Iowans to obtain cannabis derivatives only from Maine, Nevada, or Rhode Island. David Dawson called the GOP proposal "a joke" that in effect tells suffering families to "take a hike." Bruce Hunter said Republicans were offering only "false hope," making cannabis accessible only to the wealthy who can travel. Kirsten Running-Marquardt said "desperately ill people" would be forced to break federal law to obtain access to medication, a point hammered home by colleagues including Sharon Steckman and Jo Oldson.
When the alternative medical cannabis proposal finally came to a vote, state representatives rejected it by 31 votes to 63. The House Journal for April 25 shows that the following 31 Republicans voted for Nunn's amendment: Rob Bacon, Gary Carlson, Greg Forristall, Greg Heartsill, Megan Jones, Kevin Koester, Ross Paustian, Guy Vander Linden, Terry Baxter, Brian Best, Peter Cownie, Dave Deyoe, Tedd Gassman, Pat Grassley, Dave Heaton, Jake Highfill, Ron Jorgensen, Bobby Kaufmann, Norlin Mommsen, Zach Nunn, Ken Rizer, Mike Sexton, John Wills, Matt Windschitl, Josh Byrnes, Cecil Dolecheck, Chris Hagenow, Charles Holz, Jarak Klein, Kraig Paulsen, and Quentin Stanerson.
The 39 House Democrats who were present voted against Nunn's amendment, joined by the following 24 Republicans: Chip Baltimore, Clel Baudler, Linda Upmeyer, Darrel Branhagen, Dean Fisher, Joel Fry, Stan Gustafson, Lee Hein, Steve Holt, Dan Huseman, John Kooiker, John Landon, David Maxwell, Linda Miller, Tom Moore, Dawn Pettengill, Walt Rogers, Sandy Salmon, Tom Sands, Larry Sheets, David Sieck, Rob Taylor, Ralph Watts, and Gary Worthan.
Two Republicans were absent for this vote: Brian Moore and Mary Ann Hanusa.
Later that evening, the Iowa House Democrats blasted the GOP maneuvering in a statement:
Des Moines, Iowa – After refusing to debate a comprehensive plan offered by Democratic lawmakers to allow Iowans to access medical cannabis in Iowa, House Republicans failed to pass their own flawed plan that would have required Iowans suffering from diseases like MS and cancer to get cannabis in another state.

"The Republican plan clearly had little support and would have provided zero relief to Iowans suffering from cancer, epileptic seizures, or MS," said Rep. Bob Kressig, D-Cedar Falls. "I'm disappointed that House Republicans have turned their back on thousands of Iowans who need our support again this year."

Similar to one already approved by the Iowa Senate, the comprehensive plan offered by Democrats (H-8288 to House File 2467) would make medical cannabis available in Iowa for conditions like intractable epilepsy, cancer, MS, AIDS, HIV, Crohn's disease, intractable pain, glaucoma, or a terminal illness with less than a year to live. After Republicans refused to debate the comprehensive Iowa plan, Republicans failed on a 32-63 vote to pass a different bill (House File 567) that would have made Iowans travel to another state to get medical cannabis.

"Iowans deserve access to medical cannabis and the Republican plan that failed tonight does nothing to increase access for them. As a pharmacist, I know hundreds of families who could benefit from medical cannabis are waiting today and it could dramatically improve their quality of life," said Rep. John Forbes, D- Urbandale.
The following day, Democrats and some allies in the medical cannabis fight held a press conference at the capitol, saying they would continue to press for a House vote on a more comprehensive bill. One speaker was Sally Gaer, who alleged that what House Republicans "did last night showed they have no conscience, pure and simple."
Majority caucus leaders control the agenda in the Iowa House and Senate, though. Republicans did not schedule debate on any other medical cannabis proposal or on the tax checkoff bill to which Kressig and Forbes had attached their amendment.
Democrats had one option left. Rule 60 allows a member to bring a bill out of committee and place it on the calendar for debate among all the House members. Kressig invoked that rule during the Iowa House afternoon session on April 27 to pull Senate File 484 out of Baudler's Public Safety Committee. However, only two Republicans were willing to join the 42 Democrats present in supporting the motion: Cownie and Stanerson (check the House Journal for the full roll call).
Democratic State Representative Art Staed asked later, "Where were the Republicans, today, who said they'd be supportive of this legislation?"
My guess is not wanting to burn bridges with their leadership, and not worried about being held accountable. After all, 31 House Republicans can tell unhappy constituents that they voted for medical cannabis legislation, hoping sick Iowans and their loved ones won't "remember in November" what really happened in April.
UPDATE: Nunn misrepresented the facts during an interview on Des Moines-based Lazer 103.3 radio's April 27 morning program. Excerpt:
Nunn: I know that within the Republican caucus there are going to be members who are just principled and say hey, we are not going to move towards any type of use of marijuana in any form. And that is their position, I'm not going to be able to change that. On the other side, though, we also have a group who really wants to have recreational marijuana, and unless they get that bill, they're not going to support anything else.
Nunn knows that isn't true. Senate File 484 specifically excludes marijuana in smokeable form and has nothing to do with legalizing marijuana for non-medical uses. Later in the same interview:
Nunn: There are individuals [in the legislature] who, if we can't grow it here in Iowa, then it's not good enough for them. The challenge is that other states have a huge surplus and have the ability to afford this. It's 50 dollars in Minnesota. If we were to grow it here in Iowa, we're putting that all on the patient, and the estimates right now are upward of 1500 a month for a patient, making it relatively inaccessible for anyone who's not in the upper tier.
Nunn went on to talk about economies of scale, because Minnesota has a larger population. He didn't mention that Minnesota law does not currently allow medical cannabis to be dispensed to non-residents. He also claimed there would be an $8 million startup cost to creating dispensaries in Iowa and characterized that as "throwing something on the wall." Nunn asserted that some on the other side would say, "now that we have it, let's just legalize recreational cannabis."
Pressed by "Moose," the Lazer 103.3 morning personality, Nunn admitted that Iowans would be violating federal law, whether they used medical cannabis grown and dispensed here or obtained the cannabis oil from Minnesota.
Around the 7:00 mark, Moose followed up:
The whole going to Minnesota thing, it seems like kind of, like a half-assed way of doing it. And I get the money parts, the money limitations, but it seems like that money could be revenue here in Iowa, that comes and stays in the state. And you're putting a burden on a lot of people, myself included. My 15-month-old, she had seizures as a baby. She's developmentally behind. And I've read that developmentally, she can benefit from this. So this is personal for me.

Nunn: I got you, Moose.

Moose: I don't--the burden is really unfair for us to go to Minnesota and then come back.
Nunn countered that it might take two years to create growers and distributors for medical cannabis here, whereas Iowa and Minnesota lawmakers "were in the final stages" of reaching agreement for Iowans to obtain the derivatives in Minnesota. He claimed his bill would have helped Iowans with seven new ailments and criticized opponents who, in his view, took an "all or nothing" view of the issue.
Kressig was a guest on Lazer 103.3's morning show on April 28. He described speaking to hundreds of families who want access to medical cannabis here in Iowa. Regarding Nunn's bill, he said,
Why can't we help people that are suffering? In the proposal that I voted against on Monday, [it] was a joke. I mean, it's literally a joke. We reached out to people, elected officials in Minnesota, and they said, "Well, you know, we'd be willing to talk about it. You know, I doubt if that's something that we're interested [in]." So, you know, I think that the bill was just to give people some cover on the issue. [...]

Moose: It's a cop-out. It's kind of like providing the guise of doing something without actually doing it. "Well, ok, you can go to Minnesota. That's legal now." No, that's not really working. That's not the true remedy of what Iowa needs and what some people need. If my daughter's pediatric neurologist says she needs this, I should be able to get that. Without you know, putting myself and my family out to go across state lines and get it, and subject myself to federal prosecution if somebody has that stick up their you-know-where.
Later in the same interview:
Kressig: And then this concept, this baloney that I've heard that there aren't going to be enough people. If you look at it, Montana [has] a million people. They've got 13,000 people enrolled in their cannabis program. Montana. [...]

Look at opioids right now. Oxycontin. That is one of the most abused drugs. People are addicted to that. You know what? They get on oxycontin, you know what they step to? Heroin. That's where they go.
Asked why Minnesota is struggling to have people use their dispensaries, Kressig claimed that the Minnesota process is brand-new. Given time, their state's population of around 7 million people will produce many more patients seeking access to medical cannabis.
UPDATE: In the comments, Bleeding Heartland user AbramsMom pointed out a few other problems with Nunn's approach:
As a parent whose child is coming up on a YEAR of being seizure-free, I was crushed to arrive at the Capitol hoping to hear a debate on actual medical cannabis only to realize that the Democratic amendment had been removed and instead we would hear about how we would have "instant access" to cannabis oil as soon as Nunn's amendment passed.

Except, by "instant access" Representative Nunn meant that not only would we have to jump through the hoops of Iowa's law by finding a supporting physician, applying for approval through the Department of Health and obtaining the "registration card" through the Iowa DOT, families would also have to wait for Minnesota to change their laws as well. As a parent of a child who goes to Mayo for services, we have already been told by our Neurologists there that although they support cannabis as medicine (we were even allowed to administer our son's cannabis oil on the Hospital floor when we were there in September), they could not help us obtain it because Minnesota oils are for Minnesotans ONLY.

Another item of note is the fact that Minnesota law requires all MN physicians to be certified with the MN Department of Health before they can certify patients. Are Iowa's physicians willing to subject themselves to certification by an out-of-state Department on Health?

In addition, Minnesota law only allows Minnesotans 30 days worth of cannabis. Do our Legislators actually expect sick and suffering Iowans to travel a minimum of 3 hours one-way, EVERY FOUR WEEKS to get medicine? What about the people to sick to drive? What about the people without transportation? What about the people who can't afford travel on top of doctors and medicine? Why would Iowa encourage hard-working Iowans to go somewhere else every 30 days and spend their money elsewhere?

Then you add in the concern about breaking Federal Law where even the MN Governor came forward stating he was "relieved" that this amendment did not pass and cited that Iowans could be at risk for Federal Prosecution by crossing state lines.

Representative Nunn commented at the debate that we are already breaking Federal Law, so in theory going to MN to do so would be no different. Except the DEA has stated that they will not go after people who are staying within their own state's borders and following their respective state laws regarding medical cannabis!

There is a HUGE difference in being a "criminal" (while following state law) and taking that same drug over a state line. Our lawmakers are willingly putting hard working Iowa families at risk for up to 5 years in prison and $250,000 for carrying a Schedule 1 Drug across state lines – something our lawmakers don't seem to grasp the difference in.
AbramsMom writes about her family's journey at the Abram Mayhem blog.