Iowa families hoping for guaranteed insurance coverage of autism services will have to wait at least one more year. Despite Democratic efforts to add an autism coverage mandate to the health and human services budget for fiscal year 2017, the compromise approved on the final day of this year's legislative session excluded such language. Instead, lawmakers increased state funding for various autism-related grants and programs.
According to the lead Republican negotiator on the human services budget, families affected by autism will have insurance coverage by January 2017 without a mandate, thanks to Wellmark Blue Cross/Blue Shield's decision to sell policies through Iowa's public insurance exchange. But those policies will not be available to Iowans living in dozens of counties, nor will they cover applied behavior analysis (ABA) interventions, which are effective but prohibitively expensive for many people with spectrum disorders.

CURRENT LANDSCAPE FOR INSURANCE COVERAGE OF AUTISM SERVICES IN IOWA
More than 40 states require health insurance companies to cover some autism-related services. Iowa's mandate applies only to the Wellmark Blue Cross/Blue Shield health plan that covers state employees.
Democratic State Senator Daryl Beall was the leading advocate for this legislation, informally known as "Drew's law" after Beall's grandson. During the 2010 legislative session, the Iowa Senate approved a bill requiring the health insurance plan for state employees to cover a range of autism services, including applied behavior analysis. Ten Republican senators joined all 32 Democrats to approve that bill (roll call). Incidentally, one of them was Kim Reynolds, now lieutenant governor. Though the original bill ended up in "unfinished business" in the Iowa House, similar language made it into the so-called "standings" bill, which is usually among the last legislation passed before lawmakers adjourn for the year. Governor Chet Culver signed it into law.
You can find the relevant provisions in Section 131 of House File 2531, starting on page 51. The Autism Society of Iowa summarized the 2010 regulations in plain language:
Iowa Current Law: effective January 1, 2011 "Drews Law"

The law requires the State Health Plan to cover diagnosis and treatment of autism spectrum disorder up to $36,000 a year for individuals less than 21 years old. Coverage includes medically necessary assessment, evaluations, or tests performed by certain licensed health providers to diagnose whether an individual has autism spectrum disorder, and treatment including:

• Medically necessary pharmacy care
• Psychiatric care
• Psychological care
• Rehabilitative care, including applied behavior analysisTherapeutic care that is either ordered or provided by a licensed health provider, or is provided by an autism service provider or a group or entity that works under an autism service provider.

The ABA therapy must be performed by an individual (or group of individuals) who are certified behavior analysts or State-licensed health professionals. Line therapists who are not certified or licensed will be covered by the law, so long as an "autism service provider" supervises the therapist.

Autism spectrum disorder does not have to be the primary diagnosis for the child in order to qualify for coverage.

Limits:

Private insurance is not included in the law, and, therefore, are not required to provide coverage for services for autism spectrum disorder. This includes employer-based, large group plans, small group plans, individual plans.
Worth noting: when "Drew's law" passed, Iowa had Democratic majorities in both legislative chambers and a Democratic governor. Yet even then, a private insurance mandate to cover autism services was out of reach. Beall worked hard just to get coverage for state employees. Speaking by phone this month, he commented that "the insurance lobby is very powerful" in Iowa.
Some state employees with children on the autism spectrum had trouble getting Wellmark to cover certain behavioral interventions, even after the 2010 law took effect. Staff at The Homestead, which is Iowa's largest provider of ABA services, told me recently that most of those problems subsided within a year or two.
To this day, most of the roughly 1.66 million Iowans who are insured through Wellmark do not have coverage for applied behavior analysis. Traci McBee, Wellmark's team leader for corporate communications, explained by e-mail that individual policies cover "a number of services related to autism including speech, occupational and physical therapy, as well as behavioral health treatment and medications for children with autism." She confirmed that some self-funded groups (which could be large or small businesses) "have specifically included ABA therapy coverage in their benefits." Most Wellmark policies only cover different autism services, though. McBee noted that a state program "assures coverage for those who cannot otherwise get coverage for ABA therapy."
If those state programs assured coverage for all the Iowans who needed it, advocates would not be lobbying for an insurance mandate. The reality is that ABA services are not available in many Iowa communities and not accessible to many families who live within striking distance of a qualified provider.
THIS YEAR'S LEGISLATIVE BATTLE OVER AUTISM INSURANCE COVERAGE
As Bleeding Heartland discussed here in more detail, a bill to require "certain group health insurance policies, contracts, or plans" to cover "the screening, diagnosis and treatment of autism spectrum disorders" for Iowans under age 22 passed the Iowa Senate this February with bipartisan support. However, that bill died in the Iowa House Commerce Committee in March. Groups lobbying against the legislation:
Iowa Association of Business and Industry
Wellmark, Inc.
Federation of Iowa Insurers
Americas Health Insurance Plans
Groups lobbying for the autism insurance bill:
Autism Speaks
Iowa Developmental Disabilities Council
Iowa Medical Society
Visiting Nurse Services of Iowa
Iowa Primary Care Association
Iowa Behavioral Health Association
Iowa Association of Community Providers
Easter Seals Iowa
Brain Injury Alliance of Iowa
Epilepsy Foundation
Polk County – Board of Supervisors
Iowa Annual Conference of United Methodist Church
Democrats in the Iowa House and Senate sought to add autism insurance mandate provisions to the must-pass health and human services budget, House File 2460. That bill was in a conference committee the last time Bleeding Heartland checked in on the issue. Negotiators finally adopted the conference report on April 29. Both chambers approved the budget the same day, shortly before adjourning for the year. Working out language on Medicaid oversight and Planned Parenthood funding for non-abortion services took up much of the conferees' time, but House Republican and Senate Democratic negotiators also discussed autism coverage.
In lieu of requiring private insurance companies to cover autism services, the final version of House File 2460 increased funding for the autism support program fund from $1 million to $2 million, expanded eligibility to families with a household income up to 500 percent of the federal poverty level, and allocated more money to a few related grants and programs. One of those will support training for board-certified applied behavior analysts, because Iowa has a shortage of people able to provide ABA services.
State Representative Dave Heaton chairs the House Health and Human Services Appropriations Subcommittee and was the lead negotiator for Republicans on the final budget for fiscal year 2017. Speaking by phone earlier this month, he said, "I can take you into the conference committee and I can tell you that mutually, the Democrat conferees from the Senate and ourselves agreed that we strongly feel that we will have autism covered by insurance next January without doing a mandate." Wellmark Blue Cross/Blue Shield, the state's largest health insurance company by far, will be selling policies through Iowa's exchange for the first time, he noted, and "Insurance in the exchange covers autism. This covers everybody up to 400 percent of poverty."
When I asked whether autism coverage was required under the federal Affordable Care Act, Heaton said no, "We made sure that Medicaid would cover autism, and when we did that, that meant that the exchange was going to be covering autism." He added, "We had conversations, both the Senate and the House had conversations with Wellmark [....] So we think that they'll be taking it on. At least my conversation with Wellmark is that they will be working on that over the summertime, and they feel that they'll probably be covering autism."
Other Republican lawmakers have echoed these points in communication with constituents who were upset that the human services budget did not include an autism insurance mandate. One Bleeding Heartland reader shared this response from GOP State Representative Ken Rizer: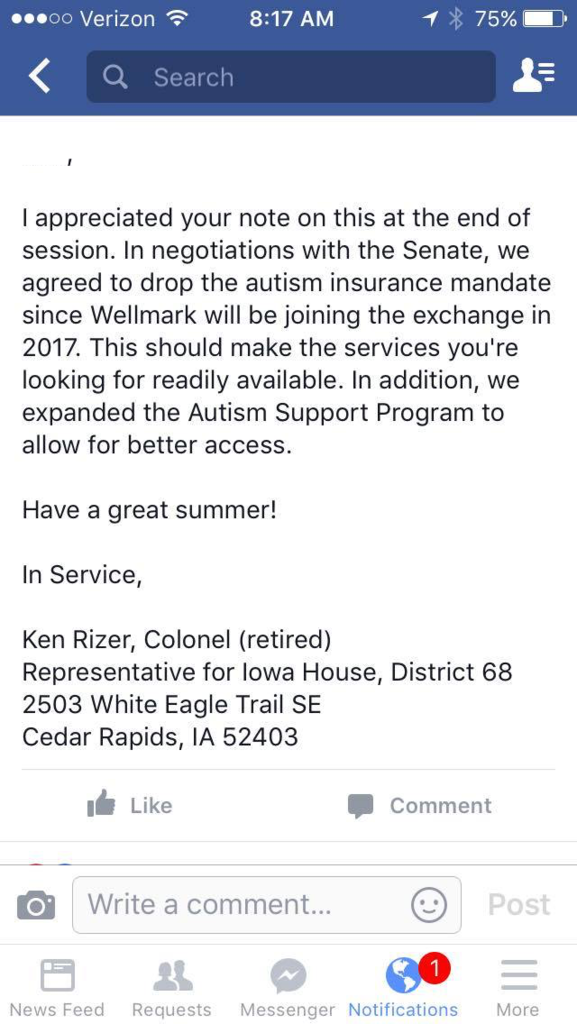 As mentioned above, most current Wellmark policies do not cover ABA therapy for people with autism.
Additionally, whether Iowa law requires Wellmark to cover autism in policies sold through the public exchange is far from clear. From an analysis of state legislation for the non-profit Easter Seals:
Under the Accountable [sic] Care Act (ACA), services are being provided through state or federal insurance exchanges. The ACA requires that all exchanges include essential health benefits defined by the statute to be in ten different categories. If there was a state autism insurance mandate in a particular state, the hope was that would lead to autism services inclusion in the essential health benefits package. Depending on the limitations of the mandates, there are two categories where autism services may be provided: rehabilitative and habilitative services or behavioral health. Thirty-one states mandate some form of autism services in their exchange. [...] States that have an autism insurance mandate that has been adopted into the benchmark plan and thereby included in the insurance exchange in the state are: Alaska, Arizona, Arkansas, California, Colorado, Connecticut, Delaware, Illinois, Indiana, Kentucky, Louisiana, Maine, Maryland, Massachusetts, Michigan, Missouri, Montana, Nevada, New Hampshire, New Jersey, New Mexico, New York, Tennessee, Texas, Vermont, Washington, West Virginia, and Wisconsin. In Ohio, although there is no legislative state insurance mandate, the state has chosen to include autism services in the exchange. Iowa and Oregon have some ambiguity of whether the state mandate will, in fact, transfer to the exchange.
Asked about Iowans who have existing Wellmark policies not purchased through the exchange, Heaton said, "Gonna have to wait." So those people are out of luck if a family member is on the spectrum? "They're not out of luck, it's just gonna have to wait a little bit longer, is all. We weren't prepared to design an autistic--an autism policy. We just--we could have mandated it, and then what do we do? [...] Because you have to design it."
Aren't there models in 40-some other states? According to Heaton, "They're all different, let me tell you. Every one of them's different. I've been there, I know. Some of them say ok, we'll only pay $36,000 a year, and limit how many years, there are all kinds of ways they approach it."
Lawmakers didn't need to start from scratch on what autism services would be covered, for what age groups, at what maximum level per year. They could have applied the regulations from "Drew's law" to all private insurance policies.
In any event, Heaton pointed out that this past year, South Dakota officials worked something out with Wellmark to provide autism coverage in that state. Summing up, he said, "That's the best we could do, we did not want a mandate if we didn't have to, and we felt that by January, we will have autism covered in the exchange and also in the small group policies, which will--for 80 percent of Iowans who are covered by Wellmark, those that are outside ERISA [the federal Employee Retirement Income Security Act] will have autism covered." When I mentioned plans to check with Wellmark, Heaton predicted, "They'll probably run away from you, because this was a personal conversation." He doesn't have anything in writing from the company promising to expand autism coverage in 2017.
I checked with several Democratic members of the conference committee that worked on the human services budget. State Senators Joe Bolkcom and Bob Dvorsky confirmed that lobbyists representing the insurance industry spoke with senior lawmakers, including Senate Majority Leader Mike Gronstal, about expanding autism coverage for Iowans next year in the absence of a legislative mandate. State Representative Beth Wessel-Kroeschell challenged Heaton's assertion that dropping the insurance language was a mutual decision, responding by electronic message,
People who work in the field believe a mandate is necessary to get coverage. I don't know that conference committee members "agreed" that we didn't need the coverage. I would say that conference committee members agreed to a compromise so we could sine die [adjourn for the year]. Does that answer your question? ABA treatment is the best in the world of autism. We don't have many trained to provide that treatment. Without [an] insurance mandate, it is hard to get trained people.
As for the increased state funding for the autism support program, Wessel-Kroeschell commented, "the state run program has age limitations (up to age 14 now) and income restrictions (500% of federal poverty). The money goes for treatment and services. All the $$ is not being used because we don't have the people to provide the services ....especially state wide."
It didn't seem logical to me that Wellmark would lobby against a mandate to cover autism services if the insurer planned to include such coverage in all of its 2017 policies anyway. Responding to my inquiry, Wellmark's communications team leader McBee mentioned the various autism services that are covered in many policies, adding, "Our opposition (and that of other insurers) was directed at the provision that would have mandated insurance coverage. A mandate in this regard would only increase costs for all of our members."
Yesterday Wellmark disclosed new details about the policies it will sell on Iowa's public exchange. Those plans will be available in just 47 counties, not statewide.
Looking at the map of counties where Iowans will be able to purchase Wellmark health insurance on the exchange, I noticed that residents of Heaton's own House district 84 will not be included.
I reached Heaton by phone this morning. Until yesterday, he "had no idea" that Wellmark didn't plan to make its policies available statewide on the public insurance exchange. He was not happy to hear the news.
Well, that disappoints me. I thought that they would be statewide. You know, I've always been disappointed in Wellmark not being involved in the exchange in the first place. They are one of our major insurance carriers. But I recognize, as an independent company, they can, they can make those decisions on their own.
As a matter of fact, Wellmark could have been forced to sell ACA-compliant policies to Iowans who were eligible for federal subsidies, if our legislature and governor had created a fully state-run insurance exchange, instead of the state-federal "partnership" that Governor Terry Branstad and Iowa House Republicans favored. But I digress.
Asked what he would tell Iowans in the 52 counties where Wellmark policies will not be available through the exchange, Heaton commented, "All I can say is I'm disappointed that they did not choose to be statewide." Does that change his view on whether the legislature should enact an autism insurance coverage mandate? Heaton said he will wait and see what happens this summer and if there is "progress" toward covering autism services.
He later repeated,
"I am disappointed in Blue Cross/Blue Shield. I mean, that's the way it is, that's their decision. I'm--It's too bad. It's too bad. I mean it's just like, are they cherry-picking, or what do they have in mind here? When they cover the whole state, I don't quite understand."
I've long believed Wellmark was cherry-picking by staying on the sidelines during the first three years Iowa's public insurance exchange was operational, and by continuing to sell policies that did not comply with the federal health care reform law. Doing so ensured that thousands of Iowans who had previously been uninsurable because of pre-existing conditions would enroll with other providers, such as CoOportunity Health, which went under after the costs of ensuring a sicker population exceeded projections.
Without changes to state law, I expect Wellmark to keep providing the same autism benefits currently available. For most policy-holders, that will mean no ABA coverage for children on the spectrum. Any promises insurance industry lobbyists may have made during the critical final days of the 2016 legislative session are unenforceable. Besides, they may have been playing for time in the hope that Republicans will hold the House majority and gain control of the state Senate in November. That outcome would take an autism insurance mandate off the table for sure.