Earlier this month, Claire Celsi informed Bleeding Heartland readers about the demise of an autism insurance bill after State Representative Peter Cownie refused to bring the measure up for a vote in the Iowa House Commerce Committee, which he chairs.
As both Autism Awareness Month and the 2016 legislative session wind down, Democrats in the Iowa House and Senate have been working to add the same requirements to a must-pass budget bill. Follow me after the jump for background and where things stand in this fight.
Senate File 2254 was written to require "certain group health insurance policies, contracts, or plans" to cover "the screening, diagnosis and treatment of autism spectrum disorders" for Iowans under age 22. The Iowa Senate Commerce Committee easily approved the bill in February. Republicans Bill Anderson, Rick Bertrand, Roby Smith, and Dan Zumbach joined Democrats Janet Petersen, Matt McCoy, Chaz Allen, Joe Bolkcom, Tom Courtney, Liz Mathis, Brian Schoenjahn, Joe Seng, and Steve Sodders to vote for the autism coverage mandate; Republicans Charles Schneider and Amy Sinclair cast the only no votes in committee.
The strong bipartisan support continued when the autism insurance bill came up for a vote in the full Senate a few days later. All 26 Democrats voted for Senate File 2254, joined by fifteen Republicans: Anderson, Bertrand, Mike Breitbach, Randy Feenstra, Dennis Guth, Smith, Zumbach, Tim Kraayenbrink, Tom Shipley, Jack Whitver, Brad Zaun, David Johnson, Tim Kapucian, Mark Segebart, and Schneider (despite having opposed the same bill in committee). Seven Republicans voted against requiring health insurance plans to cover autism diagnosis and treatment: Jerry Behn, Jake Chapman, Mark Chelgren, Mark Costello, Julian Garrett, Ken Rozenboom, and Jason Schultz. Senate Minority Leader Bill Dix and GOP Senator Amy Sinclair were absent for the vote.
As Celsi described here, Cownie did not bring Senate File 2254 up for a vote in the House Commerce Committee before the legislature's second "funnel" deadline passed in March. (Celsi is the Democratic challenger to Cownie in Iowa House district 42.) The lobbyist declarations for this bill show the following groups opposed it:
Iowa Association of Business and Industry
Wellmark, Inc.
Federation of Iowa Insurers
Americas Health Insurance Plans
Groups lobbying for the autism insurance bill:
Autism Speaks
Iowa Developmental Disabilities Council
Iowa Medical Society
Visiting Nurse Services of Iowa
Iowa Primary Care Association
Iowa Behavioral Health Association
Iowa Association of Community Providers
Easter Seals Iowa
Brain Injury Alliance of Iowa
Epilepsy Foundation
Polk County - Board of Supervisors
Iowa Annual Conference of United Methodist Church
Most legislation is "dead" for the year if not approved by one chamber and a committee in the other chamber by the second funnel deadline. Iowa lawmakers often seek to revive provisions later by attaching them to appropriations bills, which are not subject to the funnel. As House members prepared to consider House File 2460, the massive health and human services budget, Democratic State Representative Chris Hall introduced an amendment on autism insurance coverage for Iowans under age 22. The language in his amendment H-8229 was nearly identical to that of Senate File 2254.
Planned Parenthood funding and Medicaid oversight grabbed most of the attention during the lengthy and contentious April 19 floor debate on the human services budget. Hall's amendment came up for a vote not long before the House adjourned at midnight. The House Journal shows the roll call: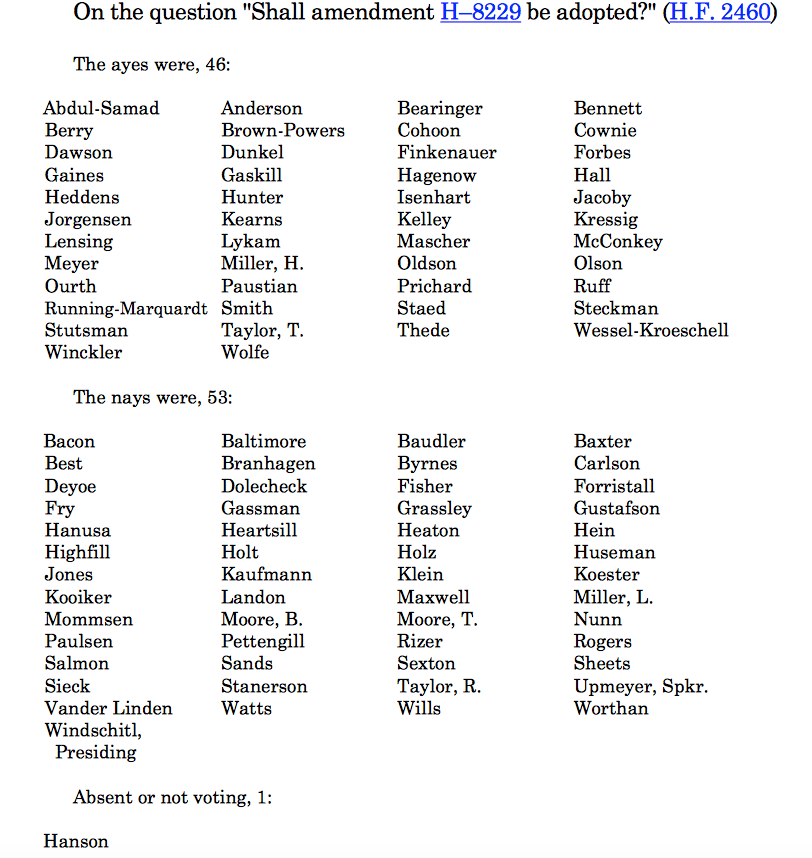 All 42 Democrats who were present voted for adding the autism insurance mandate to the health and human services budget, joined by four Republicans: Ron Jorgensen, Chris Hagenow, Ross Paustian, and Cownie.
Worth noting:
• Jorgensen, who is retiring this year, introduced the House bill that was companion legislation to the Senate autism insurance reform bill.
• Hagenow is up for re-election in House district 43, which he carried by only 23 votes in the last presidential election cycle. He spoke at a February 4 rally at the capitol, where advocates for Iowans with autism called for insurance coverage and other policies. As majority leader, Hagenow has considerable power to determine which legislation comes up on the House floor.
• Paustian is up for re-election in House district 92, which he lost in 2012. That seat covering parts of Scott County is Iowa's ultimate swing district, having changed parties four times in the last five general elections.
• Hagenow and Paustian face hard-working Democratic challengers in Jennifer Konfrst and Ken Krumwiede, respectively. Celsi too has been out knocking doors for her campaign against Cownie.
• Most of Hagenow's and Cownie's constituents live in the West Des Moines school district, which I suspect is relevant to their votes for the Hall amendment. Many parents of children on the autism spectrum have moved to this part of the Des Moines suburbs, where services for autism have a good reputation. I assume plenty of those parents let Cownie and Hagenow know they weren't happy to learn the autism insurance bill died.
House Republicans rarely get behind legislation opposed by insurance industry lobbyists, so it's not surprising the majority of them rejected adding autism coverage language to the human services budget. Paustian, Hagenow, and Cownie were able to register their support for the measure--though arguably, Hagenow could have gotten leadership behind Hall's amendment if he really wanted it to pass.
After state representatives approved House File 2460 along party lines on April 20, the human services budget went to the Iowa Senate. There Democrats offered a substitute amendment that included the autism insurance provisions (you can find that language in section 108, beginning on page 154).
Senators approved the Democratic amendment by voice vote and then passed the human services budget on a party-line vote. The roll call shows Minority Leader Dix joining the 26 Democrats in support, but Dix filed an explanation in the Senate Journal saying he accidentally pressed the wrong button and was not in favor of House File 2460.
For each of the last five years, the human services budget has been among the last deals struck between leaders of the Republican-controlled House and Democratic-controlled Senate. As a conference committee gets to work this week, negotiators are sure to focus primarily on Medicaid oversight and state funding for non-abortion services at Planned Parenthood clinics. Discussions over forcing health insurance plans to cover autism services will likely fly below the radar.
Whether that's good news or bad news for Iowans with autism and their loved ones, I have no idea. Feel free to speculate in this thread.