Today Quinnipiac supplemented its latest poll on the presidential race in Iowa with findings about Senator Chuck Grassley's campaign against Democratic challenger Patty Judge. Key graphs from the polling memo: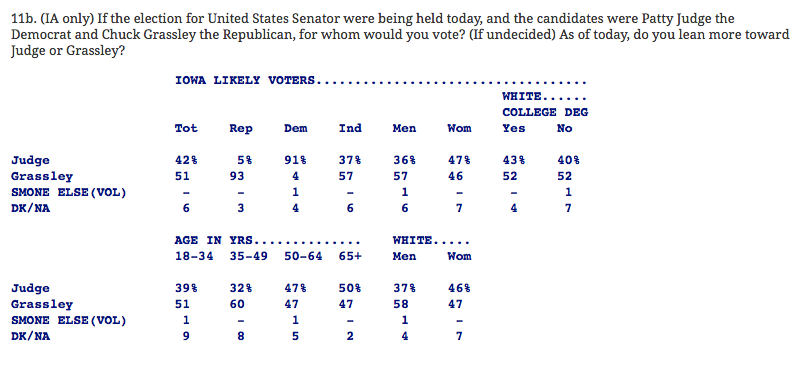 The 51 percent to 42 percent lead for Grassley is remarkably close to the 52-42 gap in last week's polls by Suffolk University and Marist for NBC and the Wall Street Journal.
I infer that polls from earlier this summer, showing Grassley below 50 percent and leading Judge by just 7 points, slightly understated his lead. One of those polls looked like a outlier in general. Two of the surveys were conducted by Public Policy Polling, which did some work for the Judge campaign before the Democratic primary.
That's not to say that Judge can't make this election more competitive--only that she can't wait around for the race to fall into her lap. She's losing men by a lot and isn't making up for it among women voters. She hasn't held many public events this summer and needs to campaign more aggressively over the next two and a half months. In addition to improving her name ID, Judge has to give Iowa voters a reason to fire Grassley after so many years of public service. The obvious issue, the one she has vowed to hammer home since the day she announced her campaign, is the Senate Judiciary Committee chair's refusal to hold confirmation hearings for Judge Merrick Garland. Iowans don't support Grassley's stance on the U.S. Supreme Court vacancy, but it will take more work to convince enough of them to send the senator into retirement for that reason.
The Democratic Senatorial Campaign Committee put their thumb on the scale for Judge before the Democratic primary, but national strategists have quite a few more promising pickup opportunities than Iowa at present. The DSCC won't come in with big money here unless the polling starts to show Grassley more vulnerable than he now appears.