Leaders of a campaign to provide a "permanent and constitutionally protected funding source dedicated to clean water, productive agricultural soils and thriving wildlife habitats" in Iowa touted support in the business and agriculture communities this week. You can watch Iowa's Water and Land Legacy's September 12 press conference here or listen to the audio at Radio Iowa. Under a state constitutional amendment Iowa voters adopted in 2010, revenues generated by the next 3/8th of a cent sales tax increase (estimated at more than $180 million per year) would flow into a Natural Resources and Outdoor Recreation Trust Fund. Scroll to the end of this post for a current list of IWLL coalition members and details on the formula for allocating trust fund money.
Without knowing which parties will control the Iowa House and Senate next year, it's hard to gauge prospects for passing a sales tax increase. Democratic State Senator Matt McCoy commented on Monday, "The best time to move on a piece of legislation is just following an election. That's when you get your best bipartisan compromises, and I think ultimately, this is something we can find a bipartisan compromise on."
Who might lead statehouse Republicans toward such a compromise is unclear. The GOP lawmaker most supportive of IWLL has been State Senator David Johnson. But he left the party this summer to protest presidential nominee Donald Trump and told Bleeding Heartland in a recent interview that he plans to remain an independent during the 2017 legislative session.
At least one Republican running for governor in 2018 will support the sales tax increase: Cedar Rapids Mayor Ron Corbett. That stance will put him in conflict with either Governor Terry Branstad or his chosen successor, Lieutenant Governor Kim Reynolds. In addition, support for funding IWLL among major farm lobby groups could create problems for Iowa Secretary of Agriculture Bill Northey, also a likely gubernatorial candidate in 2018.

Corbett has positioned himself as an ally of both urban dwellers who want cleaner water and interest groups who oppose regulations on farming practices. In May 2015, the Cedar Rapids mayor became a founding board member for the new 501(c)4 group Iowa Partnership for Clean Water. Another member of that small board of directors, Des Moines City Council member Christine Hensley, would be a leading contender for lieutenant governor on a ticket with Corbett. (A fourth original board member, former Lieutenant Governor Patty Judge, left the Iowa Partnership for Clean Water shortly after becoming a Democratic candidate for U.S. Senate this year.)
The Des Moines Register's editorial board accurately described the group as "the designated attack dog of the Iowa Farm Bureau, which is the partnership's general counsel, registered agent, place of business and financial backer." The 501(c)4 paid for numerous television commercials seeking to sway public opinion on the Des Moines Water Works lawsuit against three northeast Iowa drainage districts. Late last year, the Register's editors condemned the "poisonous campaign to publicly smear the man who runs the Water Works."
Speaking on behalf of the Iowa Partnership for Clean Water, Corbett repeatedly depicted the lawsuit as divisive and counter to the "cooperation and collaboration" needed to address Iowa's water quality problems. Meanwhile, he formed a "conservative, freedom-focused think tank and policy incubator" called Engage Iowa in November 2015.
We exist to craft research based, pragmatic, common sense solutions that will move our state forward by bringing rural and urban Iowans together to modernize the tax code, build great schools and protect our environment.
Corbett rolled out Engage Iowa's first major policy paper last November. Rick Smith quoted the mayor as saying his broad tax plan would "stop the flow of wealth and 'dirty water'" from Iowa.
• Creating a flat income tax that would simplify the state's income tax code, getting rid of deductions and credits and flattening tax rates into one lower bracket for all but the lowest income earners, who don't pay state income tax.

•Raising the state's sales tax by 1 cent on the dollar to 7 cents, with a portion of the revenue going to help clean up Iowa's waterways and another portion helping drive down Iowa's income tax rate. [...]

According to Engage Iowa data, Iowa's top published income tax rate of 8.98 percent is higher than four of five states to which Iowa loses the most wealth: Florida, Texas and South Dakota, which have no state income tax; Arizona, where the top rate is 4.54 percent; and Minnesota, where the top rate is 9.85 percent. [...]

Corbett said businesses are deterred from investing in Iowa because of its high published income tax rate, causing a loss of $3.89 billion, or 3 percent a year, in total income in the state.
Cedar Rapids Gazette columnist Todd Dorman reported at the time,
Goal one is lowering Iowa's marginal income tax rate and removing deductions that make it look artificially high, stopping what Corbett says is a flow of wealth to other states. Goal two is finding additional tax dollars to stop a flow of agricultural pollutants into Iowa waterways, what he dubbed a "water quality crisis." [...]

The glue holding together his unusual tax reform/water quality proposal is a potential one-cent state sales tax increase.

A three-eighths-cent share of that penny, more than $150 million annually, automatically would flow into a constitutionally protected natural resources trust fund created by voters in 2010. As much as $80 million would be spent on reducing agricultural runoff carrying nitrates and other pollutants into waterways. Corbett also would call on the private sector to provide a $40 million match.
Incidentally, Corbett announced the Engage Iowa tax plan during a speech to the Cedar Rapids Downtown Rotary Club. He has been speaking to Rotary Clubs all over Iowa this past year, a good way to build name recognition among business-friendly, Republican-leaning audiences in small towns as well as big cities.
Aside from State Senator David Johnson, Corbett is the best-known and most vocal Iowa Republican backing a sales tax hike for conservation. In June, Dorman reported on a water quality forum at Iowa Central Community College. The contrast between Corbett and Iowa Secretary of Agriculture Northey was striking:
"I think the people are way ahead of the politicians when it comes to recognizing a funding source," Corbett said.

The mayor insists, without action on a permanent, stable funding source for water-quality efforts, we're headed for federal regulations and lawsuits like the one filed by the Des Moines Water Works against rural counties. [...]

"I think what we're doing right now is engagement to a great degree," Northey said. "I think we've made a tremendous amount of progress in engaging folks."

He deploys "engagement" a lot as he argues current voluntary programs are making progress. He wants more funding for those efforts, and favors an Iowa House Republican plan that would have directed $464 million in gambling taxes into his department over the next 13 years.

Northey opposes raising the sales tax. Forget that 2010 vote. "When people supported that, they supported establishment of a trust fund, not the tax increase," Northey said.
Opposing a tax increase is usually a safe position going into a GOP primary. Then again, Corbett's plan calls for raising the most regressive tax while decreasing income taxes, which affect people above the poverty line. The wealthiest Iowans would gain the most from Corbett's flat-tax plan, which may appeal to many Republicans.
Backtracking for a moment: most Iowa politics watchers see Corbett as virtually certain to run for governor in 2018. Northey's candidacy is less of a sure thing, though I expect him to join the race. He has long harbored higher political ambitions and appeared to be laying the groundwork for a gubernatorial bid in 2009, before Branstad came out of retirement to seek a fifth term.
Assuming Northey runs for governor, he would lean on agricultural groups for support in a primary campaign. He has long been active in the Iowa Farm Bureau and led the National Corn Growers Association during the mid-1990s. Northey made sure Iowa's so-called "Nutrient Reduction Strategy" (which lacks a strategy and isn't reducing the nutrients fouling our waterways) would not include any numeric standards or new regulations on farmers. The Iowa Farm Bureau Federation applauded the state's all-voluntary approach to reducing pollution from farms. Over the past year and a half, the secretary of agriculture has criticized the Des Moines Water Works lawsuit in many public appearances.
But could Northey count on the Farm Bureau's help in a race against Corbett? The Cedar Rapids mayor was a useful front man for the Farm Bureau's project to discredit the Water Works lawsuit. Now he is urging the group to come around to his position on the Natural Resources and Outdoor Recreation Trust Fund. Speaking to the Linn County Farm Bureau's annual meeting last month,
Corbett said he senses some "angst … and finger-pointing" between urban and rural Iowa. Much of it stems from concerns about the environment, especially over water quality.

"That's not healthy for our state," he said, calling for a "new era of understanding … appreciation … cooperation" among urban and rural. [...]

If Des Moines [Water Works] is successful in the suit, he asserted, it will mean heavy-handed regulation from the Environmental Protection Agency. [...]

A better approach, he said, would be a collaborative process, with farmers and landowners joining forces with cities, the state and philanthropists to raise resources to address water quality.

A key to finding the funds to make meaningful improvements would be Farm Bureau support for a three-eighth cent increase in the state sales tax to support a sustainable, constitutionally protected natural resource fund, he said.

"It starts with you," Corbett said. "It's time to close the door on lawsuits and regulations and open the door to cooperation."
Farm Bureau has lobbied against a sales tax increase in the past. However, delegates to the group's statewide policy conference last week adopted a resolution "supporting the idea of finding existing or even new state tax revenue to finance water quality projects." The policy shift signals that at least some factions within Farm Bureau share Corbett's perspective.
For now, the Iowa Soybean Association is the largest agricultural group in the Iowa's Water and Land Legacy Coalition. That group's CEO Kirk Leeds spoke at the September 12 press conference in Des Moines and was quoted prominently in most of the media accounts of that event. Strong support from someone with Leeds's clout will give Corbett a lot of cover as he continues to advocate for his tax and water quality plan.
Another heavy-hitter for the ag sector in state-level politics has been the Iowa Corn Growers Association. They've been missing in action on the IWLL debate lately. At the group's annual policy conference in August 2015, representatives of the Corn Growers adopted two planks relevant to the current discussion:
24. If a sales tax increase is passed, at least 60% of the funds from the 3/8 cent increase should be appropriated for additional soil and water conservation practices. (2016)

25. ICGA supports a sales tax increase for the Natural Resources and Outdoor Recreation Trust Fund if there are funds made available to implement practices on a voluntary basis on agricultural land to improve water quality. (2016)
Matt Hauge noted in a Bleeding Heartland guest post, "The Corn Growers' 60% funding threshold for conservation practices (in #24, above) is noteworthy because it doesn't appear to be based on the current proposed formula for distributing IWLL funds. Whether the current IWLL formula really meets the Corn Growers' threshold is unclear."
Since the Corn Growers are not listed as IWLL coalition partners despite approving qualified support for a sales tax increase last year, I assume the group has some problem with the funding formula. A two-page document enclosed below provides details on the formula for allocating money from the trust fund.
On the other hand, "political correctness" may be a factor. It would be awkward for the Corn Growers to support a sales tax their former leader Northey opposes, especially while Northey's potential rival in a gubernatorial race is making the sales tax a big part of his policy agenda. I am seeking clarification from Iowa Corn Growers on the group's current position on a sales tax increase and will update this post as needed. UPDATE: Added comments from the Iowa Corn Growers Association at the end of this post. The group did not clarify its reasons for staying out of the IWLL coalition but still supports a sales tax increase.
Branstad will loom large over the next Republican race for governor. I've long been on record predicting the longest-serving governor in U.S. history would step down before the end of his term to allow Lieutenant Governor Reynolds to campaign in 2018 as the incumbent. For years, he has promoted Reynolds as the person best prepared to succeed him.
I don't see Reynolds winning a statewide primary if the field includes Corbett. Little-known before Branstad picked her as his running mate, she has no strong geographical or ideological base. Unlike Corbett, she doesn't have a record of accomplishment in the state legislature. Her main assets would be support from Branstad and U.S. Senator Joni Ernst, but I suspect a lot of establishment money would flow to Corbett. Plenty of business Republicans in central Iowa have had enough of Branstad, and the Greater Des Moines Partnership is an IWLL coalition partner. Plus, Corbett could lock down a large share of the votes in eastern Iowa (where a lot of Republicans live), while Reynolds and other candidates running to Corbett's right split the vote in western Iowa.
A new scenario has been gaining steam in the Iowa politics rumor mill over the past few months: Branstad may run for a seventh term in 2018 in order to stop Corbett. By many accounts, the two men have disliked each other at least since Corbett was speaker of the Iowa House during Branstad's fourth term. Another re-election bid for our "governor for life" would mostly clear the Republican field, but Corbett just might accept that challenge. He's been planning this next step for a long time and could raise enough money to compete in a statewide primary.
The governor is not sold on a sales tax increase to pay for cleaning up Iowa waterways, William Petroski reported for Des Moines Register on September 12:
"Gov. Branstad is pleased to see Iowans engaged in the conversation on how to secure a long-term, reliable source of funding to address water quality," said Ben Hammes, Branstad's communications director. "However, Gov. Branstad continues to believe that we can prioritize our state budget and achieve our goal of finding this long-term reliable source of funding without raising taxes on Iowa taxpayers."
Branstad's plan to divert some school infrastructure funds to pay for water programs got no traction in the state legislature this year. The governor eventually supported an Iowa House Republican plan, which would redirect some gambling revenues to water quality. That bill passed the Iowa House on a mostly party-line vote. (Democrats opposed taking money from other projects and said the dollar amount wasn't close to matching the scale of Iowa's water pollution problem.)
Last year, the governor indirectly praised Corbett while bashing the Water Works lawsuit:
"The Des Moines Water Works ought to just tone it down and start cooperating and working with others like Cedar Rapids is doing and other communities in the state of Iowa," Branstad told reporters.

"If they want to cooperate and work with us, they're much more likely to get assistance and support. If they're continuing to sue and attack other people, that's not going to get them the kind of assistance and support they'd like to have," he said.
Don't expect Corbett to return the favor if he ends up running for governor against Branstad or Reynolds. The Branstad administration's approach to water quality has been ineffective. After six terms for Branstad, our state's top income tax rate still looks high. Most taxpayers didn't gain anything from the governor's signature accomplishment: the 2013 commercial property tax cut. Corbett can say he is offering a real plan to move the ball forward on water quality and tax reform.
Any comments about the Iowa's Water and Land Legacy campaign or the next race for governor are welcome in this thread.
P.S.- A growing number of Iowa Republicans recognize that they need to appear to be working on water quality. Check out the spin from state party chair Jeff Kaufmann in Petroski's Des Moines Register story about the IWLL coalition:
"I am hearing water quality now being mentioned at almost every Republican fundraising event. That's a pretty fundamental change. That's definitely a newsworthy development," Kaufmann said. "So I think from a Republican chair point of view ... making sure resources are there and making sure people realize that Republicans care about this issue as much as Democrats have (is important). We just haven't been as good at articulating that. As chair of the party, I'm very excited about Republicans taking the lead on this."
"Republicans taking the lead" on conservation funding or water quality would be news to most people in Iowa's environmental community. Few aside from David Johnson could be described as leading on this issue.
I do believe Kaufmann when he says more rank-and-file Republicans are talking about dirty water, probably thanks to news reports on toxic algae blooms closing Iowa beaches and high nitrate levels raising the cost of drinking water treatment. Though the Des Moines Water Works lawsuit has been much maligned by GOP politicians and some farm lobby groups, coverage of that controversy has made water pollution a more salient issue for Iowans outside environmental circles.
UPDATE: Lisa Cassady, public relations manager for the Iowa Corn Growers Association, responded to my inquiry about the group's position on the trust fund.
While we are not formally a part of Iowa's Water & Land Legacy Coalition, the Iowa Corn Grower Association does support seeking any and all measures that will provide significant, long-term funding for improving water quality in our state.

We support the Iowa Nutrient Reduction Strategy and are working in collaboration with a number of public and private partnerships to encourage the widespread adoption of best management, conservation practices.

ICGA delegates reaffirmed their policy positions at the Annual Grassroots Summit in August including:

Nutrient reduction in Iowa's rivers and lakes will take a massive amount of Iowa agriculture producer, industry,and taxpayer money. ICGA shall pursue additional sources of funding for water quality efforts.

If a sales tax increase is passed, at least 60% of funds of funds from the 3/8 cent increase should be appropriated for additional soil and water conservation practices.

ICGA supports a sales tax increase for the Natural Resources and Outdoor Trust Fund if there are funds made available to implement practices on a voluntary basis on agricultural land to improve water quality.
Current list of businesses and organizations supporting a sales tax increase to fund the Natural Resources and Outdoor Recreation Trust Fund:
AgriDrain Corp

Capital Crossroads

Conservation Districts of Iowa

Doll Distributing

Ecosystem Service Exchange

Feed Energy Company

Greater Des Moines Partnership

Iowa Association of County Conservation Boards

Iowa Association of Municipal Utilities

Iowa Bicycle Coalition

Iowa Community Foundations

Iowa Conservation Alliance

Iowa Ducks Unlimited

Iowa Environmental Council

Iowa Interfaith Power & Light

Iowa Natural Heritage Foundation

Iowa Parks Foundation

Iowa Rivers Revival

Iowa Soybean Association

Iowa State Association of Counties

Pheasants Forever

The Nature Conservancy

Trees Forever
Document explaining how resources would be allocated from the Natural Resources and Outdoor Recreation Trust Fund.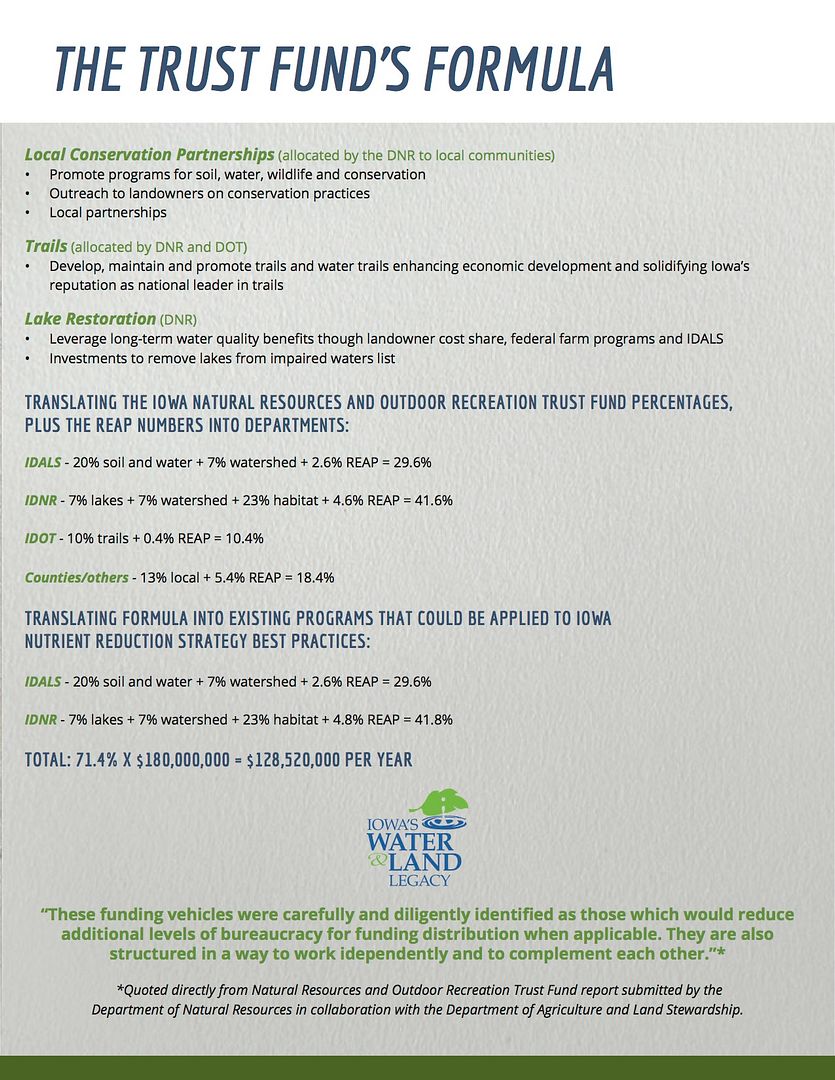 Top image taken from the Iowa's Water and Land Legacy website