Voters in some Davenport precincts will choose a new state senator today in a special election that Governor Terry Branstad set at the worst possible time.
Democratic State Representative Jim Lykam appears to be on track to succeed the late Senator Joe Seng, despite the governor's efforts to engineer even lower turnout than for a typical election to fill an Iowa legislative vacancy.

Senate district 45 covers parts of Davenport in Scott County: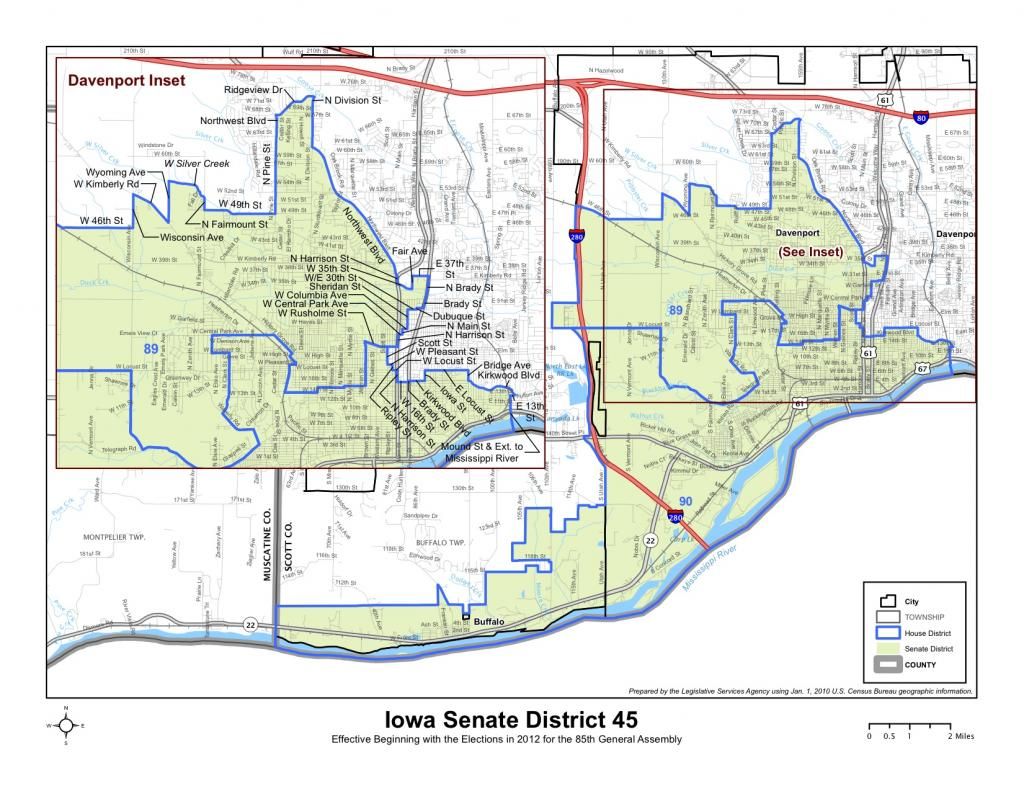 This district is among the most heavily Democratic in Iowa, with 15,609 active registered Democrats, 7,849 Republicans, and 16,239 no-party voters according to the latest figures from the Secretary of State's office.
After Seng passed away in September, Branstad could have set the special election for any Tuesday in December. Four years ago, the governor set a special election for December 11 in Republican-leaning Senate district 22. But for this Democratic seat, Branstad "chose the date most inconvenient for voters," using a disingenuous written statement to pin the blame on Scott County Auditor Roxana Moritz.
Branstad and his spokesperson Ben Hammes knew perfectly well that because of deadlines for printing ballots, there was no way this special election could have been held concurrently with the November 8 general election. Seng died on September 16. Early voting began on September 29, and auditors were required to mail ballots to overseas and military voters before then. Moreover, Scott County Democrats and Republicans needed to choose candidates for this race, and those nominating conventions must be announced at least 10 days ahead of time.
Hammes told me Branstad set the date "to give the maximum amount of time for the County Auditor to administratively prepare and distribute ballots." However, Moritz did not request a late December special election date. She merely explained to the governor why it was logistically not possible to hold the special election on November 8.
Branstad's obvious goal was to suppress turnout. When Seng died, a 25-24 Senate after the November election seemed like a plausible outcome. If control of the Iowa Senate were riding on this race, Republicans would have a better shot at pulling off an upset two days after Christmas.
Aided by Iowa's large swing to Donald Trump and heavy spending by the Republican Party and allied groups in almost all the key districts, Republicans picked up six Democratic-held Iowa Senate seats on November 8. They now hold 29 of the 50 seats in the upper chamber.
A special GOP nominating convention in October picked Mike Gonzales to represent the party for the special election. A longtime police office in nearby LeClaire, Gonzales narrowly defeated former Davenport School Board President Denise Hollonbeck. He argued that he was well-positioned to "get the crossover vote," Ed Tibbetts reported for the Quad-City Times.
Republicans are making little effort to play for Senate district 45, now that they don't need the seat to cement a majority. The campaign finance report Gonzales filed last Friday shows no in-kind spending by the Iowa GOP. The Scott County Republican Party donated $750 to the campaign, a token amount. No conservative political action committees have supported Gonzales, who raised a total of $3,620.00 for the special election.
State Representative Jim Lykam was in effect unopposed at the November 10 Democratic nominating convention for Senate district 45. State Representative Cindy Winckler and Scott Community College Professor Monica Kurth declined to stand after being nominated by delegates. Lykam has served seven terms in the Iowa House, most recently as ranking member of the Transportation Committee. More background from his official bio:
Jim was born and raised in Davenport. He is a graduate of Davenport West High School and Palmer Junior College. He ran a small business for over 25 years.

Jim and his wife, Barb, have been married for 42 years, they live in Davenport. Barb is a nurse. They have one son, Jeff.

Jim has an extensive record of civic involvement. He served on the Davenport Plan & Zoning Commission and on the Park & Recreation Advisory Committee, chairing the baseball subcommittee. He has also served as the vice president of the Davenport Colt League, the manager of the West Pony League, and a member emeritus of the Scott County Humane Society. His memberships further include the Davenport Moose Lodge, Davenport Masonic Lodge, the Kaaba Shrine, and Mohasson Grotto.
Libertarian Severin Gilbert also filed nominating papers to run for the special election.
Democrats have left nothing to chance here. The Iowa Democratic Party has spent more than $85,000 supporting Lykam, mostly on direct mail and radio advertising.
Lykam has not traditionally been a strong fundraiser, but his campaign took in more than $46,000 since early November alone. Roughly half of that amount came from political action committees. Lykam was able to give the Iowa Democratic Party $60,000 to help cover expenditures on this race.
Many Democratic volunteers, not just from Scott County, have helped Lykam knock on doors in the district. Former and likely future presidential candidate Martin O'Malley was in Davenport on December 18 to encourage activists and campaign on Lykam's behalf. Democratic state senators including Liz Mathis and Rita Hart "chased ballots" late last week. Incoming Senate Minority Leader Rob Hogg came back to Davenport on December 26 to do more GOTV and was headed out on the doors this morning.
According to Scott County Elections Office staff, Democrats had returned 1,728 absentee ballots as of December 23. Registered Republicans in the district had returned 423 ballots, and voters affiliated with neither major party had returned 326 ballots.
I'll update this post with results after polls close at 9 pm. Assuming Lykam wins, the incoming Iowa Senate will have 29 Republicans, 20 Democrats, and one independent (former Republican David Johnson). Although Branstad's gambit won't give Republicans an extra Senate seat, he succeeded in making Democrats spend more resources to hold what should be a safe seat, and in forcing Scott County elections staff to work long hours around the Christmas holiday weekend.
UPDATE: I forgot to mention that Barack Obama won nearly 68 percent of the vote in the Senate district 45 precincts in 2012, compared to just under 31 percent for Mitt Romney. This year, David Beaudoin calculated, Hillary Clinton carried the district with about 53 percent of the vote to 37 percent for Trump. So even though the area remains strongly Democratic, Senate district 45 was not immune to the statewide trend.
At his website focusing on local and special elections, Beaudoin posted a chart showing all Iowa special legislative races since 2008. Most vacancies have been in heavily Republican districts. I can't help smiling whenever I'm reminded of Curt Hanson's important special election victory in September 2009.
Beaudoin also posted a tracking sheet estimating how many votes will be cast in today's special election and "computed the minimum 2-party vote share Rep. Lykam would probably have to attain in each precinct in order to win today." Click through to view his vote calculations for the 20 precincts in Senate district 45.
SECOND UPDATE: With six precincts reporting, including the absentee ballots cast early, Lykam has 2,601 votes (79.2 percent), Gonzales 654 votes (19.9 percent), and Gilbert 29 votes (0.88 percent).
9:45 PM UPDATE: Full results are available on the Scott County elections page. Total votes cast: 5,175. Lykam received 3,788 votes (73.20 percent), Gonzales 1,310 votes (25.31 percent), Gilbert 76 votes (1.47 percent). There was also one write-in vote.
Beaudoin's "back-of-the-envelope" guess that 5,500 people would cast ballots in this special election was close to the mark.
I've been told the Iowa GOP did send out at least one absentee ballot mailing for this race. If anyone has a copy, please send me a photo or pdf file. Gonzales didn't report any expenditures large enough to account for an absentee ballot mailing, and he didn't report any in-kind expenditures (which is where direct mail paid for by the state party would typically show up). Someone should file a complaint with the Iowa Ethics and Campaign Disclosure Board if Republicans spent money on this race that was not reported.
Regarding outside group spending in this race, Iowa Right to Life endorsed Gonzales and paid for some robocalls and possibly also direct mail, I'm told.
A Republican source also said the Iowa Firearms Coalition (a PAC affiliated with the National Rifle Association) put out some material promoting Gonzales, but I didn't see anything about the Senate district 45 election on their website or their Facebook page. If they spent money here, it was below the radar.
LATER UPDATE: Democratic sources expect Kurth to seek the Democratic nomination for Lykam's Iowa House seat when the special election happens sometime in early 2017. Gonzales may seek the GOP nomination there as well.
Lykam told Radio Iowa's O.Kay Henderson,
"In a normal election cycle, I can knock 8000-10,000 doors myself in the summer," Lykam said. "In a special like this, you don't even know what for sure voters you're going after with a very small turn-out and it's very nerve wracking. I mean, you're knocking doors and hopefully you're hoping the doors of people who are actually going to get out and vote."

The senate district covers western Davenport and the community of Buffalo.

"This is a blue-collar-type senate district and I just want to give the middle class a fair shot," Lykam said.
Ed Tibbetts reported for the Quad-City Times,
Now that Lykam will move to the state Senate, a new special election will be needed to fill his 89th House District seat. Local party leaders said last week that they would wait until after Tuesday's election before working on setting a date for nominating conventions. First, Gov. Terry Branstad will need to set a date for the special election.

Since Lykam's vacancy will come within 45 days of the start of the next legislative session, the law says that it should be held "at the earliest practical time."

The governor must give at least 18 days' notice, however. The governor's office last week did not give any indication when a special election might be held.
DECEMBER 28 UPDATE: Lykam told Tibbetts he will resign his Iowa House seat on January 2. I enclose a map of House district 89, which contains 7,508 active registered Democrats, 4,797 Republicans, and 8,474 no-party voters according to the latest figures from the Iowa Secretary of State's office.