GOP lawmakers have been trying to defund Iowa's leading provider of reproductive health care for years. Their previous efforts attracted relatively little public attention, since the Democrats in control of the state Senate would not go along.
Democrats no longer hold enough seats in the legislature to stop Republicans from enacting a plan that will require Iowa to spend ten times more, even as family planning services become less accessible.
As expected, an Iowa Senate Judiciary subcommittee advanced Senate File 2 during a January 24 meeting. The outcome was a foregone conclusion, since all 29 Senate Republicans are co-sponsoring the bill that would create a state-run family planning program, excluding Planned Parenthood as a qualified provider.
But the vast majority of Iowans support continued state funding for Planned Parenthood's non-abortion services. Republicans weren't prepared for hundreds of them to show up at the Capitol yesterday.

In addition to the 200 people on both sides of the issue who crowded the meeting room, some 400 Planned Parenthood supporters lined hallways and stairwells and filled the rotunda. Democratic State Senator Janet Petersen posted a video which gives a good sense of the turnout, as do some photos published by the Des Moines Register. Many attendees shared pictures on social media. This shot came from Senate Minority Leader Rob Hogg: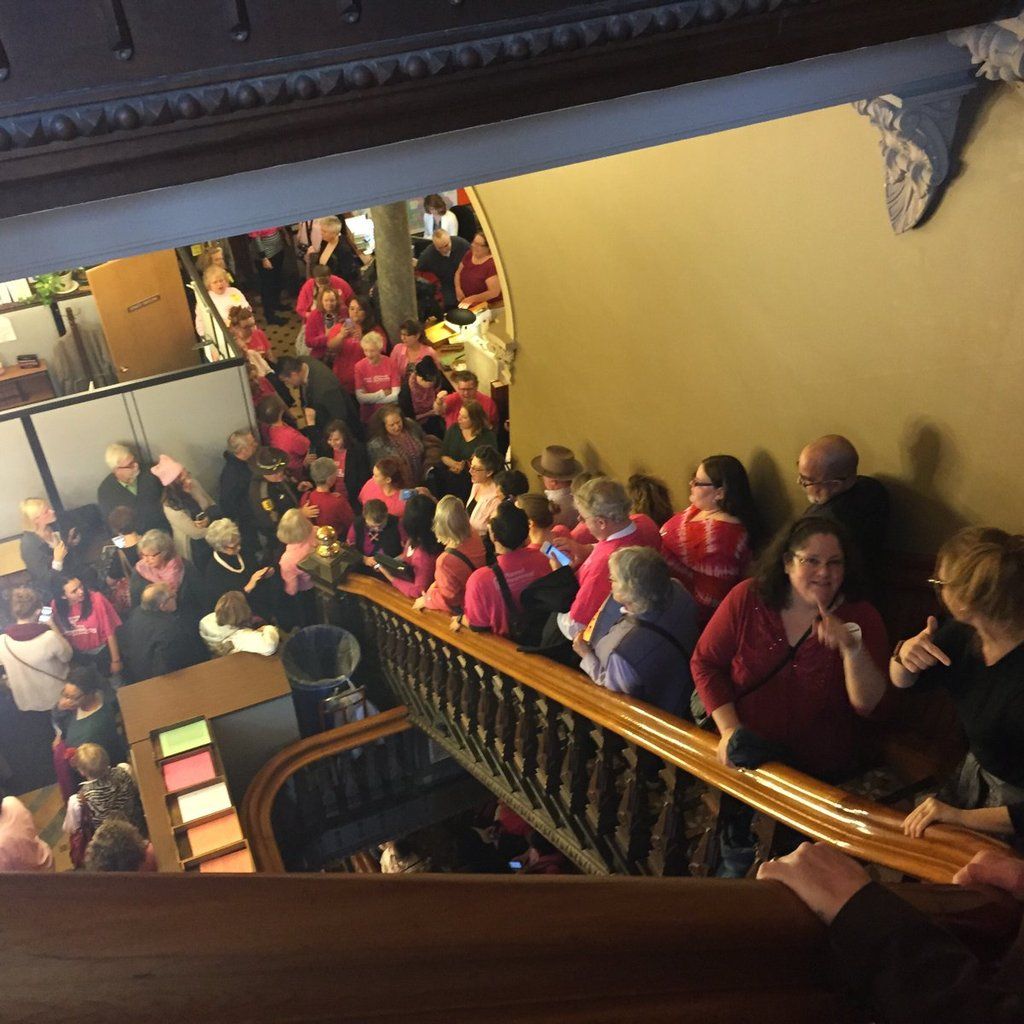 Democratic State Representative Helen Miller posted this picture: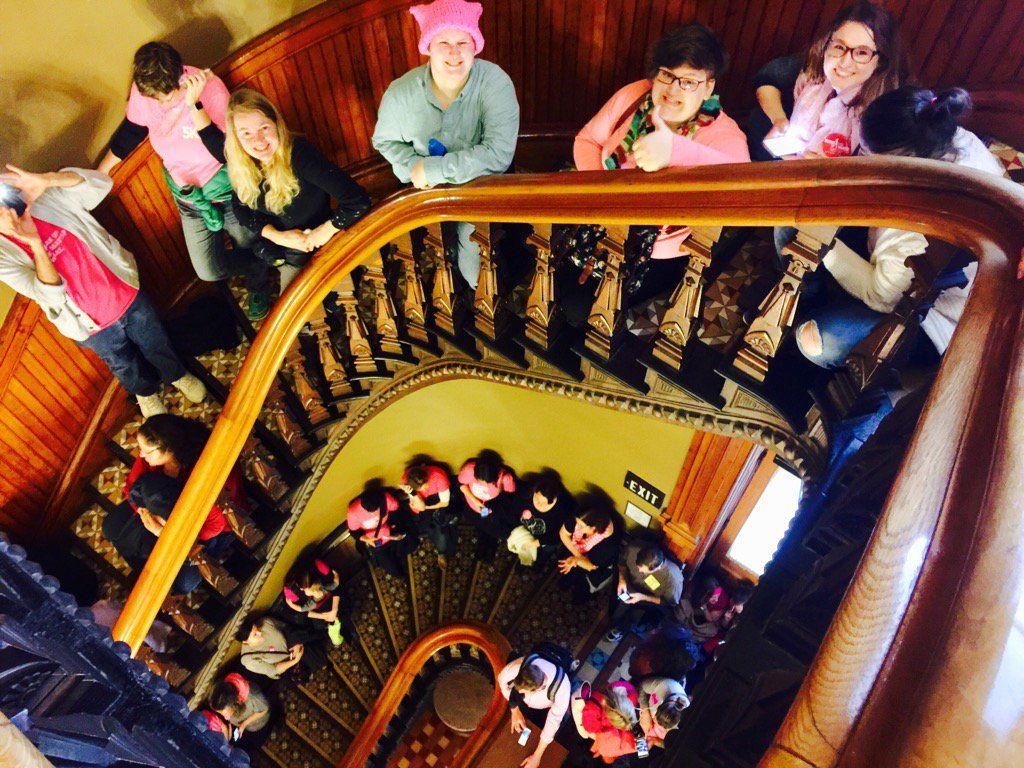 While chairing the proceedings, State Senator Amy Sinclair refused to let Petersen, the Democrat on the subcommittee, ask questions about the bill. Sinclair allowed only 25 minutes for an equal number of those who favor and oppose the plan to speak. Dr. Lisa Bannitt said during her testimony, "Many patients choose Planned Parenthood because they prefer the nonjudgmental care. And that is their right." Joanne Hermiston, CEO of Women's Health Services in Clinton, warned that the bill "would jeopardize access" to family planning services for Iowans who rely on Medicaid, Steffi Lee reported for Cedar Rapids-based CBS-2 news. Pat Rynard covered the hearing for Iowa Starting Line.
"Iowans will undoubtedly start to see teen pregnancy rates rise," cautioned Suzana de Baca, president of Planned Parenthood of the Heartland. "Without a trusted provider they can rely on for care, they'll face the dilemma of trying to find birth control. They will be afraid to go to clinics that they fear will share information with their parents."

De Baca presented the senators with a stack of petitions from their supporters, reminding the room that a nearly 3/4 majority of Iowans support public funding for Planned Parenthood family planning services. She pointed to other health crisis that broke out in American cities when they shut down or defunded the local Planned parenthood clinic.

"We are watching what you will do as leaders of the state," de Baca warned. "We will continue to remind Iowans that you will now own the decision that led to higher teen pregnancy rates, STI rates and even an increase in pregnancy-related deaths. You are choosing to hang your hat on defunding Planned Parenthood even though your constituents have made their voices clear that this is not what they want you to focus on ... We will not back down from this fight."
William Petroski reported for the Des Moines Register,
Republicans said women will have access to 221 clinics statewide that will greatly expand coverage to rural Iowa women who must now make long drives to urban areas for family planning services.

During the hearing, Petersen interrupted speakers who declared their opposition to abortions, pointing out that Planned Parenthood doesn't receive any government money to perform abortions. She insisted the legislation would reduce women's access to health care, saying the University of Iowa Hospitals and Clinics and certain other major medical providers would not be eligible for the new family planning program. But Sen. Jason Schultz, R-Schleswig, who voted for the bill, strongly disagreed, saying rural residents will be better served.

"I have my own list," he said.
Iowa Right to Life executive director Jennifer Bowen claimed during her remarks to the subcommittee that Senate File 2 "provides more women more choices, and so we're very thankful for you."
Neither Governor Terry Branstad's staff nor officials with the Department of Administrative Services have responded to my request for the list of Iowa health care providers who offer family planning services. Erin Murphy reported for the Quad-City Times on January 22 on the likely impact of shutting off state funding for Planned Parenthood clinics.
Getting birth control, in particular long-term methods such as intrauterine devices and birth control implants, would become more difficult, as would receiving prenatal care and getting tested for sexually transmitted diseases and others such as cancer, experts said. [...]

State health care experts also questioned Republicans' assertion that other providers will be able to accommodate women who may be forced to seek those health care services elsewhere. [...]

Republicans have pointed to a list of Iowa's 51 federally approved health care clinics, but many clinics on that list do not provide the reproductive health care services offered by Planned Parenthood.

Iowa women still would have access to gynecologists, provided they have insurance or are on a public assistance program such as Medicaid. However, experts cautioned, a rush of patients to those physicians could lead to long waits.
Over the weekend, GOP State Representative Ashley Hinson said she had received Planned Parenthood services when she was new to the Cedar Rapids area and "couldn't get in to an OB/GYN for over a year."
Last week, KCCI-TV's Todd Magel checked out some names on that list of federally approved providers. The facilities included a dentist's office, a high school nurse, and a homeless shelter in Des Moines. Iowans now served by Planned Parenthood could not obtain well-woman care, testing for sexually transmitted infections, or contraception at any of those locations.
After Sinclair ended the subcommittee meeting, several Democratic lawmakers stayed for another hour to hear many more people talk about their positive experiences with Planned Parenthood clinics. Maridith Morris, a sexual assault nurse examiner, told them she refers all patients to Planned Parenthood for follow up. A rape survivor described the compassionate care she received from Planned Parenthood after her assault. Rebecca Dublinske described seeing a doctor in private practice, who had refused to prescribe birth control to help manage her ovarian cysts. Claire Celsi told lawmakers that her 16-year-old daughter (who was not pregnant) had been lectured and shamed during a visit to a clinic run by anti-abortion activists.
Iowans won't have an opportunity to testify when Senate File 2 comes up in the full Judiciary Committee or on the Senate floor, but they can still make their voices heard. Calls may be more effective, since not all lawmakers read or reply to e-mails. Many senators and representatives list home or cell phone numbers on their official pages.
Those who want to stay involved with this issue can take action through Planned Parenthood of the Heartland's website. I also recommend signing up for the Iowa Statehouse Progressive Network, because Senate File 2 is just one among many important bills Senate and House Democratic staff will be tracking during the coming months.
Last February, an Iowa poll by Selzer & Co for the Des Moines Register found that 74 percent of respondents, including a majority of Republicans, favor state funding for Planned Parenthood's non-abortion services. I expect this year's polling to produce similar numbers, especially once more Iowans become aware that other providers could not meet demand for affordable health care.
Widespread opposition probably won't deter House and Senate Republicans from passing this unwise and fiscally irresponsible legislation. The social conservative base demands that Planned Parenthood be punished, even though doing so would cost ten times as much, taking funds currently used for vulnerable children and adults with disabilities.
It will be up to the rest of us to hold the GOP accountable for the fallout.
UPDATE: Bleeding Heartland user x commented below,
I can't emphasize strongly enough how out of line it was for Senator Sinclair to not allow Senator Petersen to ask questions about the bill. That's the purpose of having a subcommittee meeting — to work out questions about language, content, etc. It was clear the Republicans had the votes to move the bill forward; they did not have to gag the minority party in the process. I also understand how political this bill is, and how the questions may have been more political than factual. There is still a process and procedure that should have been honored, and I'm not only offended, I'm scared that this may be replicated in other subcommittees.
So far, I have not heard about Democratic senators being denied a chance to ask about the bill in other subcommittees, but this issues bears watching. Please let me know if anyone becomes aware of a subcommittee chair following Sinclair's example.
Top image: some of the hundreds of Iowans who showed up for the January 24 Senate subcommittee hearing on the bill to defund Planned Parenthood. Photo was posted by Twitter user @suresherbert.