Two weeks after saying she was ready to take on Representative Steve King again "if I have sufficient support," Kim Weaver announced on MSNBC's AM Joy program Sunday morning that she is "all in" to run for Congress in 2018. Asked by Joy Reid how she could win in a "ruby red" district, Weaver noted that she outperformed both Democratic presidential nominee Hillary Clinton and U.S. Senate candidate Patty Judge in all 39 counties in the fourth Congressional district. In addition, she has raised more money for her campaign in the last two weeks than she did during the entire 2016 election cycle.
Weaver's fundraising surge began when King's racist sentiments made national news yet again, this time because of his approving tweet about a far-right, white supremacist Dutch politician: "[Geert] Wilders understands that culture and demographics are our destiny. We can't restore our civilization with somebody else's babies." King's been beating the "demographics are destiny" drum for years.
I asked Weaver today when she plans to hold campaign launch events around IA-04.

She responded via e-mail:
I have seen an outpouring of support over the last two weeks for this run. In four days we raised $104,000 and $160,000 in 2 weeks. In addition to our fundraising efforts, I was officially endorsed by Professor Robert Reich.

In the next couple of months I will be scheduling stops across the district to discuss issues and how we will focus on solutions. Joining me on some of the stops will be State Senator, and former Governor candidate, Jack Hatch. We will discuss ideas on how we move forward and topics included in his recently released book, Never Surrender.
Earlier this month, the progressive Blue America PAC endorsed Weaver and began urging supporters to donate to her campaign. Howie Klein wrote in a March 19 blog post,
The DCCC [Democratic Congressional Campaign Committee] collected a lot of money by sending out e-mails telling Democrats how horrible Steve King is then, too. How much of the money collected for IA-04 did the DCCC give Kim? ZERO. They did absolutely nothing to help her at all.

The thing is, even without any help from the DCCC, Kim earned more votes than Hillary Clinton in every single county in IA-04-- all 39 of them-- and even won the biggest county in the district! It's worth noting here that Kim out-performed Chuck Schumer's handpicked corporate conservative Senate candidate, Patty Judge, in all 39 counties as well.

This year Kim is taking on King again. And what is the DCCC doing? You probably guessed it-- sending out more letters demonizing King and collecting cash to use to elect more conservaDems while offering nothing at all to Kim Weaver. We're sick of it. [...]

Kim told us that "the most disappointing aspect of the campaign was being told time and again that although I was a 'great candidate,' various organizations declined to support me because I wasn't 'viable.' Most organizations didn't even respond to my applications for assistance. Additionally, whenever my opponent would say some new horrific thing, I would get emails after emails from organizations asking for money to 'help defeat Steve King.' Not a single one of those organizations passed along any of that support. King was a big money maker for them, and it appears that he still is."
Weaver's campaign donors include Rosie O'Donnell.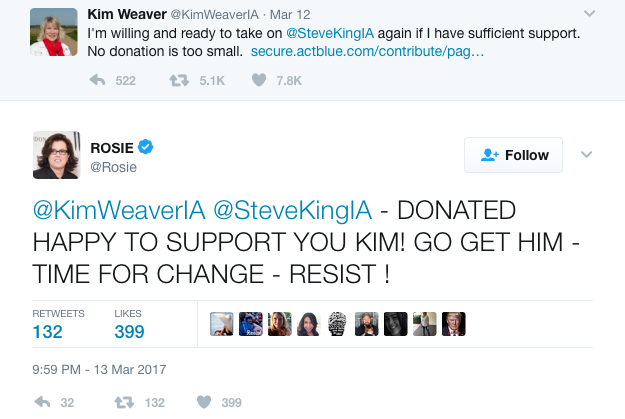 Strong early fundraising and higher name recognition have given Weaver a probably insurmountable advantage over Iowa State University political science professor Dirk Deam, who is also thinking about running as a Democrat in IA-04. Deam is raising money for his exploratory committee, but it's hard to see how he could get traction against Weaver, who has a large supporter list already. From one of her recent fundraising appeals, sent on March 27:
Yesterday morning on MSNBC, I formally announced my candidacy to run against Steve King for the US House! Steve King has been embarrassing this state for far too long. Iowans deserve someone who is willing to fight for them instead of always voting against our best interests. It's time for a progressive Democrat to take this seat and show this district what real representation is all about. Say you're in too with a contribution today!

We're going to run a true grassroots campaign, engaging the voters in this district like never before. But if we want to win this race, I'm going to need your help. I'm ready to fight for you, but to win, I'll need you to stand and fight beside me.

Together, we truly can replace politics of division with politics of decency.

Thank you for your support!
Pat Rynard posited at Iowa Starting Line a few days ago that this "big money infusion could be a game changer for round two of the Weaver vs. King rematch."
This big financial haul has already given Weaver the ability to hire a top-notch political director. In 2016 [she] had just two staffers. Todd Prieb will soon be joining her exploratory bid. Prieb worked on the successful 2016 election of the first Indian-American Congresswomen in Washington State. Prieb helped elect Pramila Jayapal, a civil rights activist who previously served in the Washington State Senate.
A Congressional campaign--even one focused on the grassroots--costs a lot of money to run well. Weaver was unable to fund a field program in IA-04 last year and had very little to spend on paid advertising. So her fundraising success these past two weeks is important.
However, Democrats should have no illusions about what money can do for a challenger in IA-04. Former Iowa First Lady Christie Vilsack raised and spent more than $3.3 million against King in 2012. Jim Mowrer raised and spent more than $2.1 million against King in 2014.
The fact remains that Republicans have a structural advantage in IA-04. The latest figures from the Secretary of State's Office show that the 39 counties contain 122,811 active registered Democrats, 194,477 Republicans, and 177,035 no-party voters. As a group, the independents in this district don't lean Democratic, which is one reason Donald Trump won 60.9 percent of the vote here.
Any relevant comments are welcome in this thread.
P.S.- King stayed away from racially inflammatory remarks in his latest op-ed column for the Des Moines Register. Instead, he thanked outgoing Iowa State University President Steven Leath and his wife, Janet Leath, "for all the sacrifices they have made and for all of the time they have invested in ISU."
UPDATE: I forgot to mention that Sioux City business owner Ryan Meyers is also seeking the Democratic nomination in IA-04 and has filed paperwork with the Federal Election Commission. In a recent e-mail communication, he said his top-priority issues are infrastructure (especially schools, clean energy projects, and electric trucks); single-payer health care reform; fighting for equality and against bigotry such as racism, sexism, homophobia, and xenophobia; and working to bring manufacturing jobs back to northwest Iowa and the U.S. generally. He would try to persuade companies to expand in the district: "I would use the position as your congressman to convince those companies looking to 'in-source' that northwest Iowa is a great place to grow and run a business because we have cheap power from our wind farms, a motivated, dedicated, and trained workforce, the cost of doing business here is lower than most of the rest of the country, and our centralized location allows you to get your goods to market, quickly, and conveniently."
SECOND UPDATE: Former cabinet secretary Robert Reich posted his endorsement on Facebook March 28. More than 2 million people have "liked" his Facebook page, and his comments about Weaver have more than 1,500 shares in less than 24 hours.
Steve King -- the eight-term congressman from Iowa's 4th district, who insists that America's destiny is a form of ethnic purity, or white nationalism -- shouldn't be in Congress. His views are inimical to Iowa and to the nation.

Kim Weaver just announced she'll be running against him. I've met with her, and I'm impressed. Weaver should be in Congress. She has the right values, and will do Iowa proud. This isn't about politics as usual, right or left. It's about decency.

If you're in Iowa's 4th district, I urge you to work to elect Kim Weaver to Congress in 2018.

What do you think?
MARCH 31 UPDATE: Weaver's campaign announced a large batch of endorsements, including more than a dozen current or former state lawmakers and many Democratic county leaders or members of the State Central Committee.
Sen. Tony Bisignano, Iowa State Senator

Sen. Matt McCoy, Iowa State Senator

Sen. Janet Petersen, Iowa State Senator

Sen. Rich Taylor, Iowa State Senator

Rep. Helen Miller, Iowa State House Rep.

Rep. Ako Abdul-Samad, Iowa State House Rep.

Rep. Lisa Heddens, Iowa State House Rep.

Rep. Timi Brown-Powers, Iowa State House Rep.

Rep. Liz Bennett, Iowa State House Rep.

Rep. Amy Nielsen, Former Mayor of North Liberty, Iowa State House Rep.

Rep. Jerry Kearns, Iowa State House Rep.

Rep. Mary Mascher, Iowa State House Rep.

Rep. Monica Kurth, Iowa State House Rep.

Jack Hatch, Author, Former Iowa State Senator

Jon Neiderbach, Atty, Former Des Moines School Board member*

John Wittneben, Chair – Emmet County Democrats*, Former Iowa State House Rep.

Mark Sturgeon, Chair – Plymouth County Democrats*

Beth Winterhoff, Co-Chair – Cherokee County Democrats*

Catherine Crooks, Chair – Franklin County Democrats*

Sue Seedorff-Keninger, Chair – Hardin County Democrats*

Phyllis Holland, Vice-Chair – Grundy County Democrats*

George Ensley, Former Chair – Boone County Democrats*

John Flecky, Former Chair – Harrison County Democrats*

Daryl Beall, Former Iowa State Senator

Tom Foster, Former Boone County Supervisor

Michelle D. Servadio, Director and Co-Founder of Iowa Hemp Association*, Acting Chair of the Iowa Veterans' Caucus*

Mike Carberry, Johnson County Board of Supervisors*, State Central Committee member, IDP

Kurt Friese, Johnson County Board of Supervisors*

Jessica Fears, State Central Committee member, IDP

Jonathan "Jon" Greene, State Central Committee member, IDP

Dave Dawson, Former Iowa State House Rep.

Ed Fallon, Former Iowa State House Rep.

Susan Bangert, Former State Senate Candidate

Dave Grussing, Former State House Candidate

Holly Herbert, State Central Committee member, IDP

Jason Frerichs, State Central Committee member, Chair of Progressive Caucus* IDP

Jack Schuler, 3rd District Presidential Elector

Annaleah Moore, State Central Committee member, IDP

Kate Revaux, State Central Committee member, IDP

Brent Christopher [Oleson], Linn County Board of Supervisors*

Melanie Carlson, Vice Chair, IDP Women's Caucus*

Bill Brauch, former Director – Consumer Protection Division at Iowa Attorney General's Office*

Gary Kroeger, Former Iowa State House Candidate, Actor

Chris Laursen, Bernie Sanders National Delegate, Grassroots Activist

Luke Haffner, Bernie Sanders National Delegate, Grassroots Activist

Ruth and Scott Thompson, The Caucus Couple

Rosie O'Donnell, Actor, Activist

Howie Klein, Political Activist

Blue America, Progressive Group

Mark Thompson (Matsimela Mapfumo), Activist, Radio Host

Make It Plain, Progressive Radio Program

*Indicates Organizational name is for Identification Purposes only.
Top image: Screen shot of Kim Weaver on MSNBC's AM Joy program, March 26, 2017.