Former Des Moines City Council member Michael Kiernan announced yesterday that he will run for the open seat in Ward 3 this year, focusing on an "agenda of improving public safety, fixing potholes and continuing progress." He held the at-large city council seat from 2004 to 2010 and served as Iowa Democratic Party state chair from January 2009 to June 2010. You can find his campaign on Facebook and on Twitter @mjkiernan.
Josh Mandelbaum has been campaigning in Ward 3 for the last two months. His strong challenge drove 24-year incumbent Christine Hensley to retire rather than seek re-election. Now that the odds of a Democrat winning this seat have increased, Kiernan has decided to give it a shot. In a thinly-veiled swipe at Mandelbaum, Kiernan posted on Facebook yesterday, "I've been hearing a lot about crime in our city lately. I keep expecting to hear people who say they want to serve our community talk about this issue. Instead, all I'm hearing about is political endorsements and campaign war chests." He echoed the talking point in his news release and on Twitter: "Lot of talk about politics, political endorsements and political cash...no talk of public safety. That's why I am running."
If Kiernan had attended Mandelbaum's first event as a candidate, he would have heard his opponent talk about many substantive issues including "the importance of public health and public safety" and "providing resources to our first responders, police and fire." Granted, Mandelbaum's campaign did announce last month that he had raised more than $110,000 in three weeks, "recruited over 150 volunteers to help door-knock and hold house parties, and will soon have an elected official and labor leader endorsement list." Taking on an entrenched incumbent requires a lot of groundwork, including early fundraising and lining up prominent supporters. But contrary to the impression Kiernan is trying to create, endorsements and cash have not been the focus of Mandelbaum's message to Des Moines residents. You can read or listen to his first speech as a candidate here.
I enclose below a map of the ward, covering west-side and south-side neighborhoods, as well as Kiernan's news release, more background on his life and career, and the list of elected officials backing Mandelbaum. (His campaign hasn't rolled out the labor endorsements yet.)
Mandelbaum has not publicly commented on Kiernan entering the race. I anticipate his case to Democratic voters will be similar to a statement his campaign released after Hensley disclosed her retirement plans: "When this race looked impossible to win, Josh stepped up to run because the values we share as a community were being threatened everyday." I've closely followed Mandelbaum's work over the years and will encourage voters in the ward to support him, because of his skills and commitment to progressive policies.
Local elections are non-partisan, but I expect some Republican backed by corporate interests to join the field in Ward 3 before long. I welcome tips on other possible candidates.
UPDATE: Added below new comments from Kiernan, who answered some questions by phone on May 18.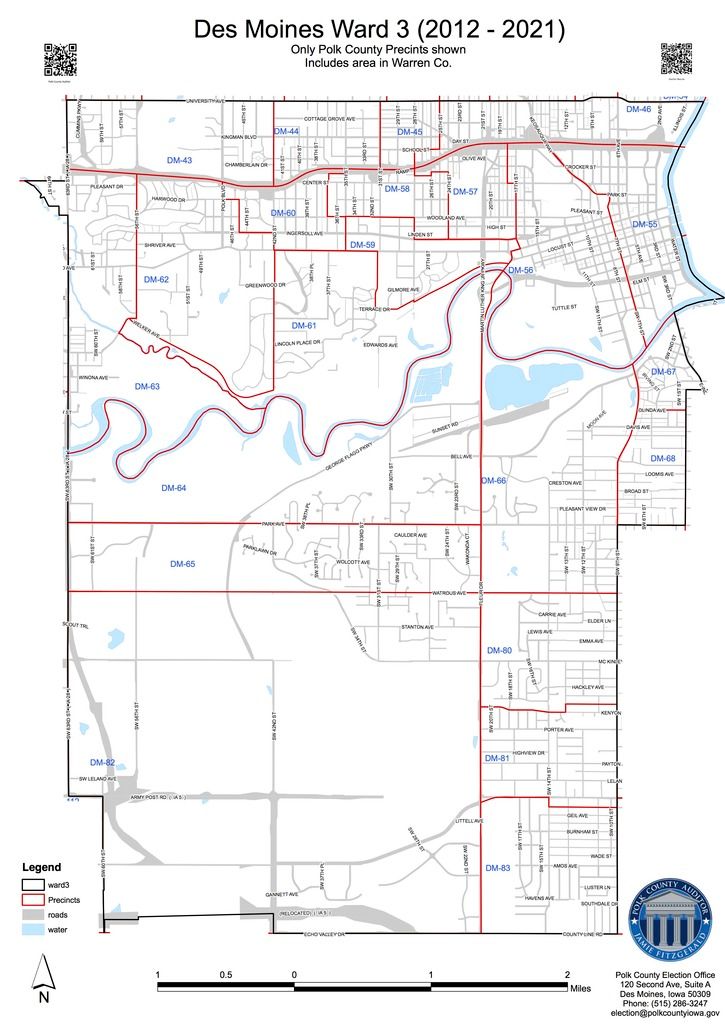 May 17 press release from Michael Kiernan's campaign (emphasis in original):
Former At-Large City Council Member Seeks Des Moines' Ward III Council Seat.

Michael Kiernan will run on agenda of improving public safety, fixing potholes and continuing progress.

Public Safety is at the core of Kiernan's decision to seek the Ward III seat. As a new father, Kiernan says he is "troubled" by an increase in violent crime against people and crimes against property. Kiernan cites several examples of increased crimes against property in his own neighborhood. "We had a brick thrown through our car window in the middle of the day while our child was in our home. Neighbors have had random bullets through their windows. These incidents are minor compared to the execution style murder of a man in front of his young children. That was just one of 14 murders in this year alone. Public safety must be the number one issue in this campaign." Kiernan said.

Kiernan promises to address the issue of public safety on day one after taking office. He is committed to working with Des Moines Police and neighborhood organizations in the effort to curb the increase in crime. "The safety of our neighbors and families must be our number one priority. We hear a lot about which candidate has the most endorsements or largest fundraising effort. That's not what is important to me in this campaign. The safety of our residents is what drives this effort." Kiernan says.

Potholes are an inconvenience. However, potholes are just the most visual example of our aging infrastructure. While Des Moines enjoys a robust economy and celebrates new construction of buildings and public spaces, Kiernan believes it is vital that our aging infrastructure is not overlooked. "With growth in the city, both in new construction and in population, our existing infrastructure is being utilized in a way that it was never designed for." Kiernan says.

Progress. As the fastest growing city in the Midwest, Des Moines is presented with the opportunity to redefine the community as a world-class city. Along with that opportunity, Kiernan is aware of the challenges that lie ahead to ensure growth is managed appropriately. Kiernan says, "As Des Moines continues to add businesses, cultural destinations and population, we must make sure that growth is managed in a smart and sustainable way." Kiernan knows that managing this growth will impact everything from public safety, transportation, parks, and city services. "Preparing for Progress is a key element to successfully managing growth in the community." Kiernan says.

I know we can make a difference in all of these areas and more because, "Working together we can make Des Moines an even better place."
==============================================
About Michael Kiernan A native of central Iowa, Michael Kiernan has great love and appreciation for Des Moines and the surrounding metro area. Kiernan has been involved in public policy since youth growing up on a farm in Madison County. He attended Dowling High School, Des Moines Area Community College and Wartburg College. Kiernan returned to Des Moines and immediately got involved in helping to make Des Moines a better place. He served as Campaign Manager for Preston Daniels' successful mayoral bid in 1997, and his re-election in 1999. Kiernan served on various boards and commissions, including the Zoning Board of Adjustment. As the owner of Historic Homes Inc., Kiernan restored homes in some of the city's most blighted areas. He was a founder of Des Moines' Metro Market and served as an at-large Des Moines City Council member from 2004 - 2010. Kiernan has long been involved in politics, including serving as Chairman of the Iowa Democratic Party where he worked in a bi-partisan way to ensure that the Iowa Caucuses remain first in the nation during Presidential election cycles.

Kiernan's most prized role is that of husband and father. Michael and his wife Erin welcomed their first child, Michael Francis in 2015. The family has lived in the Sherman Hill neighborhood since 2002.
From Kiernan for Council's "about" page on Facebook:
From the time I was a little boy I've been involved in public service. I was always tagging along with my mom when she was organizing events, door knocking and rallying people around causes. My dad served on the Madison County Board of Supervisors.

As a young adult I was involved in various campaigns and causes and served on a number of boards and commissions.

I eventually started a number of small businesses. One led to the opening of The Metro Market (now Gateway Market). Another renovated several rundown properties in Des Moines - restoring them to their original beauty.

I learned a lot about being a small business owner and working with others to achieve success.

I used that experience when I served as an At-Large Councilman for the city from 2004 - 2010. During that time the city experienced incredible success and incredible challenges. I was instrumental in starting the 80/35 Music Festival. I fought for the redevelopment of Gateway West and the Papajohn Sculpture Park. I helped revitalize neighborhoods and their small business districts.

I know that working together we can make Des Moines and even better place!
May 17 Facebook post from Kiernan for Council:
I've been hearing a lot about crime in our city lately.

I keep expecting to hear people who say they want to serve our community talk about this issue.

Instead, all I'm hearing about is political endorsements and campaign war chests.

Crime isn't just a campaign issue for me.

A few weeks ago it became personal when someone used a brick to break into our car in the middle of the day while my 18 month old was sleeping inside our house a few yards away.

Homes and business are being vandalized and broken into and innocent people are losing their lives. There have been 14 homicides in Des Moines alone this year. A father was brutally murdered in front of his children. As a community, we need to work together to stop this.

Public safety is just one of the reasons I'm running for Ward 3 city council.

#improvepublicsafety #fixpotholes #continuethecitysprogress

If you want to help make a difference, join me! Working together we can make Des Moines an even better place!
May 2 press release from Josh Mandelbaum's campaign:
Des Moines City Council Ward 3 candidate Josh Mandelbaum announced endorsements from eight Des Moines legislators and one of the Des Moines members of the Polk County Board of Supervisors today.

"One of the important roles of a Des Moines City Council member is to work with policymakers at the state and county level to further the interests of the residents of Des Moines. I am honored to have the support and confidence of so many of the state and county policymakers who represent Des Moines. I look forward to working with them to make our community stronger and provide more opportunities to the residents of Des Moines," said Josh Mandelbaum.

Legislator Endorsements
State Senator Tony Bisignano
State Senator Nate Boulton
State Senator Matt McCoy
State Senator Janet Petersen
State Representative Marti Anderson
State Representative Ruth Ann Gaines
State Representative Bruce Hunter
State Representative Jo Oldson

Board of Supervisor Endorsement
Supervisor Tom Hockensmith
UPDATE: In a telephone interview on May 18, I asked Kiernan on what basis he implied Mandelbaum was only talking about money and endorsements. Had he seen any of Mandelbaum's speeches? Not in their entirety--just a few clips on Facebook. Kiernan added,
It's not just about Josh here. [...] All he's talked about since Christine Hensley got out of the race, which, he says he succeeded in pushing her out, was how much money he's raised, right? And his political endorsements.
Why does he keep saying this when Mandelbaum has talked about other substantive issues in public appearances?
My issue is this, Laura: is that Hensley is out of the race. And I have a big issue, at that point in time when she got out of the race, all he did talk about was how much money and his political endorsements.
Kiernan is referring to a statement Mandelbaum sent first to Iowa Starting Line and a press release later posted on his campaign website. He went on:
This is more to a larger point of what I think needs to change with Iowa Democrats and the Democratic Party, that we seem to focus too much on how much money we raise and who's got the ideal endorsements. And I'll give you a case in point: would we have a Congressman David Young today if there would have been a primary with Staci Appel [in 2014]? I don't know. I don't know the answer to that question. But I feel that there's a lot of other things to talk about, and so that's why I'm entering the race. And I've been a progressive Democrat my whole life. And so, it's not just about Josh here. My message to other candidates that want to run is just quit talking just about how much money you've raised, right?
I asked Kiernan again why he keeps asserting that Mandelbaum is only talking about money he's raised when he has talked about lots of other issues in public appearances (such as an Earth Day event) and meetings with Democratic voters and groups.
Laura, I understand that you're friends with him. I get that. That's ok. But what I'm saying too is that's why I'm running. I am running because I want to talk about other things that we're gonna get to talk about. [...] But I do think there is a larger issue here, for people who just say, like, I've got these endorsements and I've raised this much money. And that was post Christine Hensley's retirement announcement. [...]

I wanted to reach out to you because [...] it can be, or cannot be about this race. But I want you to stop and really think about that for a minute. Like, what has happened? Christine Hensley's gone. She's not in this race anymore. But to your point, who knows who else is going to get in? And my thing is, as Iowa Democrats, as someone who's been on the city council before, and as someone who's run campaigns and won them, that's my message to all people. Let's stop talking about this and talk about other things.
Why didn't Kiernan come out of the box just talking about his record and things that he's done? Why did he choose to make this accusation that the other candidate in the race is only talking about money and endorsements? Why not just focus on his own vision?
Well, that's what I was trying to say to you. That, because, this--in lies a problem, when people running for office, when you start just talking about that. And, great that you've heard other things. But according to--when you look at his website, by the way, for other people that haven't gotten out--really, that was--it was endorsements, it was how much money he's raised, you got 150 volunteers, that's all good. But that's not, that's not what I want to hear from the person who's just running for city council.

So I'll look forward to having the debate with him coming up. And I wanted to give you a call out of respect, and I know, I know that, you know, that you guys have a relationship. I'm ok with that. And I understand why you feel the way you do. But I have a right to run for office, and I have a right to believe what I believe.
I never said others don't have a right to run for city council or any other office.
To be clear, for those who have not read this post: my "relationship" with Mandelbaum amounts to knowing his family for many years and seeing his work through our mutual involvement in Iowa's environmental community over the past decade. I am an active supporter of the Environmental Law & Policy Center, where he is a staff attorney, and I am a past board member of the Iowa Environmental Council, which has cooperated with the ELPC.
So, that's what I've heard. And the other issue is the Water Works. I think he's wholeheartedly right on the Water Works issue. I don't think there's a smarter person about environmental policy on those issues. I agree. But that's the other piece here. We have to start talking about other things that really are impactful with the city. So, let's talk about them. And I think there's nothing wrong with doing that.
I told Kiernan that I look forward to a debate on the issues facing the city of Des Moines, but let's have it be a debate based on reality, rather than trying to create a narrative that one person is only talking about one thing.
Meanwhile, Des Moines firefighter Joe Van Haalen commented on a Facebook thread,
Josh came to the groups that represent public safety in Des Moines several months ago and has worked extremely hard to understand our issues. I'm confident that Josh will be a strong advocate for public safety as a member of the City Council. [...]

I know he met with firefighters and police. Firefighters have endorsed Josh. He came to us and had as many questions for us as we had for him. On at least 3 different occasions, Josh called back with more questions and answers. I can only speak for the firefighters, but Josh has really done an outstanding job of listening to our concerns, asking important questions, and giving us realistic answers to our questions.
Stew Barnes commented on the same thread,
I agree with Joe Van Haalen, Josh Mandelbaum came to the Des Moines Police Bargaining Unit several times. Each time asked pointed and specific questions wanting to learn about our issues and needs as employees and public servants. No other candidate personally reached out save to say a few made inquiries through others but never followed up. Our support for Mandelbaum is because of his own efforts to gain that backing, a signal to us that he is committed to being a great candidate.