July is a fantastic month for wildflower-spotting in Iowa. In addition to the many plants I mentioned in last week's post, within the past few days I have seen the first blossoms of 2017 on common evening primrose, blue vervain, and cutleaf coneflower. Near the Windsor Heights trail, I also found two species I don't recall seeing in past years: monkey flower and catnip. I hope to feature them on an upcoming Wednesday, along with Culver's root and Joe Pye weed, which are also blooming now in many natural areas.
I took most of the pictures enclosed below in late May at Tipton Prairie in Greene County. Prairie phlox (Phlox pilosa) typically blooms in the late spring or early summer in Iowa. If you see flowers resembling it during July or August, you are probably looking at a cultivar adapted from this species.
Native to much of the U.S. east of the Rocky Mountains, this plant is also known as downy phlox or fragrant phlox. Its favored habitats "include moist to mesic black soil prairies, rocky open forests, Bur Oak savannas, sandy Black Oak savannas, limestone glades, thickets, abandoned fields, and prairie remnants along railroads."
According to the Minnesota Wildflowers website, prairie phlox "does well in a garden, in sunny, sandy soil." The flowers attract a wide variety of pollinators and sometimes ruby-throated hummingbirds. In Wildflowers of the Tallgrass Prairie, Sylvan Runkel and Dean Roosa wrote, "The Meskwaki made a tea of the leaves and used it as a wash for treating eczema. The same sort of tea was drunk to cure eczema and to purify the blood at the same time. Also, the root was used with several other unspecified plants as part of a love potion."

The Lady Bird Johnson Wildflower Center, Illinois Wildflowers, and Minnesota Wildflowers websites are good resources for botanically accurate information about prairie phlox.
As with Sweet William/blue phlox, a spring wildflower common in wooded areas, what look like petals on prairie phlox plants are technically known as "lobes."
Before they bloom, prairie phlox plants are unobtrusive.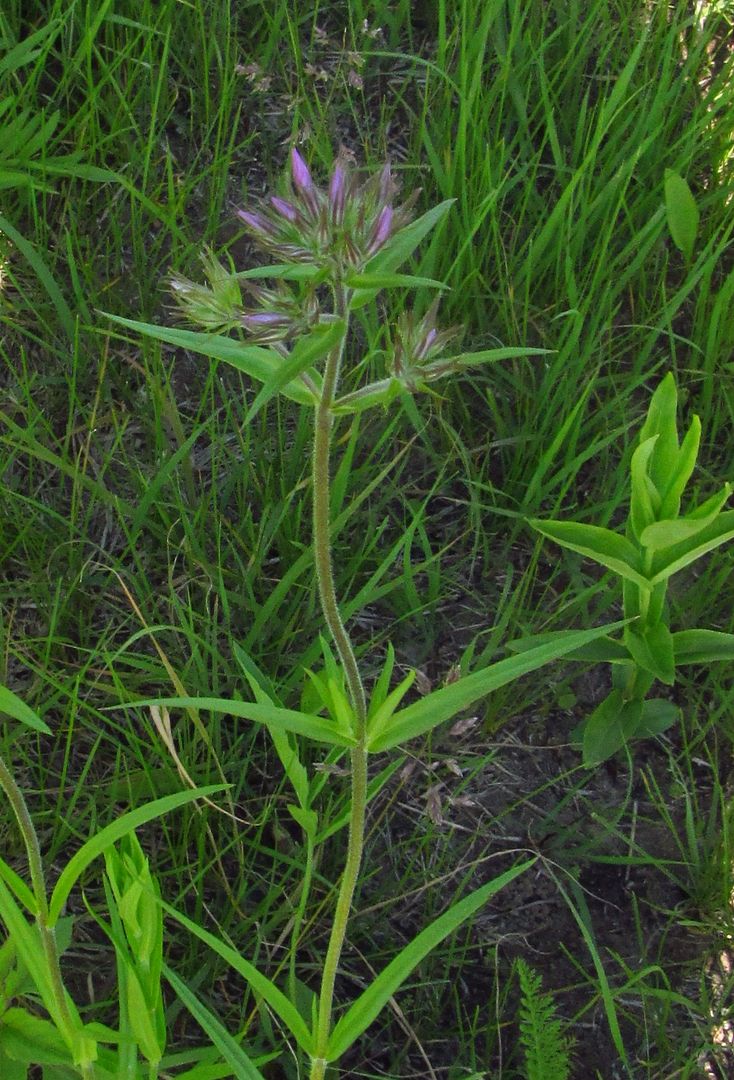 However, they stand out against the landscape as soon as the lobes are visible.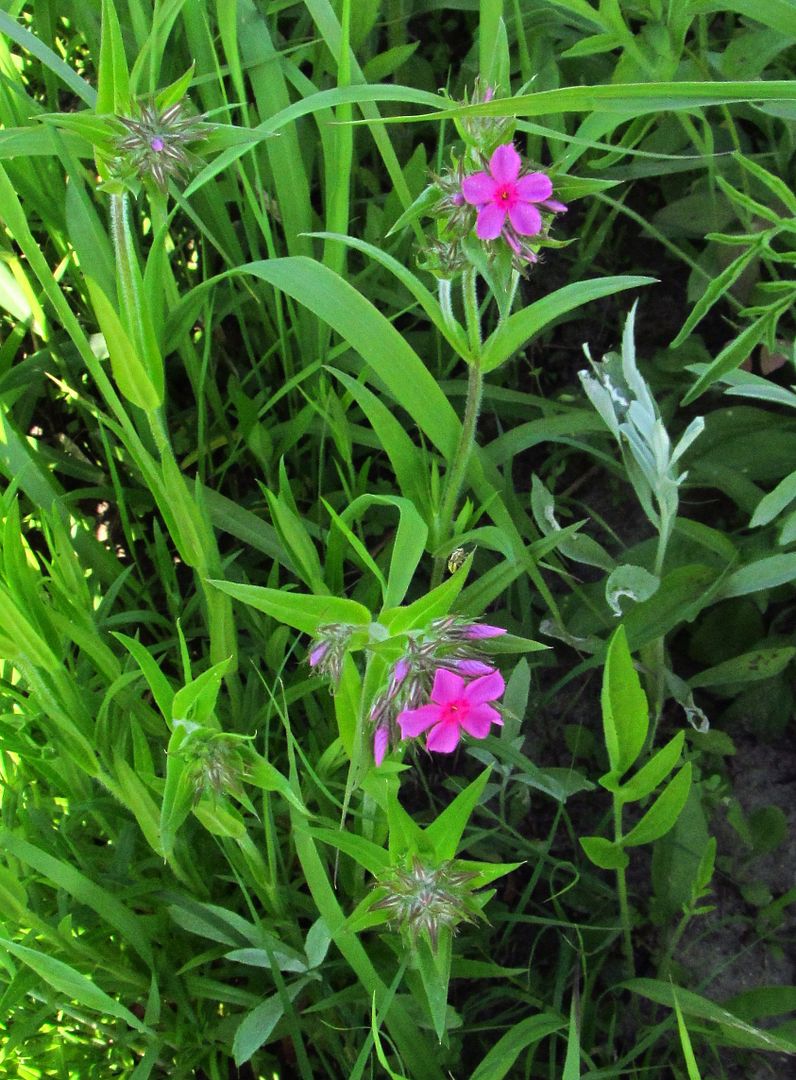 In a cluster of prairie phlox flowers, not all will open at the same time.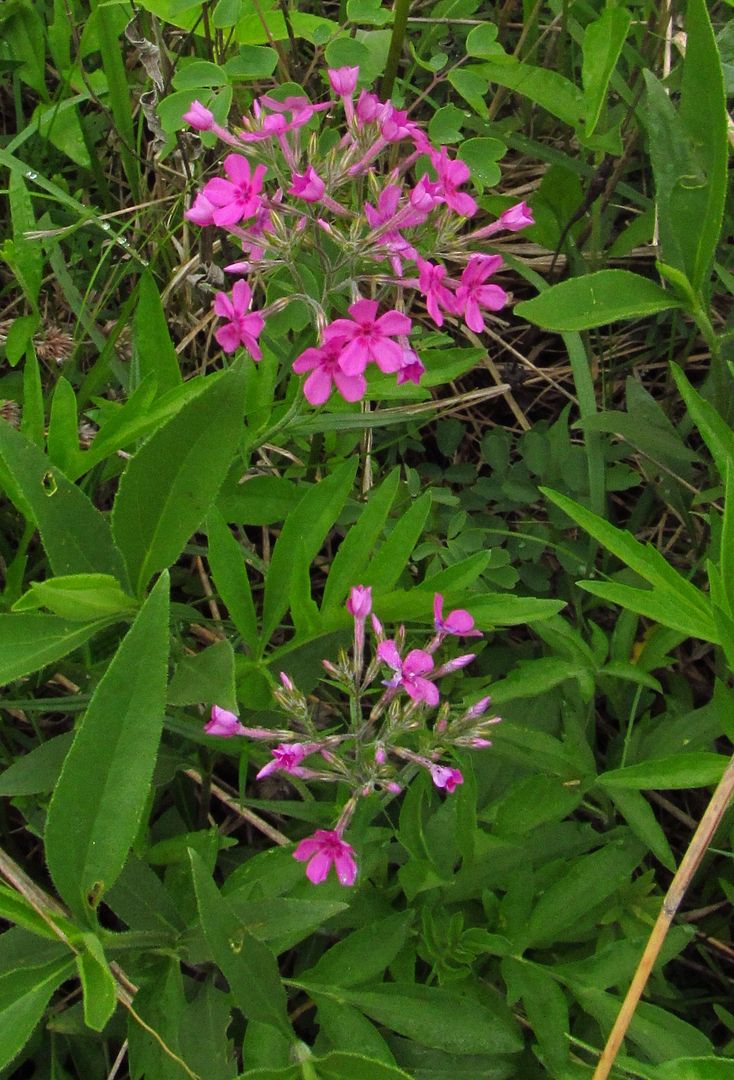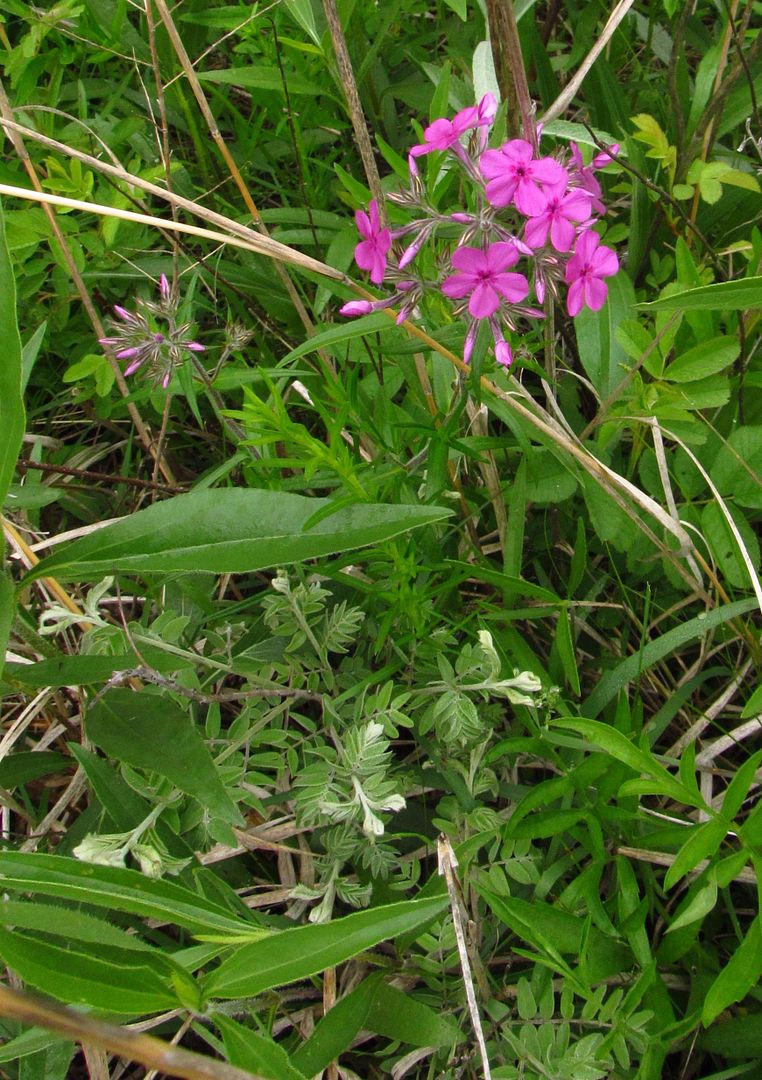 The Minnesota Wildflowers site notes, "There is often a darker pink spot at the base of each lobe." You can see that darker area more easily in the next two pictures: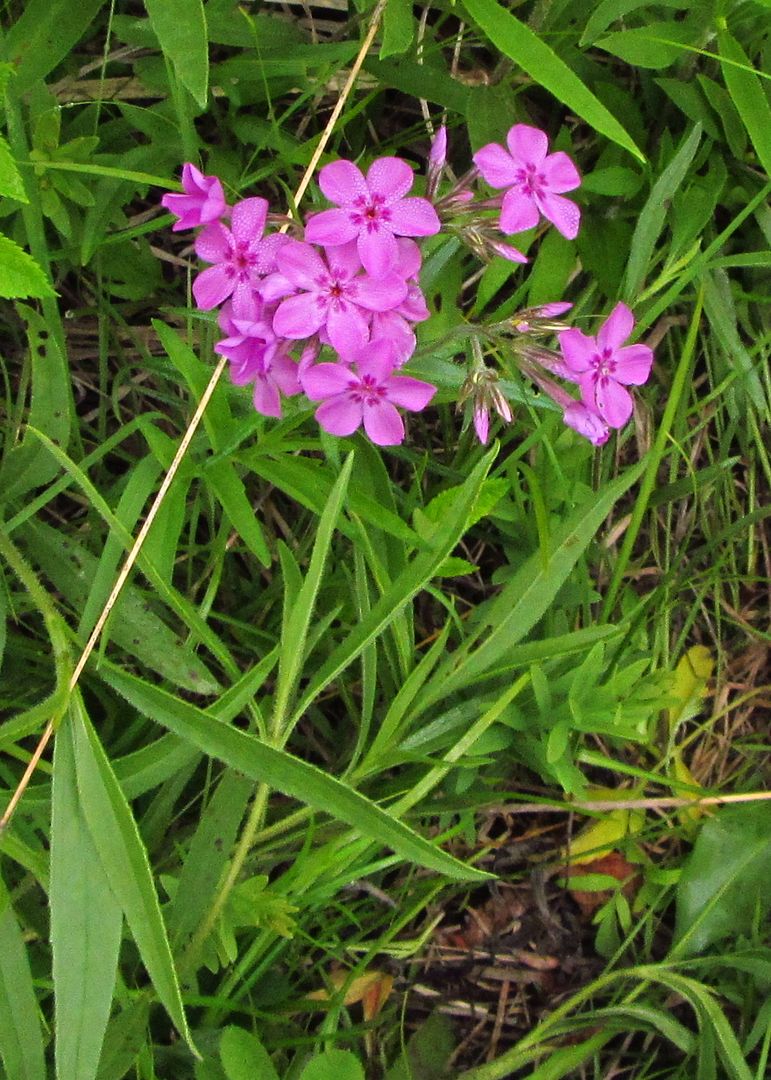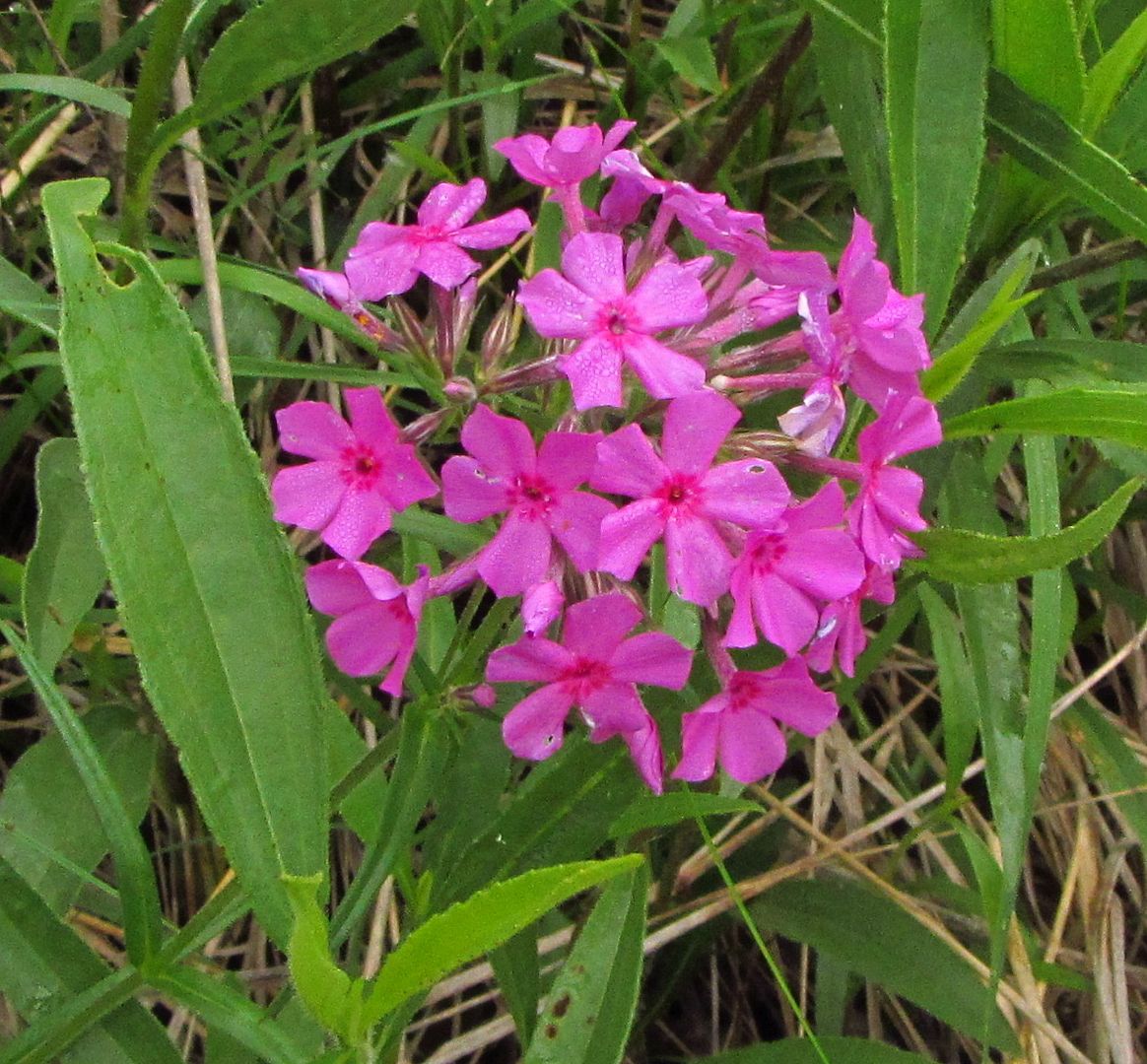 The lighter pink flower near the left side of the frame is wild rose, Iowa's state flower: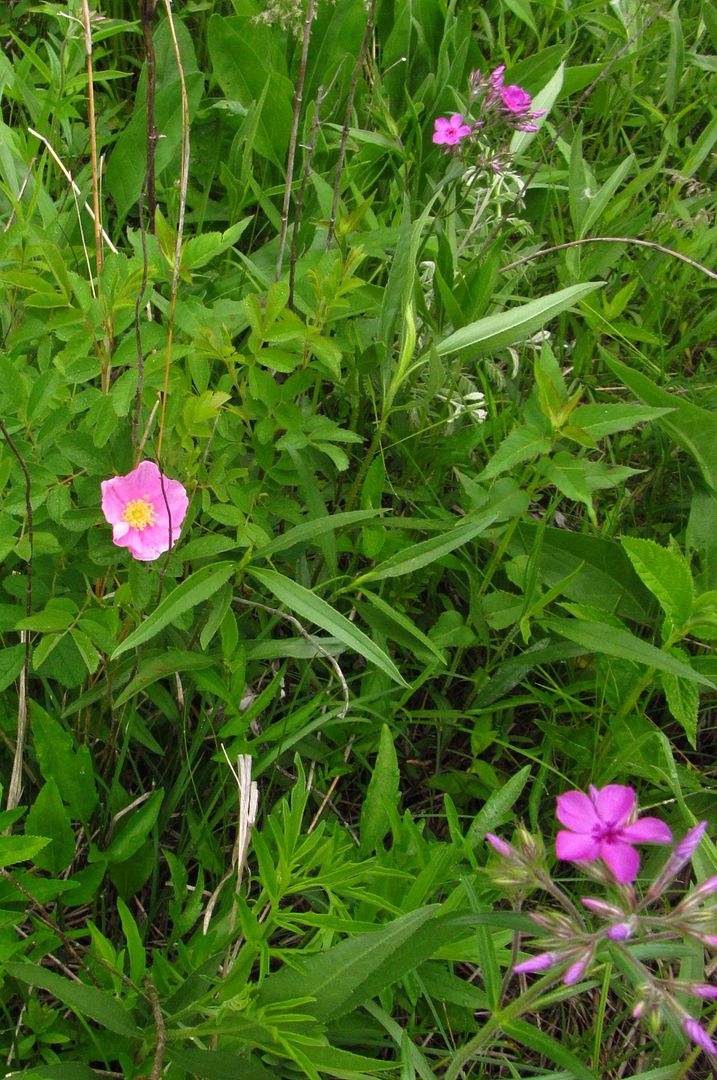 Here prairie phlox is blooming near hoary puccoon, a rare plant usually found only on never-plowed ground like Tipton Prairie: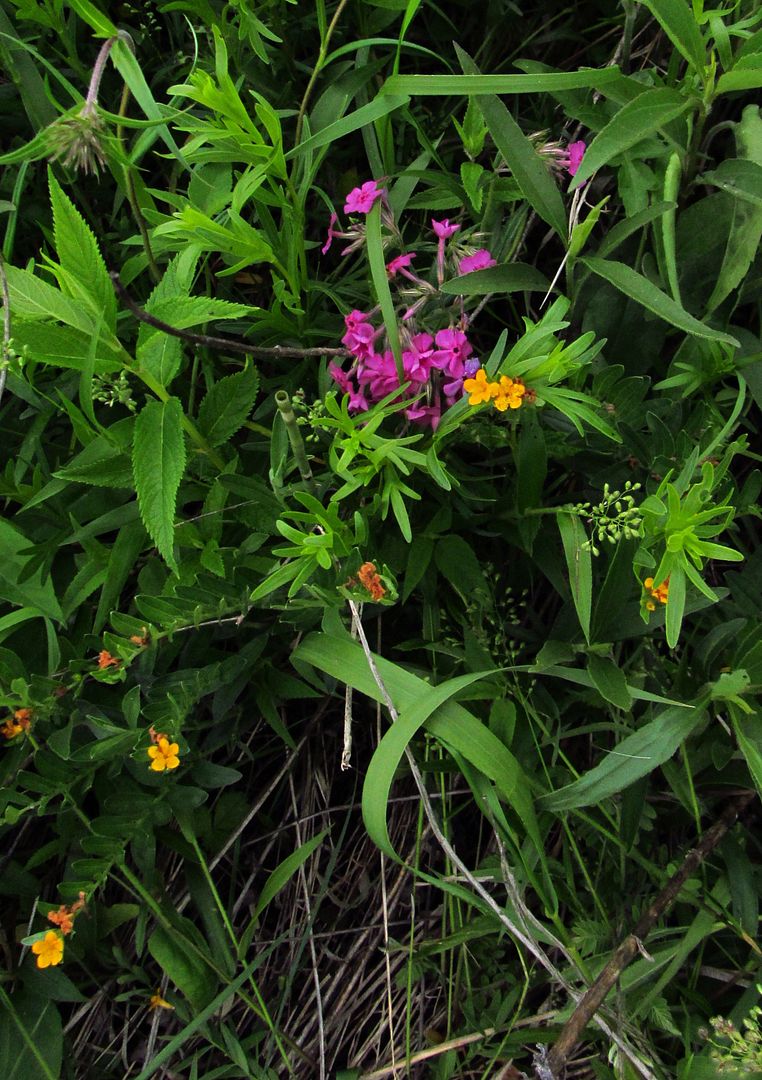 With foliage for lead plant, which is probably blooming by now: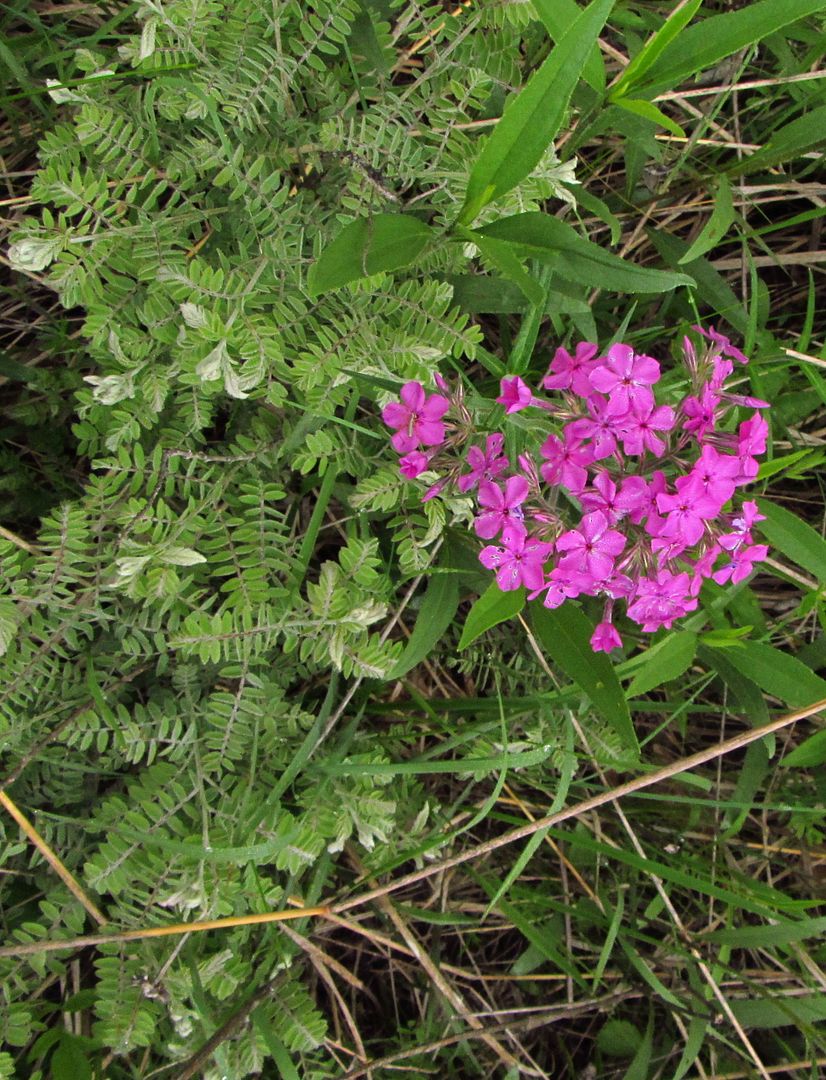 With prairie redroot, another late spring wildflower: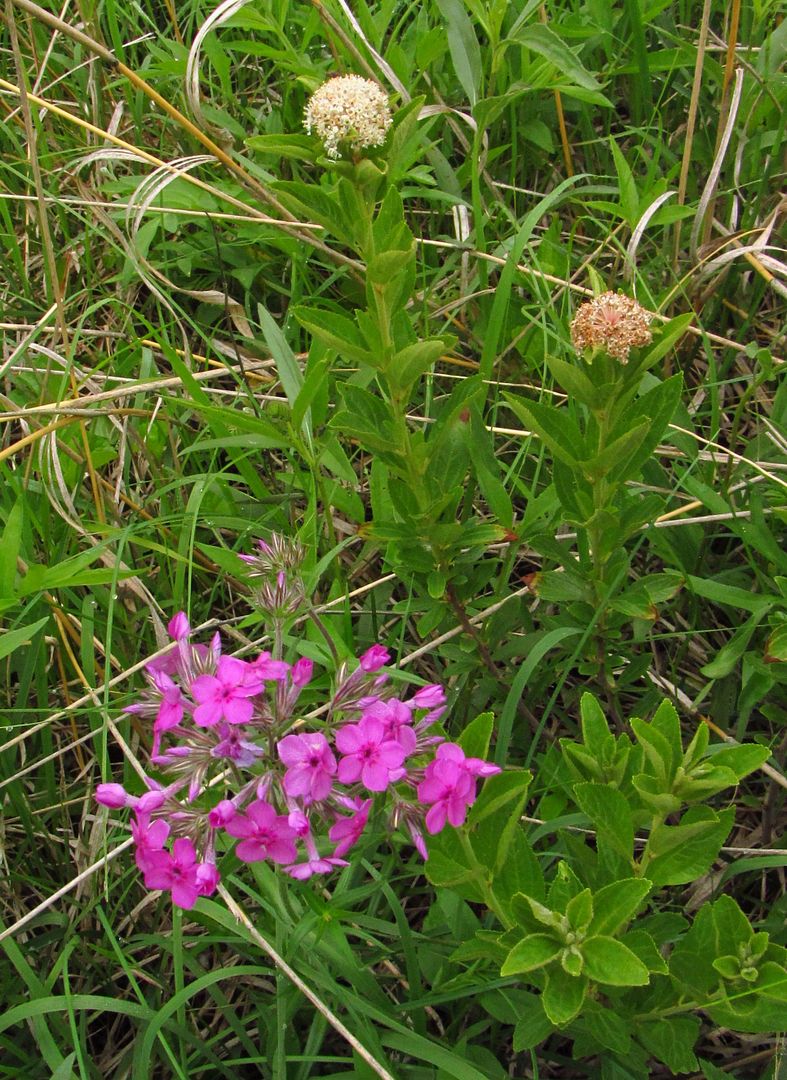 I took this last picture about ten days ago on restored prairie in Dallas County. The prairie phlox plant finished blooming long ago. You can see some fruit, "an oval capsule that is shorter than the calyx. When seeds are ripe, the capsule explodes, flinging seeds several feet from the mother plant." Some of the capsules on this plant appear to have already exploded. Naturalist Leland Searles told me, "Another possibility is some capsules weren't fertilized, so they were shed to avoid diversion of nutrients from developing seeds."