Nearly two months after a jury awarded former Iowa Senate Republican communications director Kirsten Anderson $2.2 million in a sexual harassment and discrimination lawsuit, the Senate GOP caucus has finally parted ways with the man who most egregiously contributed to a hostile work environment for women.
However, senators who have claimed Anderson lost her job because of substandard writing still aren't demanding high-caliber work from current communications staff.

Senior analyst Jim Friedrich resigned on September 13, William Petroski reported for the Des Moines Register. Ed Failor, Jr., the top aide to Senate Majority Leader Bill Dix, "declined to answer additional questions, including whether Friedrich was asked to resign."
I'm amazed Senate GOP leaders didn't cut Friedrich loose years ago, given the details Anderson recounted in her civil rights complaint and lawsuit. During the trial, multiple witnesses attested to Friedrich's crude and inappropriate behavior at work, with no action by supervisors despite complaints. Yet Dix and his colleagues made no staff changes following the verdict. Perhaps they encouraged Friedrich to look for a new job and agreed to let him resign. Perhaps they forced him out after Secretary of the Senate Charlie Smithson investigated incidents described in court testimony.
Friedrich's departure should not be viewed as a sign Republicans acknowledge the validity of Anderson's claims. The state is seeking a new trial, and Dix insists the plaintiff lost her job because of her writing ability. That position would be easier to defend if Senate GOP leaders hadn't "tolerated lazy and haphazard communications work" for years after Anderson's firing, as Bleeding Heartland demonstrated here.
With Friedrich on the way out, I decided to take another look at how Senate communications staff are performing in the aftermath of Anderson's lawsuit.
THE WEBSITE'S FRONT PAGE
In July, I observed that the front page of the official Iowa Senate Republicans website featured "a Twitter feed that hasn't been updated since April" and "links to five 'Recent Posts': two from April, two from January, and one from April 2016."
At this writing, the front page still features a remarkably out-of-date Twitter feed. However, communications director Caleb Hunter and deputy communications director Larissa Wurm haven't been entirely idle. Three new entries top the "Recent Posts" list: one from this month and two from August (more on those below).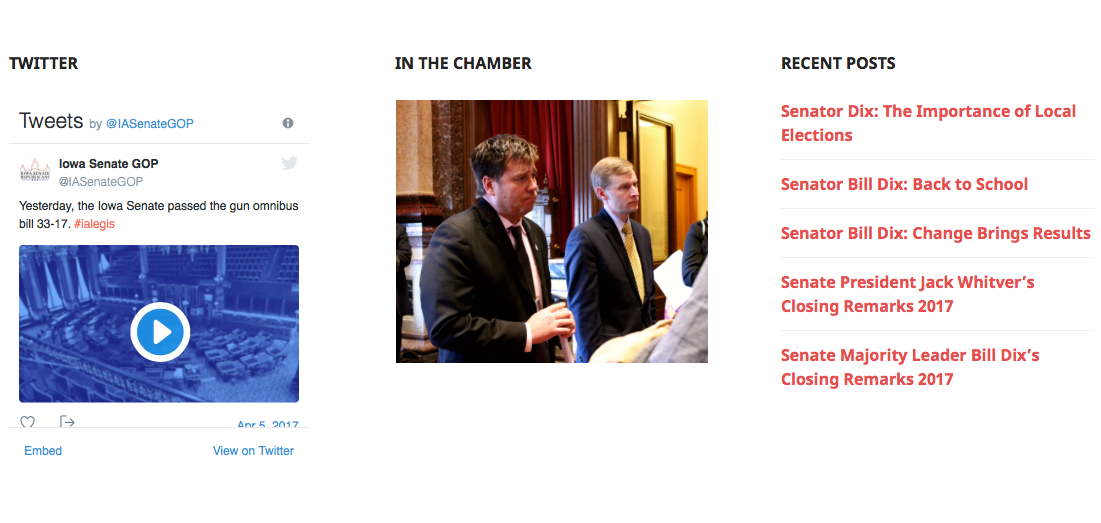 THE PRESS RELEASES
As of July, the most recent press release on the Senate GOP's website was four months old. The media page has been updated with one new statement since then: "Dix Advocates for Obamacare Fix" on August 17.
The rest of the links on the media page are the same stale material Bleeding Heartland covered here, dated March 2017, December 2016, March 2015, February 2015, January 2015 (three entries), December 2014, and November 2014 (two entries).
Although I wouldn't know first-hand, Senate GOP staff have responded to various journalists' inquiries during the past two months. I can't fathom why no one bothers to put those written statements up on the website. Any intern could handle that task.
THE TWITTER FEED
In contrast to those who handle social media for Iowa House Republicans, Iowa Senate Democrats, and Iowa House Democrats, Senate GOP staff continue to make no effort to keep their pages up to date. At this writing, the top tweet on the Iowa Senate GOP's feed is more than five months old.
Yesterday, the Iowa Senate passed the gun omnibus bill 33-17. #ialegis pic.twitter.com/mVBTp6hTWN

— Iowa Senate GOP (@IASenateGOP) April 5, 2017
Only eight tweets (seven original, one re-tweet) have appeared on the Iowa Senate GOP's feed during 2017--the first year Republicans controlled the upper chamber in more than a decade. Many new laws with far-reaching consequences for Iowans were never mentioned.
THE FACEBOOK PAGE
Nothing has changed on the Iowa Senate Republicans Facebook page since Bleeding Heartland looked in July. The seven Facebook posts from 2017 replicate material on the Twitter feed. The one at the top of the timeline is dated April 5.
THE BLOG
The three new "recent posts" on the website's front page link to new content on the official Senate GOP blog.
A September 15 post, SENATOR DIX: THE IMPORTANCE OF LOCAL ELECTIONS, referred to the September 12 school board elections. During the legislative session, the piece noted, "Republicans provided more authority to school boards over spending and increased local responsibility for programs and workforce to ensure prosperous and stable communities in our state."
An August 31 post, SENATOR BILL DIX: BACK TO SCHOOL, touted various Senate Republican actions related to education policy.
An August 24 post, SENATOR BILL DIX: CHANGE BRINGS RESULTS, connected lower unemployment insurance taxes and workers' compensation premiums to bills Republican lawmakers approved this year.
In a normal political communications shop, three blog posts in a month would be nothing to brag about. But at least Senate GOP staffers are taking some initiative, connecting news of the day to the legislature's work, and updating the website.
THE EVENTS PAGE
Nothing to see here, I'm afraid. Although the 29 Republican senators have no doubt appeared at many local festivals, county fairs, and other events throughout the summer, no one has updated the Senate GOP's events page since May.
Knowing they would have to defend claims of discrimination and workplace retaliation, why didn't Dix and his senior staff make sure they could point to high-quality communications work following Anderson's dismissal? Your guess is as good as mine.