Two years after nationally-recognized experts suggested "immediate steps to address police-community relations," Waterloo Police Department leaders have yet to act on many of the outsiders' recommendations.
Departmental guidelines remaining untouched include a use-of-force policy that Chief Dan Trelka promised nearly a year ago to review.

"WPD SHOULD TAKE IMMEDIATE STEPS TO ADDRESS POLICE-COMMUNITY RELATIONS"
A Waterloo police officer's fatal shooting of an unarmed black man and troubling local crime trends prompted then-Mayor Buck Clark to seek help from the U.S. Department of Justice's Office of Community Oriented Policing Services in 2015.
A federal grant paid for technical assistance conducted by two staffers for the non-profit Police Executive Research Forum (PERF), one Department of Justice staffer, and a consultant from the Los Angeles Police Department with expertise in community policing and gang-related violence. The team reviewed the Waterloo Police Department's organization and policies, local demographic data, and crime statistics, then spent three days on site in June 2015 meeting with officers and involved citizens.
PERF released its findings and recommendations to the Waterloo PD in September 2015. Chief Trelka later told one friendly interviewer, "I put this police department against any police department in this country. The DOJ has actually been in here to take a look at this police department […] and they gave us a favorable report."
In fact, PERF's nine-page site summary pointed to various issues demanding attention, such as: "a strained relationship with the African American community"; burnout among officers who "have little time for community engagement due to a high volume of calls for service"; few consequences for routine "unprofessional and disrespectful" behavior toward black residents; and an insufficient database for tracking gang activity.
Waterloo has a higher percentage of African-American residents (an estimated 16 percent) than any other city in Iowa and the state's third-largest black population (approximately 11,000 people). At the time of PERF's review, only two of more than 120 Waterloo police officers were African Americans and one was Latino. A year ago this week, Trelka spoke publicly about "changing hiring procedures to encourage more minority officers to apply for police jobs." Staff have not responded to my query about the current number of black and Latino officers on the force.
PERF's report contained about a dozen concrete suggestions, mostly in a section titled "WPD should take immediate steps to address police-community relations" (emphasis in original).
In September 2016, I was unable to find evidence that the department had implemented any of PERF's recommendations from the previous year.
The same month, Trelka almost lost his job. He salvaged his career after allies leaked the news that he'd been asked to resign. The Waterloo mayor has the authority to fire the police chief. Local media reports about Trelka's impending ouster fueled a large number of public comments supporting him over a weekend before a city council meeting. Mayor Quentin Hart happened to be out of town.
Hart gave the chief another chance, but he "stripped Trelka of his role leading the fire department and directed him to focus for the next year on implementing a community policing plan that restores 'public trust that has been lost due to some of our shortcomings,'" the Associated Press reported on September 19, 2016.
With the mayor's directive in mind and the two-year anniversary of PERF's report approaching, I requested public records to shed light on the department's progress toward reforming its policies and practices.
NO CHANGES TO THE USE-OF-FORCE POLICY
Excessive uses of police force have been a key factor in what PERF's review called a "lack of trust between the minority community and some officers." (p.2) Early last year, the city of Waterloo agreed to pay $2.5 million to settle a lawsuit over the 2012 police shooting death of Derrick Ambrose, Jr.
Three lawsuits stemming from non-lethal uses of force against African Americans between 2013 and 2015 led to expensive settlements for the city of Waterloo last August. In each case, "internal affairs investigations justified the uses of force and found no violations of policy or law," Ryan Foley reported for the Associated Press at the time.
All of the officers involved had needlessly escalated situations, causing injuries. One had filed a police report with false statements about the teenager he had assaulted. Trelka disciplined none of those officers, calling the errors "honest mistakes" and assuring the public last summer, "we have adjusted with changes in policy and training."
The September 2015 PERF report noted, "A review of the department's use-of-force policy indicated there are opportunities to update the policy and clarify language on expectations related to officer use of force. A complete review of the department's use-of-force policy could be extremely beneficial to the department." (p. 8)
One year later, Trelka hadn't gotten around to revising that policy. But Tim Jamison of the Waterloo/Cedar Falls Courier reported in October 2016 that the chief was "putting together an advisory team of individuals who've served time behind bars to help him review police department policies, especially those involving use of force." Similarly, Trelka told KCRG's Phil Reed last November, "I've developed a team of felons. A team of convicted citizens who have been convicted of felonies who are going to sit down with me, and we are going to look at our policies. Especially use of force policies."
Stay tuned for more about that "team of felons."
First, let's look at the department's current and former use-of-force policies. Here's the file the department provided in response to my open records request.
The current use-of-force policy (pp. 3-8) is dated May 31, 2011, roughly a year after Trelka arrived in Waterloo. Nothing has changed despite advice from experts in the field and multiple lawsuits over police brutality.
PERF provides dozens of online resources for free. This 2016 report outlines 30 "guiding principles on use of force," summarizing recent research and providing model language from other police departments. A 2015 report focused on "Re-Engineering Training on Police Use of Force," while a 2012 conference report provided "An Integrated Approach to De-Escalation and Minimizing Use of Force."
Waterloo leaders should have updated this policy years ago. Why no political will?
A TALE OF MANY LOOPHOLES
PERF's mission is to identify "best practices on fundamental issues such as reducing police use of force; developing community policing and problem-oriented policing […]."
I understood why the consultants saw room for improvement in Waterloo after comparing the current policy to the previous version, which Chief Thomas Jennings approved in 2005. (pp. 9-15)
Every substantive change Trelka signed into effect in 2011 gave officers more latitude to use force or less accountability after using force.
• The current policy refers to "use of physical force or authorized equipment" (p.4), whereas the previous policy said "use of physical force or authorized equipment designed for defensive purposes." (p.10)
• The current policy allows trained personnel to use chemical agents in order to "Overcome resistance to any lawful arrest and to maintain or gain control." (p.4) The same clause in the 2005 version read, "Overcome resistance to any lawful arrest and to maintain control." (p.10)
• The current section on "Procedure After Use of Spray/Foam or Chemicals" (p.5) added the words "when possible" to several points. The older policy had required the same actions (exposing contaminated persons to fresh air, flushing eyes with clean water, washing other parts of the body to limit residual effects) without qualification. (p.11)
• The first point in the 2005 policy's "Use of Baton" section read, "The baton shall be used as a defensive, restraining or disarming instrument by officers of the Department." (p.11) That whole sentence was deleted from the current policy. (p.5)
• The current policy states, "The baton may be used by an officer under the following circumstances," followed by a list. (p.5) The older policy was more restrictive: "The baton may be used by an officer under the following circumstances, when other less extreme measures have been ineffective or are impractical." (p.11)
• In the section called "Use of Firearms–Not Permitted," the 2005 policy said, "From a moving vehicle." (p.12) The current policy reads, "From a moving vehicle unless the officer is presented with extreme circumstance where deadly force is authorized." (p.6)
• The same section of the older policy prohibited the use of firearms "Against persons known or suspected of violations of shoplifting, theft of an automobile, theft, all classes of misdemeanors, traffic charges, high speed pursuits." (p.12) That whole line is absent from the current policy. (p.6)
• The 2005 policy required officers to "receive authorization from the Patrol Supervisor" before using a firearm to destroy an injured or dangerous animal. (p.13) The current policy requires no such authorization. (p.6)
• The older policy allowed the use of a firearm "to effect the arrest of a person, who in the officer's mind, is known to have committed a felony," if five conditions were met, including "Other methods of apprehension have been exhausted," and "The Officer reasonably believes that such discharge of firearms can be done without substantial risk of injury to innocent persons." (p.13) Those two conditions are absent from the current policy. (p.7)
• The older policy allowed the use of a firearm in the process of arresting someone if "The officer has made a reasonable attempt to make known his official identity and intent to arrest," and "That identity and intention, in the officer's mind, has been in fact transmitted to the person to be arrested." (p.13) The current policy states, "Provided the officer, when feasible, first gives a warning before using deadly force," and "Additionally, if possible, the officer should make a reasonable attempt to make known his identity and intent of arrest." (p.7)
• The current policy added a vague line permitting the use of firearms to effect an arrest "In other circumstances provided by law." (p.7)
• The 2005 policy had a section spelling out information employees "must consider" when reporting a use-of-force incident. The long list included details about the type and location of injuries to the subject and officer, how many photographs of injuries exist, medical treatment received, contact information for all witnesses, "any and all information describing the circumstances surrounding the incident such as events leading up to the use of force," and "Any and all written or oral statements, video, audio or photographs." (p.14) Nothing from that section survived in the current policy. (p.7) Maybe that's why Officer Mark Nissen felt emboldened to make false statements (later disproved by a freelance journalist's video) in his report about the teenager he slammed to the ground, who eventually received a $100,000 settlement.
• The current policy added a remarkable statement at the end, giving Trelka a way to avoid enforcing any of the preceding regulations: "It is impossible for this policy to foresee or allow for every circumstance with which an officer may be faced. Accordingly, the department reserves the right to make exceptions to this policy when it finds an officer has acted reasonably or excusably under the totality of the circumstances involved." (pp.7-8)
When Trelka announced plans to appoint a "team of felons" to help him review department policies, he indicated that the group would meet quarterly. Staff have ignored my repeated e-mails seeking further information about this advisory council. How many times have they met? Did they talk about changes to the use-of-force policy or other official documents? Are they continuing to confer?
Pastor Quovadis Marshall likewise did not respond to questions about his work with Trelka, either individually or as part of the same advisory group.
I did reach Deterius Kimbrough, the NAACP's representative on the council. Speaking by phone on September 19, he told me the group convened once "about three months ago," with one of the four ex-felons absent. Kimbrough has also met twice with Trelka one-on-one and has received some e-mails related to the council's work and bylaws. Further group meetings have been on hold, "because the chief was kind of busy with some situations inside the department."
Kimbrough confirmed the group has not yet discussed the use-of-force policy, though Trelka did ask for feedback on how he should reprimand officers for misconduct. He perceives the chief is "trying to make the effort," but operations of the department are a higher priority. "He needs to hire somebody, I believe, to get the ball rolling," because "He has everything in place, it's just he has to make the time and the effort."
Kimbrough said two days earlier–the same day I'd asked the department's public information officer about the "team of felons"–he'd received a text from Trelka, seeking his e-mail address. The chief soon followed up with a message about setting a date and time for the next meeting. Perhaps the use-of-force policy will be on the agenda.
NO CHANGES TO THE COMPLAINTS POLICY
PERF's September 2015 site summary observed (p.3),
There seemed to be an overall lack of understanding about the complaint process in the community. Several community members expressed that they did not know how complaints against officers were resolved or that they did not bother filing complaints because they didn't think anything would be done by the department. Interviewees reported that there were a few officers, specifically on the third (night) shift, who engaged in unprofessional and disrespectful actions toward the community, which upset community members. […]

Instructions for filing a complaint with the department are not immediately apparent on the department's website. The complaint process is described in the department's operational guidelines (located on the department website's "information" tab), but specific instructions for how a community member should file a complaint were not found.
The same report recommended (p.7),
WPD may consider reviewing its complaint process and recent complaints against officers for disrespectful behavior issues, especially on the third shift. The process should be revised if needed and clearly outlined to the community, explaining how to file a complaint, as well as how the department will review it, make a decision, and ensure follow up. Information about the complaint process should also be made more accessible on the department's website, and community members should have the ability to easily file a complaint online. Additionally, a report on how many complaints were made annually and how many were sustained, not sustained, and unfounded should be published on the department website.
I requested documents outlining the current and previous complaints process. As with the use-of-force policy, the operational guideline on citizen complaints was last revised in May 2011. The department's public records officer, Lt. Greg Fangman, told me he was unable to locate a copy of the 2001 policy it replaced, so I can't evaluate what changed on this front after Trelka came to Waterloo.
A year ago, I could not find any complaint form on the department's website. The good news is, the "publications" tab on the information page now features a link to the citizen complaint form, which was not always the case. I can't pinpoint when the form became available online, but according to the "Wayback Machine," the link was visible as of late October 2016.
The bad news is that the form is still hard to find. Typing "complaints," "complaint form," or "how to file a complaint" into the website's search engine produced no results.
In addition, the website is not set up to allow community members to file a complaint online. Nor could I find any instructions on how to navigate the process. The form itself doesn't list any mailing address or e-mail where citizens can send the document after completion.
To my knowledge, no reports "on how many complaints were made annually and how many were sustained, not sustained, and unfounded" are available on the website. Trelka asserted last year that complaints against police officers were "down tremendously," by 43 percent. Was his claim accurate? And if so, has the trend continued?
NO STUDIES OF STAFFING POLICY
The first specific point under PERF's "Recommendations for Further Assistance" was to undertake a patrol staffing study. (p.4)
While many officers said they would like to spend more time interacting with the community, they also reported burnout from responding to back-to-back calls for service during their shifts. Supervisors said they had difficulty finding volunteers to work overtime because officers were already said to be working as much as possible. However efforts to build community relationships and trust require that officers are able to interact informally with the community and engage in collaborative problem-solving activities. There must be time allocated and supervisor support for these interactions. WPD may consider a staffing study to review their calls-for-service and patrol shift staffing levels to ensure that the department has the appropriate amount of officers for each shift and to help identify times when officers may engage in more community-focused activities.
A year ago, staff did not answer my questions about whether the department followed through on that advice.
Last month, I requested any documents or memos showing when the department conducted staffing studies during 2016 or 2017, as well as any recommendations based on such studies. No such records exist.
NO CHANGES TO CALLS FOR SERVICE POLICY
PERF's team suggested, (pp.4-5)
WPD may consider reviewing its calls for service, and restructuring its response to less serious calls. WPD could explore the use of online reporting or having volunteers follow up via phone on less serious calls for service. This would free up time for officers to participate in proactive policing and to spend more time on calls using the interactions as opportunities for building relationships and even recruiting, as appropriate. WPD will need to take time to explain the rationale and process for identifying certain calls for alternative responses. Communication about the changes the department is making will be important for ensuring officer and community support for any new service responses and to using the time that is freed up properly.
Last year, I received no response to questions about that recommendation. This year's request turned up no records documenting changes to departmental policy on calls for service or online reporting.
NO NEW TRAINING ON ALTERNATIVES TO ARRESTING AT-RISK YOUTH
PERF's team observed, "By all accounts, WPD's Violent Crime Apprehension Team (VCAT) seems to have a good understanding of the gang activity that is taking place in the city and has done a good job of gathering street-level intelligence." (pp.3-4) They saw opportunities to help that unit implement "an overall violence reduction strategy" while "identifying alternatives to arresting at-risk youth to keep juveniles out of the justice system." (p.8)
I requested any records about changes in training or strategy for members of the Violent Crime Apprehension Team, including but not limited to alternatives to arresting at-risk youth. Fangman responded, "Up until about 2 years ago the Waterloo Police Department was trained about using Diversion Programs that were developed by Juvenile Court Services. This allowed for certain types of infractions to not amount to an arrest if the suspect and at times their parents completed a program. However this program was discontinued by JCS about two years ago."
NO POLICY ON REMOVING YOUTH FROM GANG DATABASE
Noting that Violent Crime Apprehension Team members failed to consistently document street-level intelligence about gang activity, PERF's experts saw a need for technical assistance in "developing a process for documenting the most crucial information in the gang database." (pp.4, 7-8)
WPD also needs to establish a definition for gang membership and a timeframe of when to purge youth from the database when they no longer meet the definition. Establishing a timeframe will be important to the legitimacy of the database in court and will also help to keep at-risk youth out of the justice system.
I requested any report or departmental policy outlining the definition of gang membership and a process for removing youth from the database as needed. Fangman replied, "The Waterloo Police Department relies on the definition of a gang as outlined in the Iowa State Code, 723A.3. Our Department does have a gang database, however at this time there is no policy that addresses the removal of subjects from that database."
NO "REBRANDING" TO REFLECT PRINCIPLES OF PROCEDURAL JUSTICE
The PERF team commented on the department's mission statement, "To vigilantly protect, serve, and work together with our community to prevent crime and enhance the quality of life in our neighborhoods." (p.5)
One way that WPD could demonstrate its commitment to working collaboratively with the community is to publicly state (or restate) the department's commitment to procedural justice and community policing, and other items identified in the President's 21st Century Policing Task Force Report. For example, WPD may consider "rebranding" the department to reflect the principles of procedural justice, perhaps starting with modifying the mission statement. WPD could consider adding the words "trust," "transparency," and "respect," which are already values identified by one of the department's core value statements. Adding these terms to the mission statement would invoke a more "guardian-like" mentality and lessen the "warrior-like" image that some community members have of the department.
PERF's 2015 report on "Re-Engineering Training on Police Use of Force" developed the distinction between "warriors" and "guardians," beginning on page 28. Experts explained how "Recruiting Officers Who Are Suited to the Mission of Policing" facilitates the "critically important" task of training them "to de-escalate encounters and minimize the use of force." A website "can provide potential job applicants with a sense of how the department sees its mission and its relationship with the community."
Of all the ideas PERF's consultants suggested, revising the mission statement would have been the simplest. Yet two years down the road, those words are unchanged.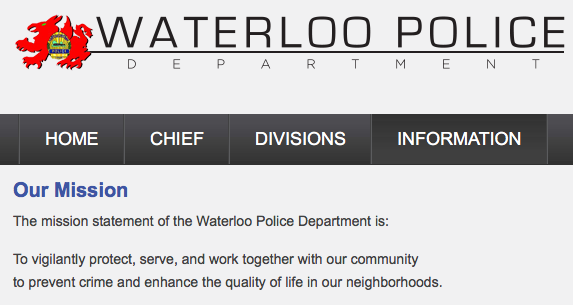 LIMITED PUBLIC INPUT ON DEPARTMENTAL PRIORITIES
Trelka promised last fall to pursue a "bold, aggressive idea to actually have citizens who have felony convictions to be my advisory team. This team has no authority, but still I'm excited to get the input of these individuals who have been through the system."
Although that concept wasn't among PERF's recommendations, I asked for any reports or memos on policy changes written in 2016 or 2017 by or with the assistance of a team of local citizens with felony convictions. The sole responsive record was this one-pager, laying out bylaws of a new Waterloo Community Safety Board.
Staff haven't answered my follow-up questions. This board gives the ex-felons on the Waterloo Police Chief's Citizen Advisory Team a new role to hear complaints about automated tickets. Kimbrough confirmed the advisory council members received notice this summer about "something to do with traffic," monthly meetings to review citations like speeding.
People can get awfully angry about traffic tickets, but administrative hearings on such matters are a far cry from meaningful police oversight or shaping policies on the use of force.
Kimbrough has talked to the chief about certain officers, who "kept getting complaints from those in the black community. I told Trelka, I said, 'I find it very odd that every time we have community meetings, you're not bringing the officers that are a problem in the community,'" so residents can confront them about their disrespectful behavior.
Kimbrough mentioned one positive development: former Lieutenant Corbin Payne is no longer in a position to cause the problems that sparked many citizen complaints over the years. In February, Trelka demoted but did not fire Payne, who broke numerous departmental rules in an off-duty road rage incident, showing no remorse later.
SOME ACTION ON COMMUNITY OUTREACH
PERF's consultants praised Waterloo police efforts to build community relationships. The report called for expanding programs to bring officers into regular contact with elementary-aged students. It suggested an academy to encourage young people, "especially minority youth, to consider policing as a profession," and safe activities like movies in the park or midnight basketball for non-violent youth who might otherwise "be susceptible to gang membership." (pp.6-7)
His job in danger last summer, Trelka arranged for a nationally-renowned expert on community policing to come to Waterloo for meetings with police officers and other stakeholders, including "people who are not at the table."
The public records point to many community-building activities. A few examples:
• educational programming for at-risk youth through Four Oaks Day Treatment;
• a fundraising drive for a new foundation to cover some costs of outreach;
• school resource officers in all Waterloo high schools and one middle school;
• training for staff at schools, day cares, or libraries on active shooter situations or protecting kids from child molesters;
• a "decentralization" initiative with Tri County Head Start and the Eastside Ministerial Alliance is "establishing police services on the neighborhood level," with more foot and bicycle patrols in the neighborhood and regular office hours one day a week in a Head Start building;
• internet safety programs for older kids;
• a presentation on "interacting with the police," developed with input from sports coaches and the NAACP. Officers brought that program to the University of Northern Iowa football team, three Waterloo high school football or basketball teams, and a group of incarcerated men. The defense attorneys in the Bleeding Heartland community would presumably put a different spin on some of the advice, like informing young men that "Miranda not always apply" in case of an arrest, or that they can be searched without consent (true only when the officer has probable cause to suspect a crime was committed or a reasonable belief a search is necessary for his or her protection). (p.96)
The department is clearly engaged in community outreach. As discussed above, officers might be able to devote more time to such programs if leaders conducted a staffing study or changed calls-for-service policy.
ADVICE TAKEN: IMPLICIT BIAS TRAINING AND SCENARIO-BASED TRAINING
Waterloo leaders did implement one point in the PERF report. (p.5)
WPD should consider providing scenario-based training and facilitating an ongoing dialogue among all department personnel on applying the principles of procedural justice to policing, and the importance of police-community relationships for officer safety and preventing and solving crime. WPD may also consider providing training to improve the cultural competency of all personnel, and training that assists in the recognition and countering of implicit biases. Since eight hours are already set aside each month for officer training, some of this time could be dedicated to these important topics.
A year ago, staff did not answer my questions about additional training in the areas of procedural justice, police-community relations, and/or recognition and countering of implicit biases. A few weeks after I submitted my request this August, Fangman informed me, "there is a training file for each officer that contains information that you are requesting. Each file could be anywhere from 50 to 200 pages depending on how long the officer has worked for our Department. We have no problem providing all of it, but obviously the copy cost will be much greater than you were quoted, along with the research fee."
I wondered whether his message was a tactic to discourage me from pursuing the records. Obviously I didn't need hundreds of pages from individual personnel files. I clarified that I was looking for documents, memos, or invoices showing if and when implicit bias and scenario-based training occurred and how many officers went through that training.
The records indicate that during the first half of 2016, 24 Waterloo police supervisors attended a course on procedural justice. (p.23) Another eighteen went through a "training of trainers" program, designed to equip them to teach fellow officers and recruits about "the science of implicit bias" and the skills to recognize their own biases and "promote fair and impartial policing in their daily work." (p.24) Later in the year, Troy Cicero of MulticultuReal provided diversity, inclusion, and cultural competence training to the entire officer corps and civilian staff. (pp.25-33)
When several incidents of police misconduct came to light within weeks of last summer's costly settlements, the Des Moines Register's editors argued the Waterloo police needed "outside scrutiny and oversight" from the federal government. In response, Trelka cited the contract with Cicero's company as an example of progress.
Trelka said the police department has had diversity training in the past, but the sessions were "in your face" and officers felt like they were being scolded, he said.

"In this day and age, there needs to be a dialogue between the participants and the person who is presenting it, and that's what we're getting with Troy Cicero," he said.
Documents show many Waterloo officers participated in scenario-based training in 2015 and 2016, with some sessions before PERF submitted its recommendations. (pp.39-53)
Because staff redacted the specific scenarios, I cannot evaluate whether that training was grounded in procedural justice approaches.
FINAL THOUGHTS
In late September 2016, Waterloo City Council member Tom Lind asked Trelka about the PERF recommendations, then a full year old.
"We did a lot of it," Trelka said. "Some we couldn't afford to do, and others we're still tackling."
They didn't do as much as the chief would have you believe, and money hasn't been a barrier to incorporating the rest of the advice.
Rewriting the use-of-force policy would have cost next to nothing. Trelka wouldn't need to reinvent the wheel or coordinate his busy schedule with any "team of felons." Best practices from around the country are free for the taking.
Ditto for making the complaints process more transparent and accessible, changing the mission statement, or rethinking calls for service.
The irony is, when Trelka offered up this "we couldn't afford to do" it cover story, he had recently signed a contract to pay $11,416 for implicit bias training (pp. 31-3). That's money well spent, but probably more costly than a staffing study or putting someone in charge of maintaining the gang database.
Mayor Hart gave Trelka another year to focus on policing issues. Time's up with little sign the chief is committed to better guidelines or more accountability.
Top image: Screen shot from the front page of the Waterloo Police Department's website, featuring the mission statement.