The people of Muscatine turned out in large numbers for city elections and overwhelmingly rejected candidates associated with the "old boys' network" that has long dominated local politics.

Mayor Diana Broderson won a second term by 2,478 votes to 1,666 for Charlie Harper (59.4 percent to 39.9 percent), according to unofficial results on the Muscatine County Auditor's website. Broderson had faced intense opposition from city council members and city administrator Gregg Mandsager since her election in 2015, culminating in the council's unanimous vote to remove her from office in May. Two weeks ago, a District Court found the council's "fundamentally unfair" action violated Broderson's due process rights.
Mandsager was able to prevent the news media from revealing how much money the city spent on the unconstitutional effort to prevent Broderson from serving out her term. He and his allies on the council had considered whether to impeach the mayor or merely undermine her political standing, with a view to making her unelectable. They failed on both counts.
Kelcey Brackett defeated incumbent Scott Natvig in Muscatine's at-large city council race by 1,855 votes to 1,439 (45.3 percent to 35.1 percent, with a third candidate receiving 19 percent). Brackett campaigned on a message of progress and positive change. He also sharply criticized the "illegal" attempt to oust Broderson, calling for "new legal representation for the city" and "a full review of the city administrator."
Challenger Oz Malcolm dominated the 2nd Ward race, defeating city council member Michael Rehwaldt by 481 votes to 188 (71.2 percent to 21.8 percent). I'm particularly pleased by this lopsided margin, since Rehwaldt's campaign paid for a despicable ad with racist dog-whistle language about "OZ MALCOM'S [sic] CHICAGO POLITICS."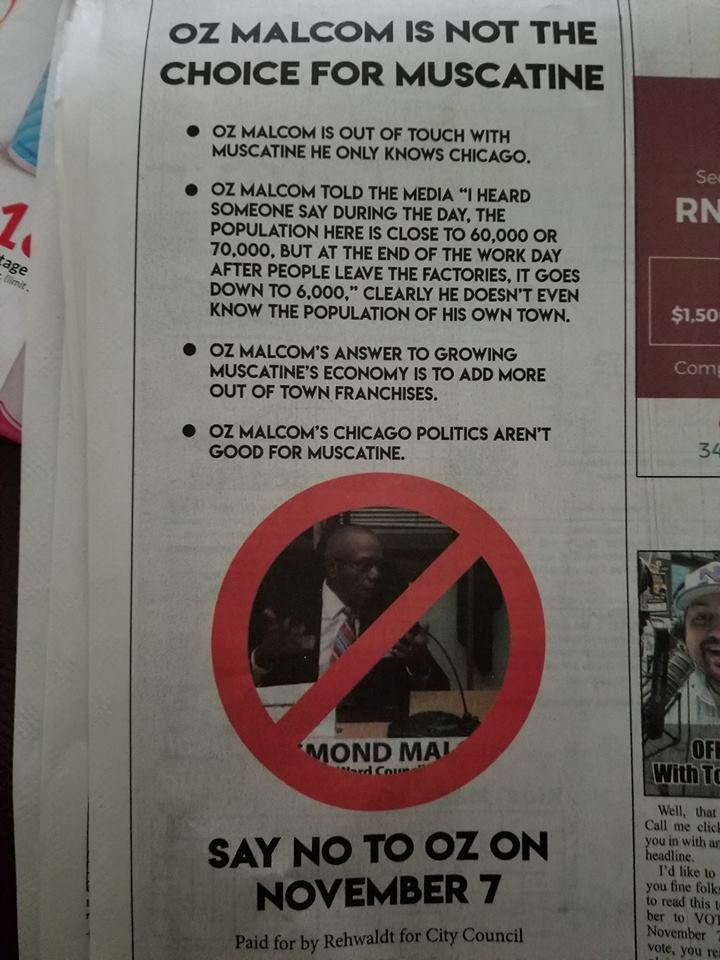 In the 4th Ward, the incumbent did not seek re-election, and Nadine Brockert far outpaced three other candidates with 298 votes (48.9 percent). During her campaign, she cited a widespread perception that the mayor got a "raw deal" from council members who "forgot that they were elected to do what the citizens in their wards wanted them to do." Brockert wants to "revisit the codes regarding removal of a council member or mayor" and "bring this ugly chapter of our city's history to a close."
Turnout nearly doubled from 2,566 ballots cast in the 2015 city election to 5,088 this year. Two years ago, 248 Muscatine residents voted early; this year 986 did.
Tracy Leone, who wrote a series of Bleeding Heartland posts about the Muscatine power struggle earlier this year, noted that tonight's results were a "sweep" for labor-endorsed candidates.
Top left: Muscatine Mayor Diana Broderson. Top right: Kelcey Brackett, winner of the at-large Muscatine City Council seat. Lower left: Oz Malcolm, city council winner in Ward 2. Lower right: Nadine Brockert, city council winner in Ward 4.