Consultants working on behalf of the Kingdom of Saudi Arabia repeatedly contacted senior staff for Governor Terry Branstad in 2016, seeking his support in lobbying Congress to amend the Justice Against Sponsors of Terrorism Act (JASTA).
Newly-released correspondence shows Flywheel Government Solutions lobbied several governors who were veterans, saying JASTA posed a threat to American diplomats and military personnel. The foreign agents hoped the governors would sign a letter asking key U.S. senators to address "unintended consequences that set a dangerous precedent for our nation" in the law that allowed survivors of the 9/11 attacks and family members of victims to sue the government of Saudi Arabia.
The 28Pages blog previously reported on Flywheel's work to "Engage and align selected Governors and Lieutenant Governors to take grasstops action, such as writing letters to their respective state's congressional delegation, to appeal to Congress to repeal JASTA." I enclose below the talking points and documents presented to staff for Branstad and other governors, including Asa Hutchinson of Arkansas, Matt Mead of Wyoming, Butch Otter of Idaho, Gary Herbert of Utah, and Robert Bentley of Alabama. The Iowa state archives provided those files in response to Bleeding Heartland's records request.
Neither Branstad nor any other governor signed on to the effort, Flywheel Government Solutions partner Brian Salier told me today, so no such letter was ever sent to senators.

Flywheel partner David Beightol left a voice mail for Branstad's chief of staff Michael Bousselot on October 27, 2016, then followed up by e-mail. "As my VM indicated I think you want to discuss with your Adjutant General," he wrote, "as JASTA could seriously impact your ability to recruit for the National Guard as those that get deployed overseas will be subject to lawsuits from foreign entities, and the Governor could be sued as well as the head of the NG." (Numerous consultants for Saudi Arabia used the same arguments. A former counselor of international law for the State Department told 28Pages last year, "JASTA poses no risk of exposing U.S. service members to lawsuits in foreign courts. JASTA deals only with the immunity of foreign states, not individuals.")
Beightol sent Bousselot two attached documents. This ten-page file covered "Widespread Opposition to JASTA" among elected officials, military and intelligence leaders, major news organizations, and foreign governments. As the Foreign Agent Registration Act requires, the document included a disclosure near the bottom of the cover page: "This is distributed by Flywheel Government Solutions on behalf of the Royal Embassy of Saudi Arabia."
Here's the second attachment, a draft letter to Senators John Cornyn of Texas and Chuck Schumer of New York for Branstad to consider signing.
Excerpts:
Although the motivations behind the Justice Against Sponsors of Terrorism Act (JASTA) are honorable and sincere, the bill could create a number of unintended consequences that set a dangerous precedent for our nation. […] As a result of JASTA, members of the U.S. Armed Forces, both in the United States and overseas, would be susceptible to allegations that their actions were in direct violation of a foreign state's law. These men and women hail from our states, and as governors it is our duty to protect them and act in their best interest.

Not only does JASTA upset the principles of international law set forth by the United Nations Charter, but it also threatens international security and peace. […]

One such unintended consequence of JASTA is the opportunity for foreign nations to enact reciprocal legislation that would allow their courts to exercise jurisdiction over any country, including the United States, whose international actions may have caused harm to members of that nation. […]

The bill unnecessarily complicates the existing U.S.-Saudi relationship, a relationship essential not only to our interests in the Middle East and across the globe, but also to our economic interests. As governors, one of our most important responsibilities is to act as the chief economic representative of our respective states. Saudi Arabia is one of the largest trade partners of the United States for goods and services, and implementation of JASTA is particularly concerning because it poses a substantial threat to this healthy economic partnership. […]

In conclusion, we ask that you consider amending the Justice Against Sponsors of Terrorism Act (JASTA) to address some of the unintended consequences raised by its passage. Although the sponsors may have had admirable intentions, in its current state JASTA presents a number of legal, economic, and national security problems that need to be addressed and resolved to effectively ensure that the United States, its military members and foreign officials, and corporations are adequately protected.
The Cedar Rapids Gazette published a guest editorial making similar points on November 28, ostensibly written by Iowa veteran Don Pugsley. The Daily Caller's Eric Owens noticed that piece was among five nearly-identical editorials submitted to newspapers around the country in an apparent "astroturf campaign" by some group working for Saudi Arabia.
The same day Pugsley's column appeared in the Gazette, Sailer tried to schedule a phone call with Branstad's chief of staff. Upon failing to pin down a time to speak by phone, Sailer e-mailed Bousselot the following day: "We'd shared information on this JASTA issue previously, and the recent article from an Iowa paper reiterates the grave concern with the legislation."
He explained, "We are on a very tight schedule [….] attempting to organize a coalition of Governors, many who are Veterans like Governor Branstad, to sign a joint-letter stating concern with the JASTA legislation, and encouraging the Sponsors/Senators to amend to protect Sovereign Immunity protections." The lobbyists were trying to get the letter completed in time for an expected Congressional vote on the National Defense Authorization Act.
There is an attempt to put language into the bill that would reinstate the FSIA [Foreign Sovereign Immunities Act] protections back in the bill – preventing American soldiers, national guard and corporations at risk of suit in foreign courts.

We would really like to get Governor Branstad's support on this if possible – and hope to speak with him tomorrow [November 30] in DC on the issue. Our immediate ask is 1) draft & sign the joint (or an independent) letter to U.S. Senators who sponsored the JASTA Bill; 2) a direct call to your Senators who are review this issue now and share your understanding and concern on the issue, and recommendation to reinstate the FSIA protections for U.S. interest; and last, 3) engage your TAG [state adjutant general] and ask them to also reach out to their colleagues to engage the DoD [Department of Defense] & Hill with concern, as we are also attempting to get a TAG joint-letter.

Please let me know if you might have time today to discuss — this is a critical foreign policy legislative issue that impacts every state in the nation, making it a domestic state issue now — and needs to be amended.
Sailer attached four files to his November 29 e-mail: the draft letter for governors to sign, the "Widespread Opposition to JASTA" file mentioned above, and one-pagers on "Fixing JASTA" and "Reciprocal Actions" that might occur if the law remained unchanged.
Worth noting: those documents also contained the required disclosure that they were being distributed "on behalf of the Royal Embassy of Saudi Arabia." However, Sailer did not mention in his e-mails to Bousselot that Flywheel was working for the kingdom on this project. In correspondence with various Iowa government officials on matters unrelated to JASTA, Sailer typically mentioned the name of Flywheel's client.
Before Branstad returned to politics and was elected governor in 2010, Sailer had worked with him while employed by Dutko Worldwide, a top K Street lobbying firm. Their relationship was strong enough for him to arrange a meeting with the governor on short notice. Beightol wrote to a different Branstad staffer on November 30, "Had a nice time with the Governor today in DC He is not slowing down one bit!" During that meeting, he gave cuff links ("made in IOWA!!") to Branstad, Bousselot, and Doug Hoelscher, Iowa's director of state-federal relations. Hoelscher later informed Beightol that he and the others would have to pay for the cuff links, return them, or donate them to the state to comply with Iowa's ethics law.
Sailer got back in touch with Bousselot on December 2, forwarding a message from the chief of staff for Idaho Governor Otter and copying top aides to governors Mead of Wyoming, Hutchinson of Arkansas, and Herbert of Utah.
We have reached out to dozens of others who continue to review and consider. Hearing the State's voice on this issue is important – there is a total void right now on the Hill for how this will impact states.

We would really like to get this out today if at all possible – there could be a vote this evening or early next week.

The letter we drafted can be paired [sic] down as necessary – just need to raise state's serious concern and call to consider amending to protect americas active/reserve/national guard armed forces, diplomats and corps.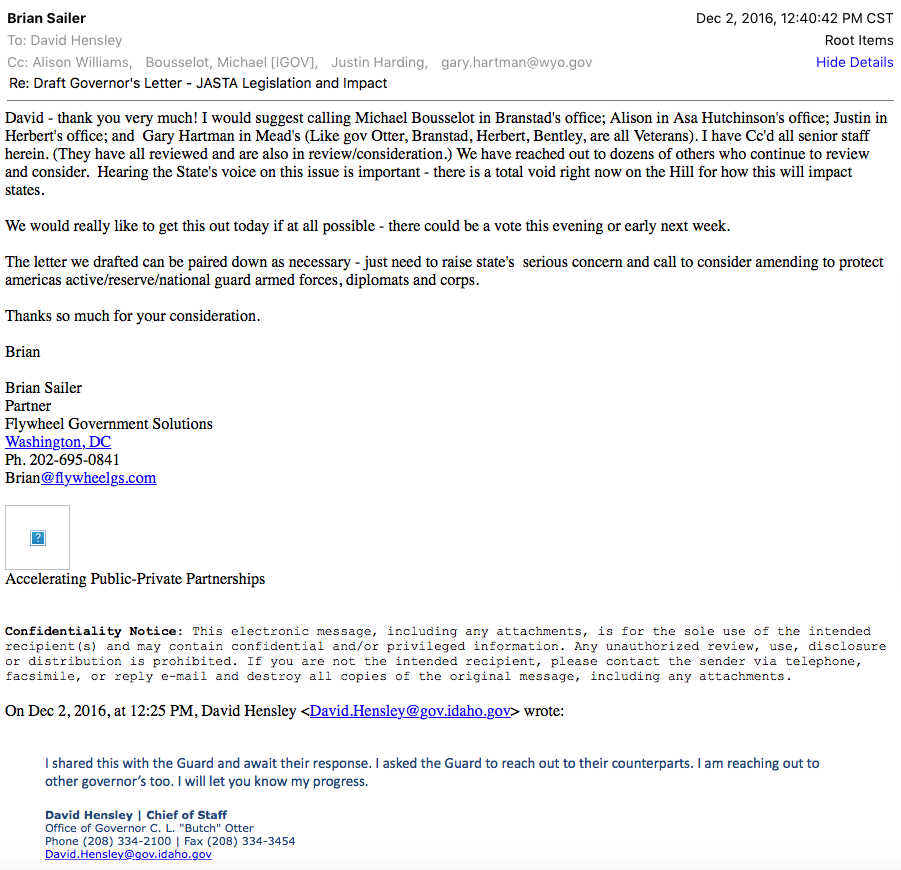 None of the records provided to Bleeding Heartland reveal how Branstad reacted to Flywheel's outreach or whether staff recommended that he sign the letter provided. (Iowa's former governor reportedly did not use an e-mail account.) As mentioned above, neither Branstad nor the other governors lobbied by Flywheel wrote to Congress advocating for JASTA changes.
P.S.- Kim Schmett told me in October that "the JASTA bill was never discussed with Governor Branstad or anyone on his staff." He and his wife, Connie Schmett, were among eight Iowans retained by Qorvis MSLGroup, another one of the fourteen lobbying firms Saudi Arabia hired to lobby on JASTA. Kim Schmett may have been unaware of Flywheel's work. Records I subsequently requested do not show any attempt by him or his wife to bring up this issue with any Branstad staffer.
During the period they were registered foreign agents, Connie Schmett did not e-mail anyone in the governor's office, while Kim Schmett e-mailed Branstad's staff on only two occasions: to thank communications director Ben Hammes for guidance on where to go during the governor's final Condition of the State address in January 2017, and to invite the governor to speak at the Westside Conservative Club in Urbandale.