Matt Chapman is a concerned citizen living in Waukee. -promoted by desmoinesdem
The Waukee school board approved a settlement for almost $1 million to former human resource director Terry Welker on Monday. Two other lawsuits for wrongful termination are pending and one was dismissed in 2014.
The plaintiffs in these lawsuits are former district employees, who allegedly faced retaliation after reporting that Chief Operating Officer Eric Rose had used school property at home, allowed unauthorized individuals to use school facilities, and altered time cards.
While the crimes themselves are petty, the settlement is not and will give ammunition to lawmakers with an appetite to re-write Iowa's education system.

With the lawsuit pending last December, State Senator Charles Schneider and State Representative Rob Taylor, whose districts include Waukee, sent State Auditor Mary Mosiman a letter about the concerns they had about COO Rose's conduct and asking for more detailed information on the investigation.
After the settlement was approved January 23, Taylor e-mailed the document he and Schneider had sent to the state auditor to a friend, who posted it on Facebook.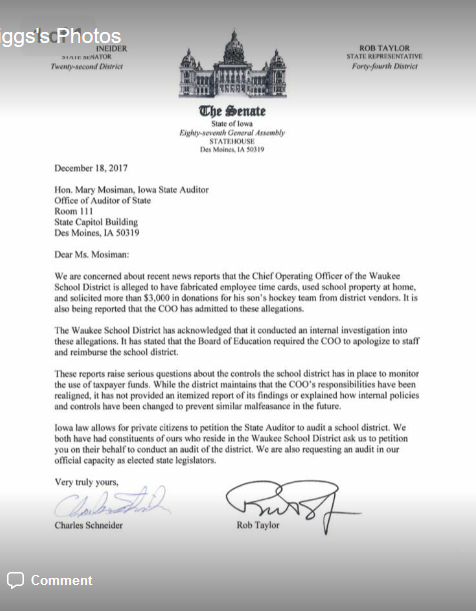 Taylor revealed his own anger with the school board in a Facebook post earlier in the year, which he later deleted.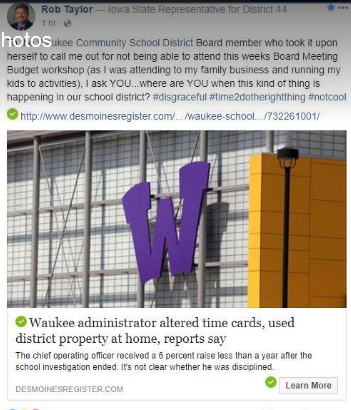 Things aren't any better between the administration and staff in the Waukee school system. On January 24 the Des Moines Register published a letter to the editor by West Des Moines teacher and member of the Iowa State Education Association executive board Victoria Rossander, who asked residents not to support the new high school bond measure. The Register published her commentary the same day Kim Norvell reported that the state auditor is investigating the district, at the request of Taylor and Schneider.
Last year's legislation House File 291 made drastic changes to collective bargaining rights for public employees, including teachers. Schneider and Taylor voted for that bill, which had already left educators feeling angry and anxious. The atmosphere was more toxic in Waukee, where whistleblowers had been systematically pushed out by having their duties reassigned or positions eliminated.
Also worth noting: when Schneider and Taylor voted in 2017 to raise K-12 school funding by only 1.1 percent, not even compensating for inflation let alone the influx of new students in Waukee, school administrators used budget constraints to justify eliminating Terry Welker's position. That has led to a payout of $985,000 and a non-disclosure order, leaving the public in the dark.
Former Waukee superintendent Dave Wilkerson endorsed the incumbents running for re-election to the school board in 2017, later fueling speculation that he may have been covering for Rose. These board members failed to exercise oversight when the misconduct that prompted several lawsuits began.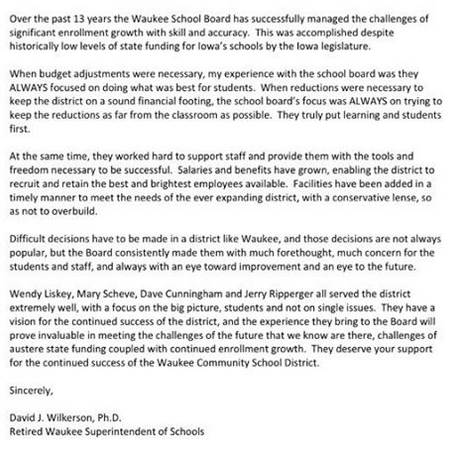 At the January 23 school board meeting, the public had a chance to address the board before members voted on the settlement. Educator and school psychologist Tyler Higgs, who ran unsuccessfully for a school board position last year, was the only one to speak. Widespread fear of retribution may have deterred others from providing input. People were gathering in hallways and outside to discuss the meeting in hushed tones after it ended.
Higgs pushed for accountability and transparency. He called for an explanation of why Rose was being protected, while the whistleblowers were getting reprimanded: "One would ask why the superintendent is working so hard to protect this man, but it becomes clear when you read about receipts for $20k administrative retreats and trips to Omaha with beer bike rides."
Waukee School Board president Susan Bunz responded that there were many reasons to settle a lawsuit. Citing her experience with legal matters, she noted that a vote to approve a settlement was not an admission of wrongdoing by the school district. In a diary that the plaintiff Welker kept to document Rose's actions, he had written that McDonald said whistleblowers were "tattling" when reporting questionable behavior by Rose. The diary also claimed employees were told not to talk to Human Resources or to the school board about the chief operating officer.
Bunz also said the source of funding for the settlement will come from the management budget and will not come from teachers, students or have an effect on the tax rates. But the management budget is used for early retirement for teachers, playing right into the hand of Republican lawmakers. They could point to the settlement as a reason to gut school funding like last session; if schools don't have enough funding, they can take what's needed from the management fund.
Other casualties may not fare as well as Welker. The other two lawsuits may or may not be settled or won, but the real cost here is with the teachers and students. Educators in Waukee are fighting a two-front battle. The first is the toxic culture, demonstrated by the obfuscation of this settlement and an orchestrated cover up. The second front puts students and teachers at the mercy of the same legislators who wrote to the auditor looking for answers.
Both Schneider and Taylor are chairs for the American Legislative Exchange Council (ALEC) in Iowa. ALEC and Americans for Prosperity (AFP) are connected, and their influence in our capital is much stronger than the constituents who have sent lawmakers there.
In 2017 AFP wrote the legislation to undermine unions representing 180,000 Iowa public sector employees, to lower workers' compensation benefits for those injured on the job, and to tell four Iowa counties that they could not raise the minimum wage for the working poor.
As you read this post, education bills are being introduced in the Iowa House and Senate. One would tap the fund for at-risk children to pay salaries. Like the bills ALEC and AFP wrote last year to squeeze every penny out of working Iowans, we are heading into the privatization of education. One bill would authorize school vouchers, now called "Education Savings Accounts."
You can see how ALEC/AFP not just distorts but flat out lies on their brand new Facebook page.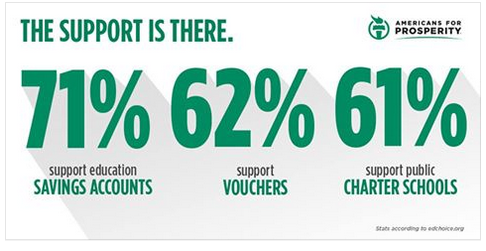 There is no source for these statistics. It is made up out of thin air. Those who represent me at the capitol, Schneider and Taylor, are connected to this organization.
I watched and listened to a presentation from APEX after the vote to approve the wrongful termination suit at the Waukee School board meeting. As someone who dropped out of school, I applaud programs like that. There was discussion of legislative outreach and a day on the hill. Waukee has many wonderful programs and is a great school system. With the area's population surging, the skills needed to manage that so successfully should be recognized.
But politicians at the capitol mainly toot their own horn and look for things to exploit as tools to achieve goals like cutting the education budget, pushing for school vouchers, or other policies on the ALEC/AFP agenda.
If the Waukee administration and school board is going to act like this is business as usual, they will be the poster children for ESAs and lower education funding across the board. This settlement is peanuts compared to the money that could be lost if the lawsuit is used for political gain.
It's time for some courage, transparency, and accountability. We saw during last year's legislative session what can happen to our public employees and budgets. What happens now won't just be felt in Waukee, it will be felt across the state.