Governor Kim Reynolds leads five Democratic challengers but gains less than 45 percent support in every head to head matchup, according to the latest statewide poll by Selzer & Co. for the Des Moines Register and Mediacom. Reynolds leads State Senator Nate Boulton by 41 percent to 37 percent, with 11 percent of respondents unsure and the rest saying they would not vote or would support some other candidate. She leads Fred Hubbell by 42 percent to 37 percent, John Norris by 41 percent to 30 percent, Andy McGuire by 42 percent to 30 percent, and Cathy Glasson by 44 percent to 31 percent.
I would have expected larger leads for Reynolds, since she has much higher name recognition than the Democratic candidates, and she receives substantial news coverage for free. The governor is in positive territory on job performance (47 percent of respondents approve of her work, 33 percent disapprove, 20 percent unsure) and favorability (48 percent vies her favorably, 32 percent unfavorably, and 20 percent unsure). In addition, the Selzer poll found 49 percent of Iowans see the state moving in the right direction, just 39 percent on the wrong track. Those are decent numbers for an incumbent.
Another plus for Reynolds: she had $4.14 million in her campaign's bank account at the end of 2017, and she's hasn't spent much of it so far. While Hubbell, Boulton, and Glasson have been running television commercials in the Des Moines and Cedar Rapids markets, Reynolds and acting Lieutenant Governor Adam Gregg have been touring the state, earning local media coverage while holding campaign-style events to tout their administration's accomplishments. That "Unleashing Opportunity" tour–all billed to the state as part of the governor's "official" duties–has stopped in Mason City, Marion, Muscatine, Davenport, Maquoketa, Ames, Fort Dodge, Storm Lake, Pella, Oskaloosa, Ottumwa, Newton, and Cedar Falls. None of those visits cost the Reynolds/Gregg campaign a dime.
Selzer surveyed 801 Iowa adults between January 28 and 31, producing a margin of error of plus or minus 3.5 percentage points. The respondents were not necessarily registered voters, let alone likely midterm election voters. So this representative sample of Iowa adults may or may not reflect the universe of Iowans who will cast ballots in November. CORRECTION: The gubernatorial race numbers were drawn from "the subset of 555 respondents who say they're likely to vote in 2018. Those numbers have a margin of error of plus or minus 4.2 percentage points," Jason Noble reported. Figuring out who will vote is one of the biggest challenges for any pollster. Self-reported intentions are a common screen, but not always an accurate one.

Final note: the poll did not test Reynolds against the other two declared Democratic candidates, probably because Jon Neiderbach and Ross Wilburn have almost no money to spend on their campaigns (see here and here). The other five candidates all went into the election year with enough funds to run a credible statewide effort before the June 5 primary. Cash on hand totals as of December 31, 2017:
• $1,231,358.21 for Hubbell
• $729,401.58 for Glasson (who received another $500,000 from the Service Employees International Union the first week of January)
• $481,375.59 for Boulton
• $255,106.24 for McGuire
• $144,081.93 for Norris
From the memo published on the Des Moines Register's website: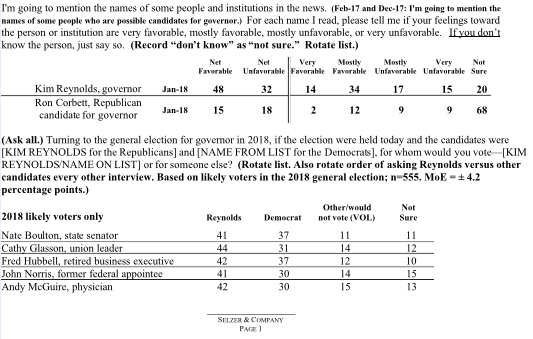 Top row: Kim Reynolds, Nate Boulton, Cathy Glasson. Bottom row: Andy McGuire, Fred Hubbell, John Norris.