Iowa's campaign regulator may soon break new ground on interpreting language that forbids government bodies from spending public money for political purposes. When deciding whether two city governments went too far in encouraging residents to vote for a local option sales tax, the board will determine whether "express advocacy" can include language that stops short of explicitly urging citizens to vote a certain way.

Iowa Code 68A.505 stipulates that state or local governments "shall not expend or permit the expenditure of public moneys for political purposes, including expressly advocating the passage or defeat of a ballot issue."
In February, two citizens submitted complaints to the Iowa Ethics and Campaign Disclosure Board, which enforces state laws related to election campaigns, regarding official communications about the March 6 vote on an additional 1 percent sales tax in Polk County municipalities.
Haley O'Connor's complaint included these photographs of a mailing the city of Windsor Heights sent to all residents.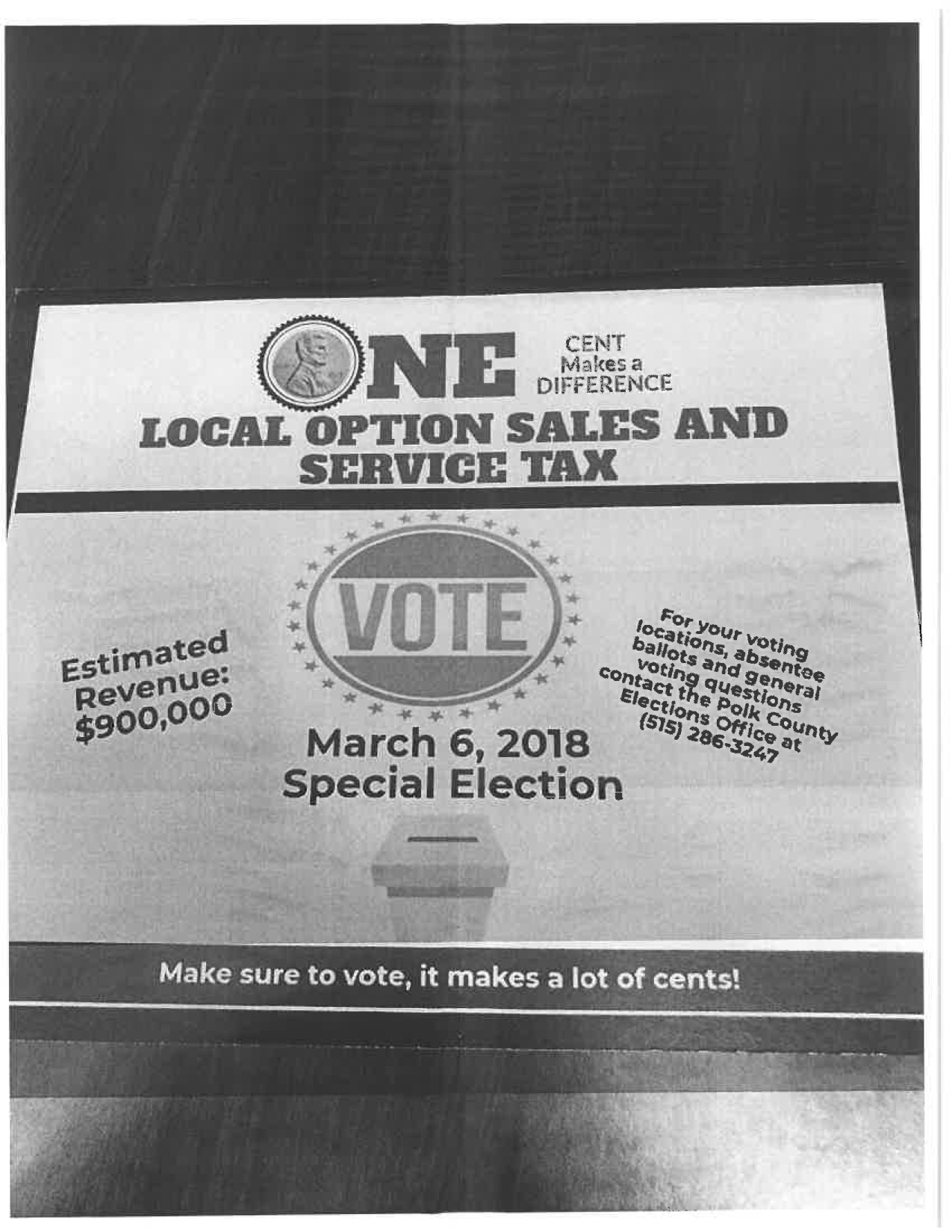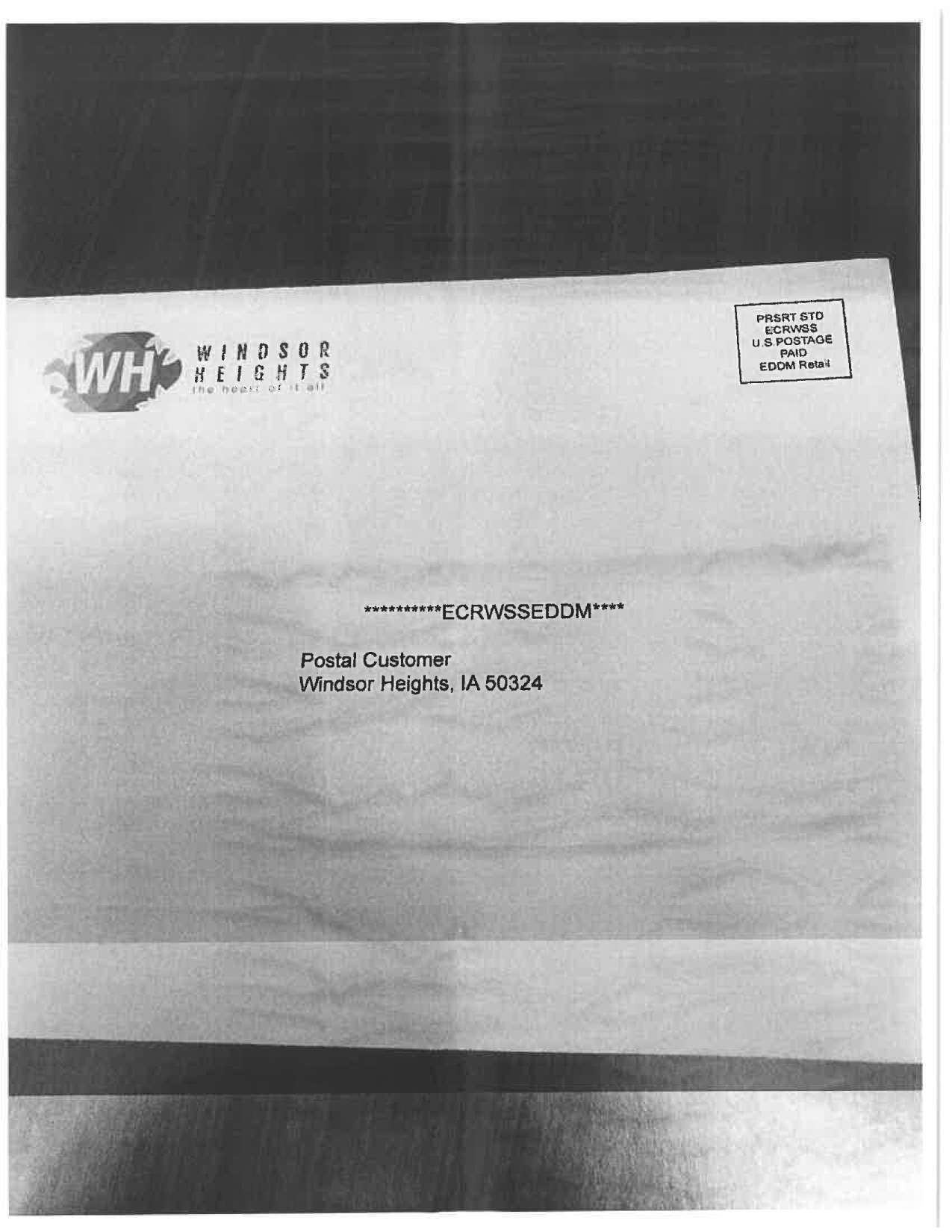 Although the mailing does not specifically recommend a "yes" vote, several phrases appear to encourage support for the sales tax: "ONE CENT Makes a DIFFERENCE," "Revenue: $900,000," and "Make sure to vote, it makes a lot of cents!"
Keith Olson's complaint charged that the city of Des Moines had used official resources to advocate for the sales tax in this e-mail, which subscribers to the city's list received on February 8.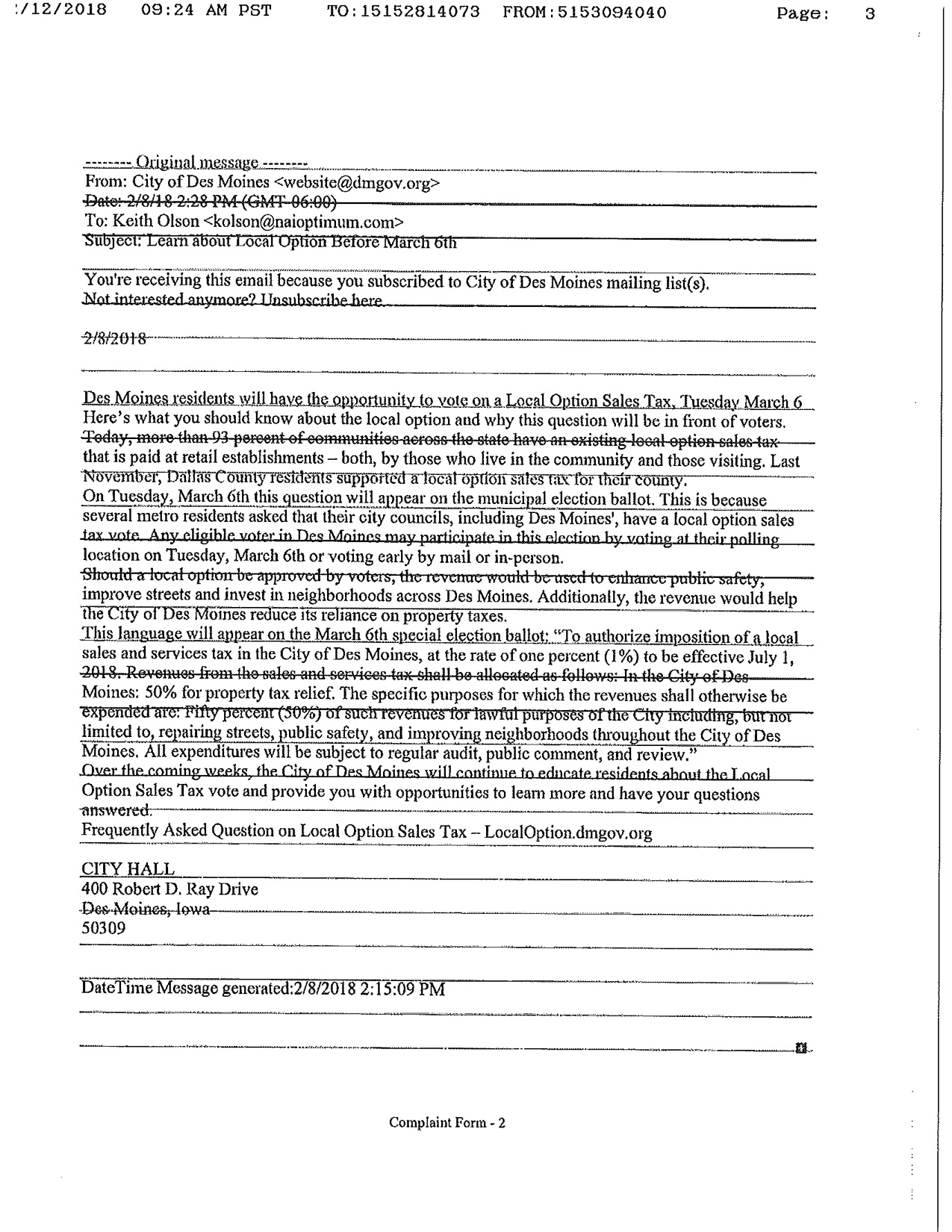 Full text:
Des Moines residents will have the opportunity to vote on a Local Option Sales Tax, Tuesday March 6
Here's what you should knot about the local option and why this question will be in front of voters.
Today, more than 93 percent of communities across the state have an existing local option sales tax that is paid at retail establishment–both, by those who live in the community and those visiting. Last November, Dallas County residents supported a local option sales tax for their county.
On Tuesday, March 6th this question will appear on the municipal election ballot. This is because several metro residents asked that their city councils, including Des Moines', have a local option sales tax vote. Any eligible voter in Des Moines may participate in this election by voting at their polling location on Tuesday, March 6th or by voting early by mail or in-person.
Should a local option be approved by voters, the revenue would be used to enhance public safety, improve streets and invest in neighborhoods across Des Moines. Additionally, the revenue would help the City of Des Moines reduce its reliance on property taxes.
This language will appear on the March 6th special election ballot: "To authorize imposition of a local sales and services tax in the City of Des Moines, at the rate of one percent (1%) to be effective July 1, 2018. Revenues from the sales and services tax shall be allocated as follows: in the City of Des Moines: 50% for property tax relief. The specific purposes for which the revenues shall otherwise be expended are: Fifty percent (50%) of such revenues for lawful purposes of the City including, but not limited to, repairing streets, public safety, and improving neighborhoods throughout the City of Des Moines. All expenditures will be subject to regular audit, public comment, and review."
Over the coming weeks, the City of Des Moines will continue to educate residents about the Local Option Sales Tax vote and provide you with opportunities to learn more and have your questions answered.
Frequently Asked Question [sic] on Local Option Sales Tax–LocalOption.dmgov.org

CITY HALL
400 Robert D. Ray Drive
Des Moines, Iowa
50309
The Iowa Ethics and Campaign Disclosure Board considered those complaints during an April 12 meeting. After a closed session lasting for at least half an hour, board chair James Albert summarized the "very vigorous discussion" on whether the communications from Des Moines and Windsor Heights "rose to the level of express advocacy" prohibited by state law.
Board members voted unanimously to table the complaints until their next scheduled meeting in June. "This requires a very meticulous legal analysis," Albert explained, "because there are First Amendment issues involved here, and restricting and punishing speech is permitted in only limited circumstances."
The board's executive director and legal counsel, Megan Tooker, will prepare a memorandum to address questions board members raised in closed session about what constitutes explicit advocacy. Does a message have to say "vote for this" candidate or referendum, or could "something less than that" cross the line? Albert added that the discussion was "one of the best I can remember" during more than 20 years he has served on the board.
I welcome input from attorneys on the relevant legal questions. To my non-lawyer's eye, Windsor Heights was clearly pushing people toward a yes vote. The language from Des Moines could be construed as merely informing recipients about what would happen if the referendum passes. In addition, Windsor Heights must have spent substantially more on printing and mailing that piece than Des Moines did on one e-mail–though official resources were used when city staff spent time composing and authorizing it.
For this legal question, I don't know whether it matters that Windsor Heights sent the mail to all potential voters, whereas Des Moines sent the e-mail only to those who had opted to receive messages.
UPDATE: Some readers have complained that city council members spoke in favor of the sales tax at public meetings or advocated for a "yes" vote on Facebook. Elected officials are allowed to express opinions about upcoming elections. That's protected political speech and not equivalent to spending public money to promote a political viewpoint.
Similarly, some readers have mentioned receiving many flyers urging them to vote for the sales tax. I am fairly certain the group "Neighbors for Growth and Public Safety" paid for those mailings. You can view a list of donors here and here. Iowa law doesn't forbid campaign spending by a political action committee that discloses its donors and expenditures. That's entirely different from a city government using taxpayer funds to advocate for a certain vote.
SECOND UPDATE: Darrell Hanson, a former Republican member of the Iowa House, commented via Facebook,
I was the author of the IA Code section prohibiting public bodies from spending money to advocate the passage or defeat of ballot measures. I knew at the time I offered the amendment that there would be some borderline cases where it wasn't clear where the line should be drawn. To me, the Windsor Heights language could be seen as such a borderline case in which the public body has included information that could be interpreted as putting the measure in a favorable light, while omitting information that would put the measure in an unfavorable light. The public body should be able to communicate why the measure was proposed, and it is under no obligation to publicize the arguments of the opponents. But in my opinion the explanation of the goals of the measure should be presented in value-neutral language if at all possible. I think it has been pretty well established in U.S. campaign finance law that advocacy usually has to involve overt requests to vote for or against a candidate. Presumably the same principle would apply to ballot issues, but I don't know if that has ever been tested legally.
Hanson added in a separate comment,
The definition of "advocacy" vs. "education" doesn't depend on the source of the funds or whether the vote involves a candidate or a ballot issue, at least under the law as I understand it. When I offered the amendment that became the law in question, I think everyone on the committee assumed that public bodies would still be able to use their funds to explain what they were proposing, educate the public on the details and intended outcomes, and urge people to get out and vote. But we also knew that reasonable people could disagree on where that line should be drawn.