Olivia Habinck is a Des Moines Area Community College student and president of the College and Young Democrats of Iowa. -promoted by desmoinesdem
On April 13 I participated in the Iowa Secretary of State's Student Voter Engagement Summit. This was the second time in the past six months Secretary Paul Pate has invited college students to meet with his staff.
First, I would like say that I appreciate the effort to reach out to college students. It is great the people at the Secretary of State's office want (or appear to want) to hear our feedback. We have made it clear they could be doing more to increase voter turnout in the state, especially with the new voter ID law.
But I am frustrated by top election officials' overall lack of understanding of how this new voter ID law affects Iowans and specifically college students.

The first meeting took place the second week of December. Secretary Pate failed to realize that week was when most, if not all, Iowa college students were taking their fall semester finals. The office set up three different days with meeting times. Luckily, some of us students made time during our busy schedules to make it to the Lucas Building office in Des Moines. Many drove an hour or more to make the hour-long meeting to share our grievances and learn about the the new law.
About fifteen of us showed up to the Monday meeting. We were all given a packet with FAQs about the Voter ID law. One question was, "What will be the impact on college students?" As I looked at their answer, I was in disbelief and it took a lot for me not to laugh out loud.
The official answer: "NONE. The Election Integrity and Modernization Act does not create any obstacles for college students to vote."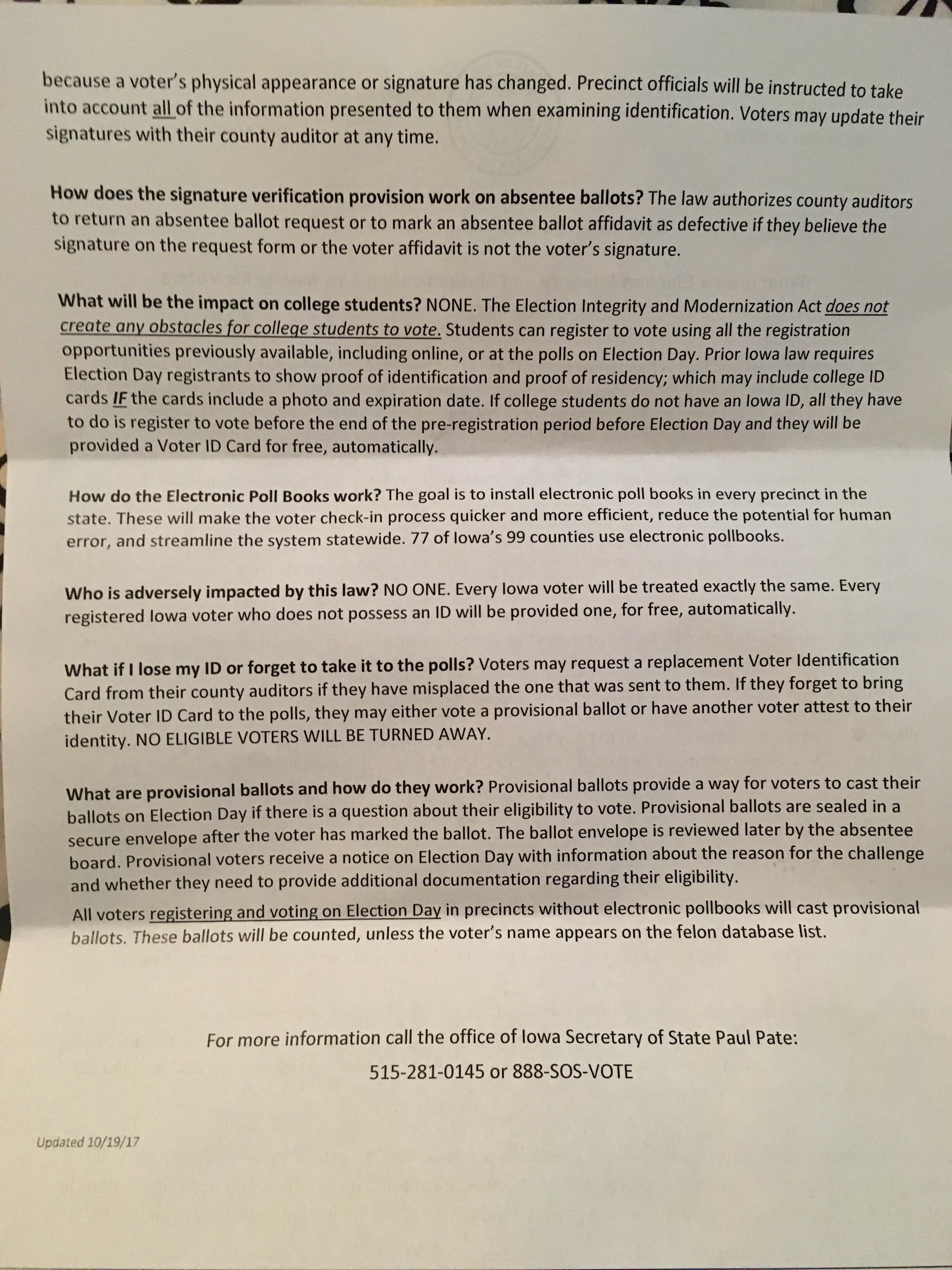 Really? Before they even sit down and talk to us, they provide a piece of paper which basically states our opinions and criticisms aren't legitimate. That was not the greatest way to start off the meeting.
I had one concern in particular with the new law: it was not clear to me whether my driver's license would affect my voting experience. College students tend to move around. Consequently, we have important mail sent to a parent, guardian, or relative's home. Many of us put that address on our driver's license, because it is more permanent. My driver's license lists my parents' home in Cedar Falls, although I currently live in Ankeny and study at DMACC.
My understanding, and what the law makes clear, is that this was still a valid form of ID and the address on the card did not matter. One of the Secretary of State's staffers assured me this was correct and my driver's license address would not hinder me in any way. This settled at least one of my concerns for the time being until I went to vote and realized this was completely wrong.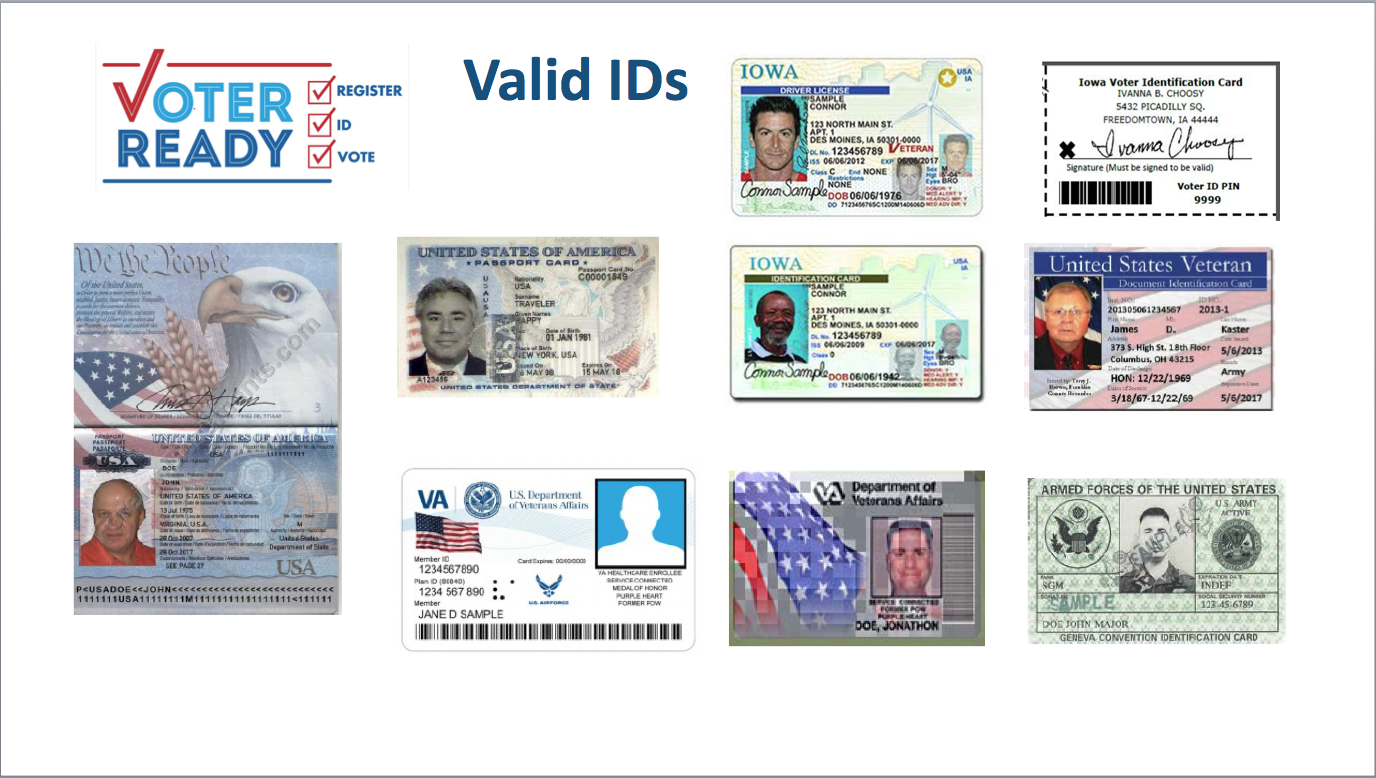 I have voted twice in Ankeny since that meeting. Both times I have experienced quite a headache. I went to vote at my Ankeny 09 polling location for the school bond issue. My name was in the poll book–I pointed to it–but the poll workers were very confused. They did not think I provided an accepted form of ID, because the address on my driver's license was different from my Ankeny address. I told them I didn't even have to provide an ID until 2019, but they insisted on calling the elections office, even though there was no legitimate issue. The elections office told them I could vote, so they gave me a ballot and I was on my merry way after about a five-minute unnecessary ordeal.
The second time I voted, I had even more of a hassle. I went to vote on March 6 on the Polk County sales tax increase with my ID in hand and a pounding migraine. I again pointed to my name in the poll book and handed my ID to the poll worker. This time instead of calling the elections office, they just insisted I cast a provisional ballot. I was in shock. As a pre-registered voter with an accepted form of ID, I had every right to cast a regular, non-provisional ballot. I was not in a healthy enough state to fight back at the time, so I voted the provisional ballot and left. Did I mention it was my birthday? Yep, happy birthday to me.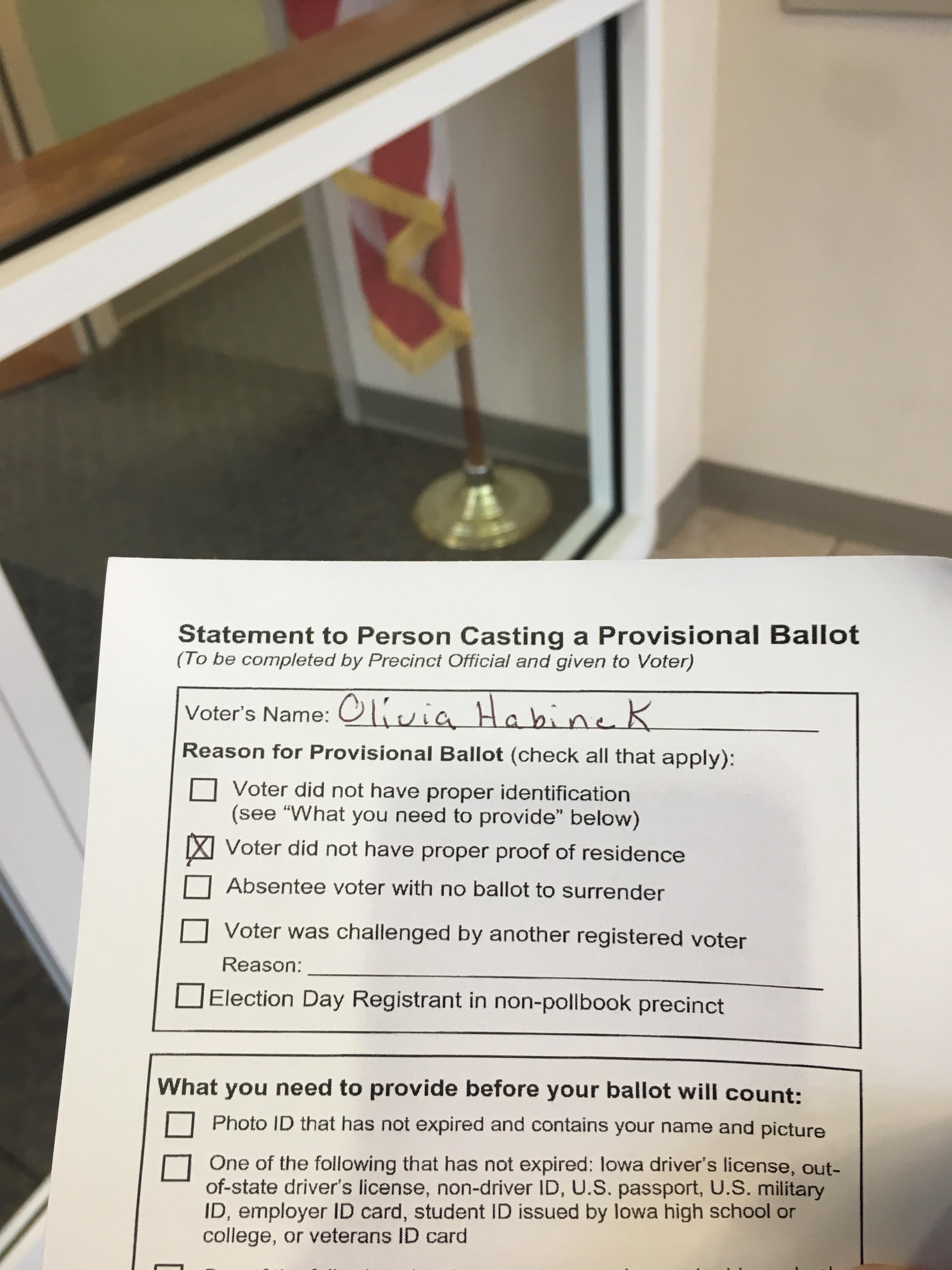 Luckily, I am Facebook friends with my county auditor, Jamie Fitzgerald. I messaged him immediately after I left the polling place and he assured me my vote would be counted. He also cleared up my confusion stemming from my two voting experiences. I did not need to provide proof of residence if I was in the poll book, and the address on my driver's license did not matter.
I am grateful for how accessible my county auditor is, but I worry for the many who might have similar situations, but who would not know what to do. I am well versed in the voter ID law and know whom to contact if anything goes wrong. Many do not.
A couple of weeks ago, at the last minute, the Secretary of State's office reached out to DMACC to recruit a couple of people to present at the College Voter Engagement Summit. They wanted us to discuss being politically active on a commuter campus. I was contacted by a staff person at the Urban Campus and she, an alumna, and I prepared a presentation. I talked about the struggles of political organizing on a commuter campus.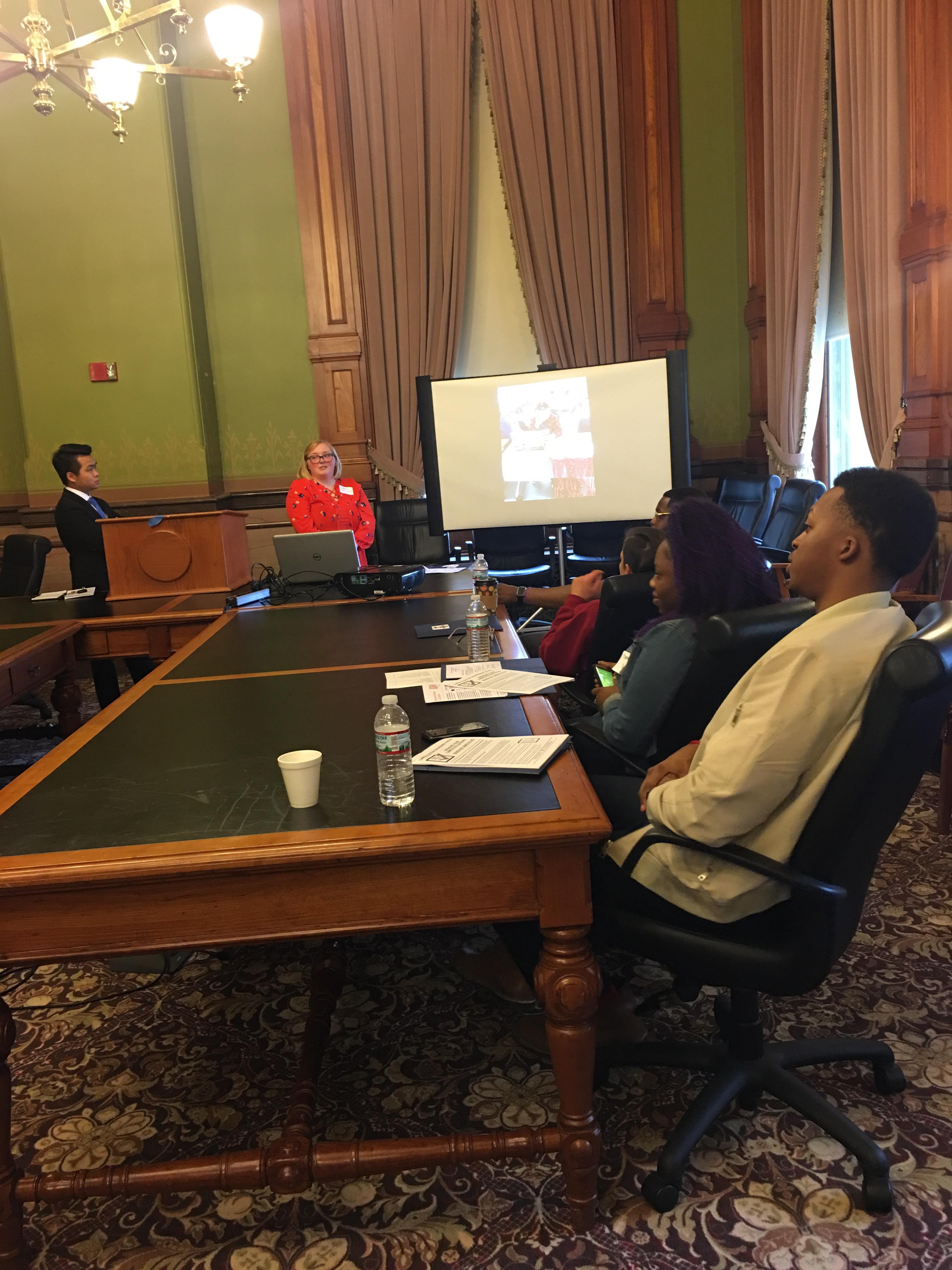 I attended the summit not only as a presenter, but also as a participant. When I heard Paul Pate was going to attend this gathering–unlike the previous one in December–I was excited to hear what he would tell us. He gave his usual talking points, then opened up the floor to questions.
I decided to ask him the question that has been most prevalent in my experience voting as a college student. I explained my driver's license address issue and asked him to clarify that I did not need proof of residence to vote if I was in the poll books. Much to my surprise, he told me I had to provide proof of residence because my driver's license had a different address. Not even an hour earlier, his staff had given a presentation saying just the opposite.
I explained to Pate that didn't make much sense, since I would already be in the poll book, and that I only needed proof of ID for same day registration. Once that he saw that many in the room agreed with me, he backtracked and said he didn't quite know and would have to look into it.
Paul Pate, the main proponent of the new voter ID law, could not answer my question correctly. I thought the secretary of state would know the answer. Voting, elections, and everything revolving around them is one of his main job duties. He should be an expert. He initially answered it like an expert, but incorrectly. He should have been able to answer my question, but he fumbled hard. It's not too much to ask that our state commissioner of election knows the law he promoted and is tasked with enforcing.
I have been active in politics for a couple of years and I currently serve as the president of the College and Young Democrats of Iowa. It is my duty to know the new law and educate others on it. If even I am having trouble voting, I can't imagine what everyday college students might go through when they vote. If Paul Pate couldn't even tell me that I didn't need proof of residence in my certain situation–which is common for college students–why would we expect an average Iowan to know what they need to vote?
They say the poll workers won't turn away voters, but the new hurdles will definitely discourage people from voting. The secretary of state is trying to make this mess of a law look like common sense and a simple change. It is not.
It's possible that when the voter ID law passed, Pate truly thought it would have no effect on Iowa's tens of thousands of college students. At this writing, though, the Secretary of State's website still proudly states on the FAQ page that the voter ID law has no effect on college students. We have told him differently multiple times. My experience and that of many other college students supports our view.
The Secretary of State's office says they are open to suggestions and criticism. However, Pate's basic refusal to acknowledge the difficulties college students will have voting this fall shows me that they're more interested in political talking points than honest feedback.
Paul Pate should worry less about his #BeAVoter social media campaign and focus more on #KnowingHisOwnLaw, #StopMakingItHarderToBeAVoter, and #EducatingAuditorsAndPollworkersToKnowTheLaw.