Despite heat advisories across most of the state, at least 2,000 Iowans turned out for rallies and marches on June 30 to oppose the Trump administration's family separation policy and demand justice for immigrants.
Like the Women's March and similar mass protests from the past two years, the Keep Families Together events were a target-rich environment for creative political signs and t-shirts. With thanks to those who gave permission to publish their photographs here, I've compiled some of my favorite images from the weekend.

DES MOINES
I was among roughly 750 people at the Des Moines rally outside the state capitol. The speakers included youth whose families have been affected by immigration policies: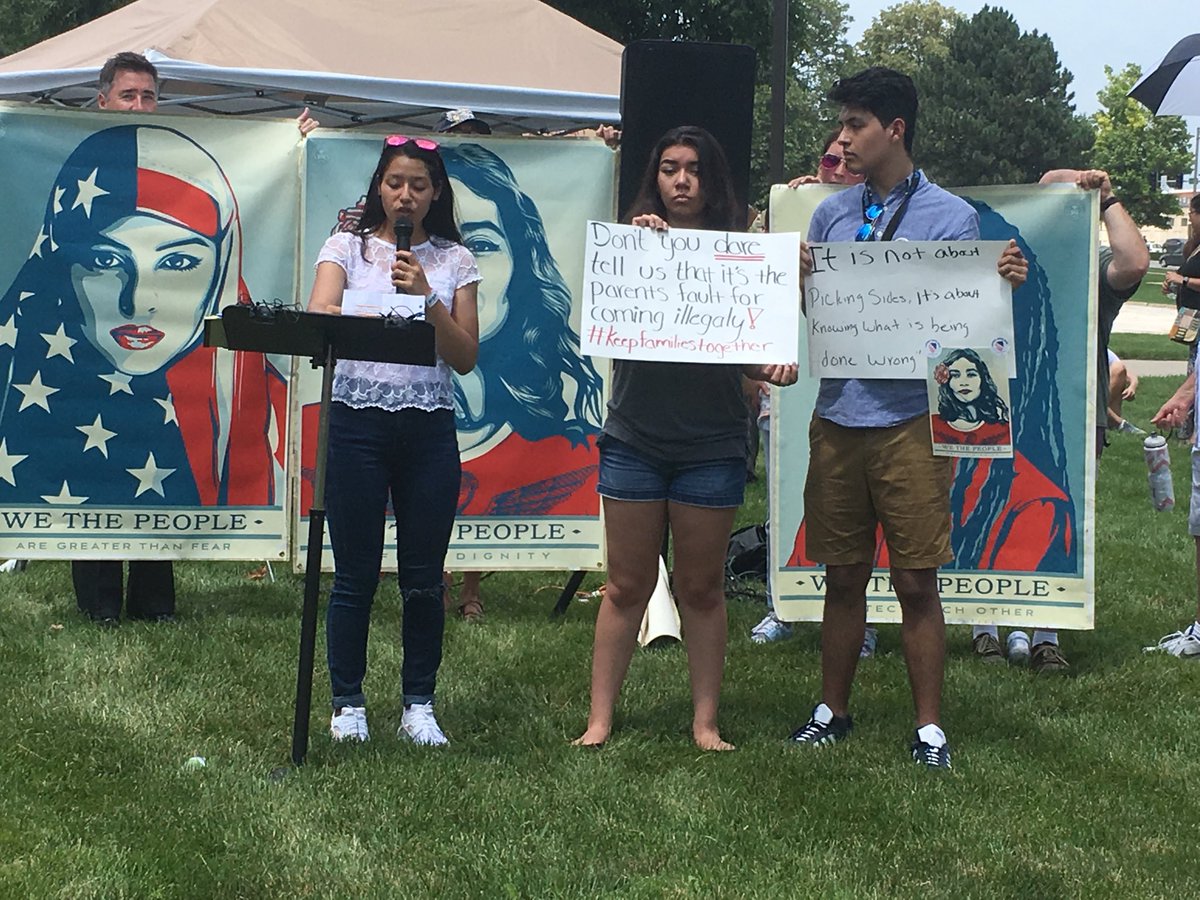 Mary Campos, daughter of immigrants and a longtime leader in the League for United Latin American Citizens, as well as the first Latina member of the Iowa Women's Hall of Fame, first Latina on the Iowa Civil Rights Commission and the Iowa Commission on the Status of Women, and member of the Iowa Latino Hall of Fame's inaugural class. Joe Henry, national vice president for LULAC, is holding the sign behind Campos.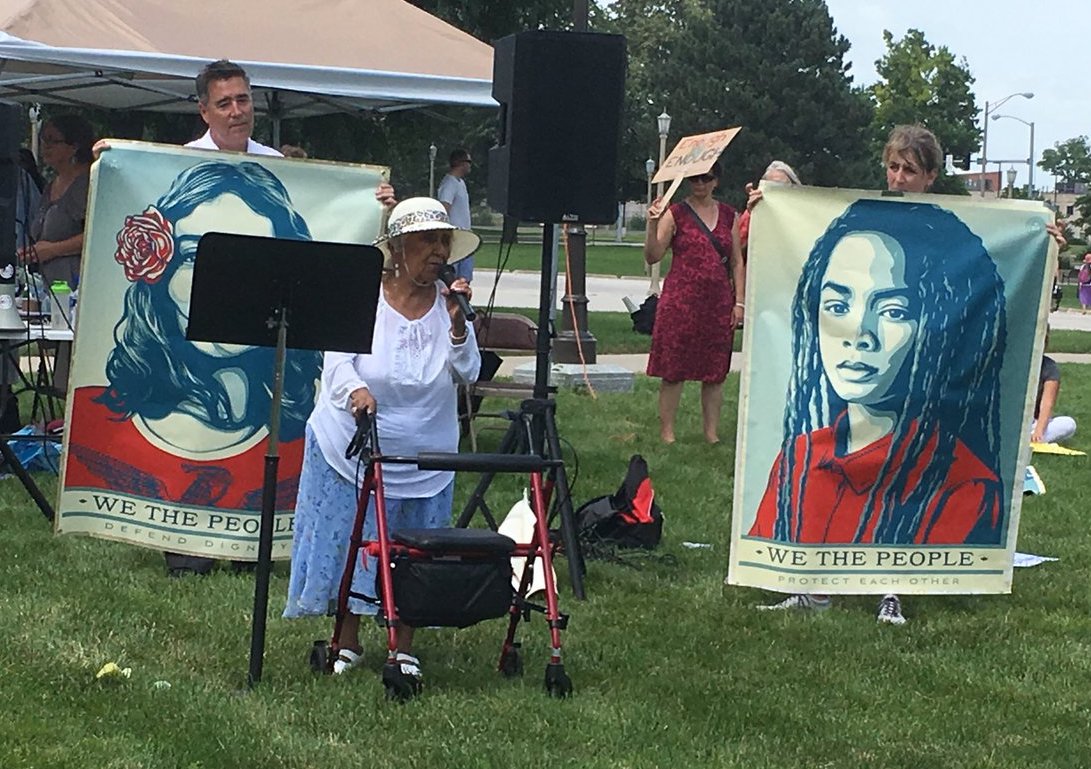 State Representative Ako Abdul-Samad, the only Muslim currently serving in the Iowa legislature: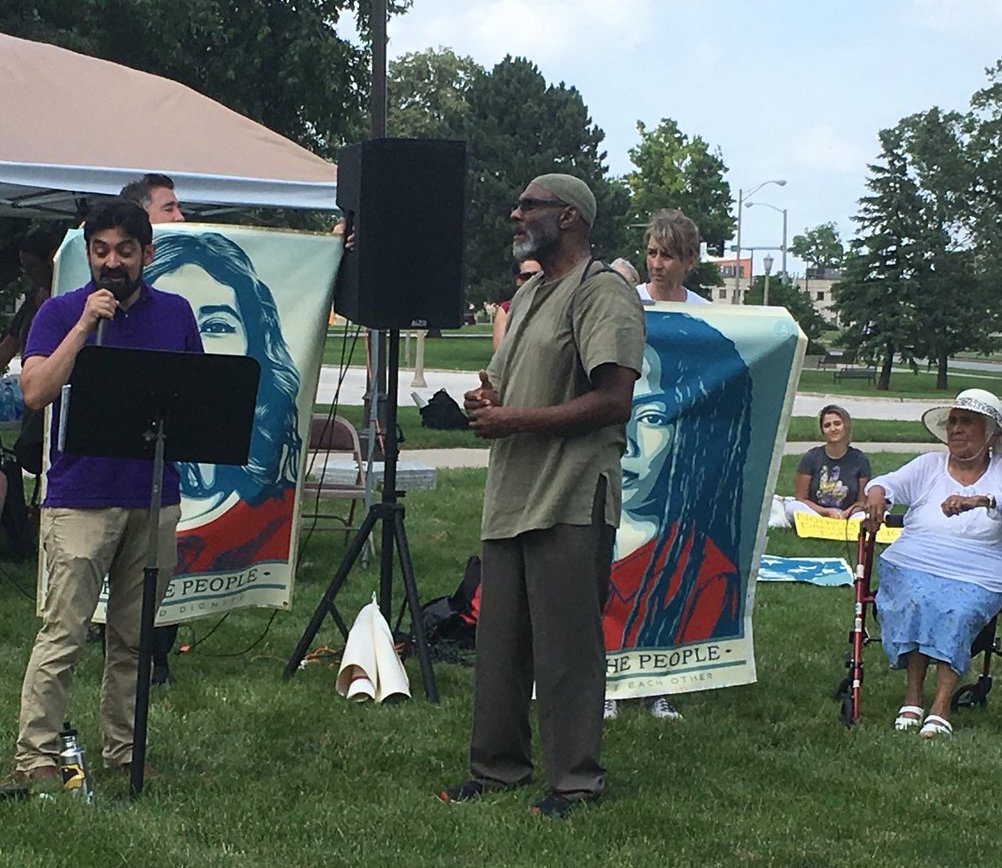 Christian Ucles, who immigrated from Honduras as a child, spoke about his experience being separated from his mother for years.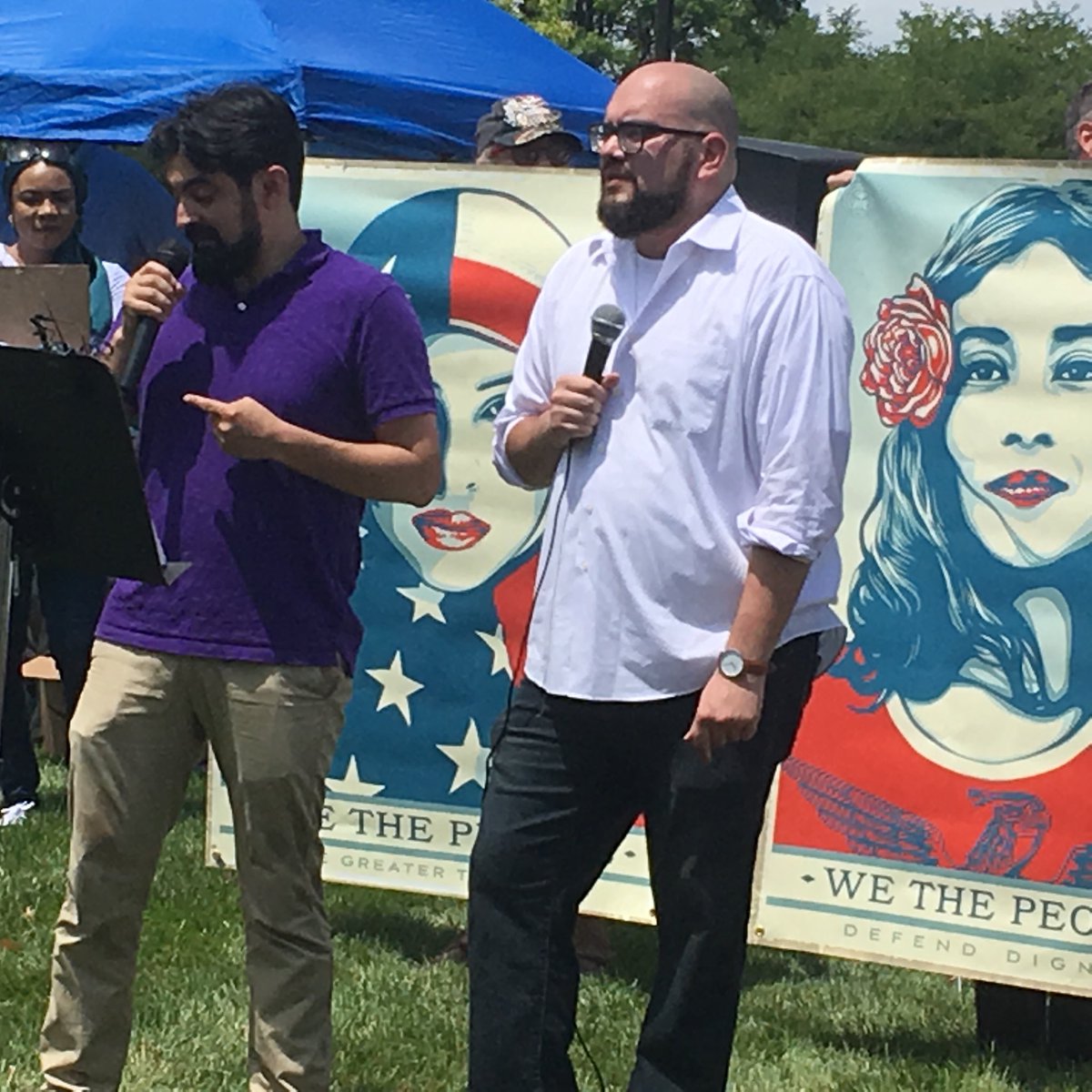 Christian has worked for many Democratic campaigns and progressive organizations and is currently the third Congressional district director for the Progressive Turnout Project. He posted this picture of his team: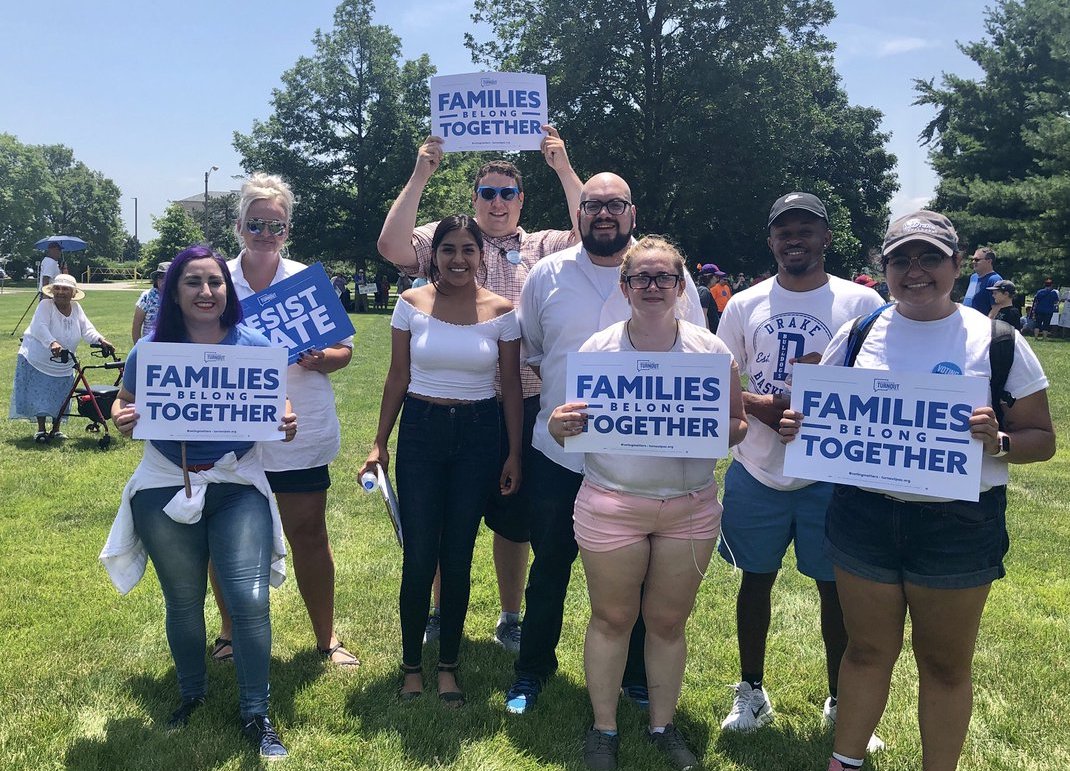 Back to my photographs. American Civil Liberties Union of Iowa Executive Director Mark Stringer promised the ACLU will keep fighting unjust and illegal immigration policies.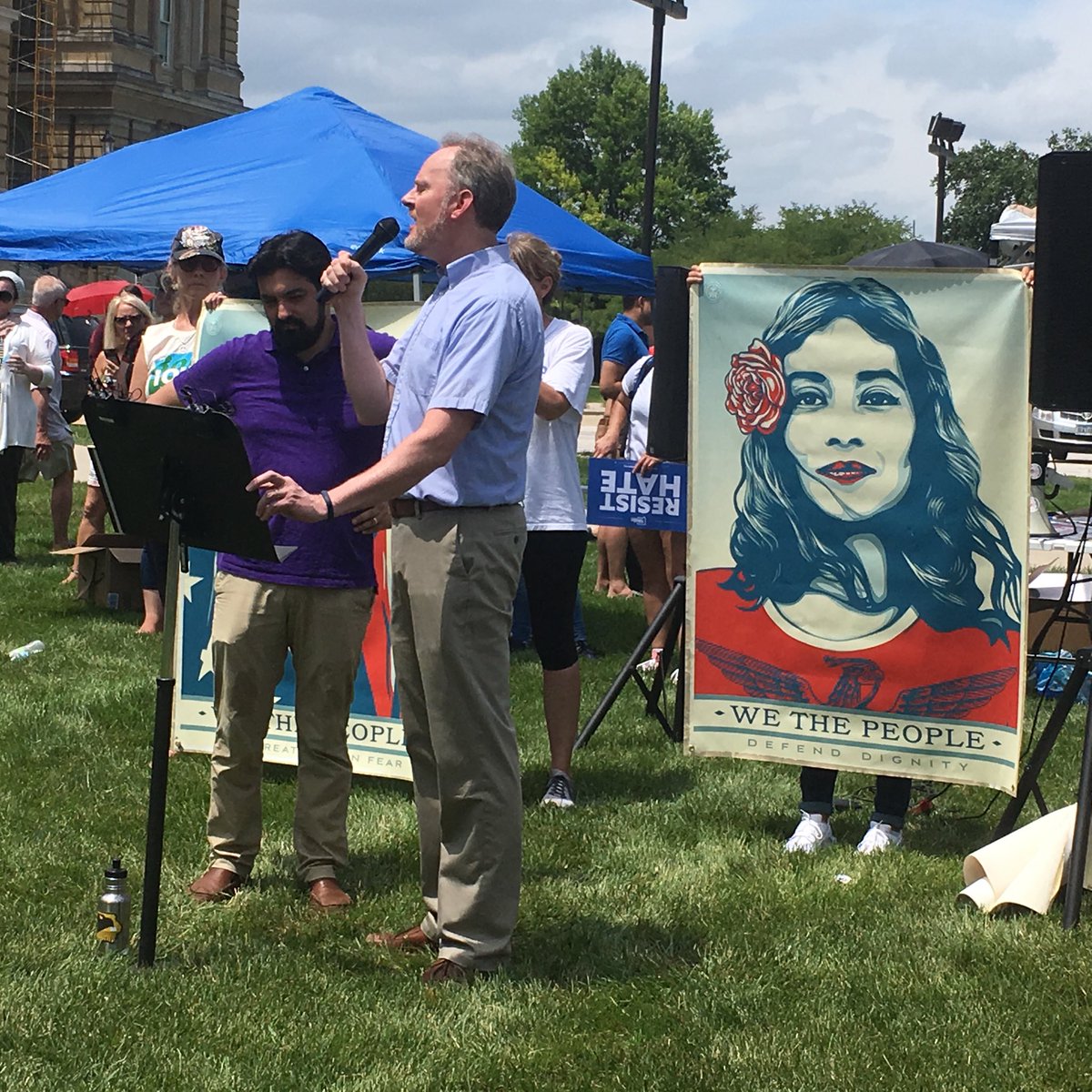 Teenagers participating in the "Summer School of Youth Activism" organized by Monsoon Asians & Pacific Islanders in Solidarity: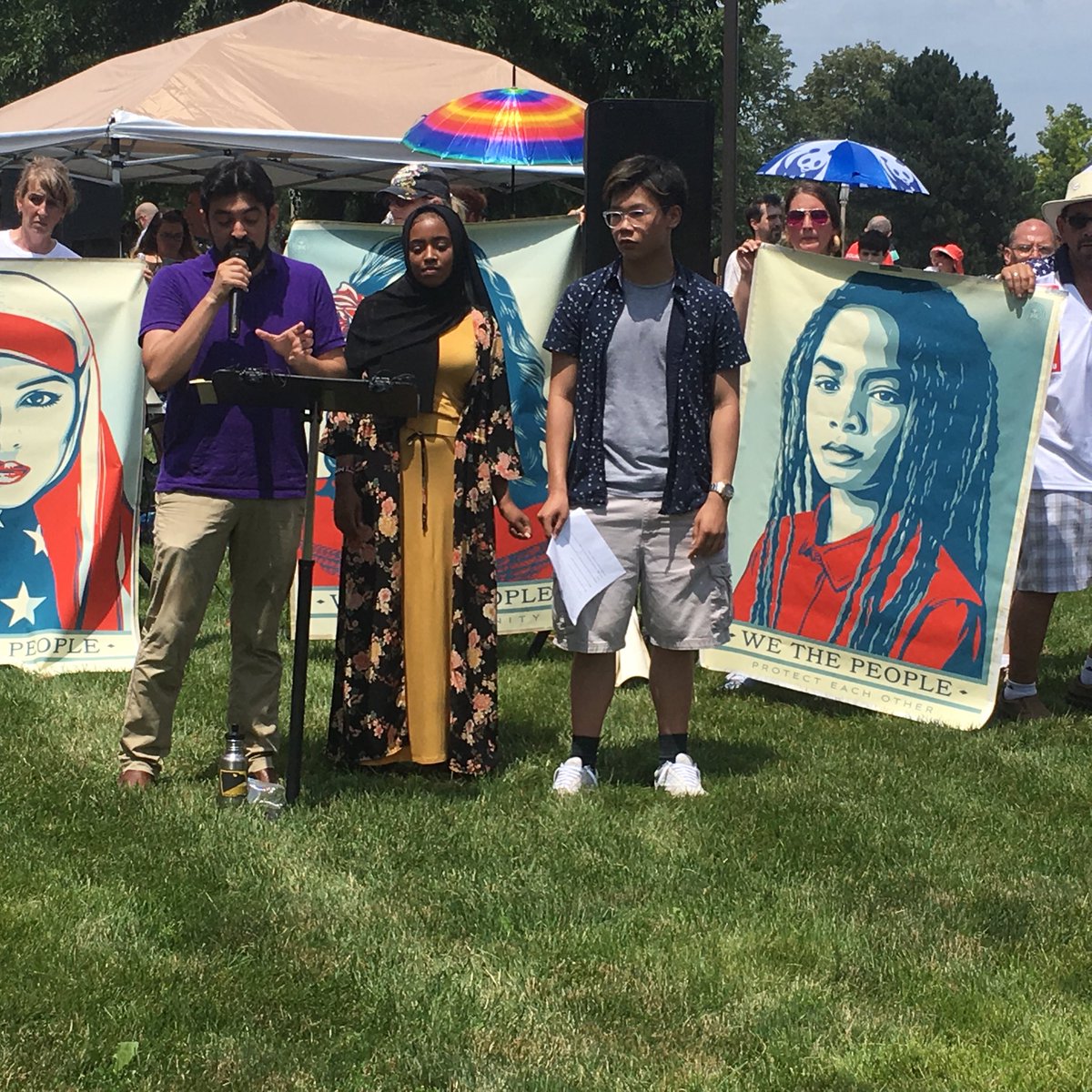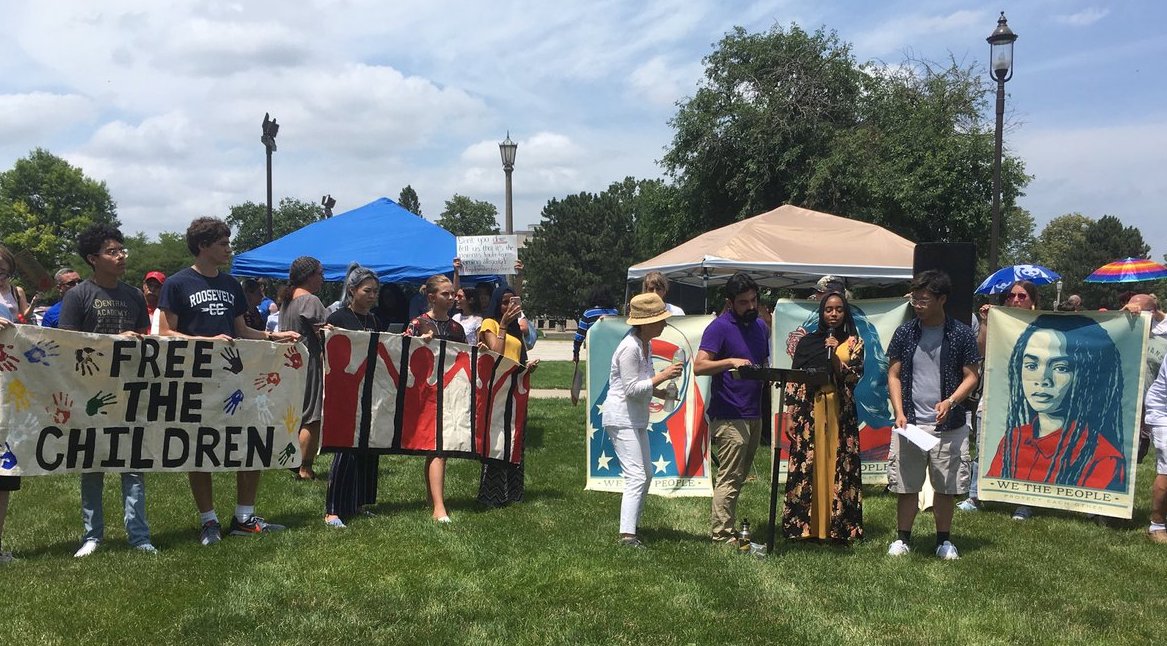 Toya Johnson, family law reform advocate and Libertarian candidate in Iowa House district 32: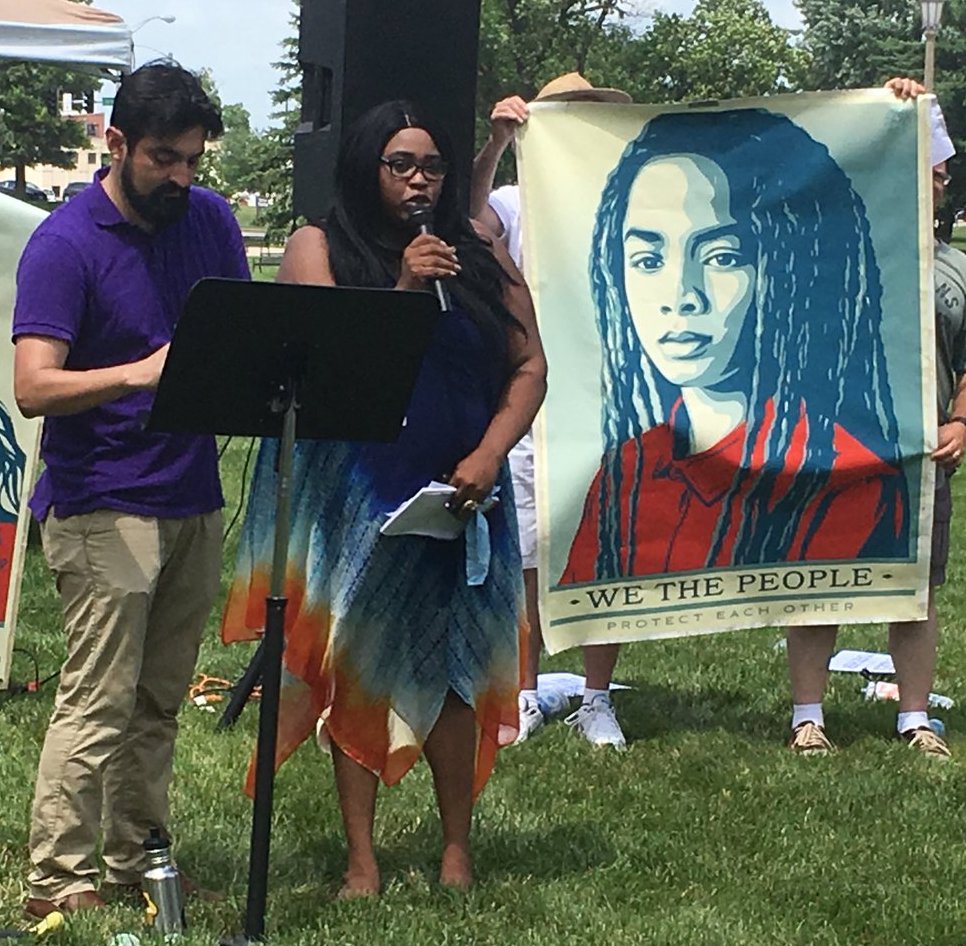 Some of my favorite signs included "This land was made for you and me":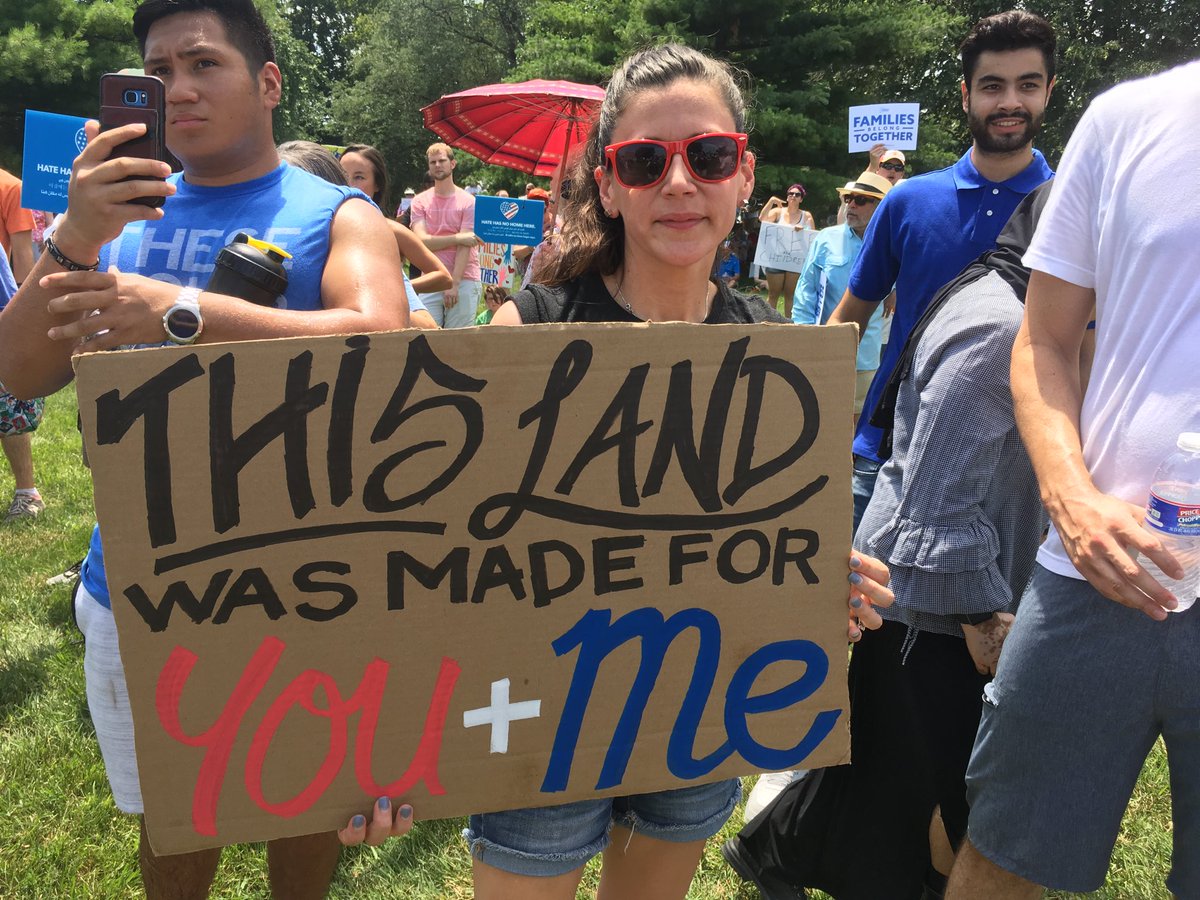 And "Whose babies would Jesus cage?"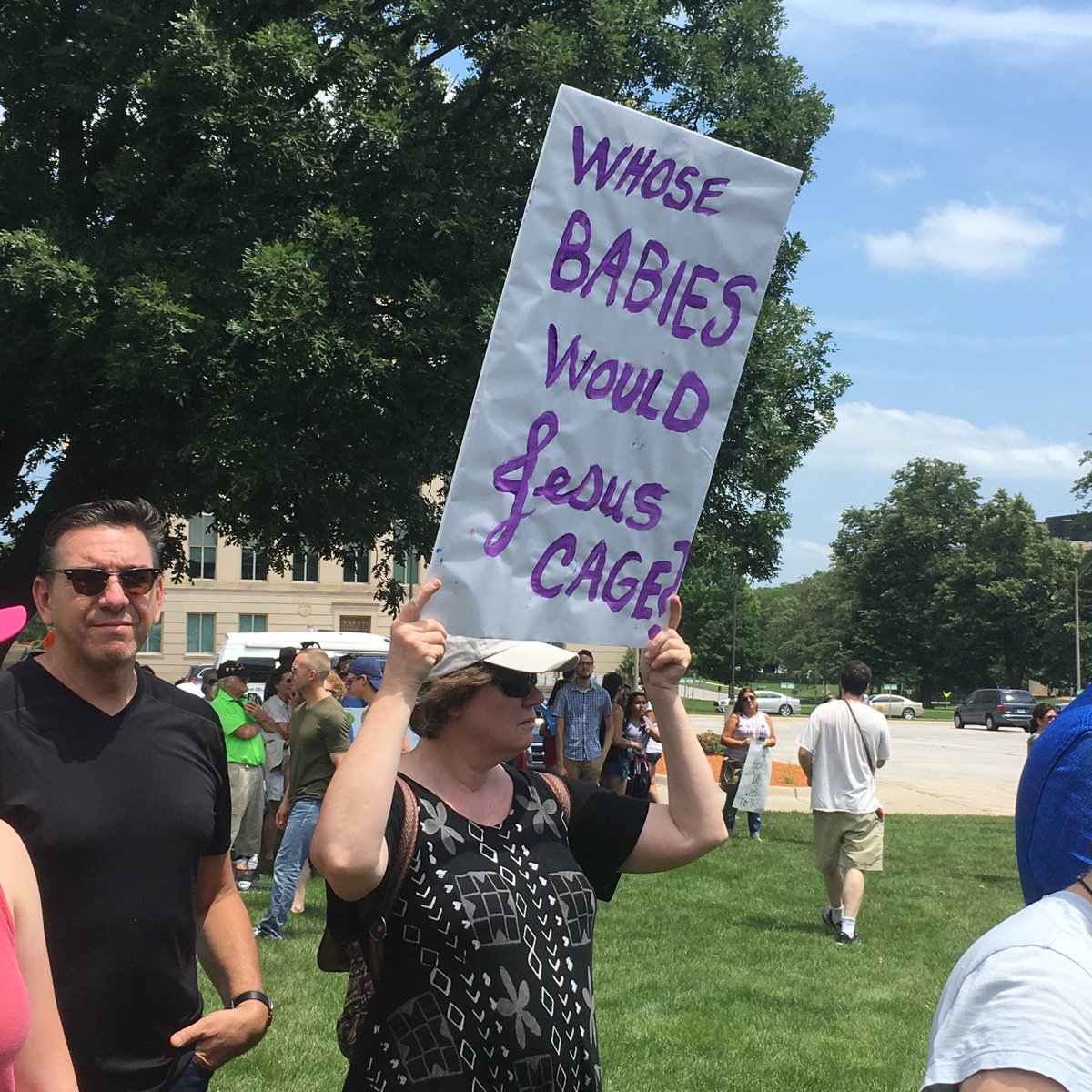 The politician for sale made me laugh.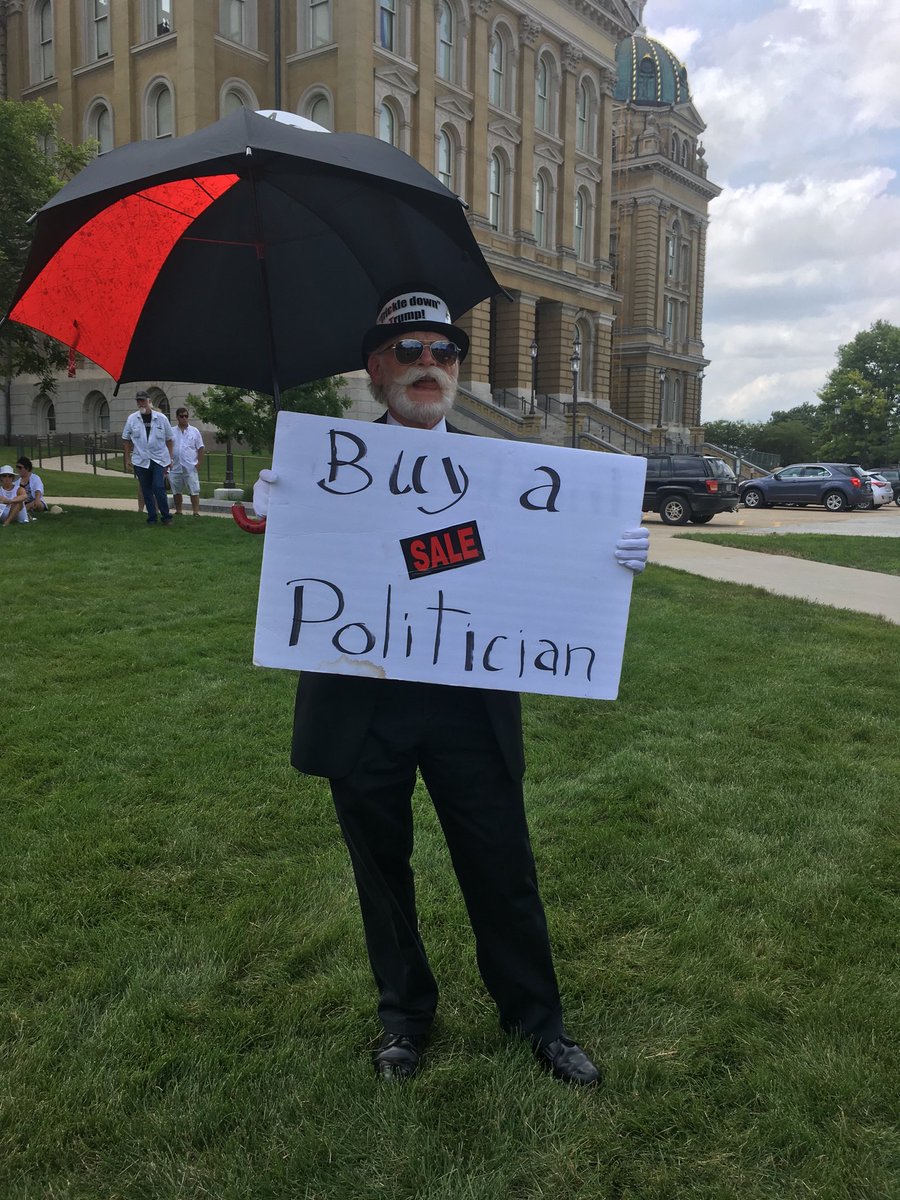 Claire Celsi, Democratic nominee in Iowa Senate district 21, took the next eight photographs. "Hate has no home here" was among the popular mass-produced signs at the event: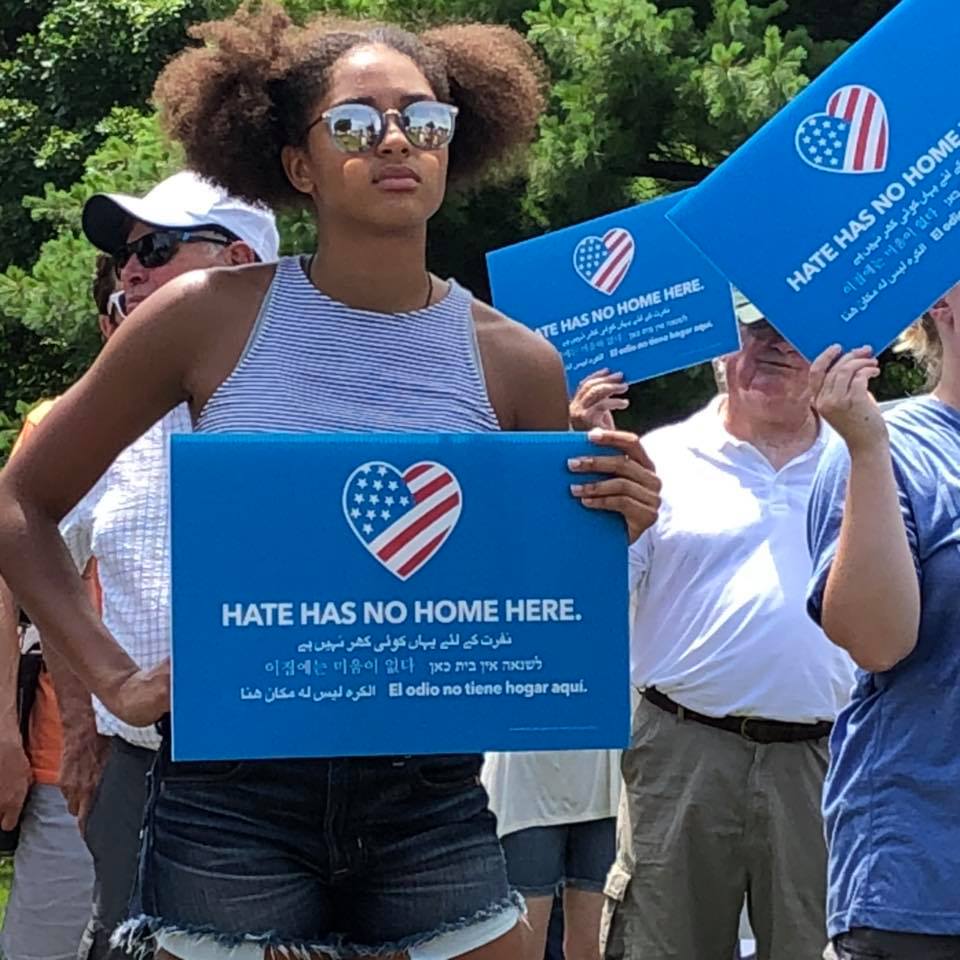 I'm partial to hand-made signs. Many people carried signs in Spanish.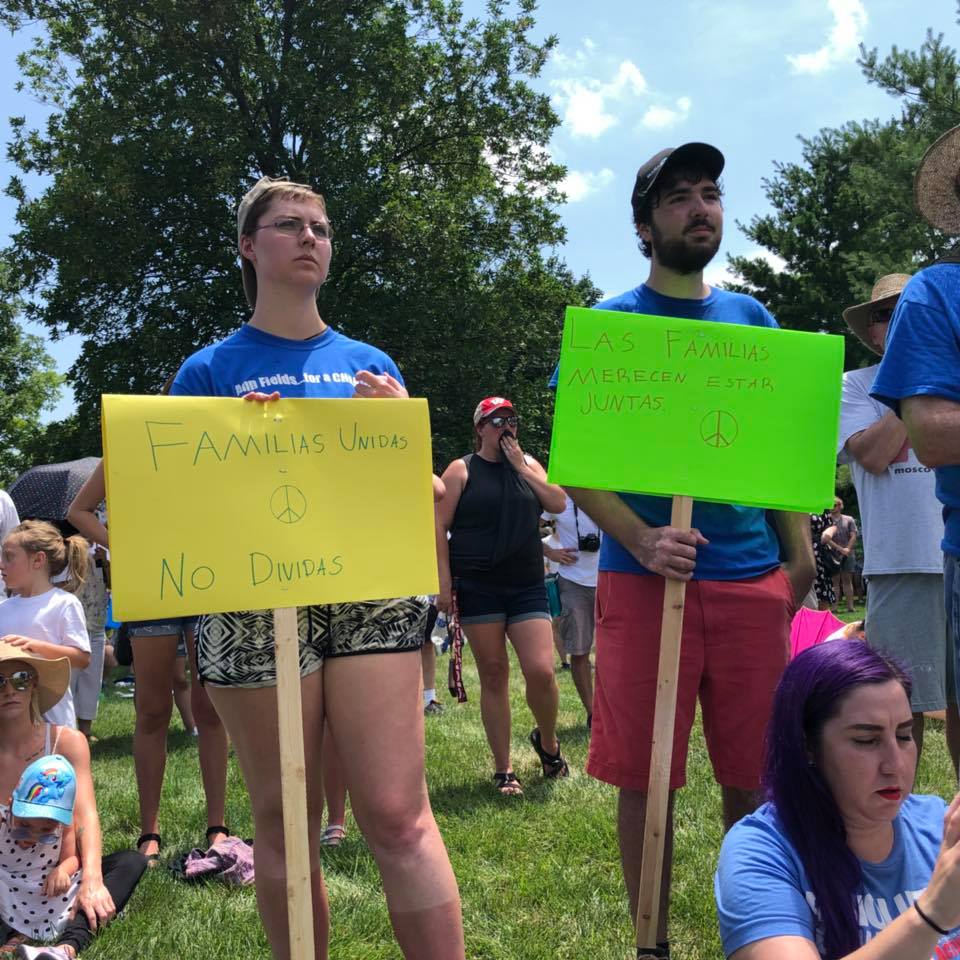 More young people speaking about heartbreaking separations in their families or communities: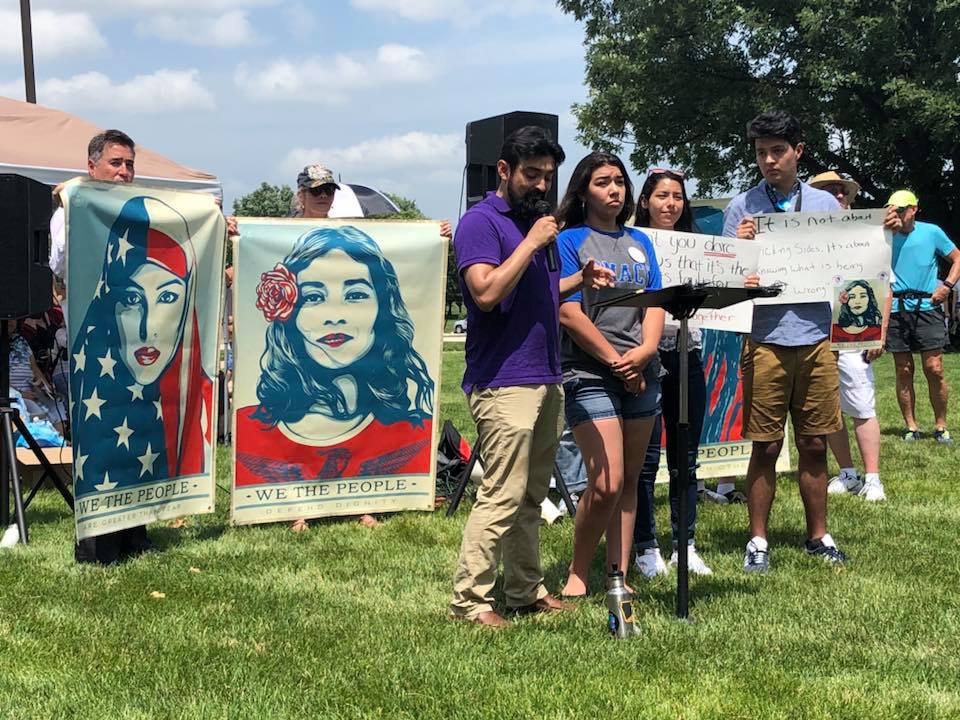 Many signs decried the use of cages in detention facilities for children and adults.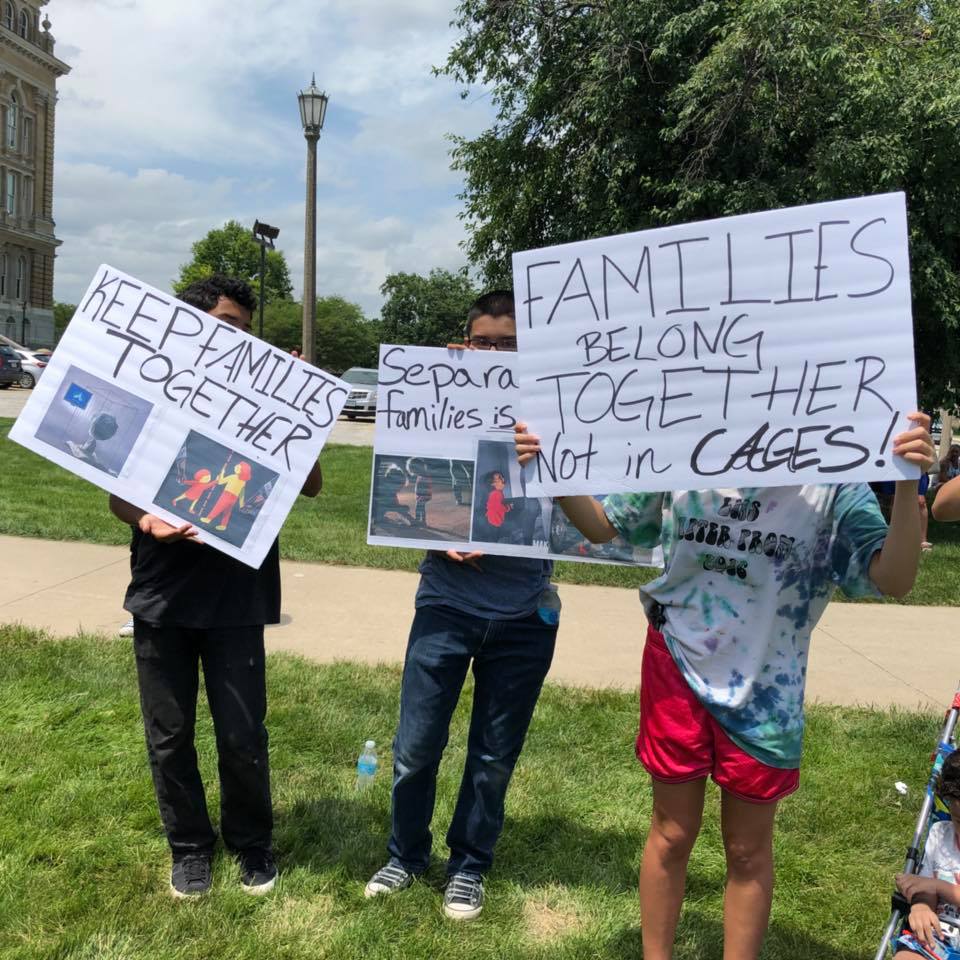 "Keeping families together is not a party issue":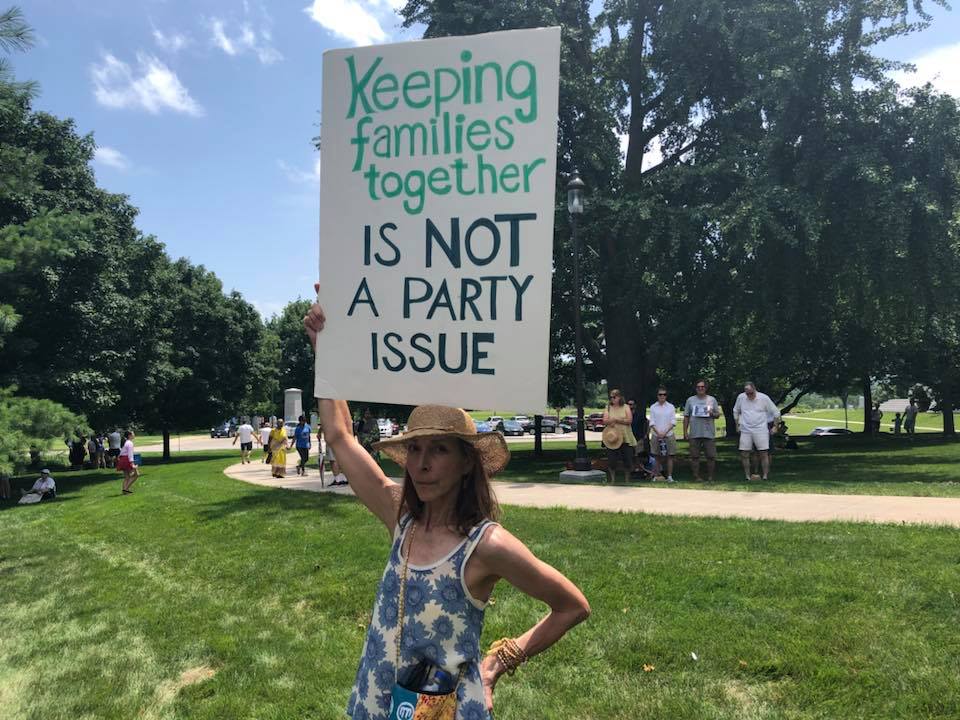 "Zero tolerance for bigotry and cruelty":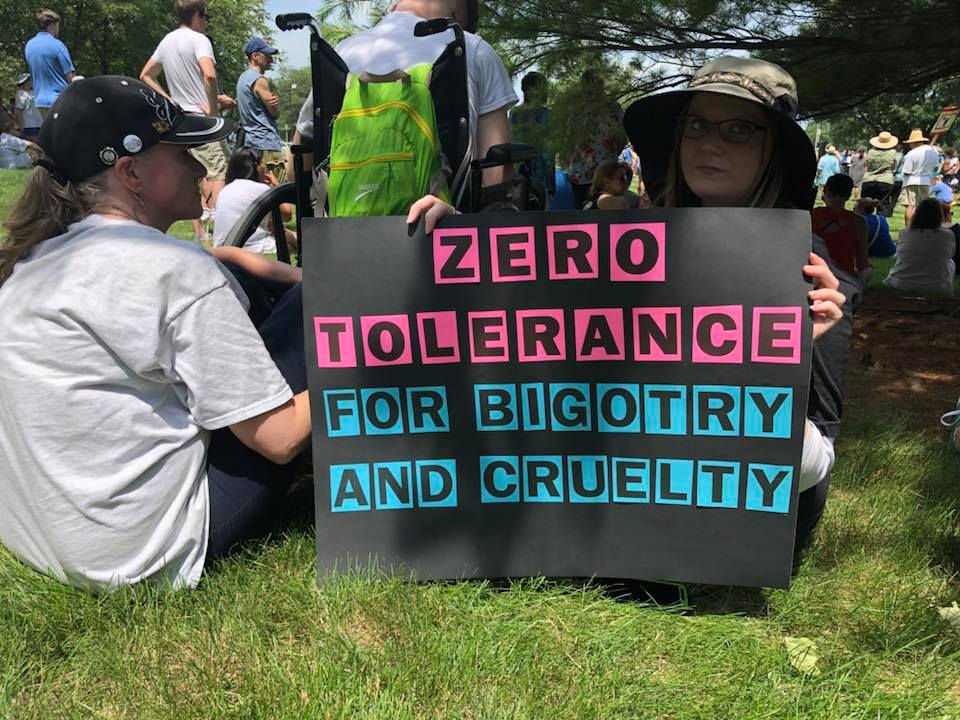 "I'm seventeen and I still need my moms":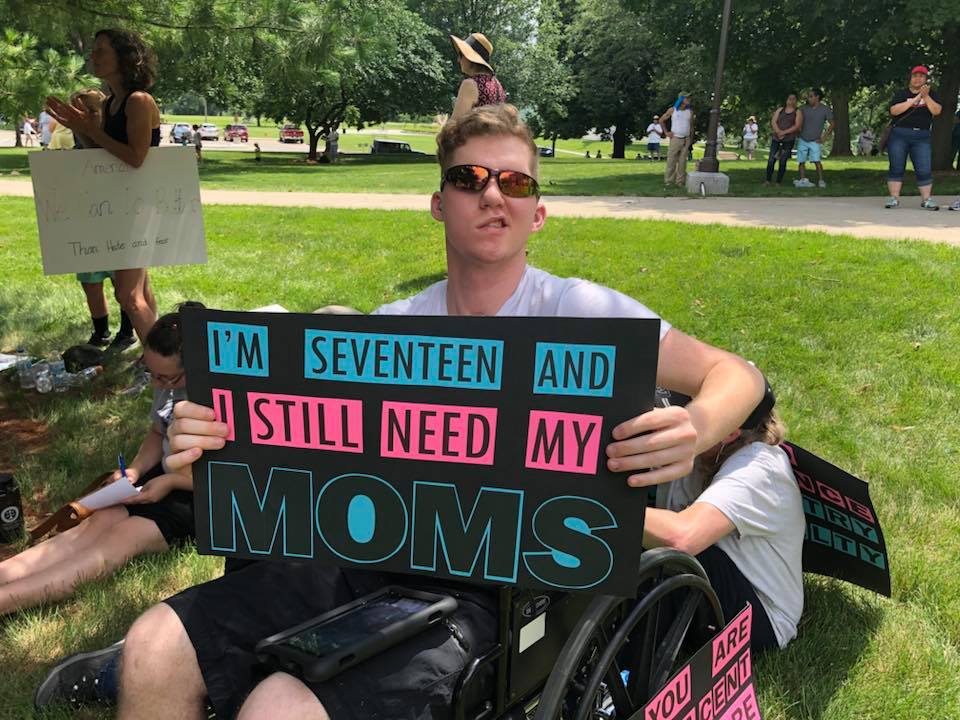 Quite a few people alluded to Melania Trump's infamous Zara military-style jacket: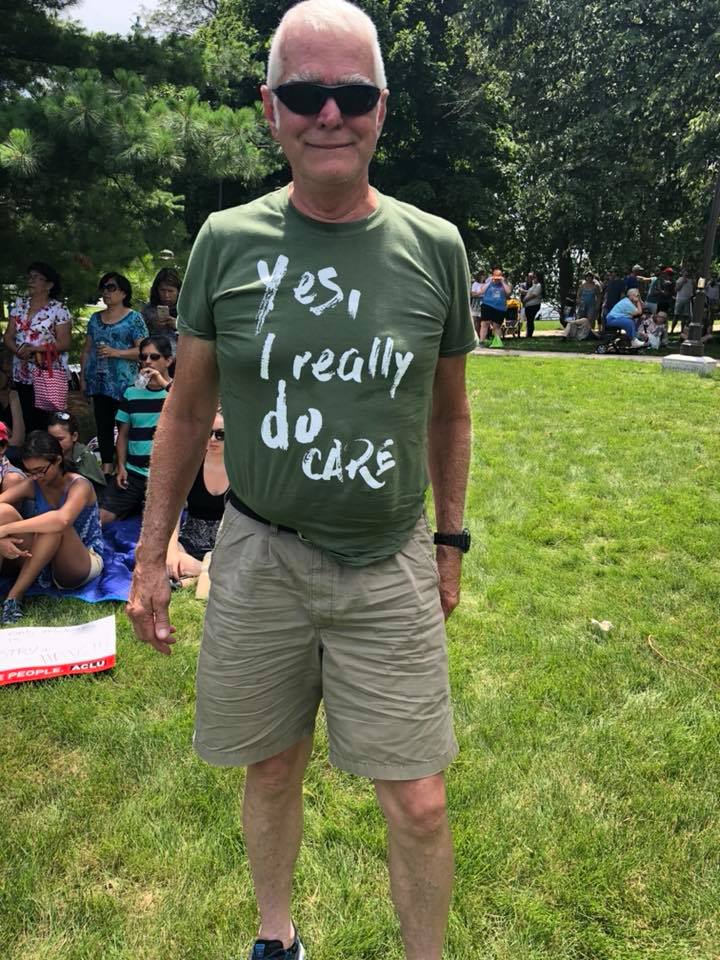 Jeanne Uhl posted the next eight pictures on Facebook. Messages about voting in November were popular: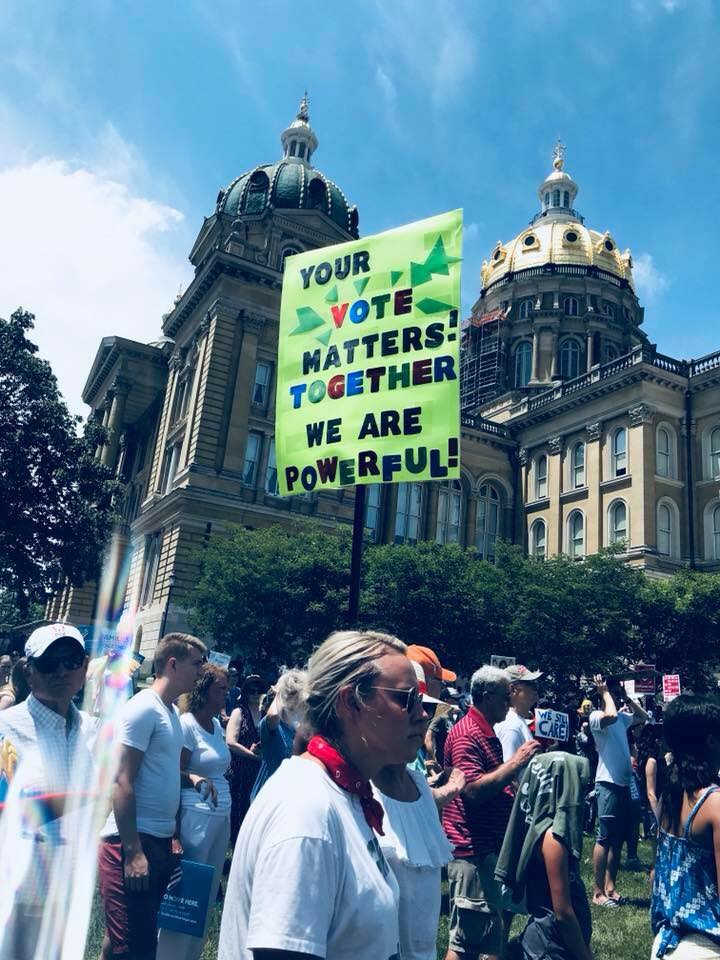 As were plays on the Trump slogan "Make America Great Again":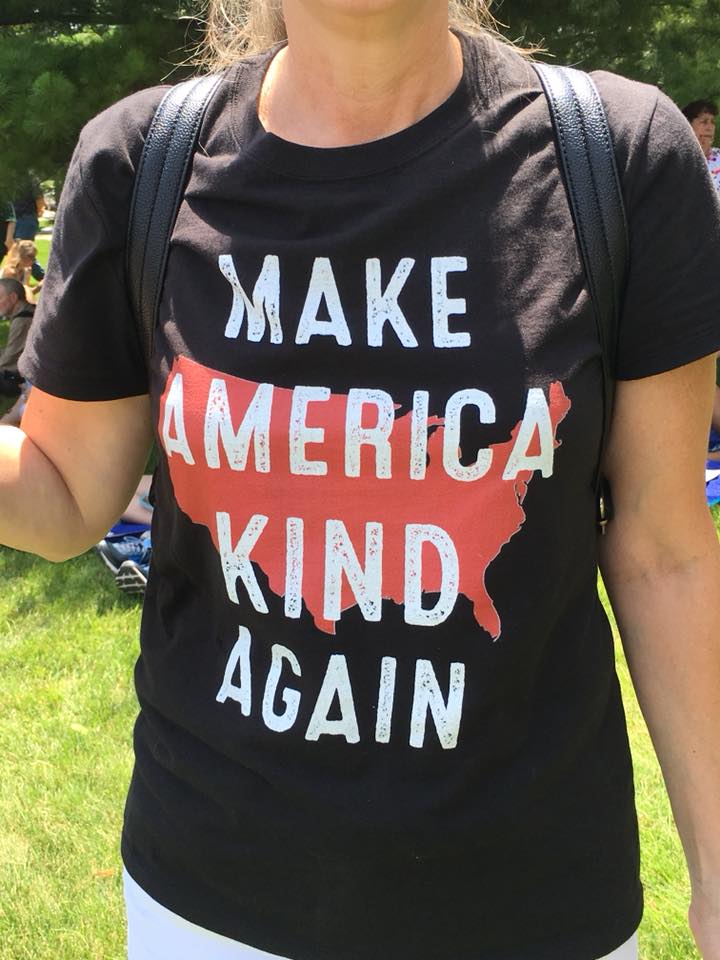 "Immigrants make America great":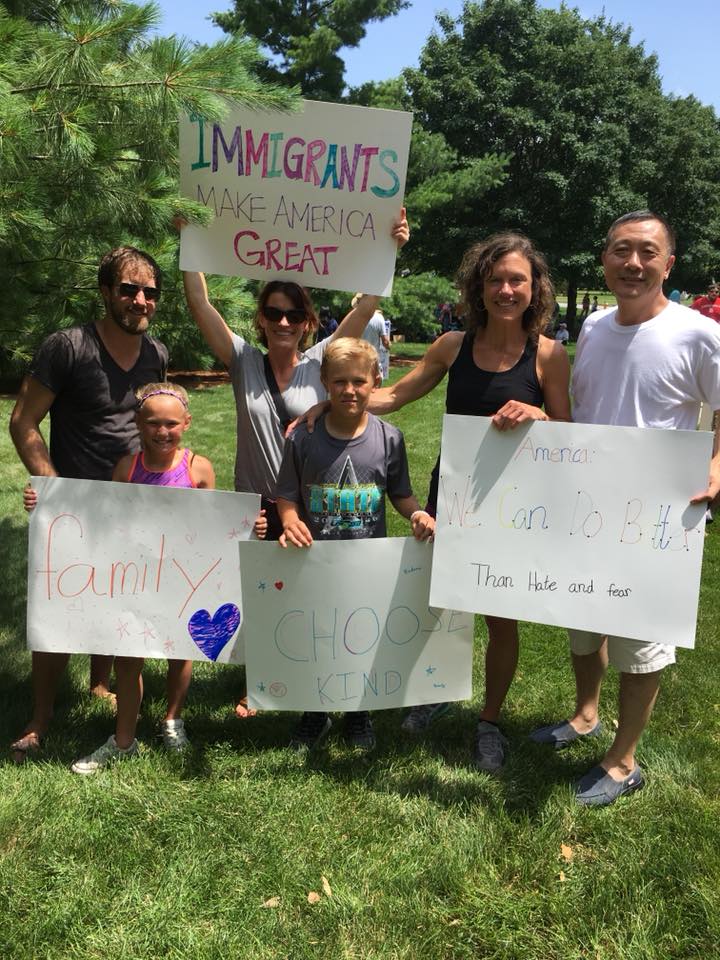 Lots of parents brought their children: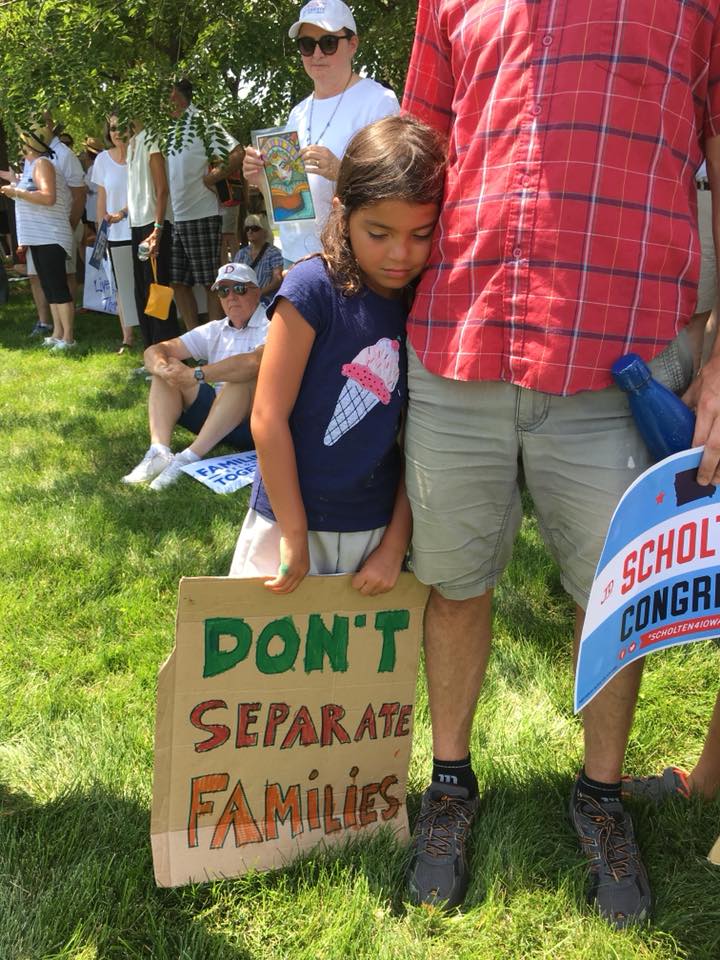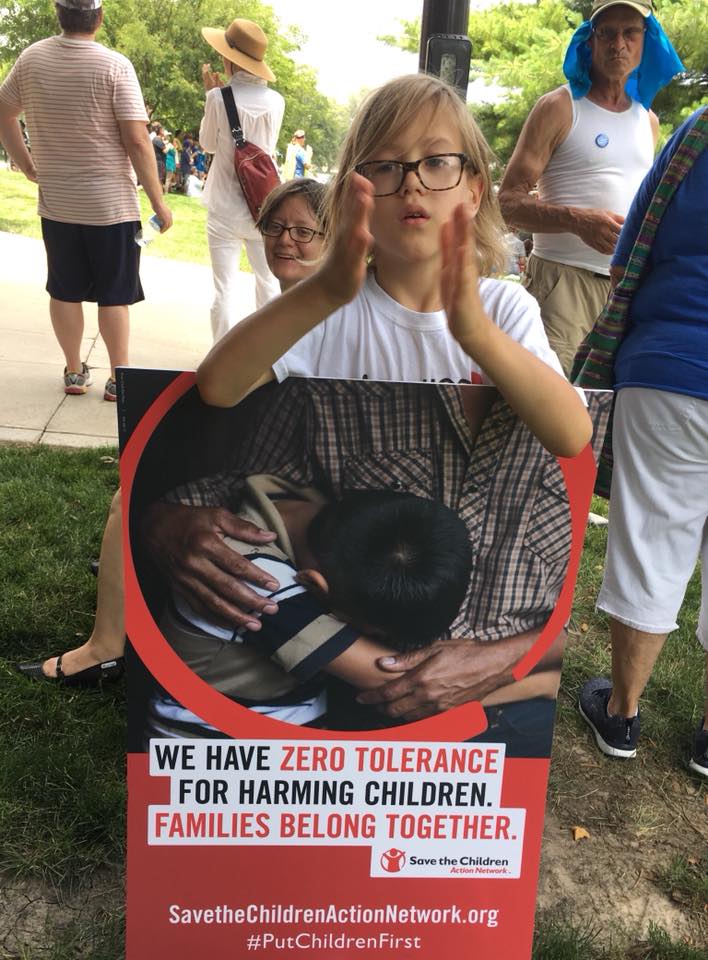 And many seasoned veterans of political protests were in attendance: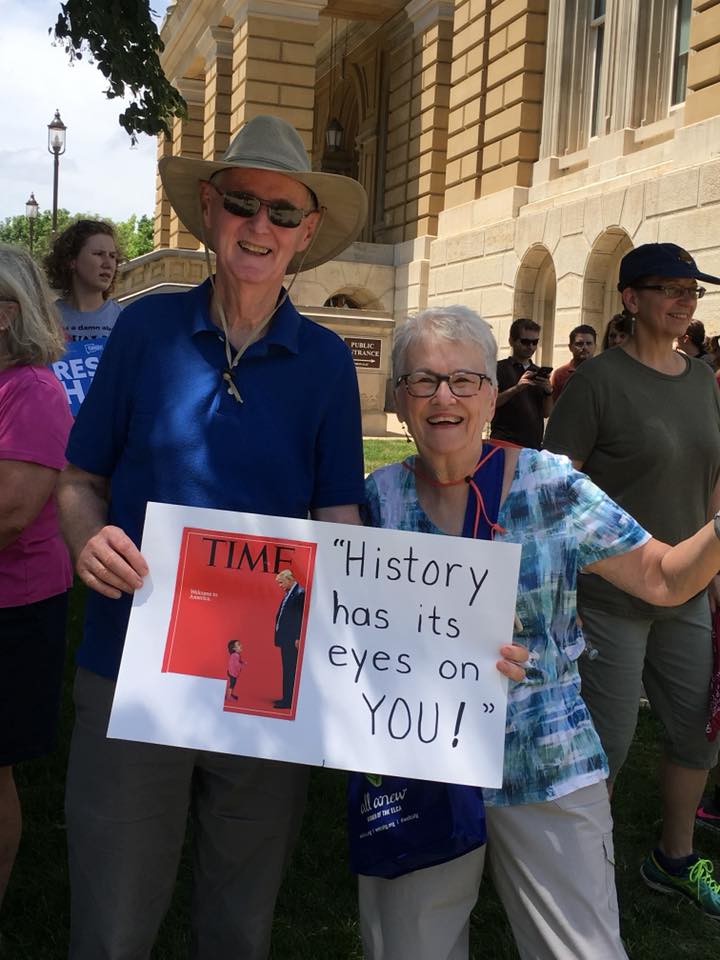 "I was a stranger and you welcomed me" was among the Biblical quotes featured on hand-made signs.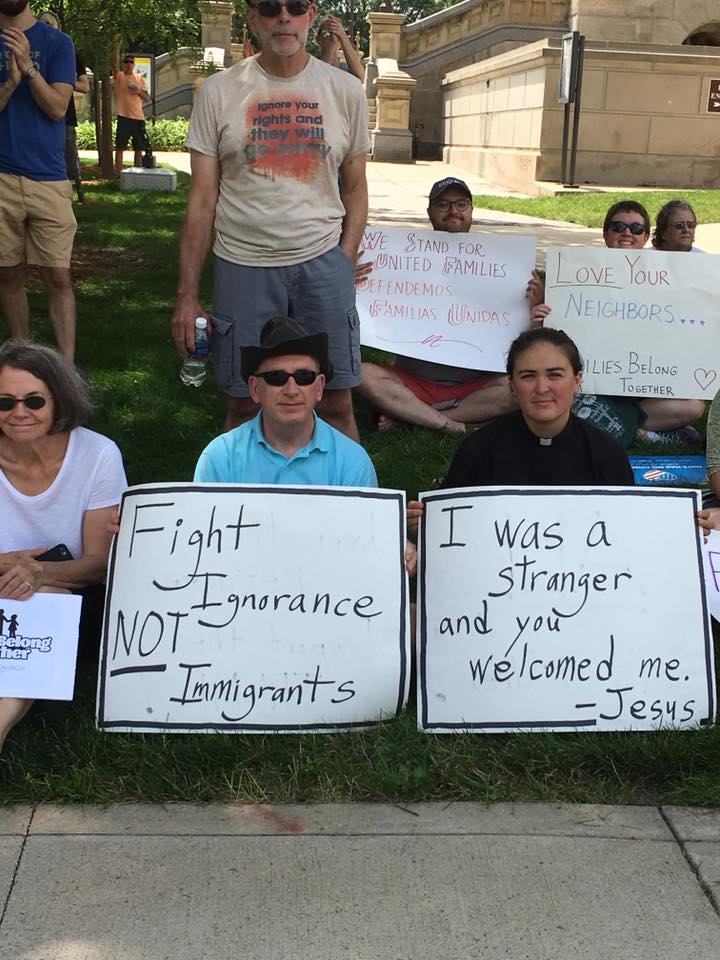 Plays on words were also popular. "If you are complacent then you are complicit":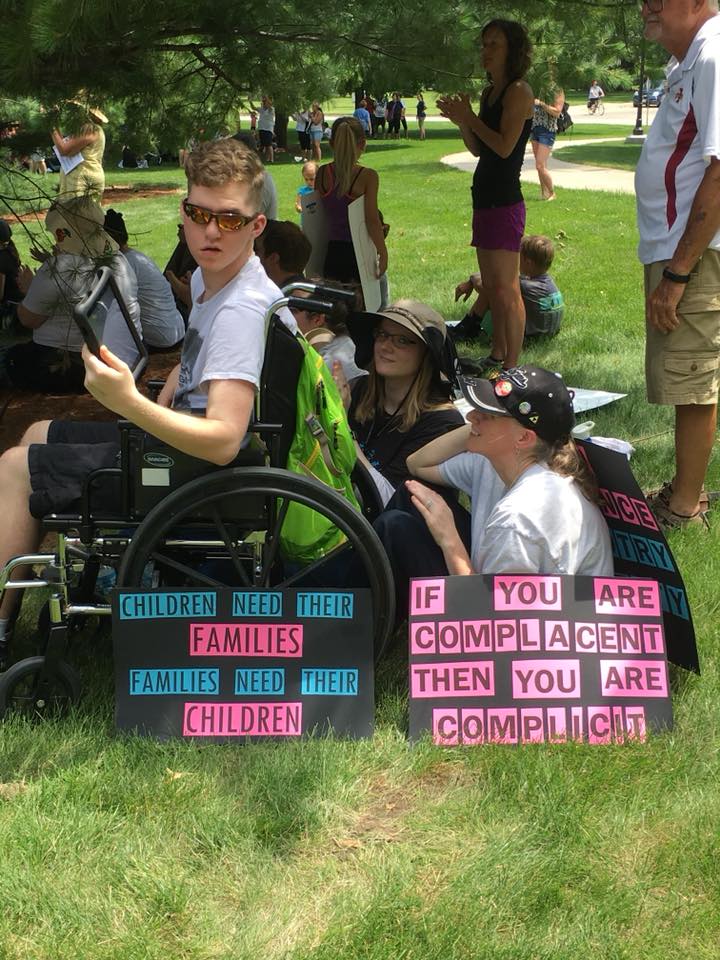 DAVENPORT
Dan Foley, Jr gave permission to share his pictures from the Madres Unidas rally in the Quad Cities.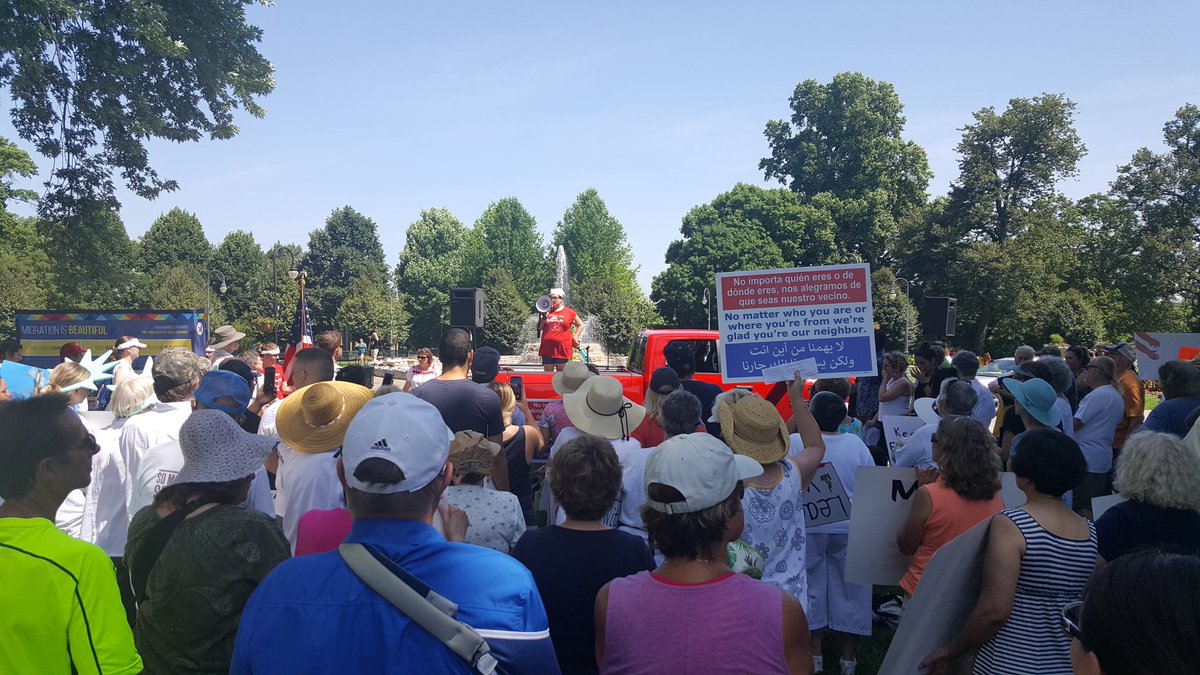 "Will trade racists for refugees" t-shirt: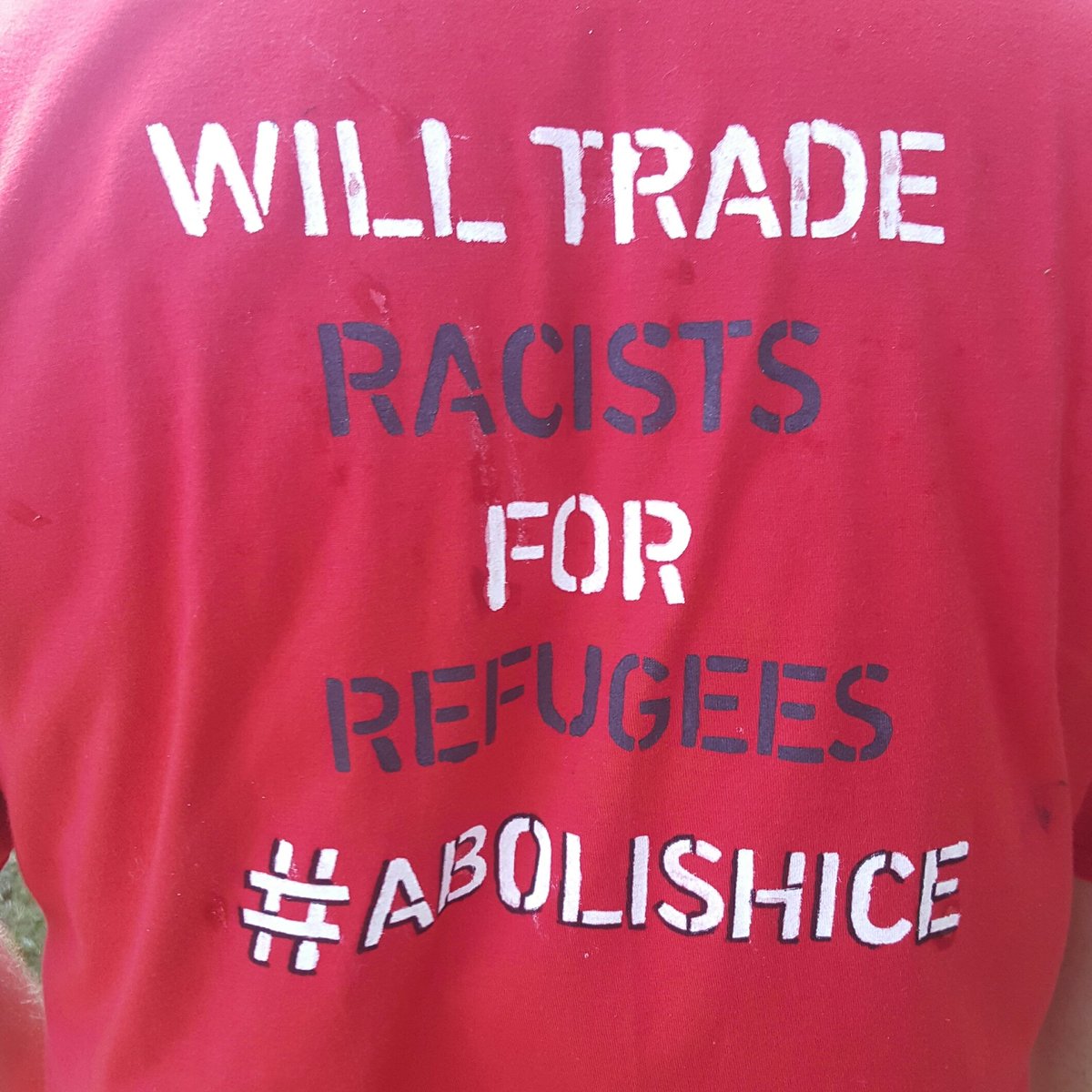 From the Quad Cities chapter of Democratic Socialists of America: "We will not
be silent in the face of injustice!"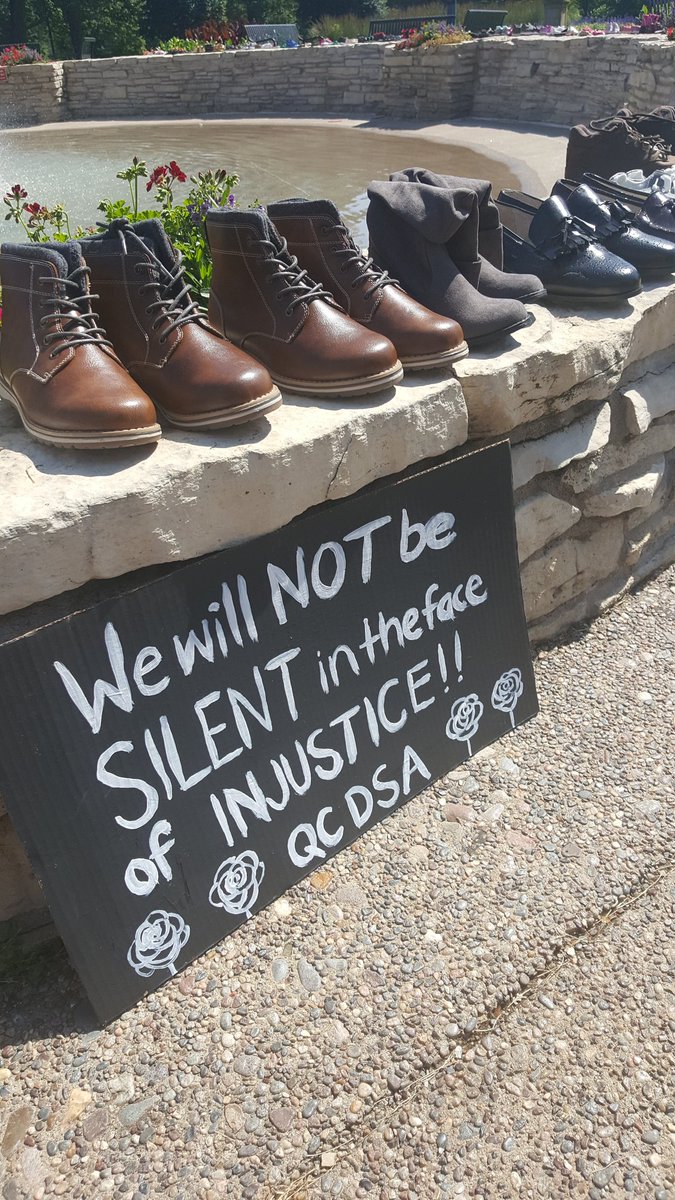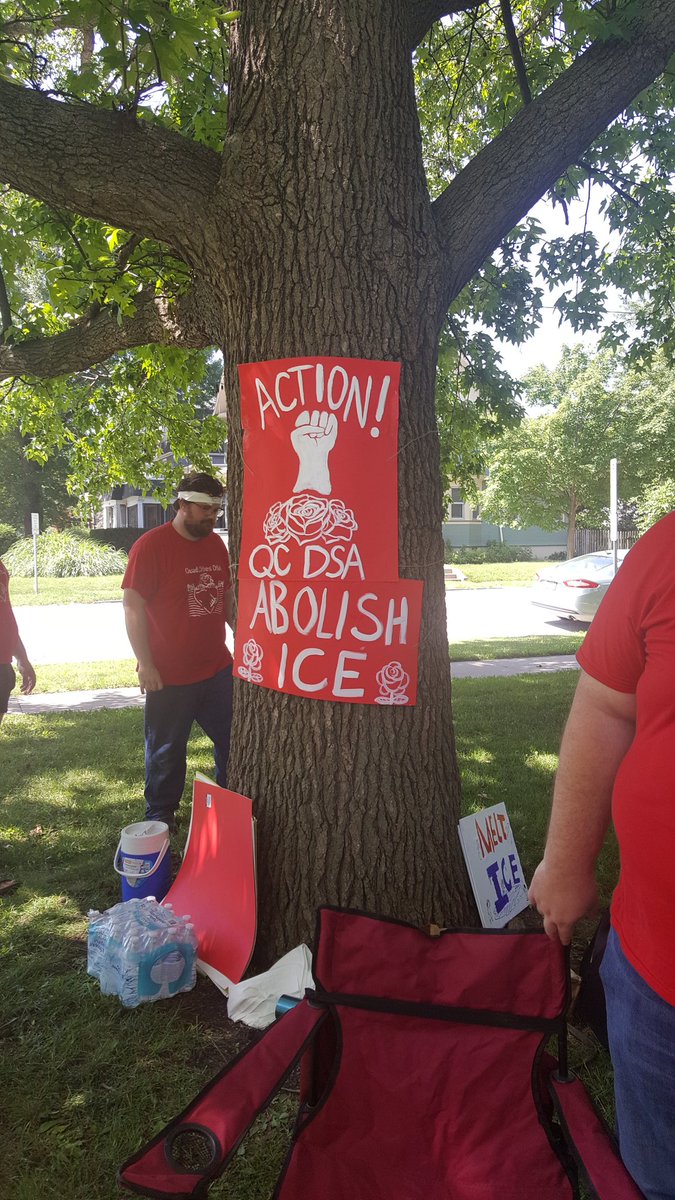 Tracy Leone posted this picture of donations to help families of workers recently detained by Immigrations and Customs Enforcement in Mount Pleasant.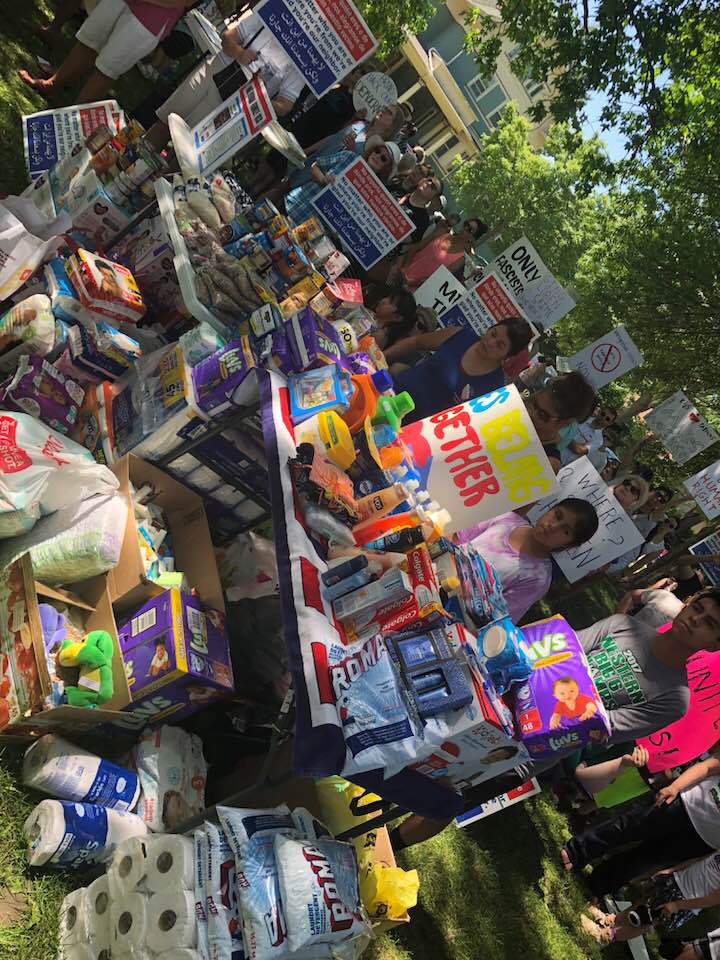 "Migration is beautiful"–a history lesson shared by the Postcards for America Twitter account: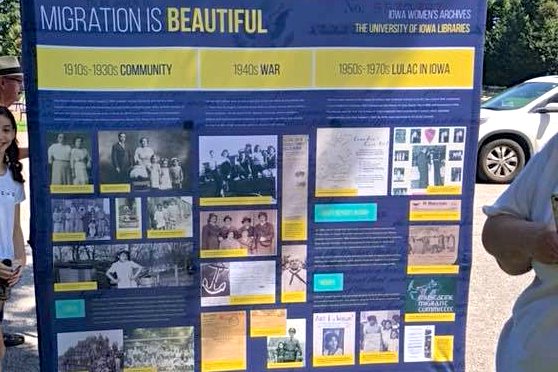 MARSHALLTOWN
About 125 people gathered outside the Marshall County courthouse in Marshalltown, home to a large and growing Latino community. This picture comes courtesy of Twitter user Grizzled Mike: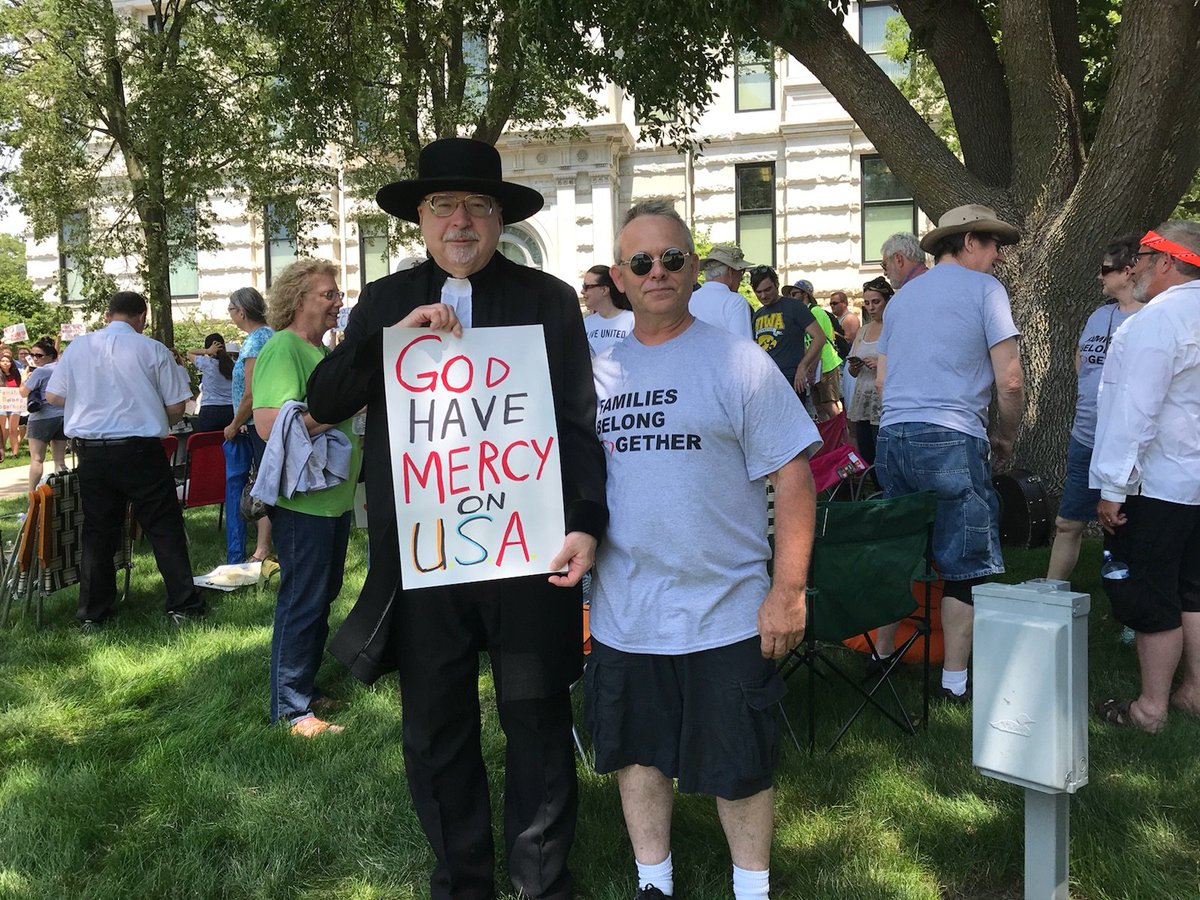 April Long took this picture. Yes, it does seem so obvious that families belong together.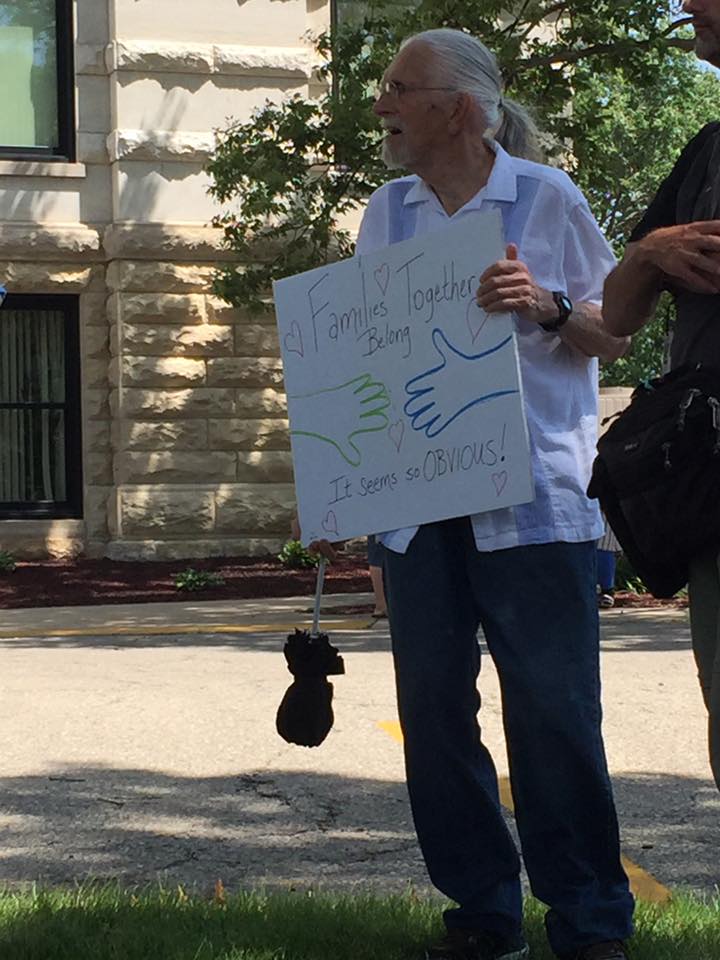 CEDAR FALLS
Sherry Kiskunas photographed some of the 400 people at the Cedar Falls march. Black Hawk County Supervisor Christopher Schwartz is the bearded man in the foreground.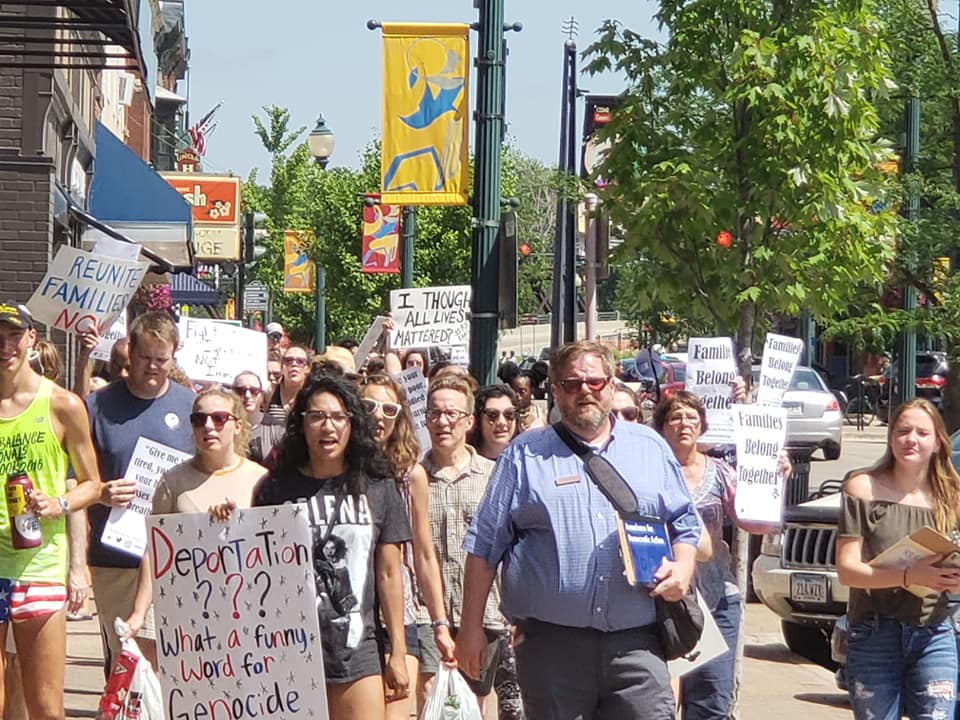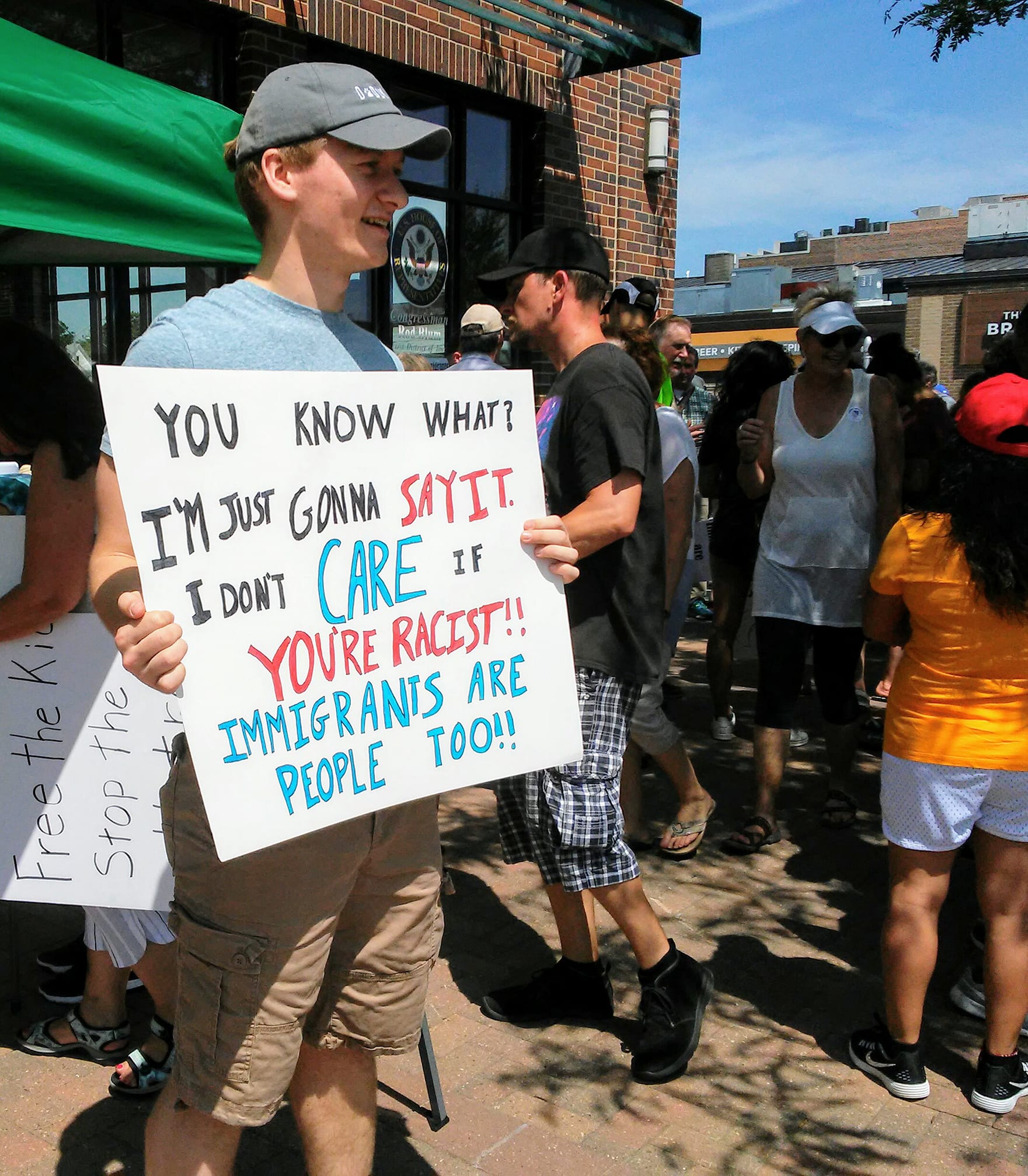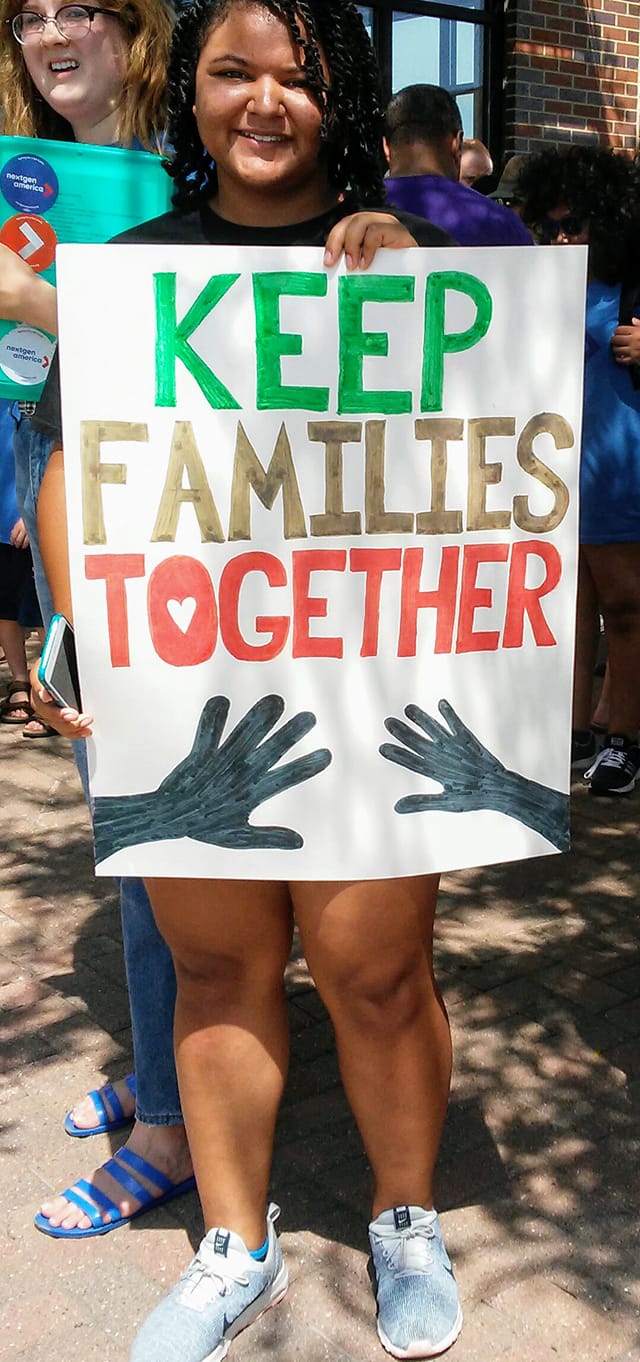 If anyone's looking for a July 4 sign idea, "Dissent gave birth to this nation" is a good one.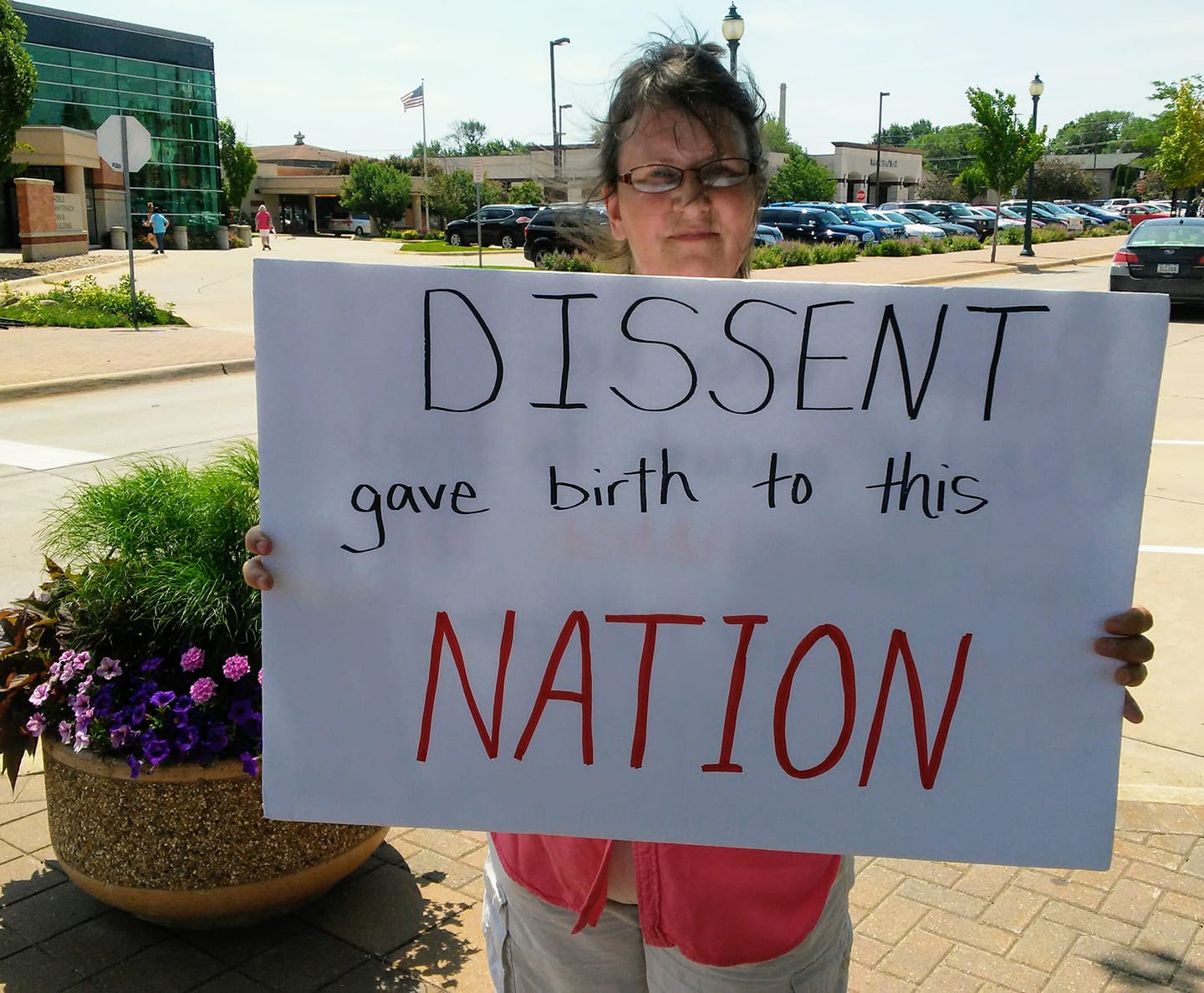 IOWA CITY
Hundreds of people turned out in Iowa City. Alexandra Rucinski made the trip up from Burlington for the rally and posted the following nine pictures on Facebook. Here she is with her son.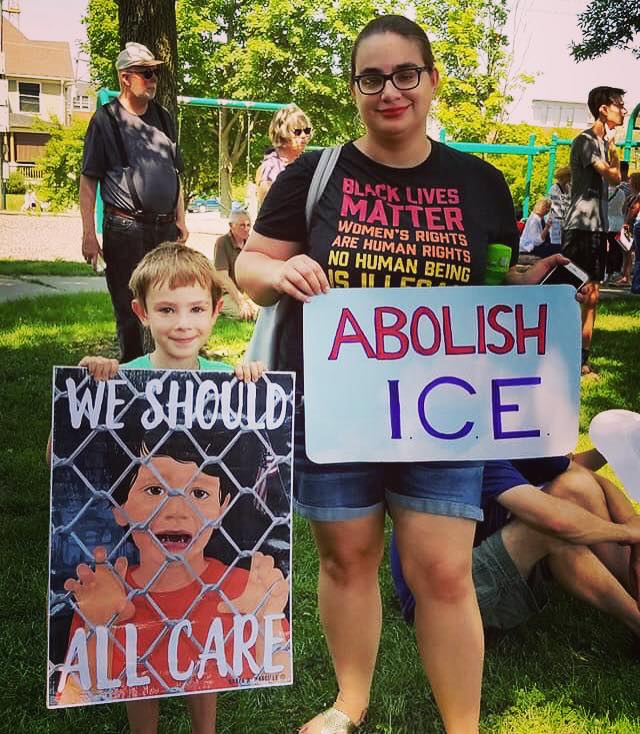 A reference to the poem featured on the Statue of Liberty: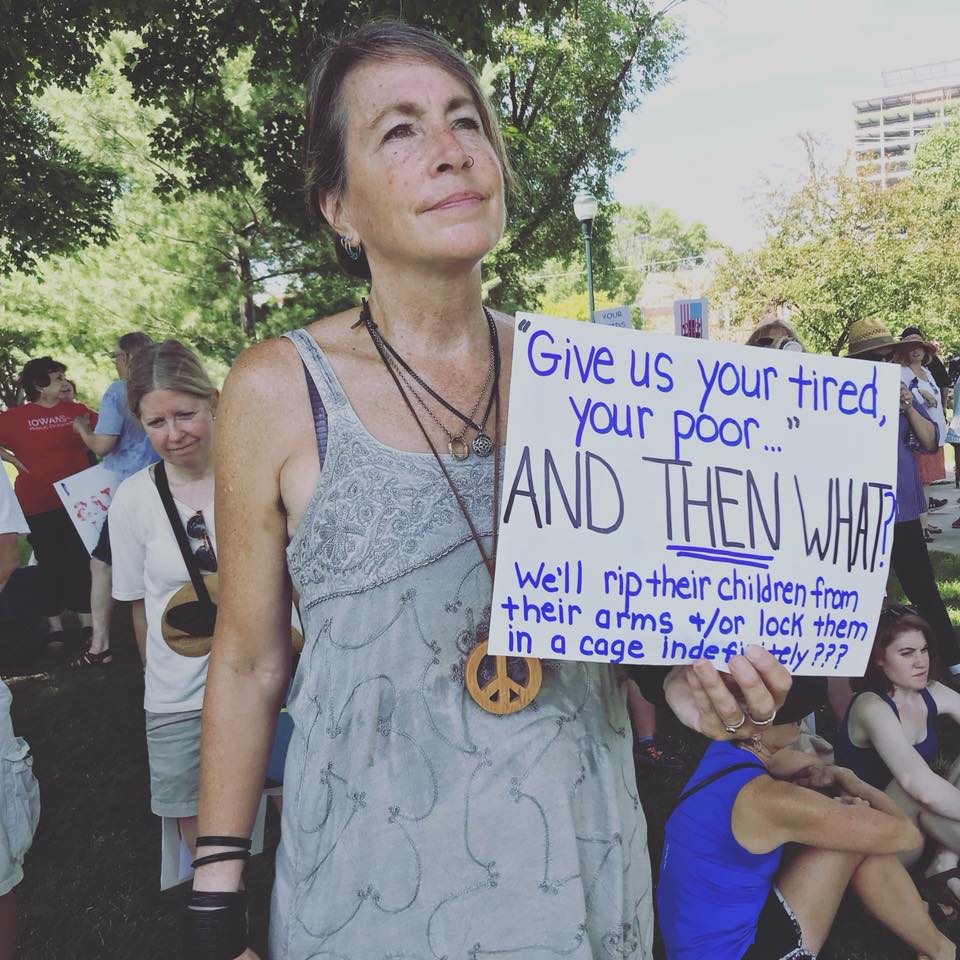 One of the most popular expressions on signs: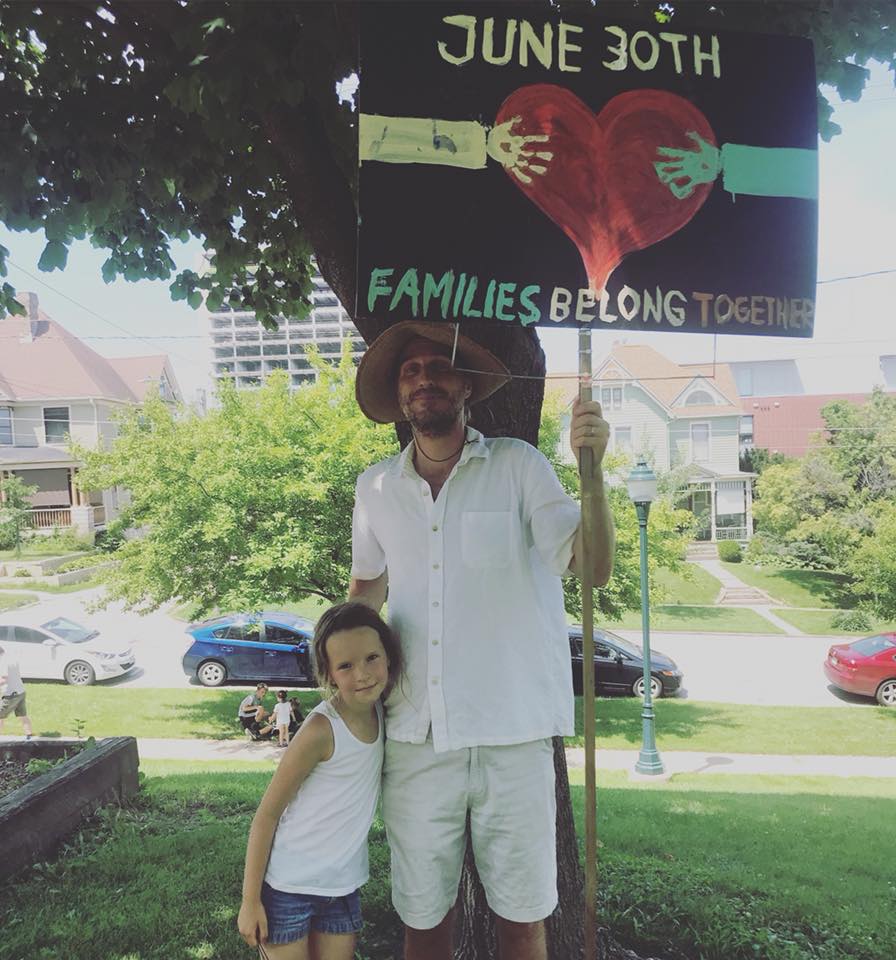 "Cruelty is not strength":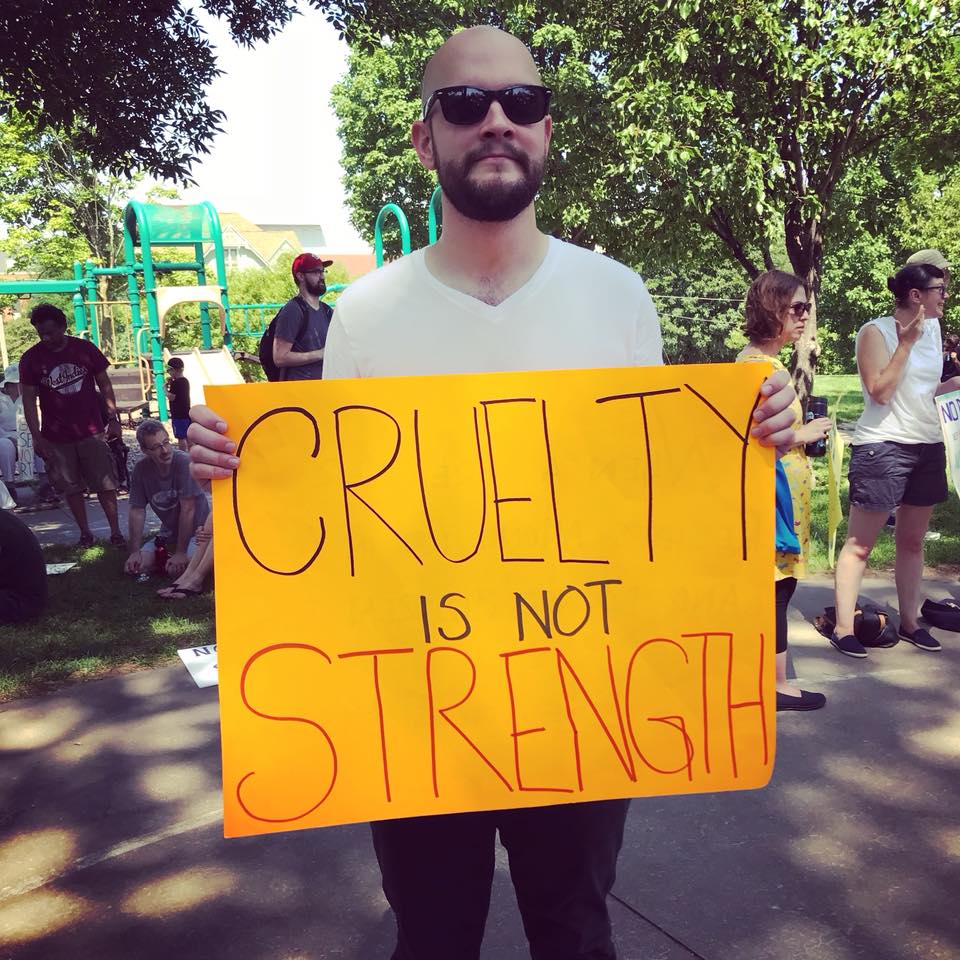 I don't speak Spanish and was not familiar with this word. Rough translation: "Donald, you are an asshole." Here's the backstory on the slogan.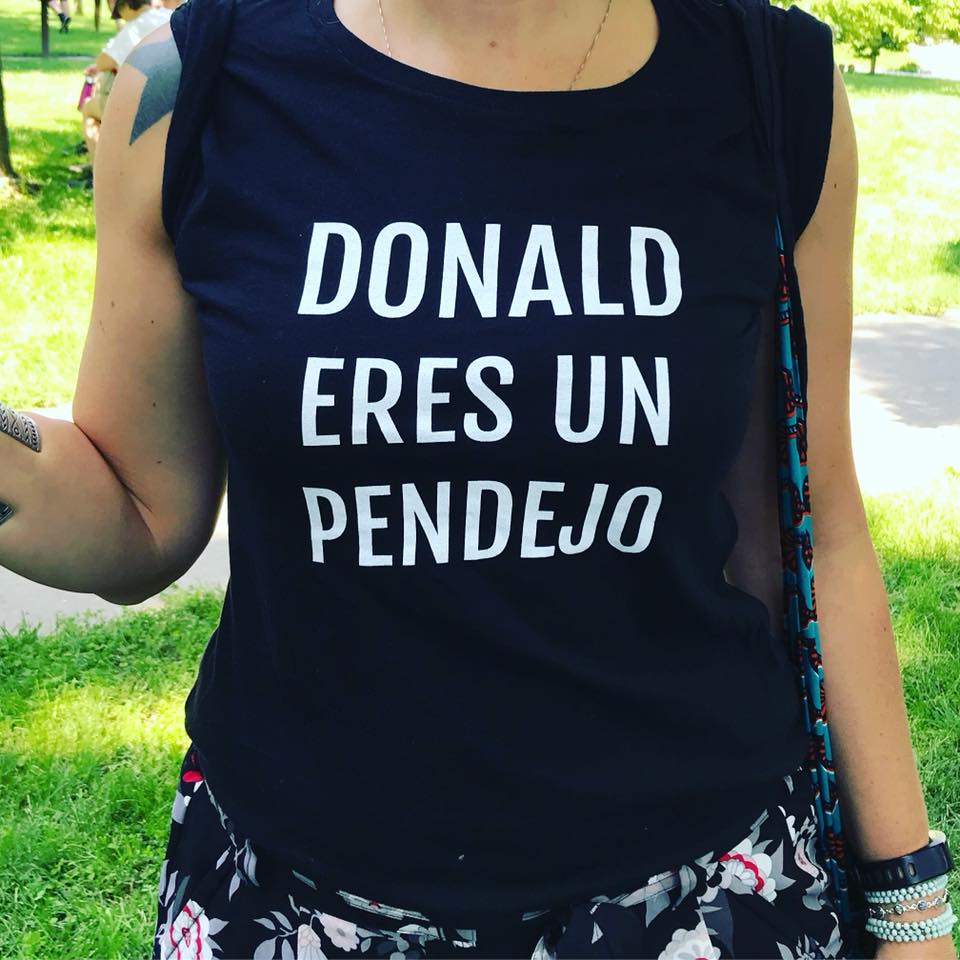 "Seeking asylum is NOT a crime":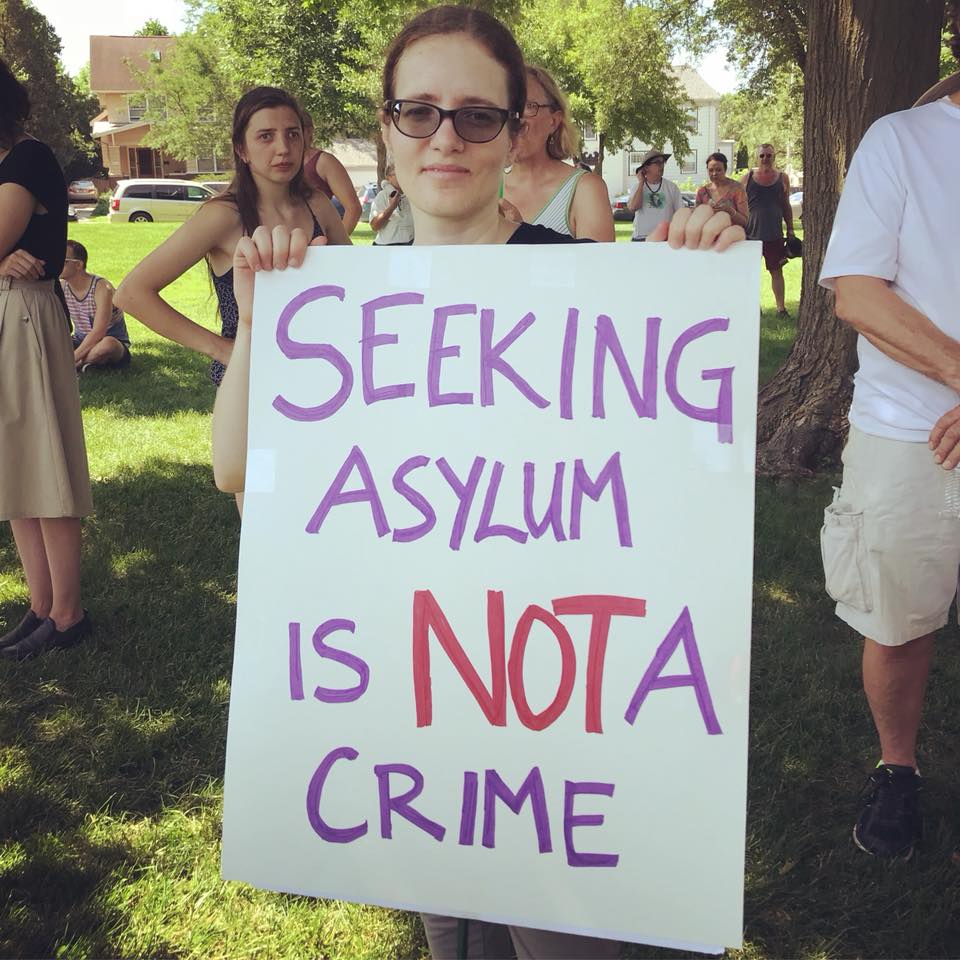 Another reference to the conditions in which immigrant children are being detained: "Space blankets belong with the space force."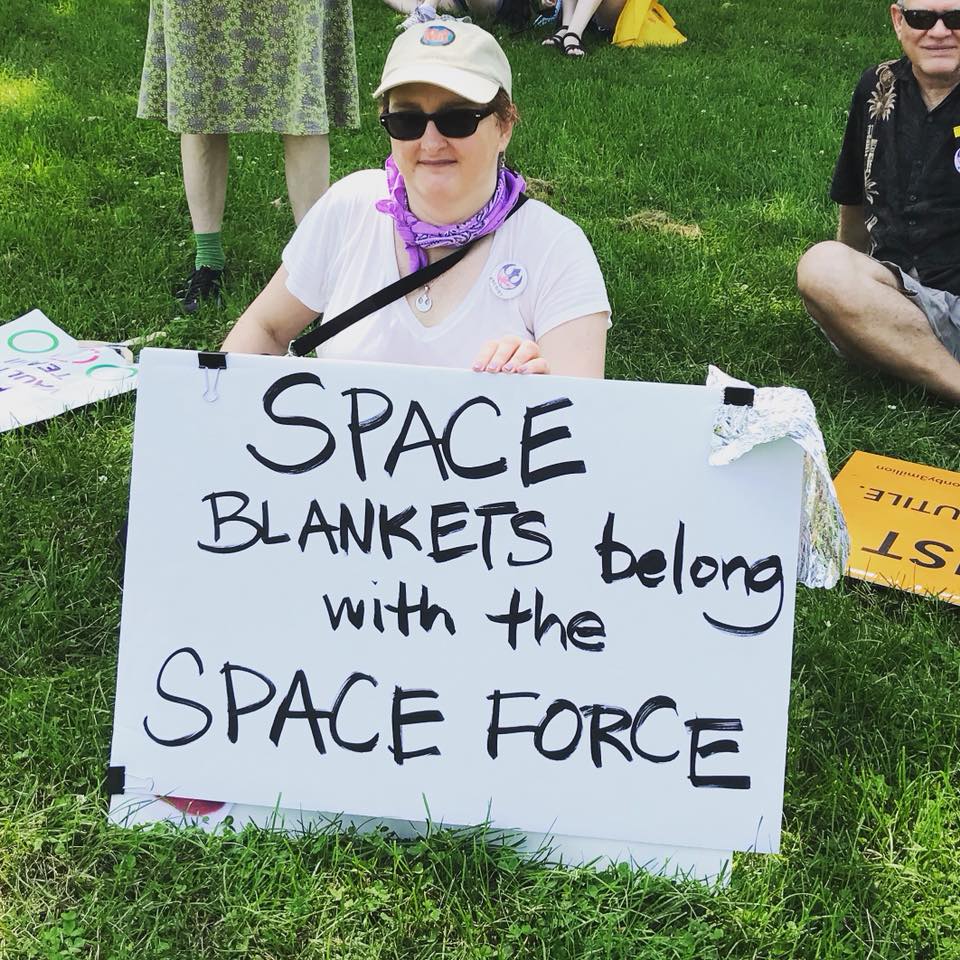 "2000 children sleep without Mommy tonight":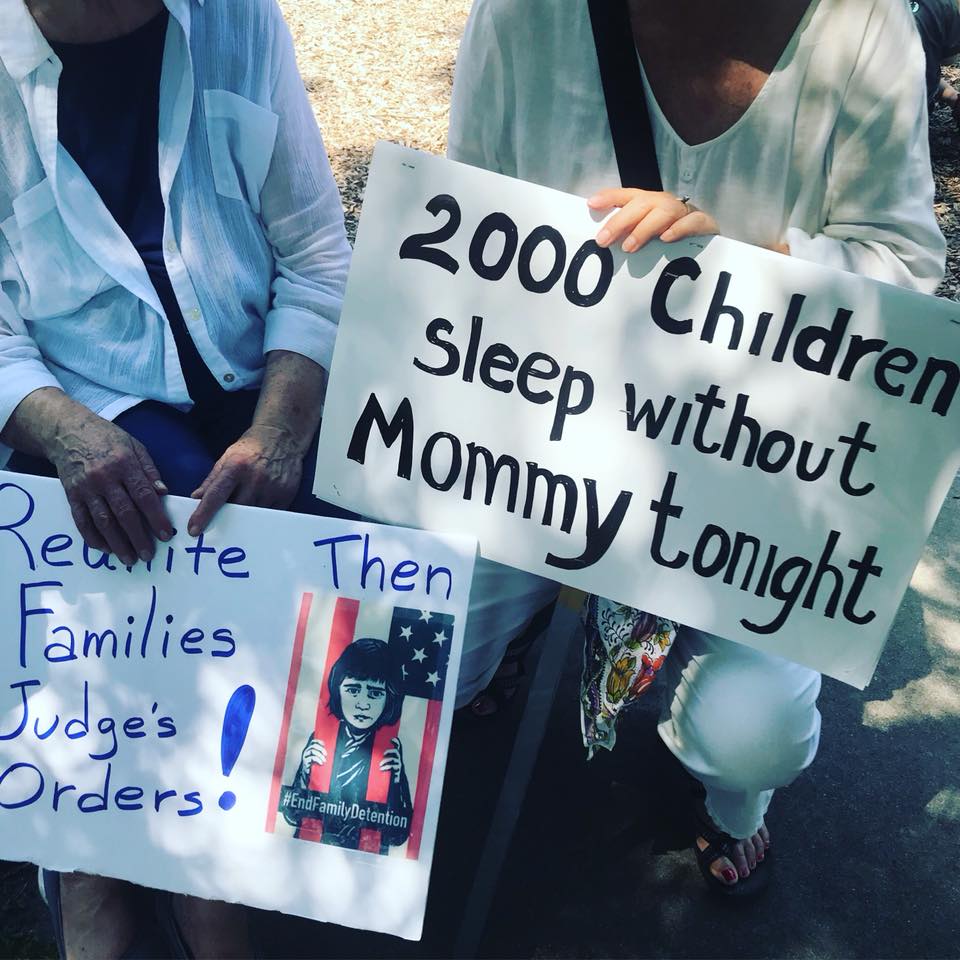 This one must be a Southern transplant: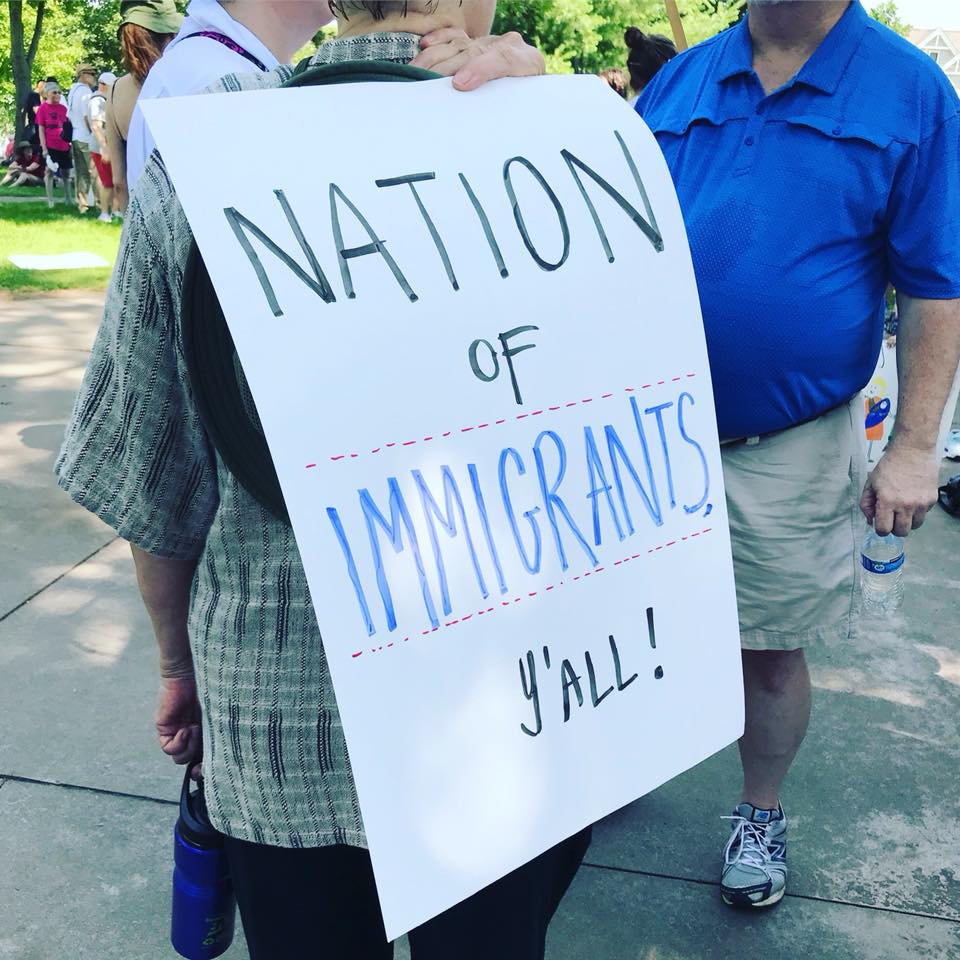 The last photo from Iowa City comes courtesy of Natalie Whelchel.
SIOUX CITY
Deb Mandicino posted more than 100 pictures from the Sioux City rally and march on the Siouxland Human Rights Watch page. I picked out twelve. "Silence is compliance":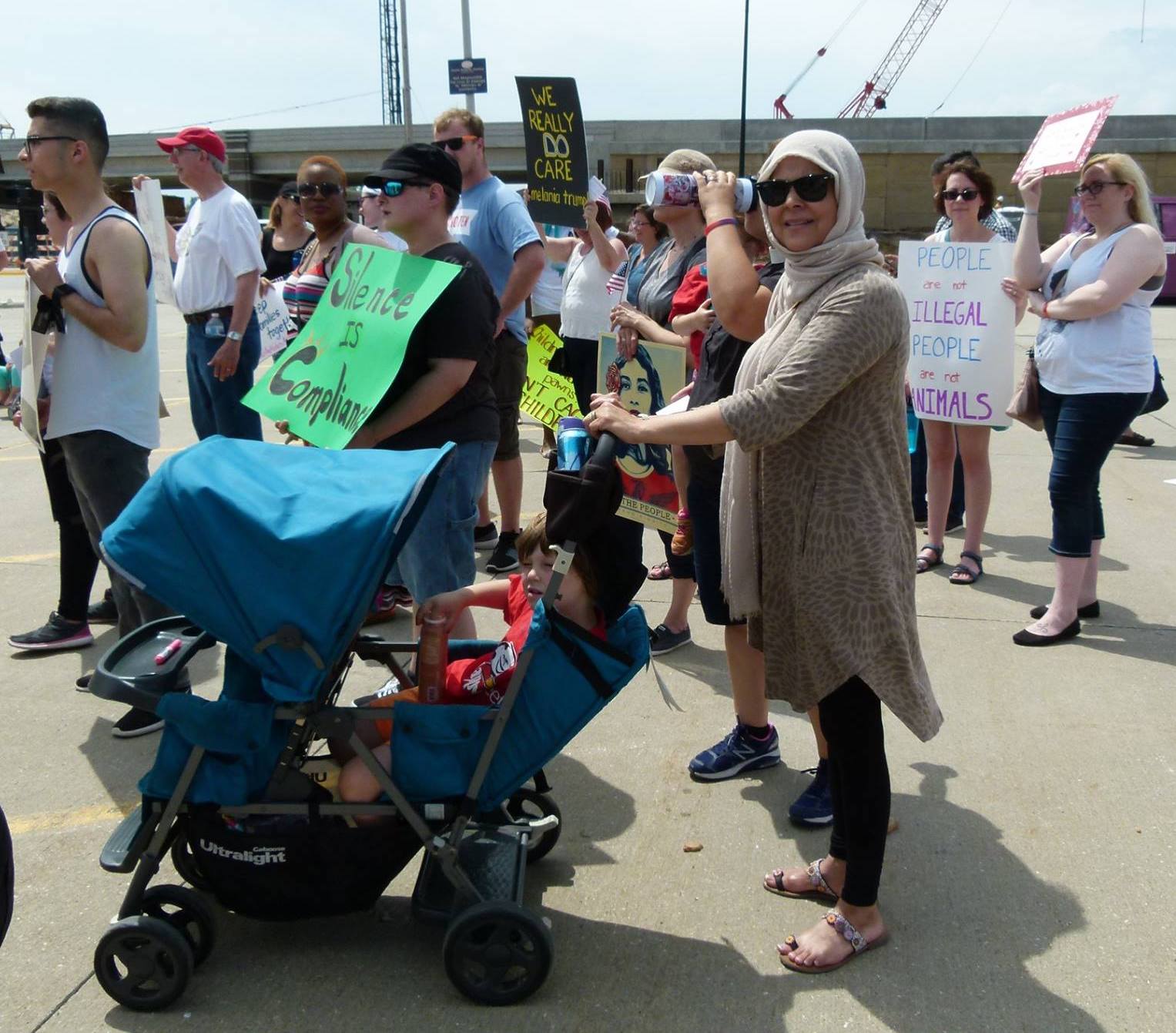 "Don't destroy families":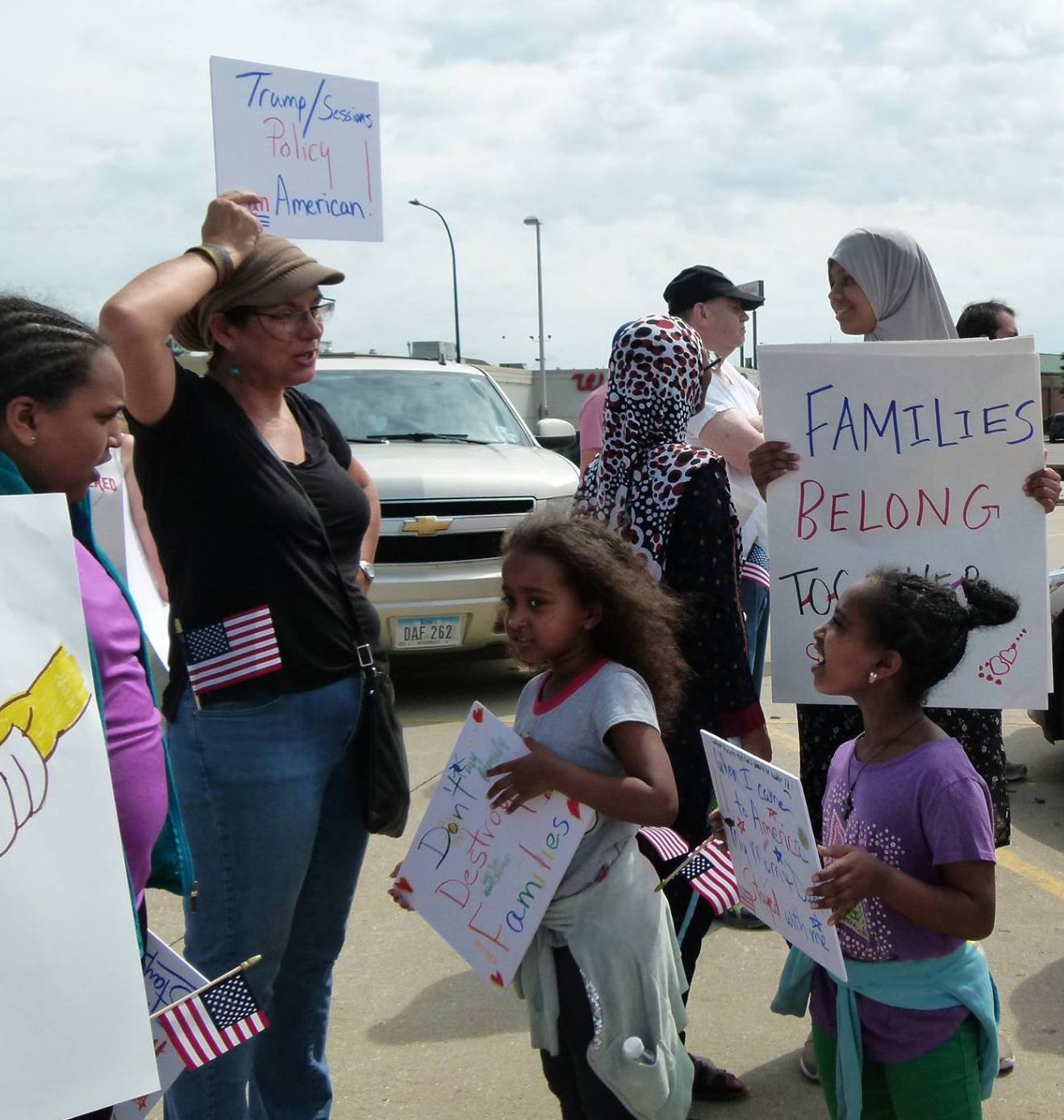 A message from Native American speakers: "No one is illegal on stolen land."
Bilingual signs were popular: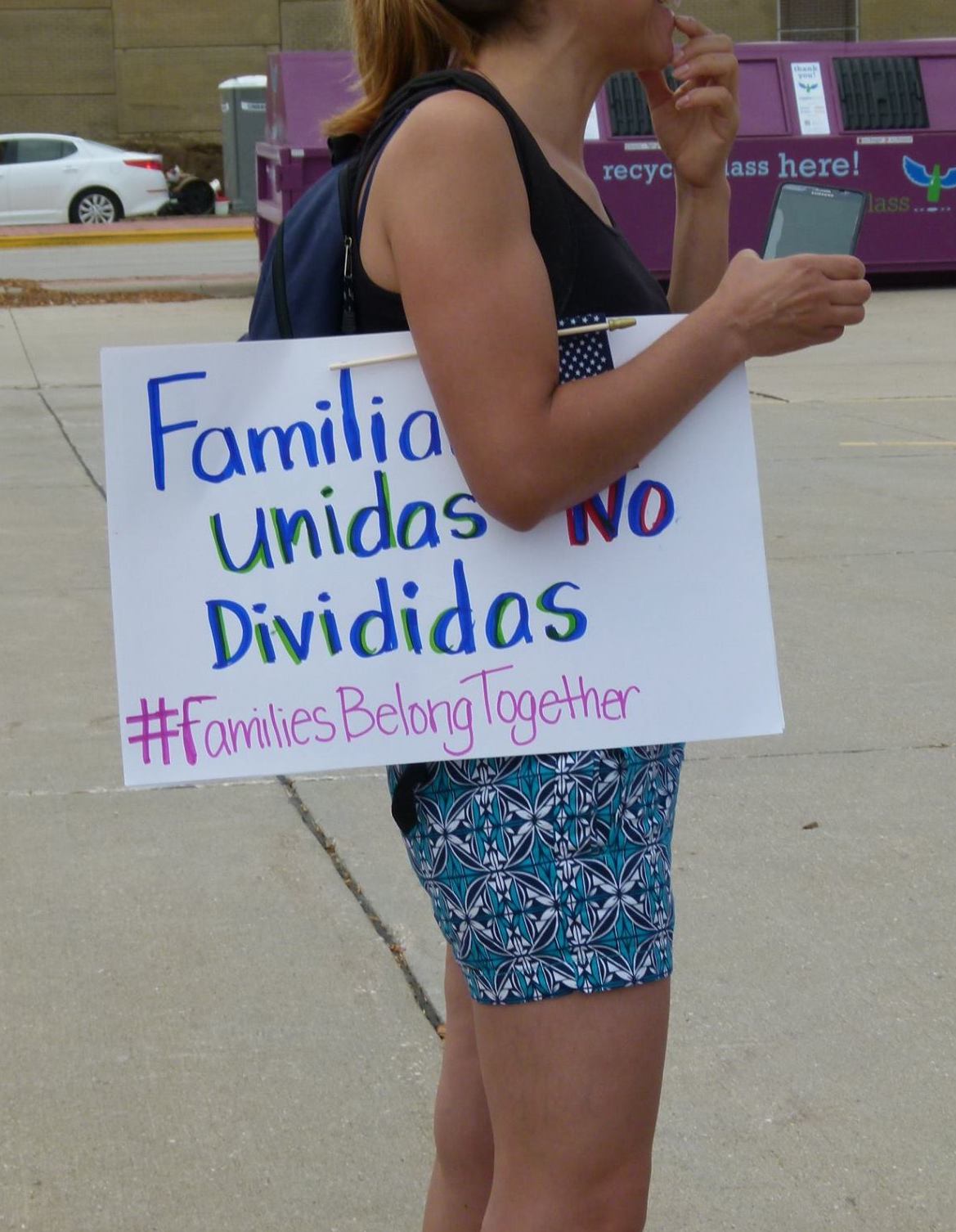 "Stop putting babies in cages!!"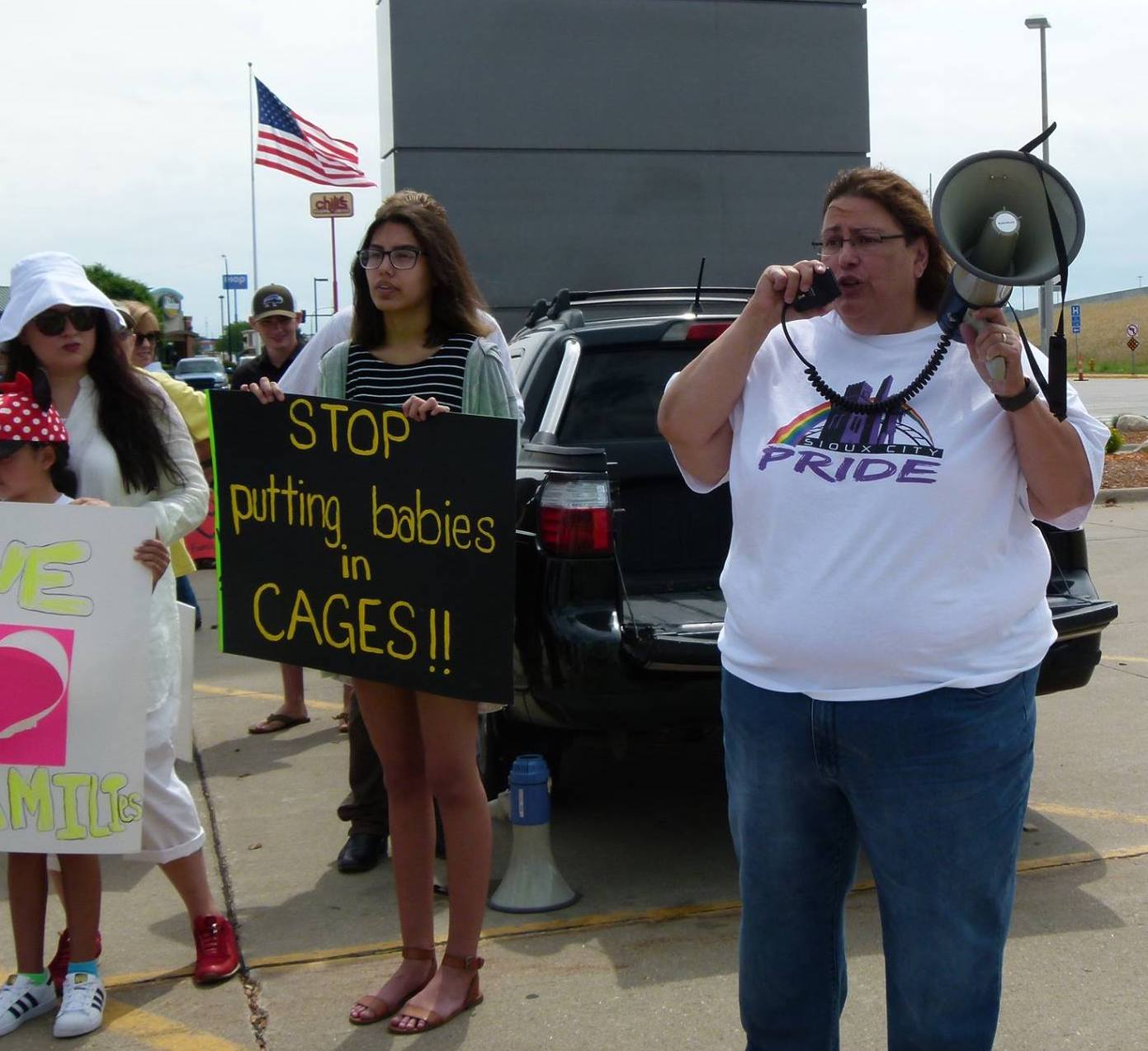 Recalling Rev. Dr. Martin Luther King, Jr.'s words: "Injustice anywhere is a threat to justice everywhere."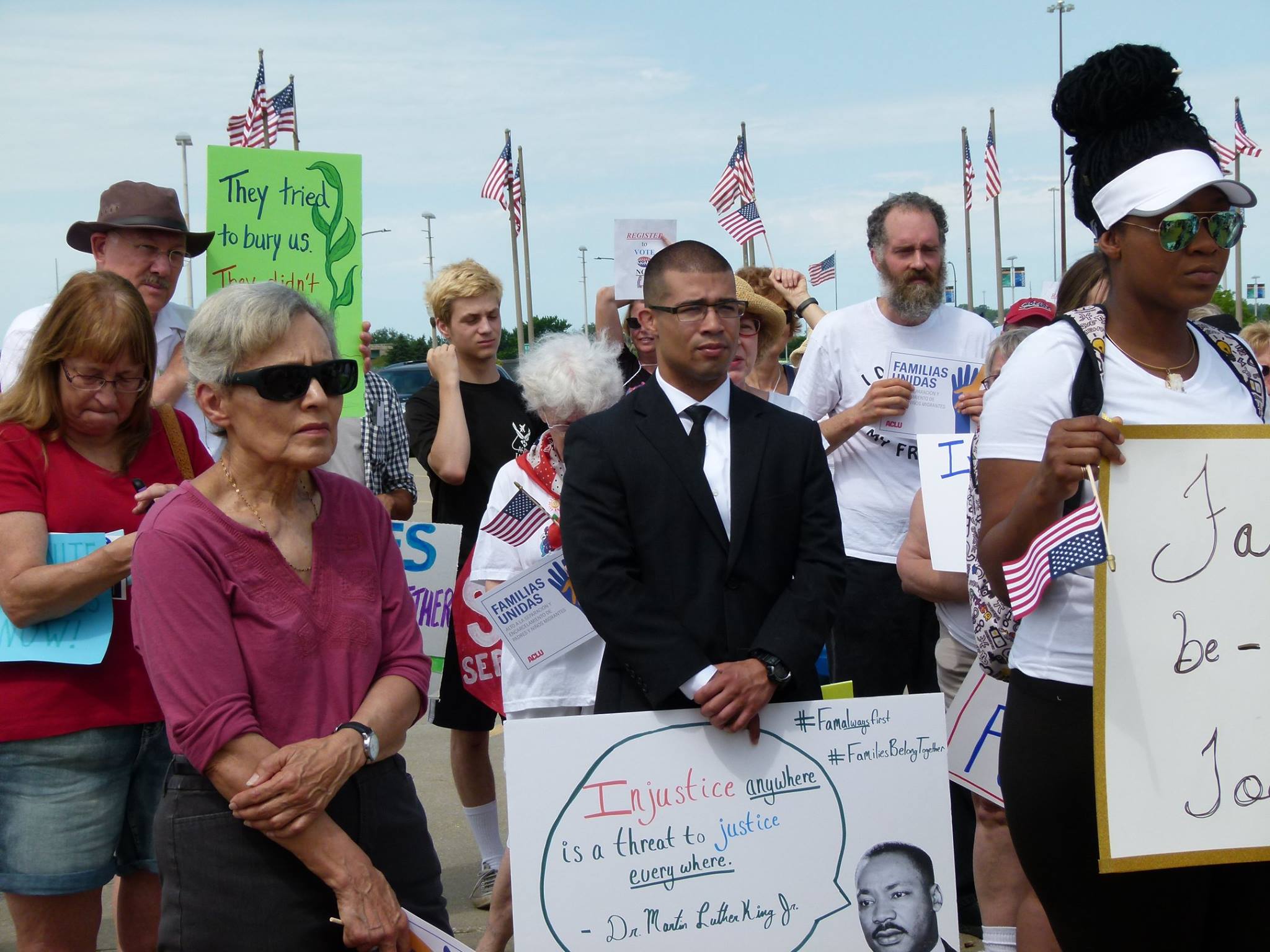 I'm not well-versed on the Gospels, so I had to look up this reference to John 1:46. "Nazareth! Can anything good come from there?"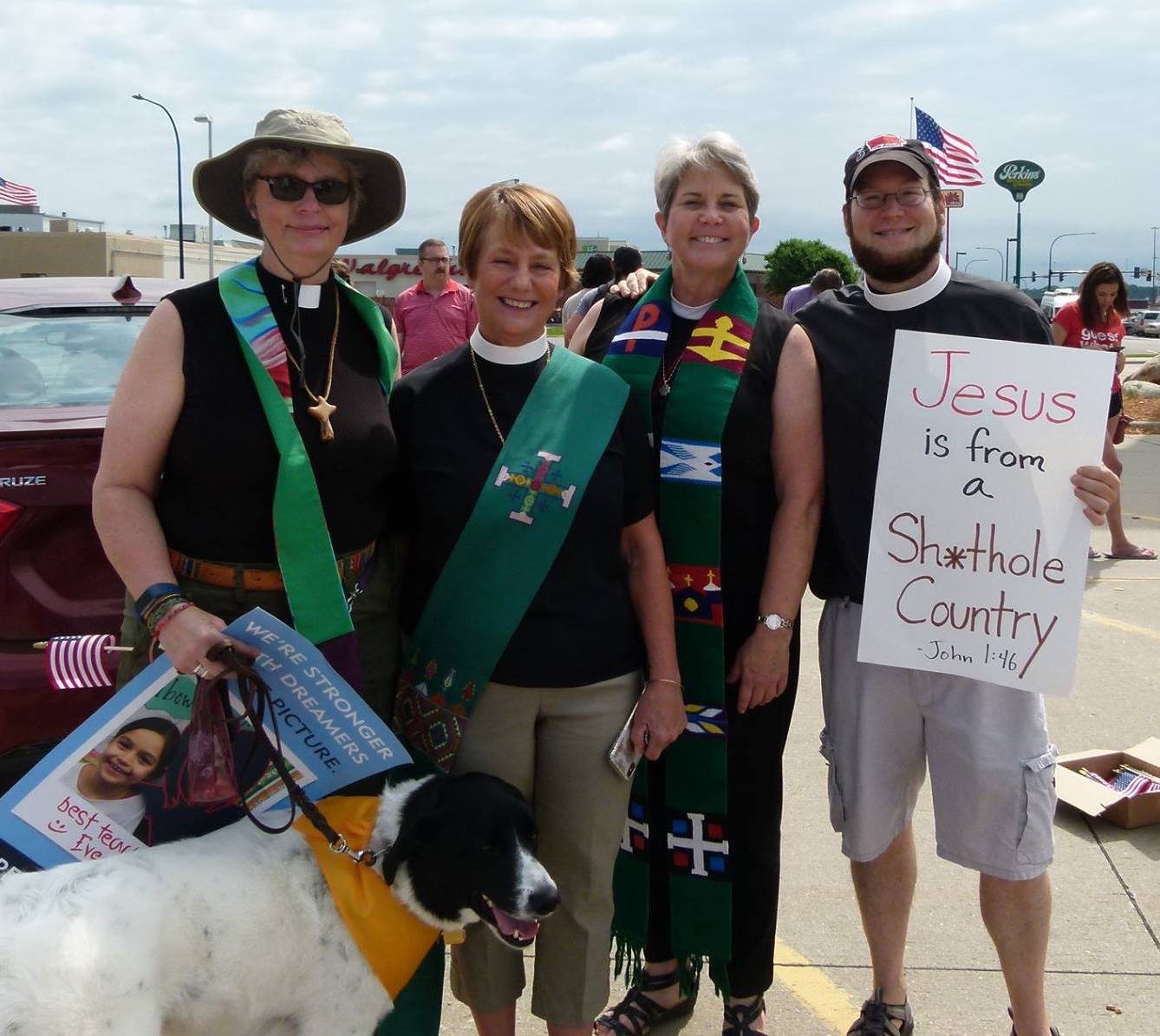 "America, where's your heart?"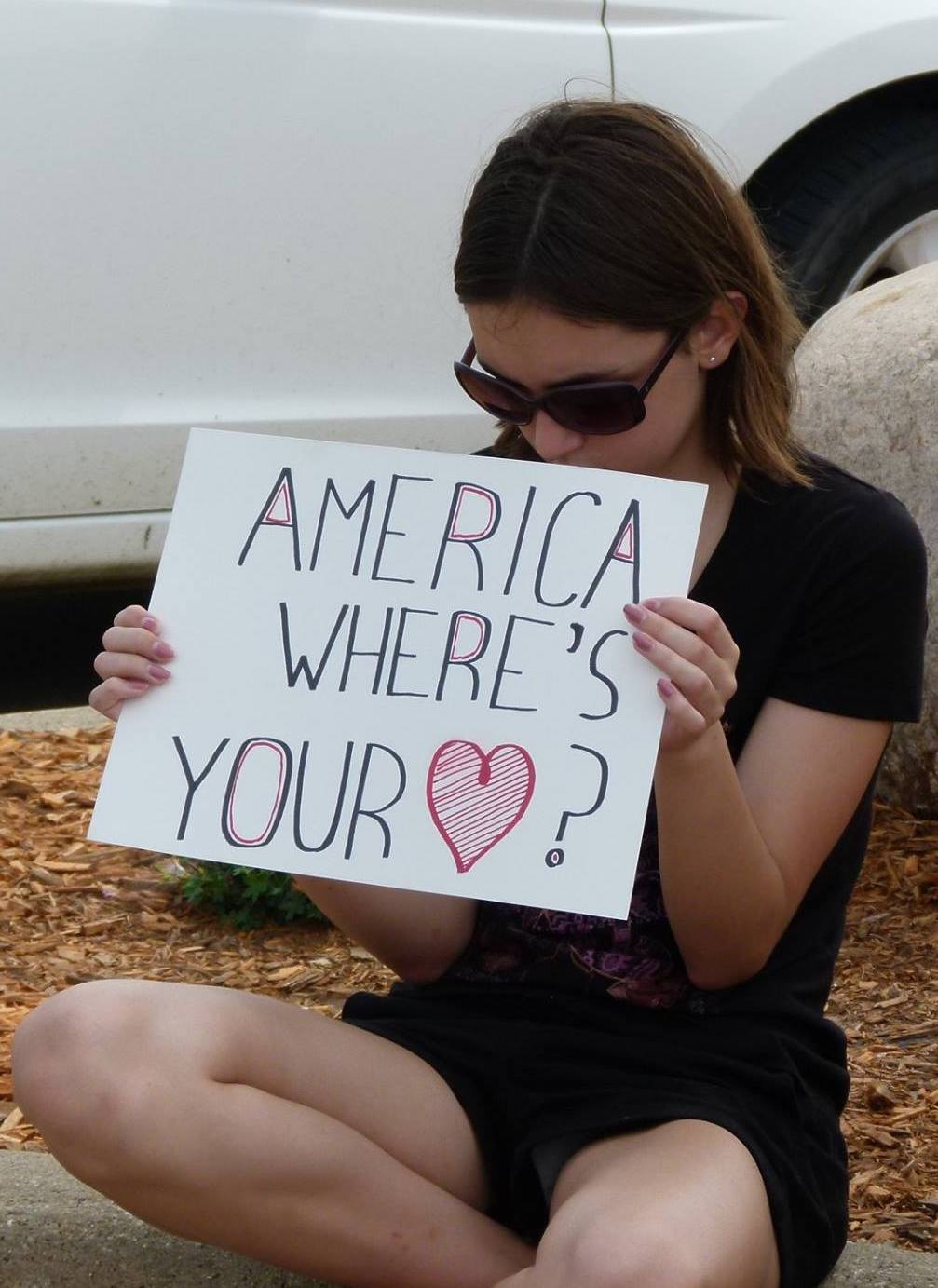 "The value of a life doesn't end at a border":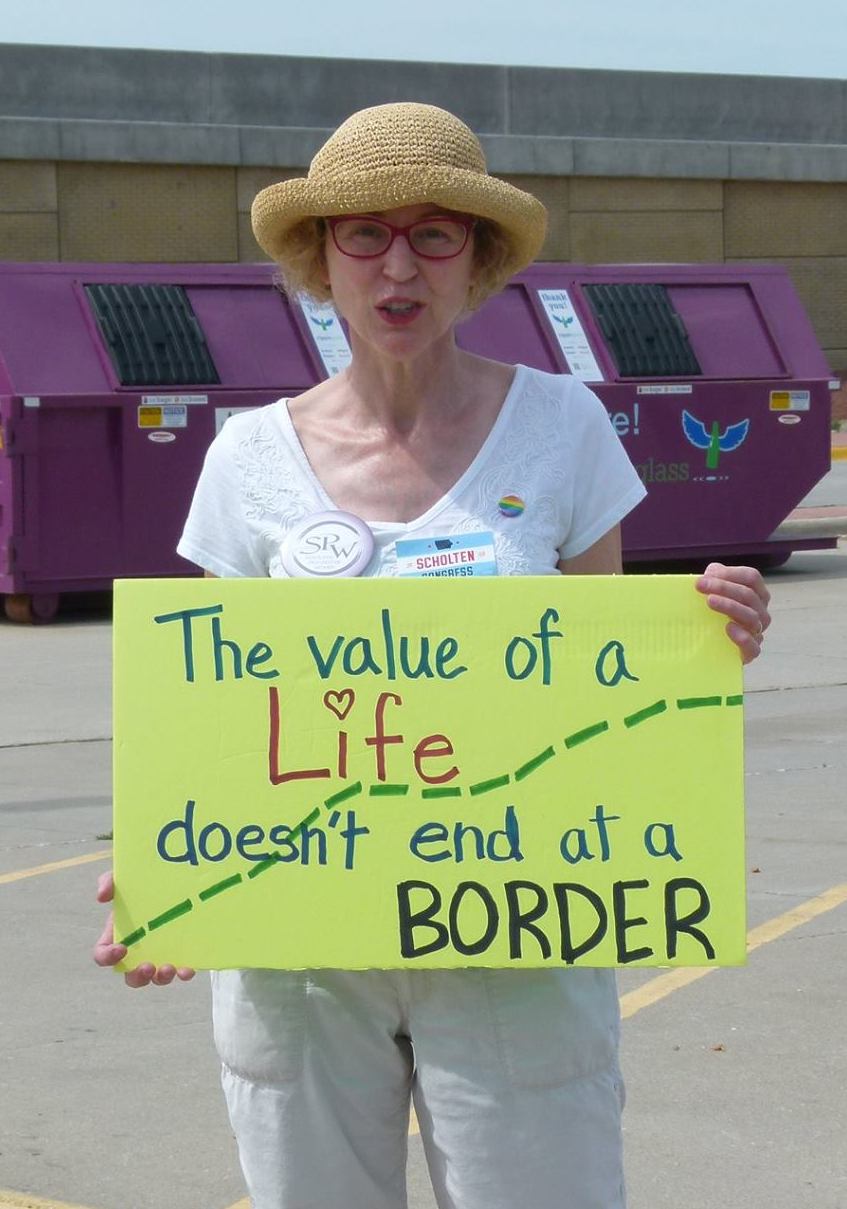 "Tweet others the way you want to be tweeted":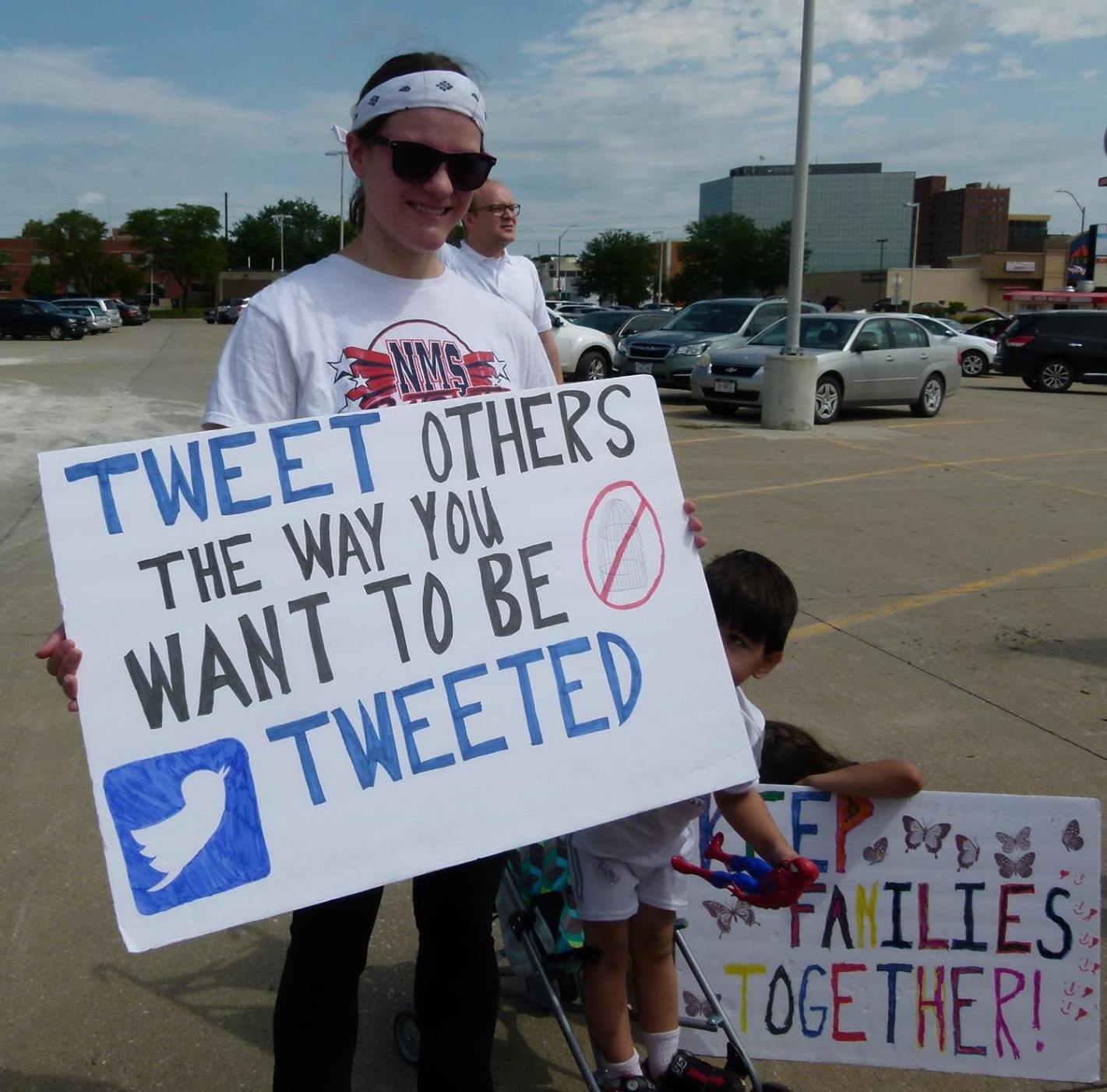 This t-shirt design, "We the People are greater than fear," echoes posters displayed around the country in protest of the Trump travel ban policy.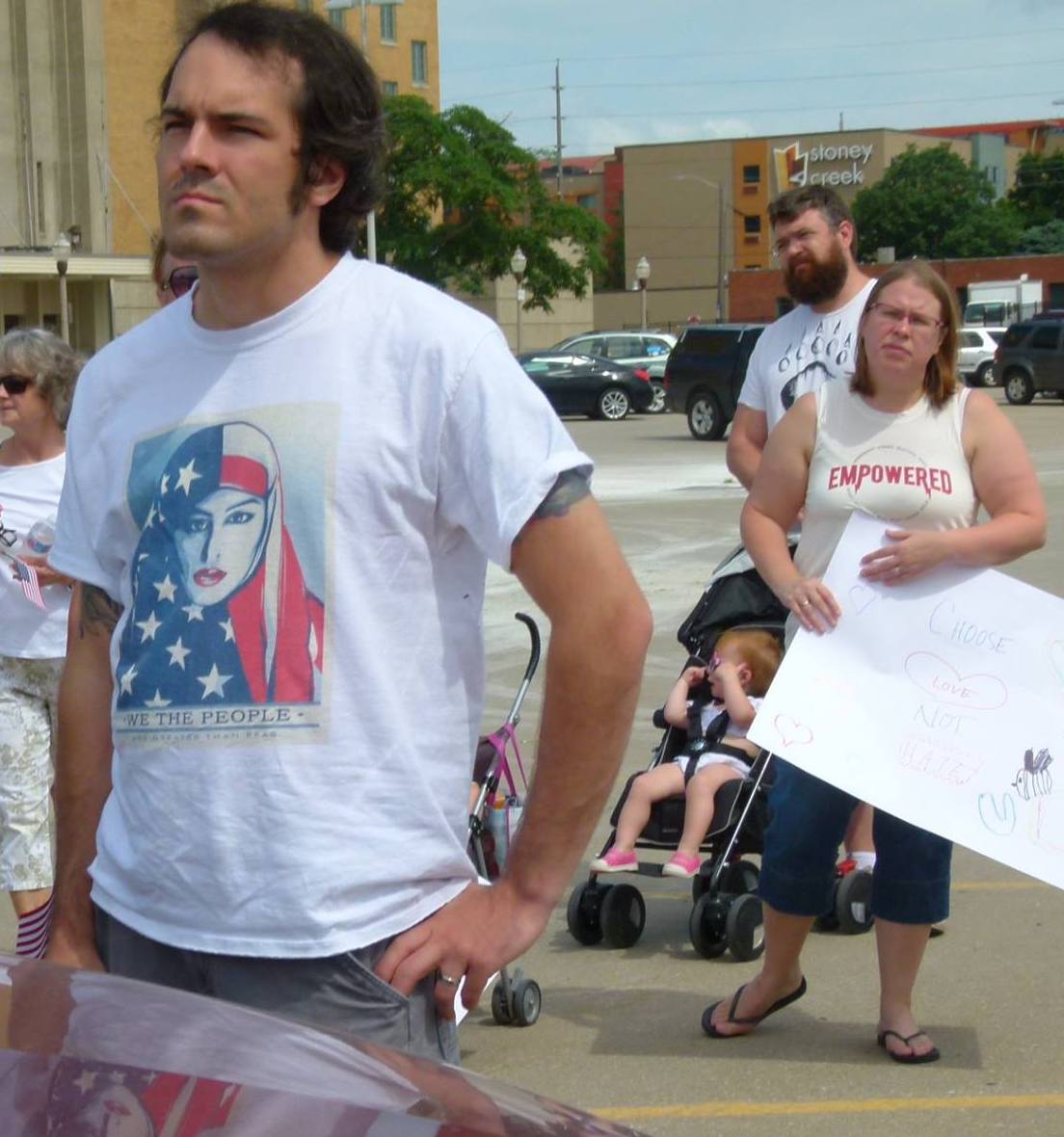 League of Women Voters volunteers registering people to vote: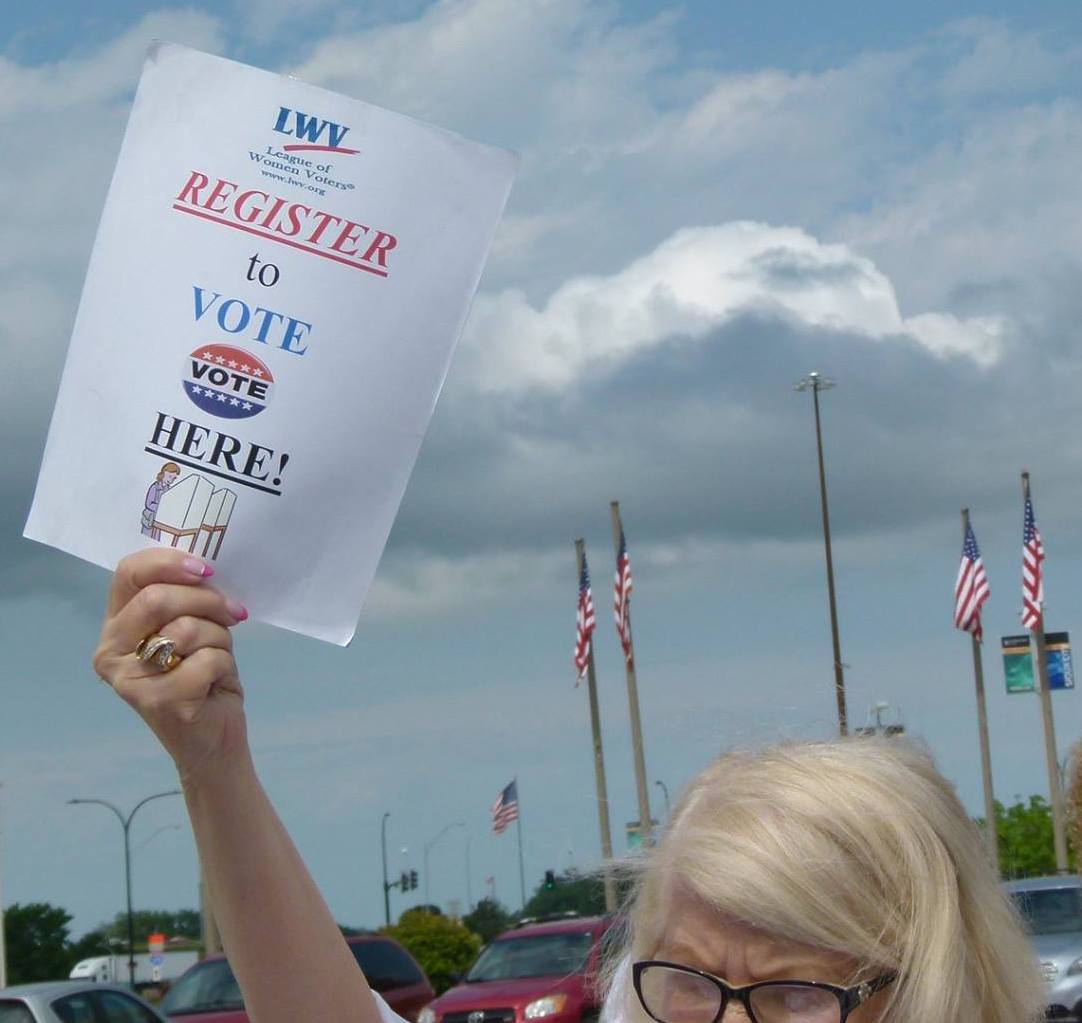 Jean Carlson took the next three pictures from the Sioux City event. More references to Melania Trump's jacket: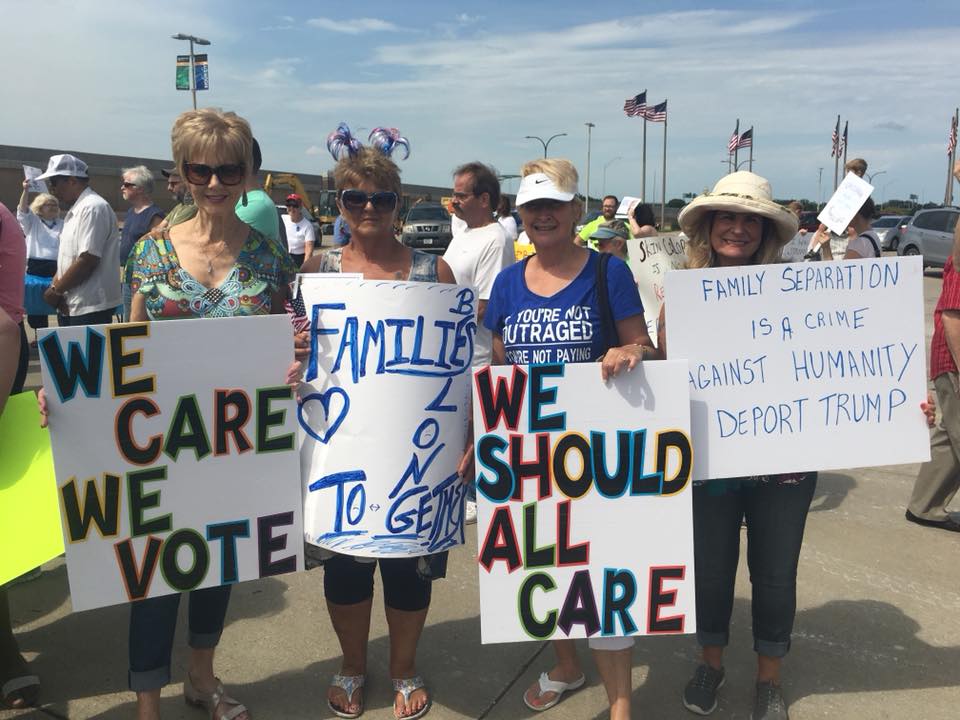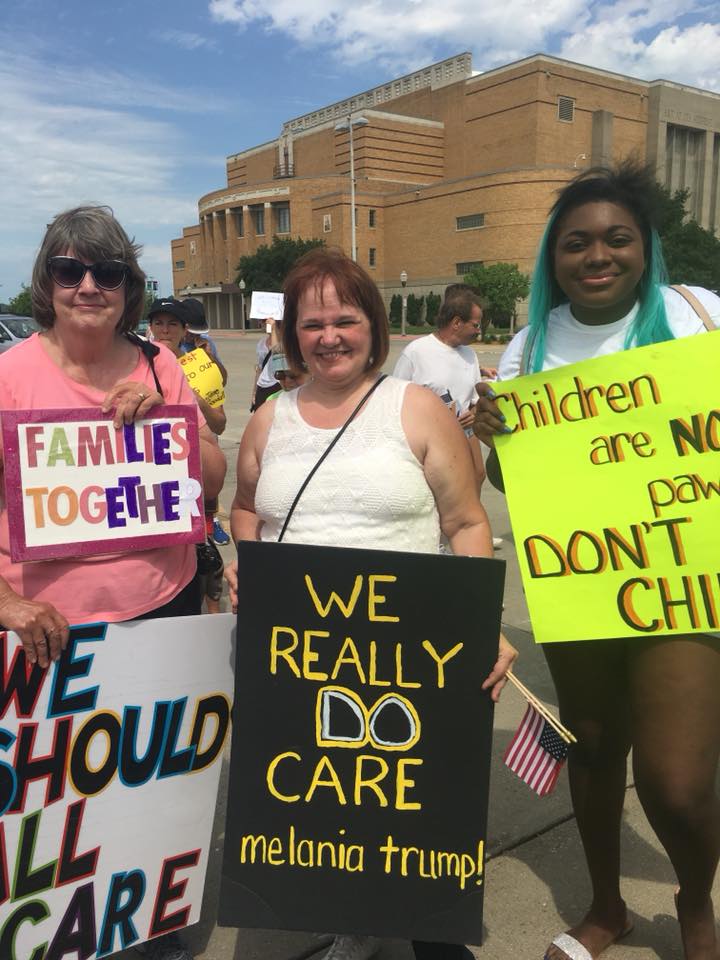 "Racism is not patriotism."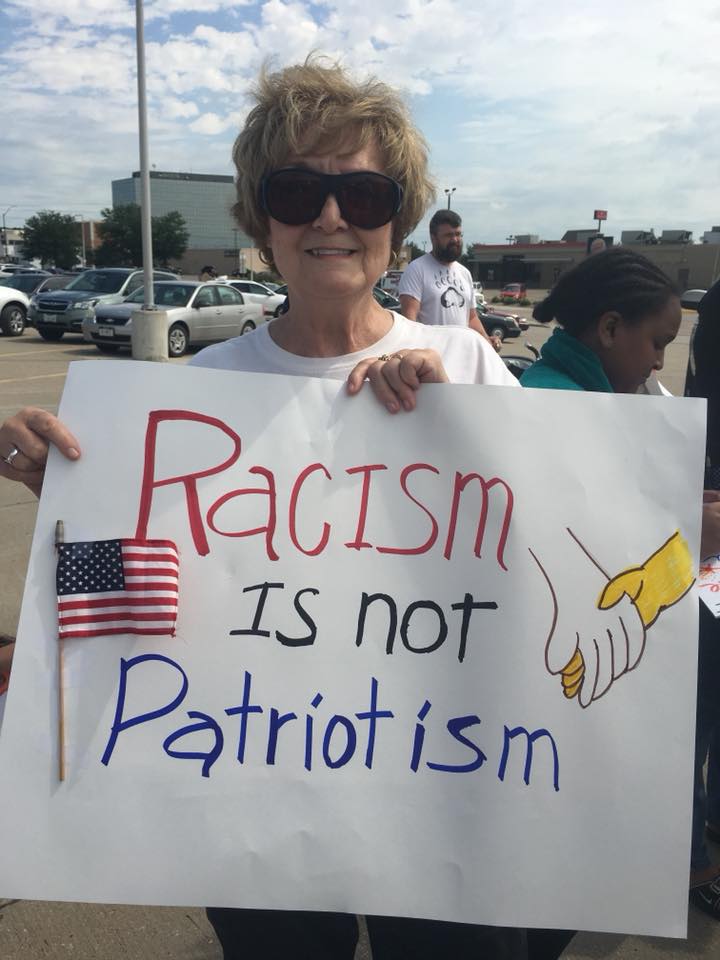 Finally, Twitter user FromK_to_Z posted this picture from Okoboji, "in the middle of Steve King's district. Someone said this [is] the biggest turnout for a march here."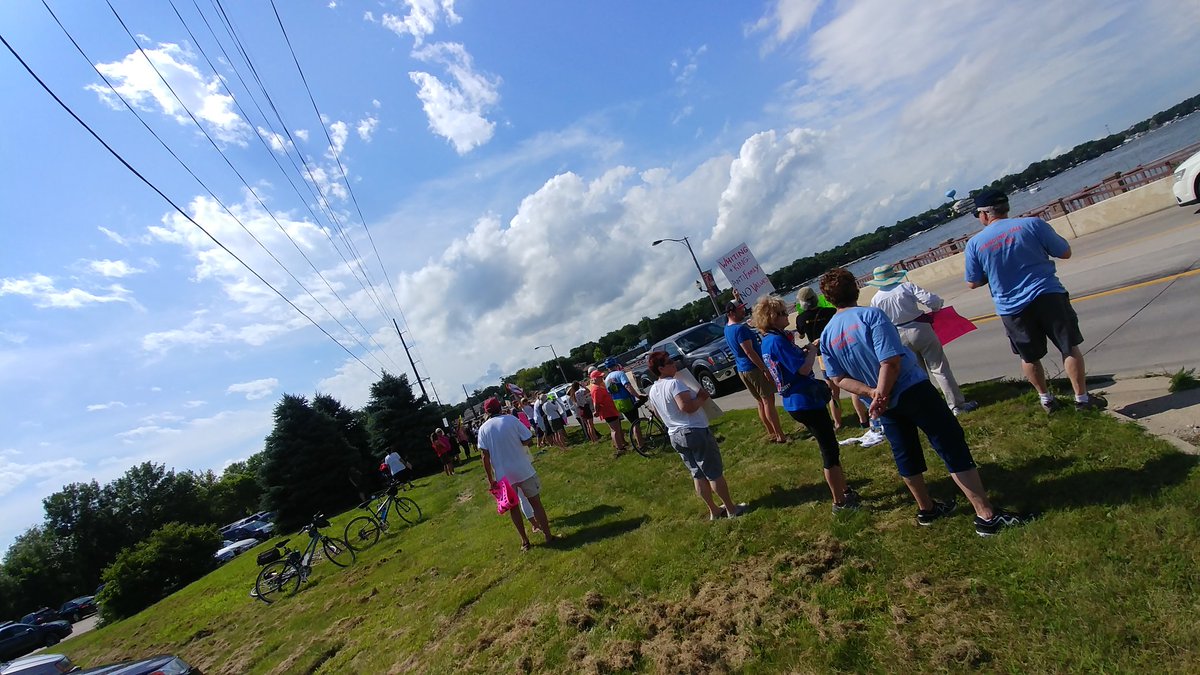 Thunderstorms forced the cancellation of the planned rally in Mason City. If anyone has photos from the events in Fairfield or Muscatine, feel free to send them along.