Two of Iowa's Congressional districts are among the seventeen U.S. House seats where Sabato's Crystal Ball has adjusted its ratings in favor of Democrats. Until now, the non-partisan election forecaster saw Iowa's first district (Rod Blum) as a "toss-up" race, IA-03 (David Young) as "lean Republican," and IA-04 (Steve King) as "safe Republican."
Today analysts moved Young's race to "toss-up" and King's to "likely Republican."

Managing editor Kyle Kondik wrote of the third district,
private and public surveys from Democrats show Rep. David Young (R) either narrowly leading or narrowly trailing small business owner Cindy Axne (D), and Trump's star seems weaker in Iowa than when he won the state by about nine points in 2016. So IA-3 also moves to Toss-up. Iowa is a place where Trump's trade wars may have some political salience depending on what impact tariffs and tariff retaliation has on crops like soy beans, the price of which is down 20% as the president prepares to visit Iowa later this week. Farm economy disruptions have hurt the president's party in this state and region in the past, like in the mid-to-late 1980s, when this dynamic ended up hurting Republicans. Iowa was never more Democratic than the nation than it was in the 1988 presidential election, when it strongly backed Michael Dukakis over George H.W. Bush.
The Cook Political Report also rated IA-03 a toss up earlier this month. Bleeding Heartland reviewed reasons for supporters of either Axne or Young to be optimistic here.
As for the fourth district, Kondik explained,
King's district is very conservative, but he won less than 55% of the vote in 2012 and 2016 and is constantly in the news for extreme comments on immigration. He also has been lapped in fundraising by J.D. Scholten (D), a paralegal and former professional baseball player.
King actually won 61 percent of the vote against Kim Weaver in 2016. Former Iowa First Lady Christie Vilsack is the only Democrat ever to hold him below 55 percent, running in a substantially redrawn IA-04 in 2012.
First-time candidate Scholten has out-raised King three quarters in a row. Whereas many candidates bring in a lot of early money, then find it hard to match that performance, Scholten has raised more over time. He reported $169,620.30 in contributions during the fourth quarter of 2017, $211,597.63 during the first quarter of this year and $326,341.75 during the second quarter (see here and here).
King raised only $138,056.96 during the second quarter (see here and here), a remarkably low total for an eight-term Congressional incumbent. As of June 30, King had $117,554.05 cash on hand to $254,566.05 for Scholten. The challenger's financial advantage would be even greater if a long list of conservative and corporate PACs hadn't donated to King.
"Likely Republican" is the right rating for a district with a partisan voting index of R+11 and some 70,000 more registered Republicans than Democrats, according to the latest official figures. That said, a winning scenario for Scholten is possible, as Bleeding Heartland discussed in more detail last month.
Any comments about this year's U.S. House races in Iowa are welcome in this thread.
P.S.–Kondik wasn't kidding about Iowans voting much more Democratic than the country as a whole in 1988. Here's the electoral college map: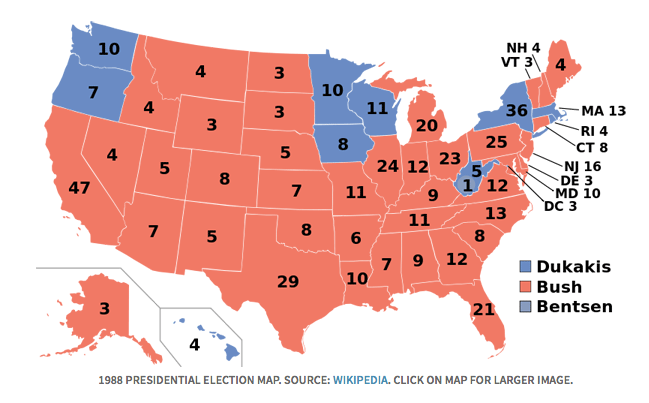 When I looked at those results a couple of years ago, I was stunned by how many counties voted for Dukakis. The farm crisis was surely a major factor. On this map, darker red or blue counties indicate where the leading candidate gained more than 60 percent of the vote.