UPDATE: Anderson did not collect enough signatures to qualify for the ballot. His statement appears at the end of this post. By his account, Governor Kim Reynolds supported his efforts.
Republican lawyer Patrick Anderson has launched a last-minute campaign for Iowa attorney general, seizing on the brutal murder of Mollie Tibbetts as his driving issue.

Anderson created a Facebook page on August 23 and started beating the drum for his attorney general bid the next day. His pitch is not subtle:
Are you upset about the Mollie Tibbetts murder?
We are getting petitions to put an attorney general candidate on the ballot that will enforce our laws.
Patrick Anderson for Iowa Attorney General.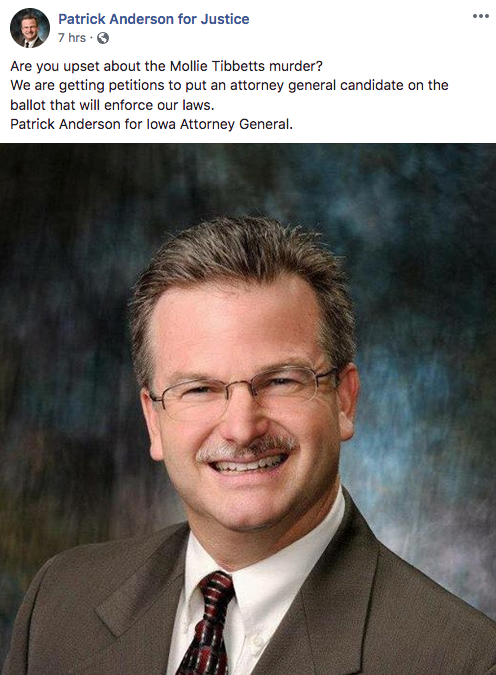 Anderson also asserted, "Democrats trade American lives for illegal votes. The Attorney General of Iowa continually files lawsuits against the President's administration and resists enforcing our immigration laws. We are getting petitions to put an attorney general candidate on the ballot that will enforce our laws."
And a few hours later: "There is an undercurrent of emotion that needs to have a choice in November. "
Attorney General Tom Miller has indeed joined dozens of legal actions challenging Trump administration policies since early 2017. If Anderson cared, he could have begun campaigning for this office in time to file for the GOP primary ballot in March. Failing that, he could have stepped up to seek the nomination at the Republican Party of Iowa's state convention in June.
There were no takers, because Miller is a prohibitive favorite for re-election.
Instead, this coward "strong, Christian Conservative Republican" didn't feel compelled to stand up for his "Pro-life, Pro-family, Pro-2nd Amendment" values until a brutal murder presented a political opportunity.
Anderson's most vocal advocates include former GOP State Central Committee member John Thompson, Madison County activist Heather Stancil, and Barry Snell.* All posted variants of the following talking point on Facebook threads August 24: "You can't kill girls in Iowa when you're in a different country."
Native-born citizens commit the vast majority of murders in Iowa and nationally, and research has shown immigrants are less likely to commit crimes than are native-born citizens. But why let reality get in the way of a race-based appeal?
Anderson and his fellow travelers must submit nominating petitions with at least 1,500 valid signatures to the Iowa Secretary of State's office by 5:00 pm on August 25. They have organized collection efforts in 20 counties and need to hit certain minimum levels in ten.
Because the Iowa GOP failed to nominate a candidate for this office at their state convention, Anderson will not appear on the Republican ballot line, even if his nominating papers are in order. He may select some tag line to indicate his ideology, as long as his label does not exceed five words and does not contain the word "Republican."
I will update this post after the Secretary of State's office has determined whether Anderson qualified for the ballot. Miller will have at least one challenger no matter what: the Libertarian Party of Iowa nominated Marco Battaglia for attorney general in June. Battaglia was the guest on Robin Johnson's latest episode of Heartland Politics on KBUR Radio in Burlington.
*CORRECTION: When first published, this article identified Snell as president of the Iowa Firearms Coalition. He formerly held that position but "has not been associated" with the organization since sometime last year.
UPDATE: Anderson posted the following statement on Facebook around 5:30 pm on August 25. By his account, Governor Kim Reynolds supported his effort.
It's been a whirlwind week. A few of my friends learned of my regrets when I found out the Republican Party failed to nominate a candidate to challenge the awful public service of Tom Miller.

The recent tragedies lit a fire under people across the state. I was asked to run by some of my Republican friends and almost immediately the Republican Party of Iowa met to review the Iowa Code and party rules to determine how to make it happen.

The Iowa Code would not allow the State Central Committee to nominate an attorney general candidate and they could not come up with a method to reconvene the convention without violating the Iowa code or the rules of the Republican Party of Iowa. It was very important to me that I not be put into a candidacy for a position enforcing laws and rules and flouting them like Tom Miller. So the party assisted me in obtaining a nomination by petition as a GOP candidate.

Grassroots volunteers set up a Facebook page to seek out volunteers and within two days we managed to get petitions to the Secretary of States office before they closed.

I want to thank Governor Reynolds for her assistance in the effort. Her team and the activists that support her managed to collect support in 25 counties in two days and bring back petitions to Des Moines.

Our official total was 1300 after a couple hundred were cancelled out for a second review.

I do not anticipate the review being favorable. I thank everyone for their help. I am disappointed we couldn't stand up to the corrupt official that refused to defend our laws but I am humbled by all the people who are ready for a change.

I think the code needs some review so the party is never again left without options ahead of the deadline. I also think the code needs review to ensure that a candidate does not attempt to run again with the "GOP" monicker in an attempt to spoil the strong grassroots and party activism of the Republican Party.

Thank you for your support. God bless!

Patrick
AUGUST 26 UPDATE: Reynolds campaign staff have not responded to my inquiries about what kind of assistance they provided to Anderson. I didn't see any supportive comments about his candidacy on social media from anyone with close ties to the governor. Nor did the Republican Party of Iowa use its social media accounts to encourage activists to help get him on the ballot.
However, at least some county leaders went all in for Anderson. A reader forwarded an e-mail the Story County Republicans sent to supporters on the evening of August 23. Excerpt:
Fellow Republicans,

Here we have a great opportunity to put a strong conservative on the ballot in November. It is imperative we seize this opportunity!

Patrick Anderson is an Evangelical Christian conservative and father of 9. A practicing attorney in Iowa for 10 years; he's worked in or volunteered for most of the republican presidential, Iowa senate, and congressional races for years as well as local races around Ames and Hardin County. Patrick is also well known around the older activists in central Iowa.
He's pro life, pro gun, a strong supporter of law enforcement and won't be afraid to speak his mind and uphold the laws of our great state.

Thank you for your willingness to pass this on for signatures to local Republicans and supporting constituents! Physical petitions will be located at the Story County GOP 2018 Campaign Office at 414 Northwestern Avenue in Ames or may be received electronically be contacting me at the information below. Additionally, I am willing to drive to those who are not able to drop by the office to sign.