Eight-term U.S. Representative Steve King is polling below 50 percent and only six points ahead of his Democratic challenger J.D. Scholten, according to a recent survey commissioned by Scholten's campaign. Expedition Strategies surveyed 380 "likely 2018 general election voters" in Iowa's fourth Congressional district between September 5 and September 9 and found 43 percent supported King, 37 percent Scholten. Another 15 percent were undecided, 4 percent backed Libertarian Charles Aldrich, and 2 percent Edward Peterson. The poll's margin of error was plus or minus 5 percent. Click here for the polling memo; follow me after the jump for more highlights.

Highlights from the Expedition Strategies polling memo, released September 16:
• King's current support among likely voters is well below 50 percent, "which is dangerous for an incumbent at this point during the election cycle."
• "88% know enough about King to form an opinion of him (Name ID), but his favorability is polarizing (44% view him favorably, while 43% view him unfavorably). In fact, the number of voters who say they are very unfavorable towards King (32%) is higher than those who say they are very favorable towards him (24%). By comparison, J.D. Scholten's name ID is 24% (18% favorable, 6% unfavorable), which means he has room to grow as voters get to know him."
• Respondents preferred King by just 44 percent to 41 percent after hearing positive statements about both the incumbent and Democratic challenger.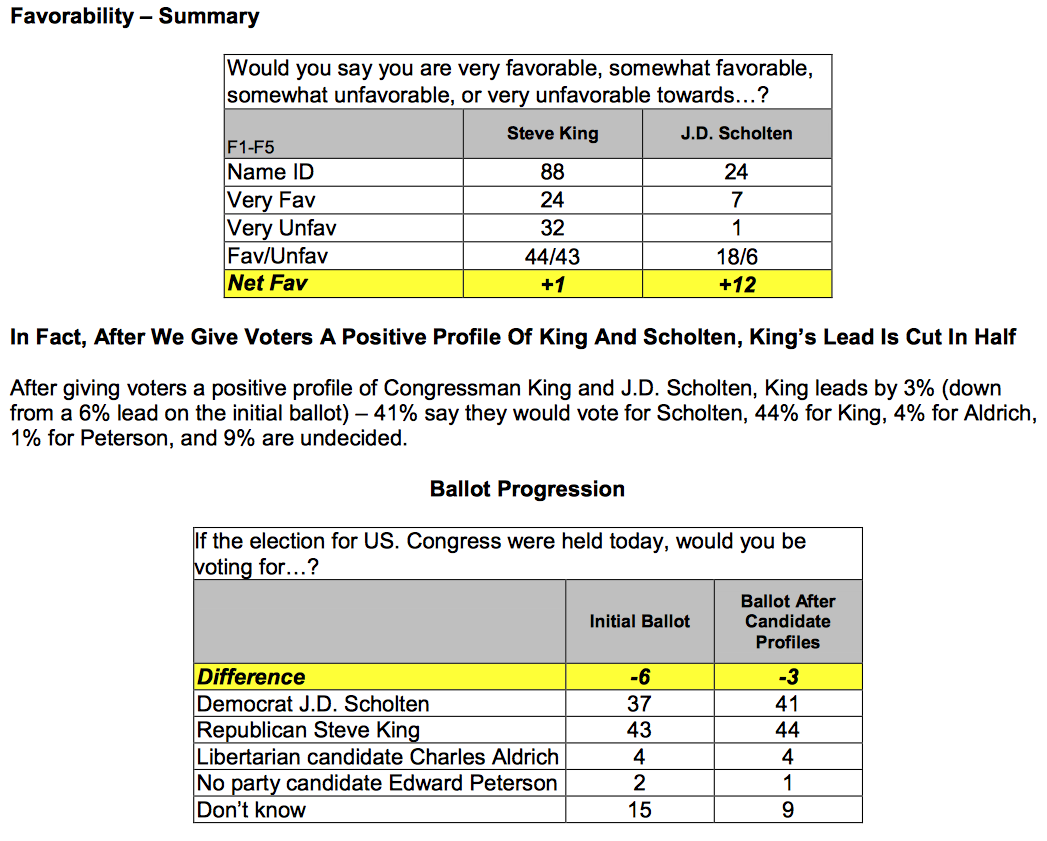 The poll suggests that raising name ID will be critically important for Scholten. As of June 30, his campaign had $254,566.05 cash on hand, while King's campaign reported $117,554.05 cash on hand. Advertising here is expensive, because the IA-04 counties are located in several different media markets. Most of the population receives either Des Moines or Sioux City television stations.
Although King received more than 60 percent of the vote in 2014 and 2016, this summer all major election forecasters changed their rating on IA-04 from safe/solid Republican to "likely Republican." The district has a partisan voting index of R+11, meaning that in the last two presidential elections it voted about 11 points more Republican than the country as a whole. According to the latest official figures, the 39 counties in IA-04 contain 119,714 active registered Democrats, 190,065 Republicans, and 171,355 no-party voters.
Bleeding Heartland discussed here what kind of turnout and performance Scholten would need among various groups in order to beat King. Notably, GOP challenger Cyndi Hanson received about 25 percent of the vote in this year's Republican primary, despite raising and spending almost no money. Her performance suggests a large number of Republicans in IA-04 may be open to voting to someone other than King in November. For that reason, I expect Aldrich to outperform the Libertarians who filed in Iowa's other three Congressional districts.
UPDATE: Forgot to mention that Scholten challenged King to three debates. King said no, drawing criticism from the editorial board of the conservative Sioux City Journal.
King, an eight-term incumbent, refused to debate his fall opponents in his first five campaigns, from 2002-2010. Facing a well-known and well-financed Democratic opponent in 2012, Christie Vilsack, wife of a former Iowa governor, King changed his approach, agreeing to a series of seven debates that cycle. In the next election, he debated Democrat Jim Mowrer once.

In 2016, in his first primary challenge, King also faced off once with Republican state Sen. Rick Bertrand in Sioux City. But after winning the primary that year, the GOP congressman refused to schedule any debates with the Democratic nominee, Kim Weaver. […]

We won't argue that three debates are the right number, but we hope the two camps agree to at least one. If that happens, we believe it should take place in Sioux City, the largest city in the sprawling 4th District, which covers 39 counties in northwest and northcentral Iowa.

King contends that because there's not a clear division on major issues between the two candidates, a debate would serve little purpose other than to allow his challenger to "just call me names."

We reject that excuse.