The most widely-read newspaper in Iowa's first Congressional district misinformed readers in a rosy take on U.S. Representative Rod Blum's prospects against Democratic challenger Abby Finkenauer.
James Q. Lynch's latest report on the campaign presented as fact two easily disprovable claims by Blum.

The two-term incumbent is one of the country's most endangered U.S. House Republicans. The Cook Political Report, Sabato's Crystal Ball, and Inside Elections with Nathan Gonzales all consider IA-01 a "lean Democratic" race. FiveThirtyEight.com now rates IA-01 as "solid Democratic," giving Finkenauer a 29 in 30 chance of winning based on recent opinion polls and other characteristics of the district.
Blum sought to counter that narrative last week by releasing partial results from a poll his campaign commissioned. While a New York Times/Siena survey found Blum nearly 15 points behind Finkenauer in mid-September, The Polling Company (a firm linked to Kellyanne Conway) found the incumbent trailing by only 44 percent to 43 percent, well within the margin of error.
Reporters should always be wary about numbers released by a candidate or an outside group with a stake in the race. But Lynch echoed Blum's upbeat tone. The first sentence of his article set up the frame for Gazette readers: this year's campaign is playing out just like the last two cycles.
Less than four weeks before the Nov. 6 election, U.S. Rep. Rod Blum is where he usually is — trailing in the polls.
Really? Blum was behind Pat Murphy in several polls released in the late summer and early fall of 2014. But a month before the 2016 election, Blum's campaign released an internal poll showing him ahead of Democratic challenger Monica Vernon by 52 percent to 36 percent.
Lynch's October 11 story acknowledged recent polls put Blum "as much as 15 percentage points" behind Finkenauer before returning to the Republican's perspective in the fourth paragraph.
"It's familiar territory," [Blum] said Thursday during a visit to Freedom Foundation Veterans Center in Cedar Rapids. "It's kind of the way the last two (elections) have gone. We were behind early on and then we would catch up and get momentum at the right time."
The online version of the story put "It's familiar territory" just below the headline, setting readers up to perceive this race as following the pattern that ended with Blum victories.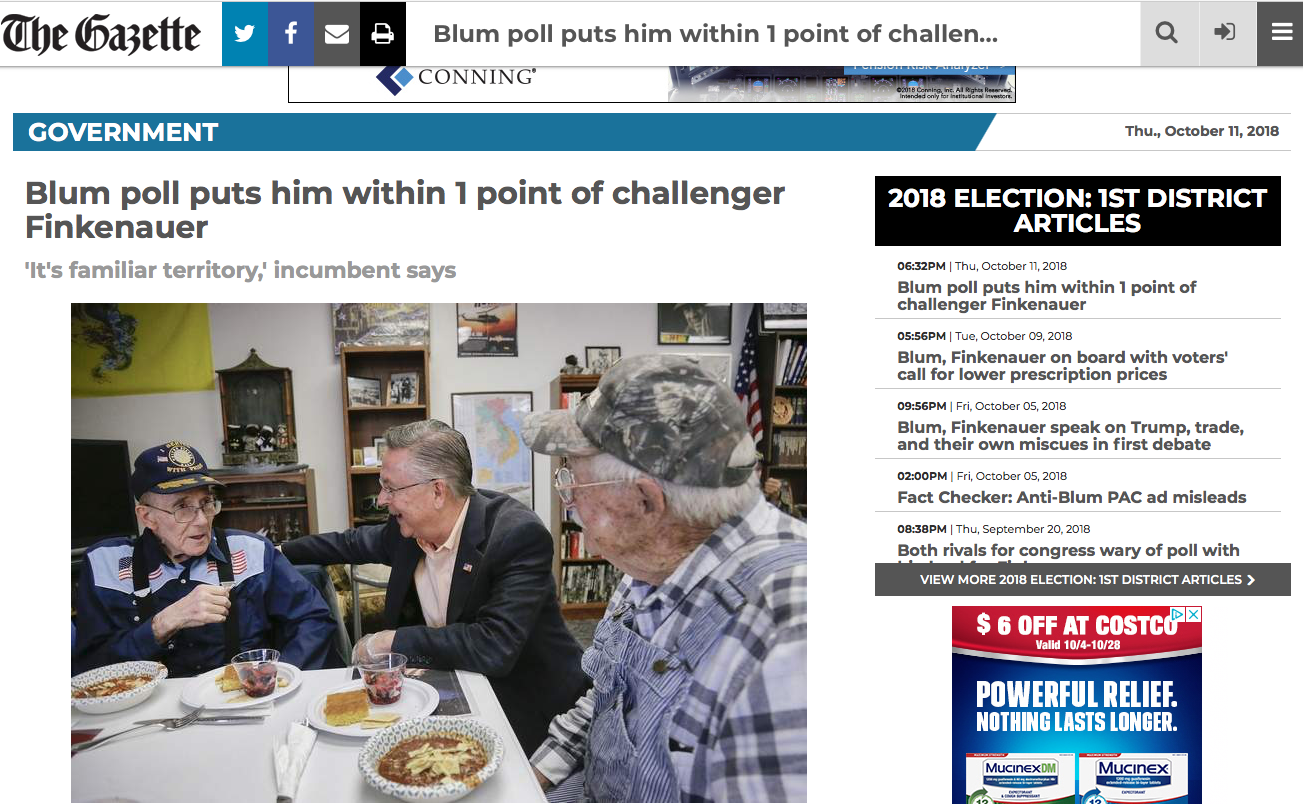 The thing is, Blum wasn't "behind early on" against Vernon. His campaign released polling figures in April 2016 showing him 12 points ahead of both Democratic contenders (Murphy and Vernon). An August survey for Blum's campaign put him ahead of Vernon by 50 percent to 43 percent. An independent Loras College poll found the incumbent leading by 45 percent to 38 percent in late September. And as mentioned above, Blum's internal gave him a 16-point lead in early October.
A few weeks before the 2016 election, one survey by the Democratic-aligned firm GBA Strategies put Vernon ahead by 1 point, and a survey commissioned by the leading Democratic super-PAC found a 1-point lead for Blum. But those look like outliers; the final Loras College poll from late October found Blum ahead by 47 percent to 41 percent, not far off his winning margin of 7.6 points.
I wouldn't expect most Iowans or even most Iowa journalists to realize Blum misrepresented the facts last week when he asserted, "We were behind early on and then we would catch up and get momentum at the right time" in the last two campaigns.
But I would expect Lynch to spot the inaccuracy, because he covered the IA-01 race for the Cedar Rapids Gazette two years ago. Lynch himself authored articles about Blum's internal polls in April and August, and he observed in his October report on the candidates' third-quarter fundraising,
Polls have shown Blum with leads ranging from 7 to 16 percentage points in the race for Iowa's U.S. House 1st District, which includes Cedar Rapids, Dubuque, Cedar Falls, Waterloo and Marshalltown. However, a more recent poll commissioned by a Democratic fundraising group showed the race to be a statistical dead heat. Blum led 45 percent to 44 percent with 11 percent undecided and a 4.9 percent margin of error.
Lynch also wrote about the final Blum internals released about a week before the election (Blum 54 percent, Vernon 41 percent). Worth noting: The Polling Company's last two 2016 surveys gave Blum nearly twice as large a lead as his eventual winning margin. That should make a journalist more skeptical about the numbers Blum put out a few days ago. Yet Lynch failed to give Gazette readers that context.
In addition, Lynch uncritically transmitted another inaccurate Republican talking point. Picking up at the tenth paragraph (emphasis added),
Blum recalled that in 2014, the National Republican Campaign Committee didn't get involved in his open-seat race until the very end. The same was true two years ago. In 2014, former Iowa House Speaker Pat Murphy led Blum late in the summer before falling behind in October. Blum won that race 51 percent to 49 percent. In 2016, Cedar Rapids City Ccouncil [sic] member Monica Vernon was ahead in November [sic] before falling behind in the final week of the race. He won 54 percent to 46 percent.

"So this seems to be playing itself out again," Blum said. "It doesn't surprise me, but with this newest poll, I think they are re-evaluating this race."
The NRCC was indeed late to buy air time on Blum's behalf in 2014, eventually spending $400,000 on tv ads that aired in the Cedar Rapids market for the last ten days of the campaign.
But the same was not true two years ago. The main campaign arm of House Republicans started running television commercials against Vernon eight full weeks before the 2016 election.
Someone in the Gazette's editing pipeline should have caught that mistake. Lynch's colleague B.A. Morelli and KCRG-TV9's Adam Carros fact-checked the NRCC's first attack ad for the newspaper in late September 2016. At least two more negative spots followed; by mid-October, the NRCC had spent nearly $900,000 on tv ads against Vernon.
The NRCC and its well-funded allies wrote Blum off this year, while Democratic-aligned groups have spent heavily against him. Naturally, the incumbent would want to promote the idea that national Republicans "are re-evaluating this race." But Lynch's role isn't to present the most favorable outlook to Blum, especially when doing so gives Gazette readers the wrong idea about the last campaign.
Not long after using his social media feeds to bash eastern Iowa journalists whose reporting has embarrassed him, Blum went out of his way to praise Lynch on Twitter for asking "fair questions." No wonder he's a fan: Lynch's take on news that the House Ethics Committee was investigating the incumbent led with the best possible spin for the Republican: "Iowa U.S. Rep. Rod Blum is fighting back against what he's calling a Democratic-orchestrated political 'assassination attempt' involving a congressional oversight agency's inquiry into an alleged ethics violation." The Gazette's editorial board commented, "to us, it seems Blum's problems are self-inflicted."
That they are. And if IA-01's leading newspaper is serious about earning readers' trust, its reporters will do a better job of fact-checking politicians' claims.