Iowa's two largest public sector unions have defeated Republican efforts to diminish their power for a second straight year.

The latest round of recertification votes wrapped up on October 29. Preliminary results posted by the Public Employee Relations Board show that every bargaining unit in state government voted to continue their current representation. So did all of AFSCME's local Iowa government units represented by AFSCME and 168 of the 170 that have been represented by the state's leading teachers union, the Iowa State Education Association.
"At least 22 small local bargaining units failed to obtain re-certification," William Petroski reported for the Des Moines Register. But the overall picture was a lopsided yes vote, especially in the largest bargaining units.
The AFSCME technical bargaining unit — the largest up for re-certification — had 4,762 workers eligible to vote. A total of 3,619 voted yes and just 15 voted no. The AFSCME fiscal and staff unit — the second largest — had 4,389 eligible to vote. A total of 3,295 voted yes and just 20 voted no.

In the Des Moines Independent Community School District, the Des Moines Education Association was approved with 2,769 yes votes and 33 no votes.
The recertification provisions were among the most blatant union-busting aspects of a 2017 law that shredded public sector collective bargaining rights. Before every contract cycle, a majority of employees in any given bargaining unit must vote yes on maintaining union representation. Anyone who does not participate in the recertification vote is counted as a vote against the union. As Bleeding Heartland showed here, few politicians could be elected to any office in Iowa under the same rules Republicans imposed on organized labor.
In a statement enclosed in full below, AFSCME's state president Danny Homan argued, "it was no accident that these recertification elections were scheduled right before the general election. What was intended to be a confusing distraction has turned into fuel for the fire that is the November 6th day of reckoning." An ISEA statement declared the recertification votes "nothing but a waste of taxpayer's time and money," since "almost 50,000 employees have spoken loudly and clearly in the last two recertification election cycles."
Indeed, many public workers in Iowa choose not to join a labor union. Yet by an overwhelming majority, even the non-members have recognized the value of collective bargaining.
October 29 press release from AFSCME Council 61:
IOWA WORKERS OVERWHELMINGLY AFFIRM THEIR UNITY, THEIR VOICE, AND THEIR UNION, AFSCME COUNCIL 61

DES MOINES – AFSCME Council 61 President Danny Homan issued the following statement regarding the results of the second round of recertification elections:

"Last year, we had 1,702 employees voting on recertification; this year, we had 19,861. Workers once again rebuked a rigged system that was designed to undermine their voice. In a system that counted non-voters as a no vote, 94% of all bargaining units, covering 19,793 employees, won recertification, and 99% of all votes cast were yes votes. 100% of all state bargaining units, covering 18,594 workers, stood up for quality public service and a voice on the job by recertifying.

"Recertification elections were created by legislative Republicans and Governor Reynolds for one purpose and one purpose only: for public employees to lose their voice at work and to bust their union. What they didn't realize was that public employees are united, determined, and fed up.

"Look, it was no accident that these recertification elections were scheduled right before the general election. What was intended to be a confusing distraction has turned into fuel for the fire that is the November 6th day of reckoning.

"Public employees realize that this victory, while impressive, means very little if we stay home next Tuesday. November 6th is our chance to finally hold accountable Kim Reynolds and every single legislative Republican who attacked the very livelihood of over 184,000 public employees and their families when they gutted their collective bargaining rights in February 2017.

"The takeaway here is clear: Iowa's public employees are not going to sit idly by while their rights are dismantled. They will vote to recertify their union and they will vote to elect politicians who actually support their hard work and service to our state."
Homan posted this photo on Facebook with results from AFSCME's bargaining units: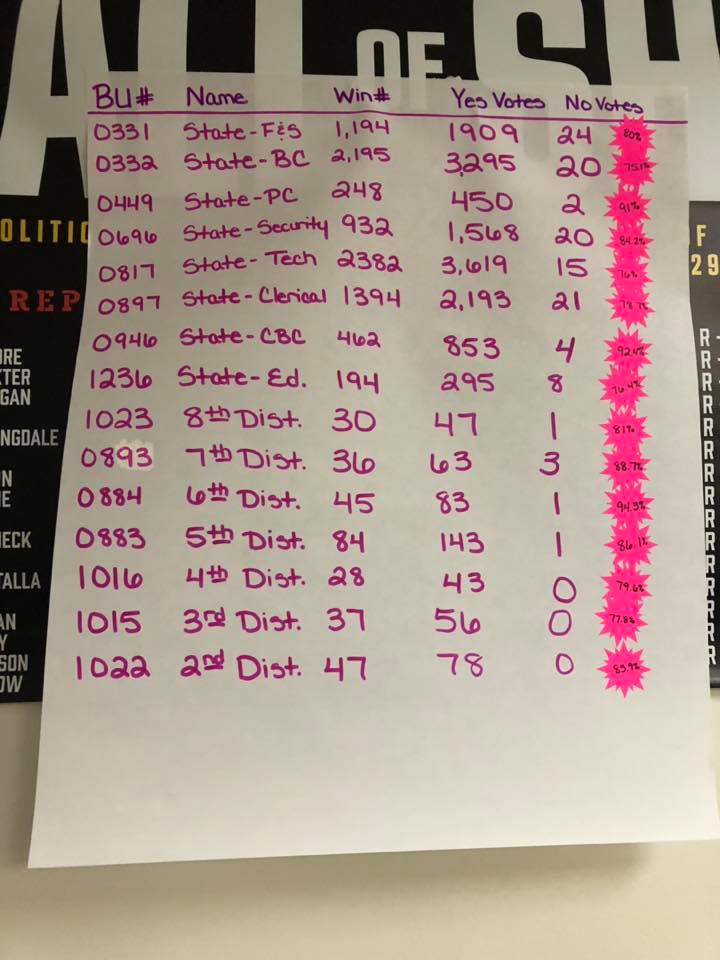 Statement released by the Iowa State Education Association:
"We are once again enormously proud of the thousands and thousands of education professionals who overwhelmingly voted in support of recertification in their locals.

ISEA members and their colleagues took time out of their busy schedules to let the legislature know they believe their voice in their profession, their work environment and in support of their students is important. Almost 19,000 employees in 170 local associations were impacted by this vote. After the two week period of recertification, 99 percent of our locals successfully voted to retain the ability to collectively negotiate a Master Contract.

Iowa's anti-union bill passed by the Republicans in the statehouse in 2017 set an unreasonable standard for successful recertification elections. The law requires a 50 percent plus 1 majority of all employees covered by the bargaining unit regardless of their union membership to win recertification. In addition, anyone who failed to participate in the election was automatically counted as a "no". In spite of this standard, 168 out of 170 ISEA locals passed their recertification elections. We were just 3 votes short of a complete sweep.

It appears that recertification elections are just another obstacle the legislature placed in front of Iowa's public employee unions in an effort to weaken us. Once again, this obstacle was overcome by the strong and determined professionals who will not back down from what they know is best for their profession, their students and their schools.

It also appears that these recertification elections are nothing but a waste of taxpayer's time and money as almost 50,000 employees have spoken loudly and clearly in the last two recertification election cycles.

We are very proud of our members and the other public employees who stand strong. It is now time to get back to the great work they do every day for Iowa's students."