Both Senator Chuck Grassley and Joni Ernst voted for a criminal justice reform bill that cleared the U.S. Senate on December 18 by a resounding 87 votes to 12 (roll call). Iowa's senators were also part of the bipartisan majority that rejected three Republican amendments, described by one advocacy group as poison pills "aimed at gutting the substance and intent of the bill."
Grassley wasn't an early advocate of criminal justice reform, especially sentencing reform. As recently as March 2015, he slammed what he called the "leniency industrial complex," which favored reducing long mandatory minimum sentences for non-violent drug offenses. But he came around about three years ago and helped build Republican support for the current bill, commonly known as the First Step Act.
In one of his final acts as Senate Judiciary Committee chair, Grassley pushed Majority Leader Mitch McConnell publicly and privately to bring the legislation to the Senate floor. After yesterday's votes, New York Times photographer Sarah Silbiger captured images of Grassley celebrating with Democratic Senator Cory Booker, who has helped lead the charge on this issue.

In an act of bipartisanship Senators Grassley and Booker hug and shake hands shortly after the Senate passed criminal justice reform. pic.twitter.com/xwv1gmr1Hy

— Sarah Silbiger (@sarah_silbs) December 19, 2018
President Donald Trump has publicly promised to sign the First Step Act, assuming it passes the U.S. House. Speaking to Iowa reporters on December 19, Grassley said the president "wanted this real bad." UPDATE: Trump signed the bill on December 21.
An unusual coalition lobbied for this bill, including conservative groups (the American Conservative Union, U.S. Chamber, and Freedom Works) as well as progressive organizations (such as the American Civil Liberties Union and the Brennan Center for Justice) and representatives of law enforcement (such as the Fraternal Order of Police). The ACLU and other civil rights groups opposed the initial House version of criminal justice reform, because it did not include sentencing reform.
Grassley listed some key provisions of the First Step Act in statements enclosed below. For other good summaries of the bill, click here, here, here, and here. Although Ernst was a co-sponsor, she did not release any statement on criminal justice reform or comment on the bill's passage on her social media feeds.
One major shortcoming of the revised bill: most of its provisions are not retroactive. Nevertheless, thousands of federal prisoners will be eligible for early release, and many future defendants will not face absurdly long sentences for non-violent drug crimes.
UPDATE: Grassley posted this picture of himself, Booker, Democratic Senator Dick Durbin and Republican Senator Mike Lee on Instagram, commenting, "With my partners on the First Step Act celebrating last night's passage of this historic criminal justice legislation."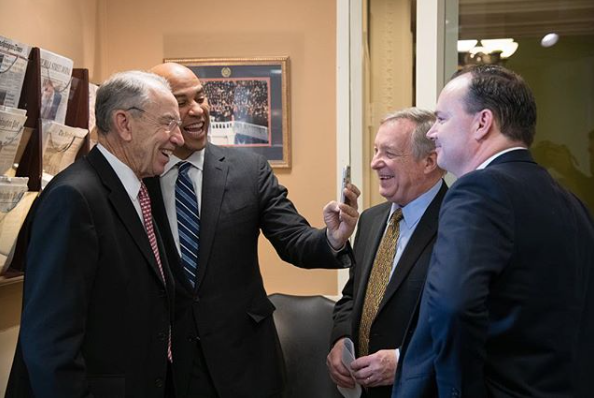 Prepared text of Senator Chuck Grassley's December 17 Senate floor speech about the First Step Act (click here for video):
We're here today to begin debate on the First Step Act of 2018—the most significant criminal justice reform bill in a generation.

Our country is based on the rule of law. If someone commits a crime, they should be punished. And that punishment should be severe enough to deter others from committing crimes. But for our criminal justice system to serve our society well, it has to do more than punish and deter.

Recidivism rates are far too high and drive crime rates up. In the federal system, 49 percent of prisoners are rearrested within eight years, and 32 percent are convicted of new crimes. We must better prepare prisoners to leave behind their criminal past and to become productive citizens when they leave prison. We also need to make sure that criminal sentences are tough enough to punish and deter, but not be unjustly harsh. Sentences should not destroy the opportunity of redemption for inmates willing to get right with the law.

The First Step Act is tough on crime but fair. To tackle the high recidivism rates in our country, the bill establishes evidence-based programming that has reduced recidivism at the state level. The bill provides incentives for inmates willing to put in the work to complete these programs. Under this bill, a prisoner may earn 10 days of time credit for every 30 days of successful participation, which they can apply toward pre-release custody. However, access to these incentives is only available to those who pose little risk of committing new crimes.

The First Step Act requires the Bureau of Prisons to implement a risk assessment system to determine an inmate's risk of returning to crime after prison. Access to the earned time credits is limited to those who pose a minimum or are low risk.

The bill also makes clear that violent and high-risk criminals convicted of certain serious offenses are ineligible for the pre-release custody program. The list of disqualifying offenses includes crimes relating to terrorism, murder, sexual exploitation of children, and gun crimes among others. All fentanyl traffickers are disqualified from earning time credits as well.

The bill also makes sentencing fairer by returning some discretion to judges during sentencing.

Some have called for eliminating mandatory minimums or cutting them back severely. I am a supporter of mandatory minimum sentences to help law enforcement take down criminal enterprises, but I also recognize that there's some unfairness in how they are sometimes applied.

The First Step Act leaves in place maximum sentences while addressing overly harsh and expensive mandatory minimums for certain nonviolent offenders. Locking up low-level offenders for needlessly long prison sentences diverts resources that are needed elsewhere to fight crime.

To address this, the First Step Act makes a number of changes to sentencing guidelines. First, the legislation clarifies that enhanced penalties for using a firearm during a crime of violence or drug crime should be reserved for repeat offenders of such crimes. That's what Congress had intended when it created the enhanced penalty.

Second, the bill would reduce the three-strike penalty from life imprisonment to 25 years. The 20-year minimum is reduced to 15 years. The bill also broadens the mandatory penalties, applying them to more of the worst criminals.

Third, the bill provides for more judicial discretion by expanding the existing federal safety valve to include more low-level, nonviolent offenders. Consistent with existing law, a judge cannot apply the safety valve unless the defendant has fully cooperated with law enforcement.

And lastly, the bill allows for the retroactive application of the Fair Sentencing Act of 2010, which reduced the 100-to-1 disparity in sentencing between crack and powder cocaine.

I want to acknowledge President Trump's leadership on criminal justice reform. Without his engagement, we wouldn't be here today. He deserves credit for brokering a deal that improves fairness and supports law enforcement.

A tremendous amount of credit is also due to my colleagues in the Senate who helped to forge a bipartisan compromise on a complex issue. I'd especially like to thank my colleague Senator Durbin. He's been my partner through this entire process. Our bipartisan cosponsors, including Senators Lee, Booker, Graham, Whitehouse, Scott, Feinstein, Cornyn and Leahy, also deserve praise for reaching this deal.

The product of years of negotiating and listening to each other is a bill that will reduce crime, strengthen faith in our justice system, support law enforcement, and give thousands of people a better shot at living a good life. I urge all of my colleagues to join with President Trump and our bipartisan coalition of supporters to support the First Step Act.
Joint press release from several senators following the December 18 vote:
Senate Passes Landmark Criminal Justice Reform

WASHINGTON – The Senate tonight passed once-in-a-generation reforms to America's prison and sentencing system to reduce recidivism, save tax dollars and promote safe communities. The bipartisan First Step Act uses evidence-based recidivism reduction programs to help inmates successfully return to society after serving their sentence. It also reduces some sentences for certain low-level, nonviolent offenders while preserving important law enforcement tools to tackle criminal enterprises. The bill was approved by a vote of 87-12.

"It's been several decades since Congress made significant reforms to our nation's criminal justice and prison policies. The First Step Act takes lessons from history and from states – our laboratories of democracy – to reduce crime, save taxpayer dollars and strengthen faith and fairness in our criminal justice system. Today's vote is an important victory in our years-long effort, which has resulted in a broad bipartisan recognition of the need for reforms. This bill is the product of careful deliberation and input from a wide range of stakeholders and law enforcement organizations. I'm grateful for the engagement from those who joined us to pass the bill and for President Trump's leadership. I look forward to the swift passage of the First Step Act by the House," Senate Judiciary Committee Chairman Chuck Grassley said

"Tonight, by a vote of 87-12 the members of the Senate proved that we can work together for the good of our nation. Passage of the First Step Act is the most significant change to our system of criminal justice in decades. It was supported by an amazing coalition of unlikely partners – progressive Democrats and conservative Republicans, law enforcement groups and civil rights groups, business leaders and faith-based organizations. By passing this legislation, we will now begin to relieve our overcrowded prisons, redirect funding to our most pressing crime prevention efforts, make our communities safer, and ensure the integrity of our justice system. I commend my colleagues for their spirit of cooperation on this important piece of legislation and I look forward to seeing this legislation signed by the President," Senate Democratic Whip Dick Durbin said.

"We did it. We passed real bipartisan criminal justice reform. Thanks to the hard work of my colleagues American families will be stronger and our communities will be safer. This is a huge win for America and President Trump," Sen. Mike Lee said.

"Our country's criminal justice system is broken – and it has been broken for decades. You cannot deny justice to any American without it affecting all Americans. That's why the passage of the First Step Act tonight is so meaningful – it begins to right past wrongs that continue to deny justice to millions of Americans. This bill is a step forward for our criminal justice system. By no means can it be the only step – it must be the beginning of a long effort to restore justice to our justice system. But for the first time in a long time, with the passage of this bill into law, our country will make a meaningful break from the decades of failed policies that led to mass incarceration, which has cost taxpayers billions of dollars, drained our economy, compromised public safety, hurt our children, and disproportionately harmed communities of color while devaluing the very idea of justice in America," Sen. Cory Booker said

"Today the Senate took a great step forward in building safer communities and a brighter future for those who have served their time and are re-entering society. By cutting recidivism, encouraging job training, education and mental health and substance abuse treatments for incarcerated individuals, and making our criminal justice system both smarter and tougher, we have taken a positive step forward tonight. I want to thank all of my colleagues for their hard work on this bill, and I look forward to House passage and the President enthusiastically signing the First Step Act into law," Sen. Tim Scott said.

"This bill is the product of years of bipartisan hard work, patience, and strong advocacy by Rhode Islanders and people across the country, including those who have gone through the system themselves. Senator Cornyn and I drew on our home states' success in helping low-risk inmates return to society, stay out of trouble, and contribute to their community. The bill will also address serious issues with sentencing practices that land too many people in prison for too long. Thank you to the Rhode Islanders who contributed to this bill, and to my colleagues from both sides of the aisle who joined me in this effort," Sen. Sheldon Whitehouse said.

The First Step Act combines prison reform proposals that overwhelmingly passed in the House of Representatives earlier this year with sentencing reform provisions from the broadly bipartisan Sentencing Reform and Corrections Act, which was approved by the Senate Judiciary Committee in February.

The comprehensive package aims to reduce crime by helping low-risk inmates prepare to successfully rejoin society through participation in proven recidivism reduction programs. It also improves fairness in prison sentences by recalibrating certain mandatory minimum sentences while expanding their application to new categories of violent felons. The bill grants greater discretion to judges in sentencing of low-level, nonviolent drug offenders who cooperate with law enforcement. It also clarifies congressional intent on sentencing enhancements for certain crimes involving firearms. The First Step Act preserves the maximum potential sentences for violent and career criminals. Finally, the legislation also allows petitions for retroactive application of the Fair Sentencing Act to be considered on an individual basis to reduce sentence disparities between crack and powder cocaine offenses. Under this legislation, any savings generated by the reforms are automatically reinvested into law enforcement programs to further reduce crime and improve community safety

The First Step Act includes safeguards that prevent career and violent criminals from receiving earned time credits toward pre-release custody following completion of recidivism reduction programs. Under the bill, each inmate is evaluated using a data-driven risk and needs assessment tool to determine their likelihood of reoffending upon release. Only inmates found to be a low or minimum risk may benefit from earned time credits. Conviction for a number of serious offenses also disqualify inmates from earning time credits.

The First Step Act is modeled after state-based reforms that have proven to reduce crime, prison populations and taxpayer expenses. It is endorsed by President Trump and cosponsored by more than a third of the Senate, evenly balanced among Democrats and Republicans.

The First Step Act is backed by a number of law enforcement groups, including the nation's largest police group. It's also supported by 172 former federal prosecutors including two former Republican U.S. attorneys general, two former deputy attorneys general and a former director of the FBI along with sheriffs from 34 states across the country. The National Governor's Association, which represents the governors of all 50 states, praised the bill. A broad coalition of conservative and progressive groups along with a host of business leaders and faith-based organizations also support the First Step Act.
LATER UPDATE: The U.S. House approved the criminal justice reform bill on December 20 by 358 votes to 36 (roll call). All of the opposition came from Republicans, including Iowa's Representative Steve King (IA-04). Representatives Rod Blum (IA-01) and David Young (IA-03) supported the First Step Act, as did Democratic Representative Dave Loebsack (IA-02).