The State Judicial Nominating Commission will meet on January 30 to consider nineteen applicants seeking to replace Iowa Supreme Court Justice Daryl Hecht, who stepped down last month. The commission will then send Governor Kim Reynolds a list of three candidates, one of whom will be appointed to the high court within 30 days.
After reviewing the applications, I compiled some noteworthy facts about the contenders. One of them is not like the others.

1. Twelve applied for the previous Supreme Court vacancy.
The nominating commission will not re-interview the candidates who sought to replace retiring Justice Bruce Zager last summer. The Iowa Judicial Branch posted links to their written applications and interviews from July.
District Associate Judge Romonda D. Belcher
District Court Judge Mary Chicchelly
Jean Dickson, attorney in private practice
Timothy Gartin, attorney in private practice
Christine Lebron-Dykeman, attorney in private practice
Iowa Court of Appeals Judge Christopher McDonald
Craig Nierman, attorney in private practice
District Court Judge Dustria Relph
District Court Judge Patrick Tott
Assistant Attorney General Molly Weber
Assistant U.S. Attorney Lisa Williams
Interviews of the seven new applicants for the high court will be live-streamed on the judicial branch YouTube channel at the following times on January 30:
District Court Judge Myron Gookin (9:00 am)
Assistant U.S. Attorney David Faith II (9:20 am)
District Court Judge David Porter (9:40 am)
District Court Judge Joel Barrows (10:00 am)
Elisabeth Reynoldson, attorney in private practice (10:40 am)
Muscatine County Attorney Alan Ostergren (11:00 am)
CeCelia Ibson, attorney in private practice (11:20 am)
2. Ten women and nine men applied for the position.
Justice Susan Christensen, whom Reynolds appointed last summer, is the only woman currently serving on the Iowa Supreme Court and just the third woman ever to hold that position.
3. Three could become the first person of color to serve on Iowa's highest court.
District Court Judge David Porter and District Associate Judge Romonda Belcher are African Americans. Iowa Court of Appeals Judge Christopher McDonald listed his race/ethnicity as both Vietnamese and white. The rest of the applicants are white, though CeCelia Ibson described herself as white and "other," noting that her mother is "first generation Lebanese American."
4. Nearly half are already judges.
Most Iowa Supreme Court justices appointed in recent decades had prior experience on lower court benches. That is the case for nine in the current applicant pool.
Of the remaining ten applicants, six are attorneys in private practice, two are assistant U.S. attorneys, one is a county attorney, and one works in the Iowa Attorney General's office.
5. Eleven live outside central Iowa.
Although there is no requirement for geographical diversity on the Iowa Supreme Court, an informal tradition favors representing different parts of the state. Justice Hecht practiced law in Sioux City for many years before becoming a judge and still lives in northwest Iowa.
The six current justices live in Webster County (Chief Justice Mark Cady), Polk County (Edward Mansfield and David Wiggins), Warren County (Brent Appel--he is originally from Dubuque), Scott County (Thomas Waterman), and Shelby County (Susan Christensen).
Of the current applicants, five live in Polk County: Belcher, Porter, Ibson, Lebron-Dykeman, and McDonald.
Three live in counties neighboring Polk: Faith lives in Warren County (Indianola), Gartin in Story County (Ames), and Weber in Dallas County (Adel).
Barrows and Dickson live in Scott County (Bettendorf).
Nierman and Williams live in Johnson County (Iowa City).
Chicchelly lives in Linn County (Cedar Rapids).
Lekar lives in Black Hawk County (Waterloo).
Gookin lives in Jefferson County (Fairfield).
Ostergren lives in Muscatine County (Muscatine).
Relph lives in Wayne County (Corydon).
Tott lives in Woodbury County (Sioux City).
Reynoldson lives in Clarke County (Osceola).
6. One used civil forfeiture funds to buy a sport utility vehicle for his use.
Jason Clayworth and Grant Rodgers reported for the Des Moines Register in 2015,
Muscatine County supervisors were surprised last year to learn that County Attorney Alan Ostergren had spent more than $27,000 in civil forfeiture money — seized by the Muscatine County Drug Task Force — to buy a new Jeep Grand Cherokee to drive for work.

Kas Kelly, the board's chairwoman, complained during an August county board meeting that the purchase "blindsided" supervisors.

Ostergren defended it, telling supervisors it would likely save taxpayers money in the long run.

One of the advantages, he said, is that he can trade in the vehicle annually, similar to a program used by the sheriff's office. A trade-in would allow him to get a new car every year for just $2,000.

The prosecutor also told the Register that the Jeep's estimated mileage cost is about 21 cents per mile, half of what he previously received for driving his own vehicle on county business. Public records show Ostergren's average annual mileage reimbursement the previous five years was less than $600 a year.
After U.S. Senators Chuck Grassley and Joni Ernst recommended Ostergren as one of three candidates for U.S. Attorney in the Southern District of Iowa in April 2017, I asked him whether he used the Jeep Grand Cherokee for work purposes only, and how he would defend that purchase as enhancing law enforcement or crime-fighting in Muscatine County. He did not respond to messages seeking comment.
7. One's professional judgment was criticized in an Iowa Supreme Court opinion.
In June 2017, four Iowa Supreme Court justices "concluded prosecution of crimes such as identity theft and forgery when related to immigration fall under federal jurisdiction and cannot be prosecuted in state court." The case stemmed from Ostergren's prosecution of Martha Martinez, a DREAMer brought to Muscatine as a child.
A concurring opinion by Justice Wiggins (pages 42-44) criticized Ostergren's choice to bring charges against this defendant. Excerpts (emphasis added):
Martha Aracely Martinez was born in Mexico. Her parents brought her to Muscatine, Iowa, when she was eleven years old. It was not her choice to come here. Since then, she has lived in Muscatine, attended local schools, and worked in the community. When her parents brought her to the United States, she did not have a lawful immigration status. Because she had no immigration status, she could not lawfully obtain a driver's license or lawful employment when she became old enough to do so.

When she was seventeen years old, Martinez used fictitious documents to acquire an Iowa driver's license, which in turn, she used to obtain employment. She was a model citizen, contributing member of the community, and employed for thirteen years. After Deferred Action for Childhood Arrivals (DACA)2 protection coaxed Martinez from the shadow of deportation to acquire lawful immigration status and work authorization, the Muscatine County Attorney charged her with crimes for previously using the fictitious documents to obtain a license and employment. Importantly, there is nothing in the record to indicate that her use of the fictitious documents caused anyone harm.

As Martinez approached adulthood, she had to figure out a way to survive in a country her parents brought her to as a child. This country is the only country she knew. She chose to support herself and her children by participating in the legal economy. She did not have any other good choices. One bad choice would be to support herself and her family by engaging in illegal activities. Another would be to support herself by participating in the underground economy. If she did get involved in either the illegal or the underground economy, she could have become a victim of human trafficking. [...] Yet, another choice would be to return to a country that was never her home.

When DACA became available, Martinez came forward to obtain legal immigration status and proper work authorization. At each step, it seems, Martinez attempted to do right in difficult circumstances created by her parents when she was only a child. According to the record and by all measures, Martinez has been a valuable contributor to her community and our state. At the time the county attorney decided to exercise his discretion to file charges, she had three young children and was pregnant with her fourth child. At the time he filed the charges, the county attorney knew there was a good chance Martinez could be deported, which would force her children, three American citizens, to leave the country or stay here and fend on their own.

The county attorney "is an administrator of justice, an advocate, and an officer of the court." ABA Standards for Criminal Justice: Prosecution Function and Defense Function 3-1.2(b), at 4 (3d ed. 1993) [hereinafter ABA Standards]. [...]

Further, the county attorney "must exercise sound discretion in the performance of his or her functions." ABA Standards 3-1.2(b), at 4. As an administrator of justice, the county attorney has significant power, and with it, must use appropriate restraint. The county attorney has a duty to "seek justice, not merely convict." Id. 3-1.2(c), at 4.
What public purpose was served by prosecuting a pregnant mother of three? She hadn't used false papers to steal from anyone. She was just trying to hold down a job. It looks like Ostergren was trying to bolster an image as a tough guy on immigration in a community with a high percentage of Latino residents.
I'll be interested to see whether this case comes up during Ostergren's interview. Wiggins has an ex officio role on the State Judicial Nominating Commission as the second most senior justice on the high court.
8. One prosecuted a case that led to an unusual defeat in the Iowa Court of Appeals.
Ostergren charged former West Liberty city manager Chris Ward with felonious misconduct in office and third-degree fraudulent practices because Ward had charged utility customers "a rate prescribed by a 1998 ordinance rather than a 2007 ordinance."
The State did not assert Ward pocketed the overage, which was ultimately refunded to customers. The State simply charged that Ward's reliance on the 1998 ordinance amounted to falsification of a public record.
Trouble was, a Court of Appeals panel unanimously found,
The State conceded West Liberty's 2007 ordinance did not properly repeal the 1998 ordinance, yet charged Ward with a crime predicated on repeal of the 1998 ordinance. This was error. We reverse the district court order denying Ward's motion to dismiss the felonious misconduct in office charge and remand for dismissal of that charge.
The appeals court doesn't take that step often. Ward's attorney Alfredo Parrish told Ryan Foley of the Associated Press that "he's only obtained a dismissal on appeal twice out of 125 cases."
Ostergren should have checked his facts before accusing a city manager of a felony for doing his job.
9. One's actions led to a federal lawsuit and a $50,000 settlement.
Ward sued Ostergren and other Muscatine officials in federal court for malicious prosecution and various civil rights violations. The case was scheduled for trial later this year, but the parties recently settled for $50,000, Foley reported for AP on January 25.
Ostergren downplayed this episode on his Iowa Supreme Court application: "Action by former criminal defendant against detective, sheriffs, prosecutor, and county. Court dismissed bulk of causes of action on pre-answer motion to dismiss. Case was dismissed after insurance company paid settlement."
The settlement agreement indicates that a court dismissed four of the six counts related to Ostergren. But the two remaining (counts III and VI) were doozies. You can find them on pages 15-17 and 20-21 of the original court filing:
Excerpt from Count III:
Beginning in February 2015 until the dismissal of all charges filed against Ward, Defendants Ostergren and [Muscatine County Officer Quinn] Riess caused and/or engaged in a pattern of conduct that violated Chris Ward's clearly established constitutional right to be free from unreasonable restraints on personal liberty, to wit: by filing a meritless complaint to the IPIB [Iowa Public Information Board]; maliciously charging Ward by criminal complaint with law violations unsupported by probable cause; maliciously charging Ward by trial information with law violations unsupported by probable cause and/or prosecuting Ward using a multiplicitous trial information.

93.Ostergren and Riess's prosecution of Ward ended favorably for Ward, with the IPIB complaint being unanimously dismissed and criminal charges being dismissed.
Count VI alleged that after Ward became a city manager in another Iowa county, Ostergren "intentionally and improperly interfered with" his new contract "by contacting the Vinton city attorney regarding Ward and by filing a baseless formal complaint to the IPIB on or about April 2, 2015."
The lawsuit asserted that Ostergren's actions on this front were "willful, wanton, unlawful, and in gross disregard for Ward's rights, justifying an award of punitive damages."
Remember, the court did not dismiss those claims prior to the settlement agreement.
Ward's attorney Parrish told Foley "the lawsuit was an attempt to rein in Ostergen, whom he said was 'unrestrained by concerns of justice and whose driving interest is in headline-grabbing prosecutions.'"
Someone vindictive enough to use a bogus criminal charge to undermine another person's career lacks an appropriate temperament for any judgeship, let alone a seat on the Iowa Supreme Court.
10. One was nearly voted out of office in November by the Iowans who know him best.
Most county attorney elections in Iowa are uncompetitive, especially when a long-serving incumbent is involved. (Ostergren began working as an assistant Muscatine County attorney in 1997 and moved up to his current job in 2011.)
I looked up all 99 county attorney 2018 election results using this tool on the Iowa Secretary of State's website. In 89 counties, only one candidate filed for the position. Some contested races ended in landslides, others close races. Ostergren was the incumbent re-elected by the narrowest margin: 7,326 votes to 7,187 for his Democratic challenger (50.4 percent to 49.5 percent).
The points listed above are far from the only controversial aspects of Ostergren's record. It's striking that while most Iowa county attorneys do not even draw a challenger, Muscatine residents almost forced their top prosecutor to find another job.
With many highly qualified applicants to consider, the State Judicial Nominating Commission can surely recommend three candidates who have no record of abusing their power.
Final note: Members of the public may submit positive or negative comments about Supreme Court applicants by e-mailing the secretary of the State Judicial Nominating Commission (appellate.vacancy@iowacourts.gov) by the time interviews conclude around lunchtime on January 30.
UPDATE: The commission recommended Lekar, McDonald, and Relph to the governor. Reynolds will have 30 days to make her decision.
Commissioners asked Ostergren about points raised above during the January 30 interview. Here's the video, for those who are interested.
Near the beginning, someone asked Ostergren about his involvement in a company called Schwarz Forensic Enterprises. Until sometime this week, the firm's website listed Ostergren as "director of operations."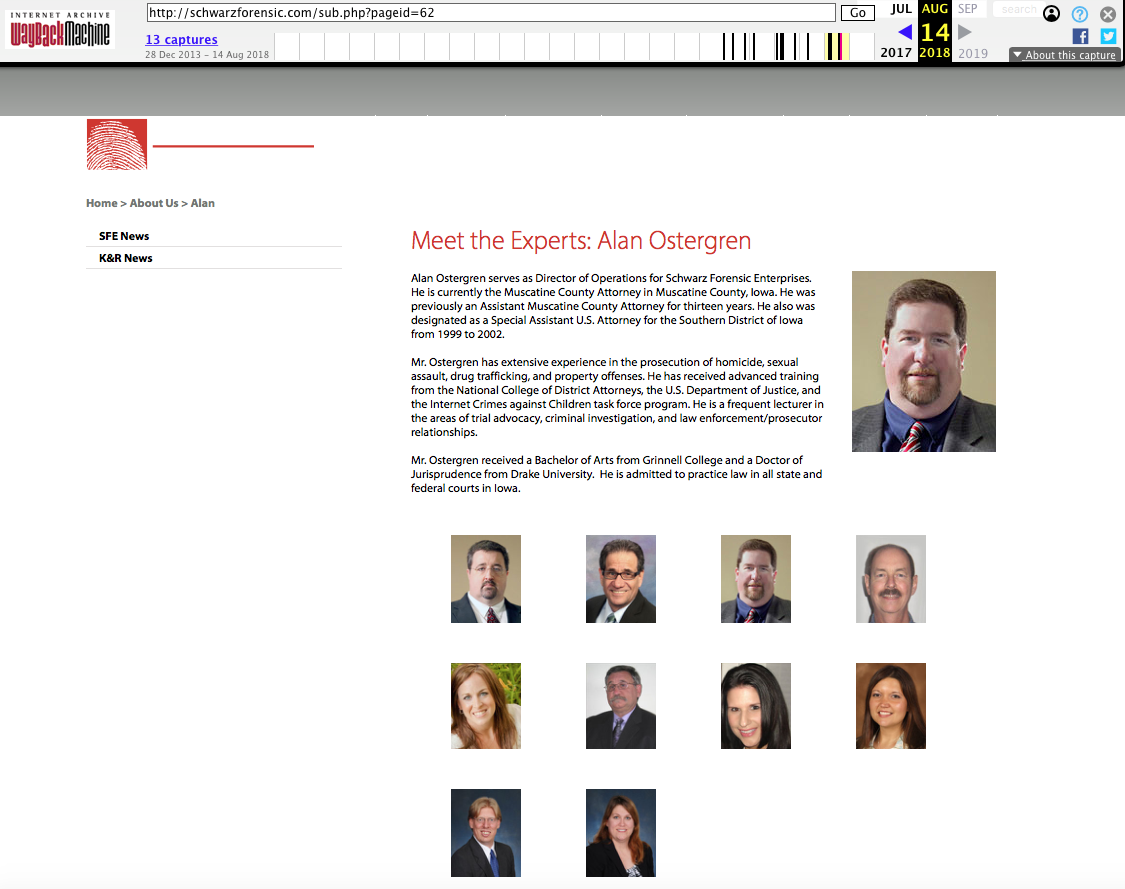 Someone wrote to the judicial nominating commission members, informing them of the connection, which could be a conflict of interest for a Supreme Court justice and was not disclosed on Ostergren's application. Ostergren said he hadn't been involved with the business for about three years and that his application was accurate. At this writing, references to him do not appear on the company's website.
Ostergren said he uses the SUV only for county business or when he goes to Des Moines to lobby on behalf of the county attorneys association. He sidestepped the issue of whether civil forfeiture funds were intended to be used to buy a vehicle for a county attorney to drive.
Regarding the DREAMer, Ostergren asserted media accounts left out relevant facts, such as criminal charges under the false name. He said he had offered that defendant a deferred judgment, which could have been wiped from her record with no jail time. He did not address the issue that she could have been deported due to his prosecution.
Regarding the civil lawsuit, Ostergren said he was sued "for doing my job" (kind of like how Ward was prosecuted for doing his job). Muscatine County's insurer decided to settle to avoid the costs of litigation, which was not Ostergren's call. He would have preferred to keep fighting.