Former U.S. Representative David Young became the first declared Republican candidate in Iowa's third Congressional district on May 6, telling the Des Moines Register's Brianne Pfannenstiel he looks forward to campaigning against the Democrat who defeated him last November.
"I spent a lot of time with folks around the 3rd District, listening to their priorities and listening to their voices, and they are not being heard right now in the U.S. Congress," Young said in an interview. "The policies that Cindy Axne is putting forward with Nancy Pelosi is not what Iowans are talking about or wanting."
Young gave the exclusive to the Register about nine hours after State Senator Zach Nunn announced a "listening tour" of the district's sixteen counties while he pretends to be merely considering a bid for the U.S. House.

Why politicians play these games is beyond me. Nunn is widely believed to be the National Republican Congressional Committee's preferred candidate. With the legislative session behind him, he could have become Axne's first challenger. He's obviously running. Nunn's May 6 news release (enclosed below) quotes him as saying, "we must keep fighting to take Iowa values to the nation's capital." The statement includes a not-subtle dig at Young: "It's time for a new generation of leaders who will build consensus, fight Washington inaction and corruption, and always put community first."
By making his candidacy official first, Young has put the NRCC in an awkward spot. The main campaign arm of U.S. House Republicans spent more than $3.2 million to help Young win his 2014 race. The next election cycle, the NRCC spent more than $1.9 million and the Congressional Leadership Fund super-PAC chipped in another $1.8 million in support of his re-election. The Congressional Leadership Fund spent nearly $4 million on Young's behalf in last year's losing effort. Will they come out for a different Republican now?
The second-quarter fundraising for Young and Nunn should signal where the GOP establishment is leaning. Young's last Federal Election Commission filing showed $3,877.15 cash on hand and $197,500 in debts to the candidate at the end of the first quarter. As an incumbent, he typically raised more from political action committees than from individuals. But corporate PACs and committees controlled by other U.S. House Republicans may keep their distance if they sense party leaders want someone else to face Axne in 2020.
Nunn's news release touts his victory over a Democratic incumbent in 2014, adding that he "battled the 'Blue Wave' in 2018, when his Community First campaign flipped a decades-long Democrat-held seat by 12%."
Important context: After State Senator Chaz Allen retired unexpectedly last July, Democrats had to scramble to find a replacement candidate. Their eventual nominee was a disaster, and the party put no money into the race. So Nunn's winning margin of 56.9 percent to 43.0 percent is less impressive than it may appear at first glance.
Bleeding Heartland's February post about Nunn's possible candidacy in IA-03 included vote totals for Axne, Young, and Nunn in shared precincts.
At this writing, Young's campaign website is just a landing page with a donate button and place for supporters to sign up. Nunn's campaign site hasn't been updated since his 2018 race, and some pages still list him as the representative for Iowa House district 30.
The GOP field in IA-03 will likely expand further in the coming months. Ankeny school board member Brad Huss told conservative blogger Shane Vander Hart that he will seek the GOP nomination. State Representatives Jon Jacobsen and Mary Ann Hanusa may be thinking about the race, along with State Senators Dan Dawson and Jake Chapman. There's a lot of buzz around Pleasant Hill Mayor Sara Kurovski as well.
Any comments about the Congressional race are welcome in this thread. The latest figures from the Iowa Secretary of State's office indicate that the district's sixteen counties contain 170,561 active registered Democrats, 170,198 Republicans, and 173,243 no-party voters.
I'm re-upping this interactive map of the 2018 results. Click on any county to bring up the vote totals and percentages for Cindy Axne and David Young. Percentages don't add up to 100 because four other candidates were on the ballot.
County Name
| | | | |
| --- | --- | --- | --- |
| D | Canidate 1 | 61% | 30390 |
| R | Canidate 2 | 39% | 10390 |
Young between 50% and 60%
Table showing county-level IA-03 results in 2018. The counties are listed in descending order by number of votes cast in the Congressional race.
How David Young and Cindy Axne performed in IA-03 counties
County
Young votes
Young vote share
Axne votes
Axne vote share
Polk
82,404
40.1%
115,877
56.4%
Dallas
21,089
51.5%
18,593
45.4%
Pottawattamie
18,181
53.8%
14,044
41.6%
Warren
12,778
53.1%
10,363
43.1%
Madison
4,749
62.4%
2,589
34.0%
Mills
3,941
62.5%
2,146
34.0%
Cass
3,829
66.3%
1,777
30.8%
Page
3,776
67.1%
1,741
30.9%
Guthrie
3,159
63.3%
1,622
32.5%
Union
2,930
60.3%
1,717
35.4%
Montgomery
2,631
66.5%
1,209
30.6%
Adair
2,205
64.9%
1,067
31.4%
Fremont
1,933
64.1%
990
32.8%
Taylor
1,683
69.3%
673
27.7%
Ringgold
1,493
65.7%
716
31.5%
Adams
1,152
66.6%
518
29.9%
District-wide
167,933
47.1%
175,519
49.3%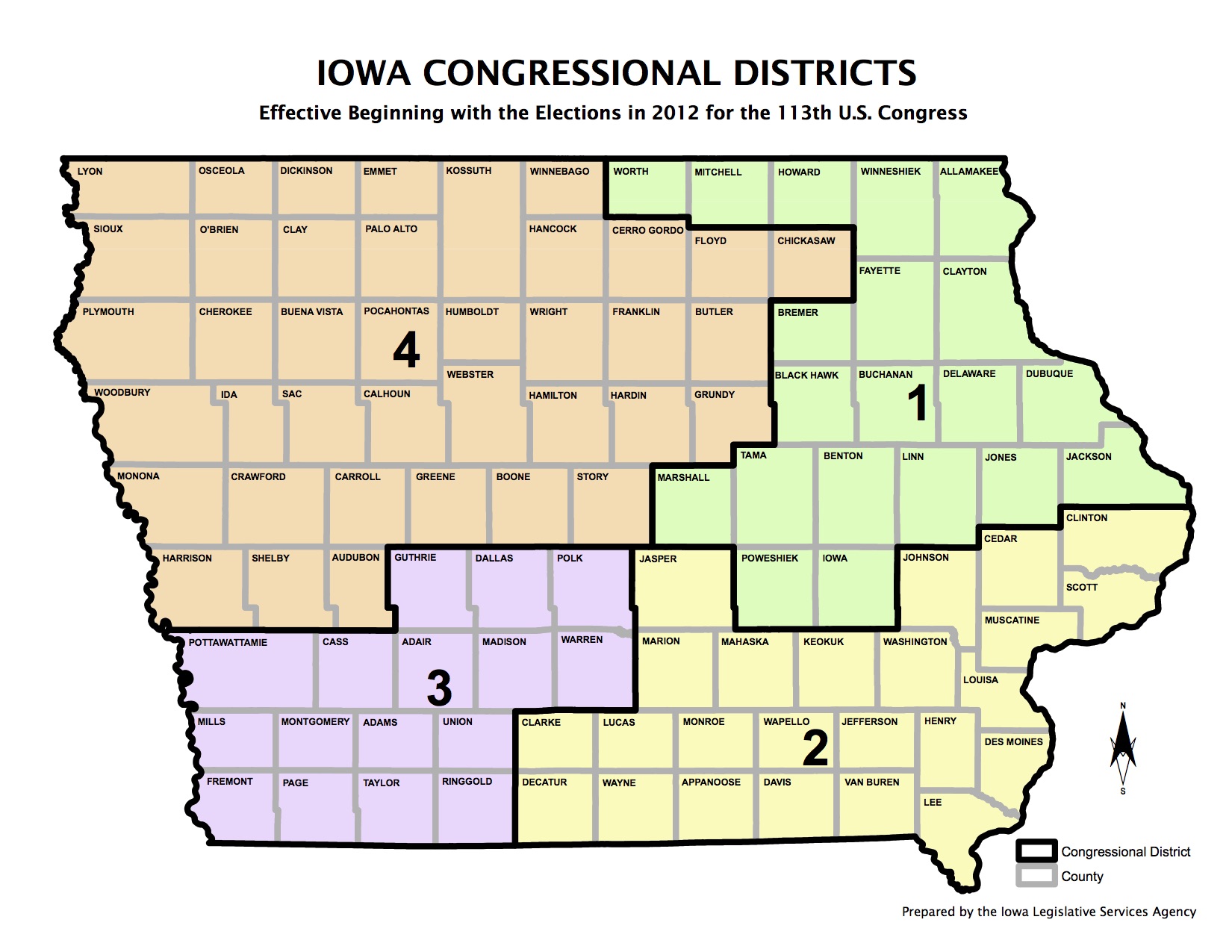 Full text of Nunn's May 6 press release:
Zach Nunn Announces Third Congressional District Listening Tour

Des Moines, IA-- State Senator and US Air Force combat veteran Zach Nunn anounced he will launch a listening tour through all 16 counties in the third congressional district.

"Together, we've made Iowa the top state to live, work, and raise a family," Nunn said, "we must keep fighting to take Iowa values to the nation's capital."

"It's time for a new generation of leaders who will build consensus, fight Washington inaction and correction, and always put community first."

Friends and supporters from across the third district have encouraged Zach Nunn to seriously consider launching a campaign to take on Congresswoman Cindy Axne.

"This listening tour will be an opportunity to learn from Iowa families, farmers, and business owners across the third district about priorities for their communities," Nunn said.

Zach Nunn has a proven record of winning tough fights. Nunn ousted a Democratic incumbent in 2014 and battled the 'Blue Wave' in 2018, when his Community First campaign flipped a decades-long Democrat-held seat by 12%.

Zach Nunn is a sixth-generation Iowan who grew up the son of a public-school teacher and nurse. He learned early the value of hard work from his grandfather, a livestock farmer and head of the family's 100+ year old Iowa farm. Zach Nunn has spent his career in service. He is a decorated veteran with 700 air combat hours and served as the White House National Security Council Director of Cybersecurity. Following active duty service with the Air Force, Nunn now serves with the Iowa Air National Guard's 132nd Wing as the Commander of Iowa's newest intelligence squadron.
Full text of the Young campaign's May 6 statement:
David Young Announces 2020 Bid for Iowa's 3rd Congressional District
VAN METER, IOWA - Today, David Young launched his campaign for Iowa's 3rd Congressional District. Young was elected to the 3rd Congressional District in 2014 and reelected in 2016.

As a sixth-generation Iowan, David Young is focused on ensuring the priorities, values, and voices of Iowans are heard. This starts by listening, leading and fighting hard to win.

"I was born and raised in Iowa's 3rd Congressional District, so this mission is personal to me and so many others I visit with and hear from in the district's 16 counties," said Young.

"The residents of the 3rd District deserve better than the partisan politics overshadowing and taking precedence over the priorities of Iowans in Congress right now. Since January, hard-working Iowans have been left behind by Cindy Axne while she's voted to reward herself with Iowans' taxpayer dollars to fund her personal political campaign and breaking promises. The policies advocated by Cindy Axne and Speaker Nancy Pelosi in this current Congress are harming Iowa's families by hurting our economy and rights. Iowans deserve better from their current representative. This is why today I am announcing my candidacy for Congress," said Young.

David Young is excited to announce his candidacy and is running hard to gain the support of all Iowans in all 16 counties in the 3rd Congressional District - ensuring their voices are heard in Congress from Fremont County to Polk County.

Young is a graduate of Johnston High School and Drake University and is a resident of Van Meter where he grew up. Before serving Iowans in the U.S. Congress from 2015-2019, Young served Iowans as the Chief of Staff for U.S. Senator Chuck Grassley.
UPDATE: I forgot to mention that the LGBTQ advocacy organization One Iowa Action endorsed Nunn's state Senate campaign but issued a "formal statement of disapproval" last month after Nunn voted for amending the Iowa Civil Rights Act to target transgender Iowans on Medicaid.
Iowa Democratic Party staffer Jonah Hermann mocked Young's "sloppy launch," noting that visitors who sign up for campaign e-mails are redirected to this page: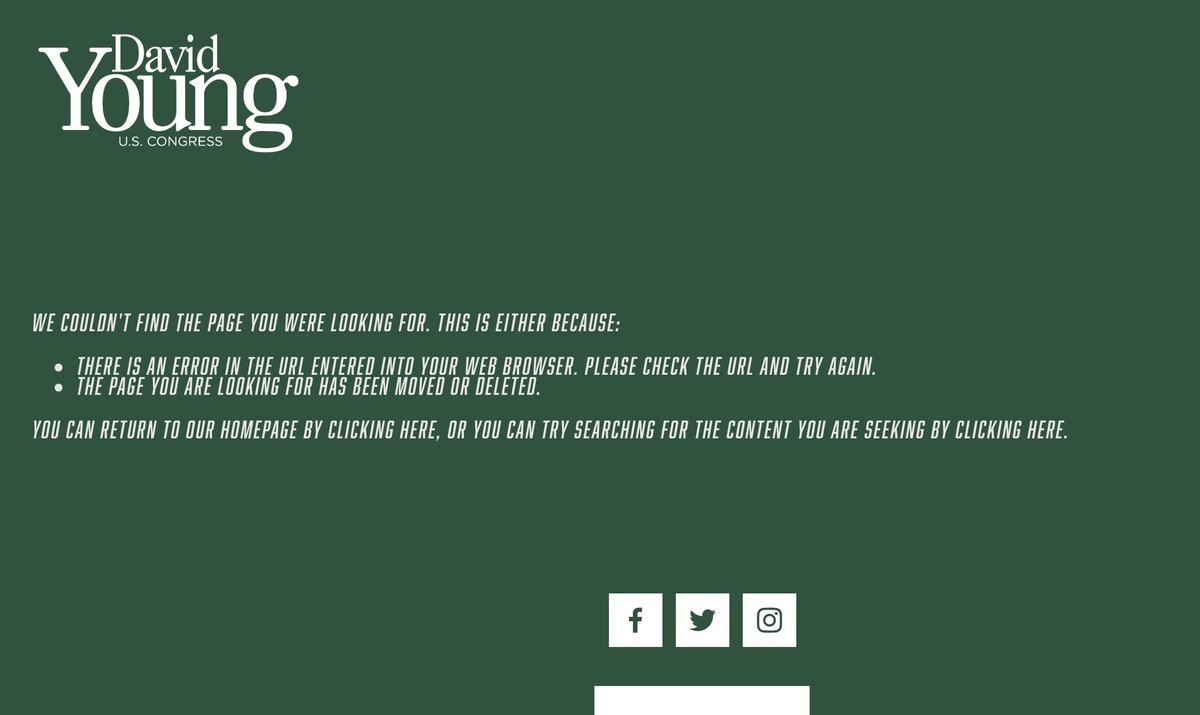 "Was his announcement rushed today because of @ZachNunn_IA's listening tour?" Hermann asked. Almost certainly yes.
SECOND UPDATE: A central Iowa Republican told Bleeding Heartland that she received a short robo-poll on the evening of May 6. After some standard screening questions such as how likely are you to vote in the next Republican primary, the poll asked respondents whether they would support Jake Chapman, Zach Nunn, or David Young for Congress. Another question went something like this: "Would you be more likely to support a conservative like Senator Ted Cruz of Texas or someone from the establishment like Paul Ryan?"
Sounds like Chapman or people close to him may have commissioned this survey to gauge potential support. He was part of Cruz's Iowa leadership team before the 2016 caucuses. Young served in Congress under Speaker Paul Ryan and rarely deviated from House leaders' position.
Nunn was an early endorser of Jeb Bush for president.
Top image: Graphic on the left taken from David Young's Twitter feed; photo on the right from Zach Nunn's Facebook page.