As Iowa Republicans look for a candidate who could win back the third Congressional district, the Des Moines rumor mill has focused on several state lawmakers from Polk County. One of them, State Senator Zach Nunn, says he is getting a lot of encouragement and is not ruling the race out.

During the February 10 edition of WHO-TV's "The Insiders", Dave Price asked Nunn about a Congressional race in 2020. Nunn acknowledged friends have talked to him about it, adding, "Most important is going to be having a conversation that is meaningful with my community and where they would like me to be. My wife and my kids have already voted on it, and I'll let you know." (Nunn's wife gave birth to the couple's fourth child on New Year's Day.)
Partly because of his past work experience in Washington, many Iowa politics watchers have long viewed Nunn as a likely Congressional candidate someday. The never-seemingly-busy Iowa Senate GOP communications staff have put little content on Nunn's official page. Here's an excerpt from his former bio on the House Republican website.
A decorated battlefield veteran, Zach deployed three times to operations in Iraq and Afghanistan flying 700-combat hours with the US Air Force; together, his team provided life-saving support to Special Forces & earned "Best Aircrew of the Year."

Zach brings depth of experience to the Iowa House with his service on the White House's National Security Council as Director of Cybersecurity and recipient of the National Intelligence Service Medallion for defense against foreign threats.

Previously, Zach served as Senate staff for Senator Grassley and worked as a military legislative affairs officer for a 4-Star General, to keep Washington fiscally responsible, and the nation safe.
Nunn won his first Iowa Senate race last November after serving two terms in the lower chamber. Since state senators serve four-year terms, he could run for higher office in 2020 without risking his current position. (If he had stayed in the state House, he would have had to give up the legislative seat in order to challenge Axne.)
The third district is the most politically balanced of Iowa's four Congressional districts. As of February 1, its sixteen counties contained 174,467 active registered Democrats, 173,409 Republicans, and 175,066 no-party voters. The Cook Political Report rates this district as a toss-up for 2020, while Sabato's Crystal Ball puts it in the "lean Democratic" column, due to a higher share of college-educated voters and better performance for Fred Hubbell in the governor's race, compared to the first Congressional district.
As Bleeding Heartland discussed here, Republicans need a candidate who can perform well in Polk County, containing Des Moines and most of its suburbs. Roughly 56 percent of IA-03's registered voters live in Iowa's largest county. A huge margin in Polk made the difference for Axne in last year's race against two-term Representative David Young. (Scroll to the end of this post for an interactive map and table showing 2018 county-level results in IA-03.)
A candidate from the Des Moines area would also be well-positioned for the GOP primary, compared to someone from southwest Iowa. About 48 percent of registered Republicans in IA-03 live in Polk, and tens of thousands more live in neighboring Dallas and Warren counties.
The Jasper County territory Nunn represents is part of the second Congressional district.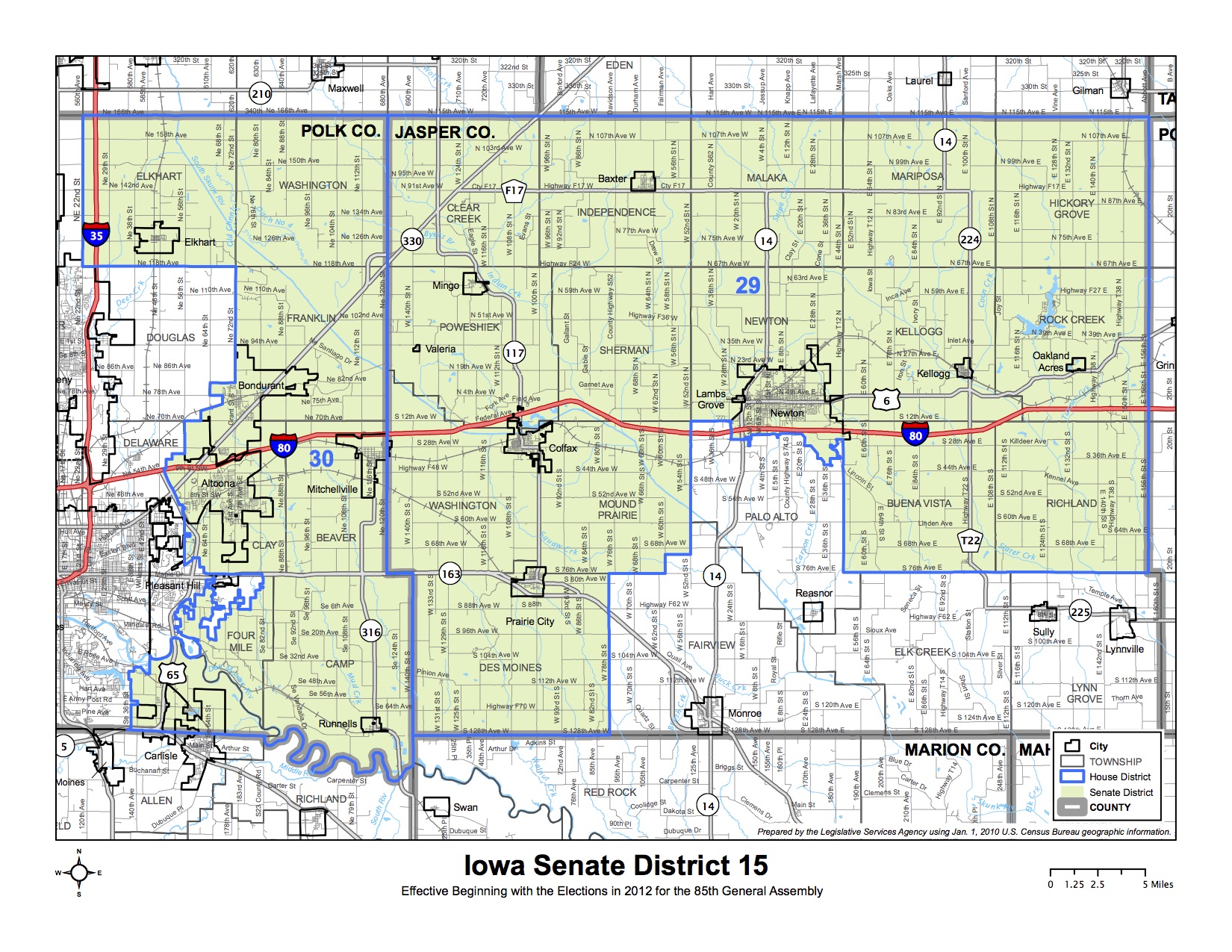 He had previously been elected twice in Iowa House district 30, covering parts of eastern Polk County.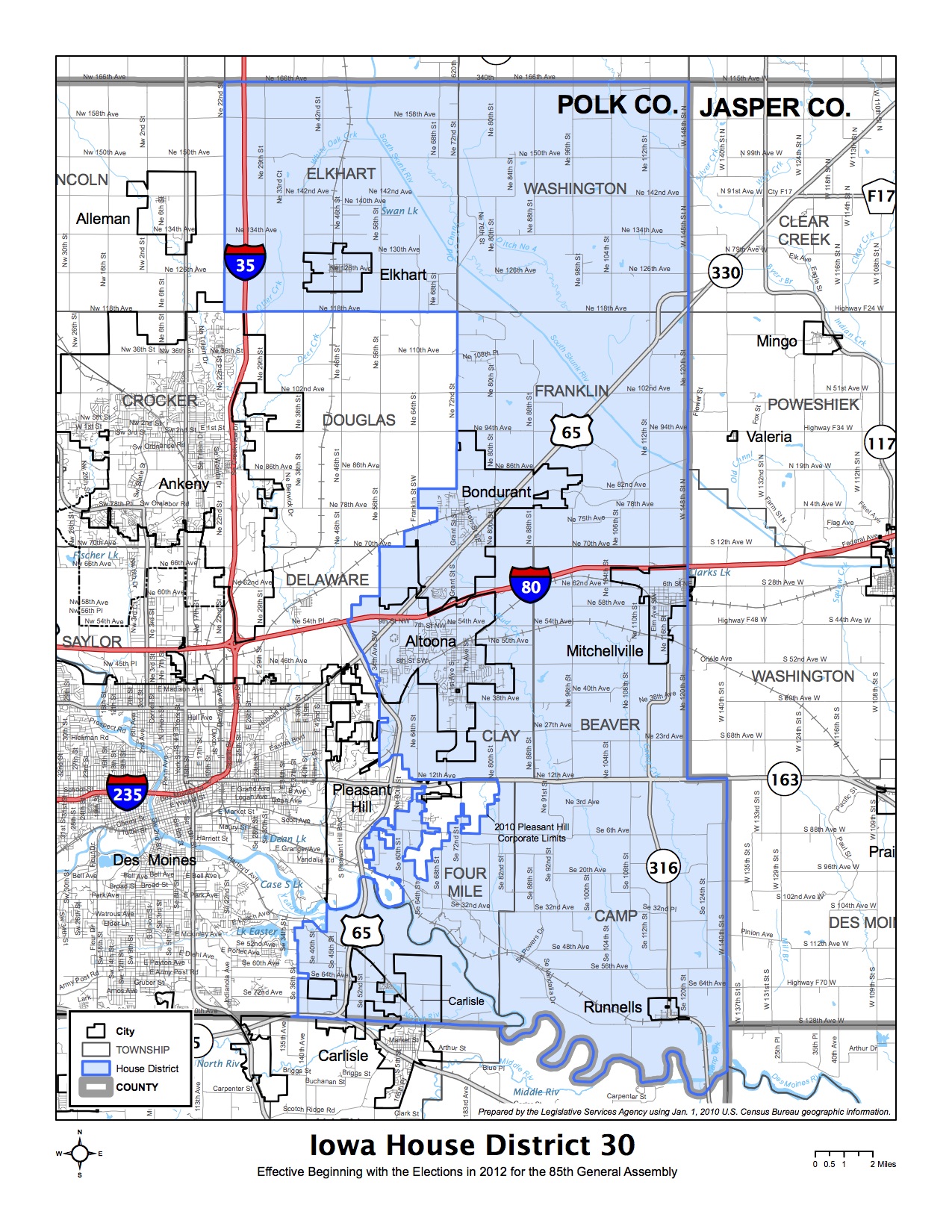 I thought it would be helpful to view compare Nunn's and Axne's performance in the precincts that are part of both Senate district 15 and IA-03. A few caveats:
Keeping in mind that House district 30 skews Republican, here are the numbers for Nunn and last year's top Congressional candidates. All precinct-level figures come from the Polk County election results website.
How Zach Nunn, David Young, and Cindy Axne performed in shared precincts
Precinct
Nunn votes
Young votes
Axne votes
Des Moines 72
38
38
34
Allen 1
105
93
90
Altoona 1
442
381
409
Altoona 2
680
610
716
Altoona 3
1,033
920
978
Altoona 4
982
859
894
Altoona 5
1,158
1,039
910
Bondurant 1
669
575
527
Bondurant 2
897
752
603
Clay 1
370
340
226
Elkhart 1
559
513
312
Four Mile 1
770
710
465
Franklin 1
565
523
303
Mitchellville 1
755
689
496
Runnells 1
705
659
408
Washington 1
198
187
56
District-wide
9,926
8,888
7,427
Nunn had a 58.8 percent to 41.1 percent advantage in the Senate district 15 precincts that are part of Polk County. Young also carried those precincts, but by a much smaller margin.
It's easy to see why many Republicans view Nunn as a promising candidate. On the other hand, we can't assume he would perform as well against Axne as he did last year against an incredibly weak Democratic candidate. If Nunn runs for Congress, every extreme Republican bill he voted for in the Iowa House or Senate would become fodder for attack ads. Democratic-aligned groups will surely spend millions defending IA-03 in 2020. In addition, Axne will enter the next campaign with higher name ID across the district and other advantages of incumbency.
Any comments about the IA-03 race are welcome in this thread.
Appendix 1: Interactive map of the 2018 election in IA-03. Click on any county to bring up the vote totals and percentages for Cindy Axne and David Young.
County Name
| | | | |
| --- | --- | --- | --- |
| D | Canidate 1 | 61% | 30390 |
| R | Canidate 2 | 39% | 10390 |
Young between 50% and 60%
Appendix 2: Table showing county-level IA-03 results in 2018. The counties are listed in descending order by number of votes cast in the Congressional race.
How David Young and Cindy Axne performed in IA-03 counties
County
Young votes
Young vote share
Axne votes
Axne vote share
Polk
82,404
40.1%
115,877
56.4%
Dallas
21,089
51.5%
18,593
45.4%
Pottawattamie
18,181
53.8%
14,044
41.6%
Warren
12,778
53.1%
10,363
43.1%
Madison
4,749
62.4%
2,589
34.0%
Mills
3,941
62.5%
2,146
34.0%
Cass
3,829
66.3%
1,777
30.8%
Page
3,776
67.1%
1,741
30.9%
Guthrie
3,159
63.3%
1,622
32.5%
Union
2,930
60.3%
1,717
35.4%
Montgomery
2,631
66.5%
1,209
30.6%
Adair
2,205
64.9%
1,067
31.4%
Fremont
1,933
64.1%
990
32.8%
Taylor
1,683
69.3%
673
27.7%
Ringgold
1,493
65.7%
716
31.5%
Adams
1,152
66.6%
518
29.9%
District-wide
167,933
47.1%
175,519
49.3%