With umpteen presidential campaigns to follow and competitive races shaping up in all four Iowa Congressional districts, as well as for many state House and Senate seats, I haven't published anything this year about the 2019 local elections.
Campaigns for school board and city offices will never be the most glamorous topics for political reporters, but the outcomes can greatly affect the quality of life in communities. Iowans thinking about running for office should read the action plan Lauren Whitehead wrote after her successful bid for Solon City Council in 2017. They should also be aware of the following dates and legal requirements:

1. School board and city elections will happen on the same day: November 5.
For the last decade, Iowa school board elections took place in September of odd-numbered years, while elections for mayor and city council happened two months later. But a 2017 law combined those elections on one day in early November.
The stated goals were to save money and promote higher turnout. (Republican lawmakers' unstated goal was to reduce the influence of teacher unions on the outcome of school board races.) John Deeth explained at length here why holding school board and city elections on the same day won't save much (if any) money. We'll find out in November whether turnout increases.
2. The filing period for school candidates runs from August 26 through September 19.
It's relatively easy to qualify for the ballot in Iowa. In most cases, prospective candidates for a school board or the governing body for a community college need to submit only 50 valid signatures on petitions as part of their nominating papers. Check with your local K-12 school district or community college about the requirements in your area.
School board candidates typically file their nominating papers with the school district secretary, rather than at the county auditor's office. Check with local officials to confirm the process.
3. The filing period for city candidates begins in August but depends on your city's election rules.
Most cities in Iowa hold "regular city" (Chapter 45) elections. That means there is no primary before the November election and no runoff in December. The top vote-getters on November 5, 2019 will win these offices, even if those candidates receive a plurality rather than a majority of the vote in their jurisdictions.
If you want to run for mayor or city council, check with your municipal government to find out whether your city will hold a "regular" election. If so, you will be able to file nominating papers (an affidavit of candidacy and nominating petitions) from August 26 through September 19. The Secretary of State's office has produced a detailed candidate's guide for Iowans running in such cities.
Some cities require runoff elections under certain circumstances. A fact sheet Polk County Auditor Jamie Fitzgerald provided to Bleeding Heartland explains,
A regular election will be held on November 5, 2019 for runoff cities. A runoff election may/may not be required depending if candidate(s) receive a majority of the votes cast. A candidate can be elected at the November 5 election, if they achieve a majority of the votes (50% +1 if single seat is open, a formula is used if multiple seats are up at the election). If a candidate or candidates do not receive a majority then the top vote getters that did not receive a majority will have a runoff election on December 3, 2019. For example, if there are two seats up and only one candidate achieves the needed majority, then the second and third place candidates would run in an election on December 3, 2019 to decide the second and final seat.
Four cities in Polk County have runoff provisions: Altoona, Clive, Des Moines, and West Des Moines. The filing period for candidates in such cities is the same as in those holding "regular" elections: August 26 through September 19.
A small fraction of Iowa cities have provisions for primary elections. Since local elections are nonpartisan, those aren't partisan primaries like the ones Democrats and Republicans hold for state or federal offices in June of even-numbered years. Rather, Fitzgerald confirmed in a June 17 telephone interview, a primary happens only if the number of candidates seeking an office is more than double the number of available seats.
For instance, if more than six candidates are running for three at-large city council seats, a primary will happen on October 8, 2019, with the top six vote-getters going on to appear on the November 5 ballot. But if six or fewer candidates file for those three city council seats, there will be no primary–only the November election.
Check with your local government to see if you live in a "primary" city (there are four in Polk County: Ankeny, Bondurant, Johnston, and Urbandale). If so, you will need to file your nominating papers between August 12 and August 29.
The Secretary of State's office has a separate candidate's guide for Iowans running in cities with primary election provisions.
4. Local candidates must collect signatures on a new petition form.
A lesser-known provision of House File 692, the election law approved during the 2019 legislative session, requires nominating petitions to include "The printed name, signature, address, and phone number of the person responsible for circulating the petition page." Misconduct by Theresa Greenfield's 2018 Congressional campaign manager inspired that new code language.
You can download the state's updated nominating petition for a nonpartisan office on the Secretary of State's website. It looks like this: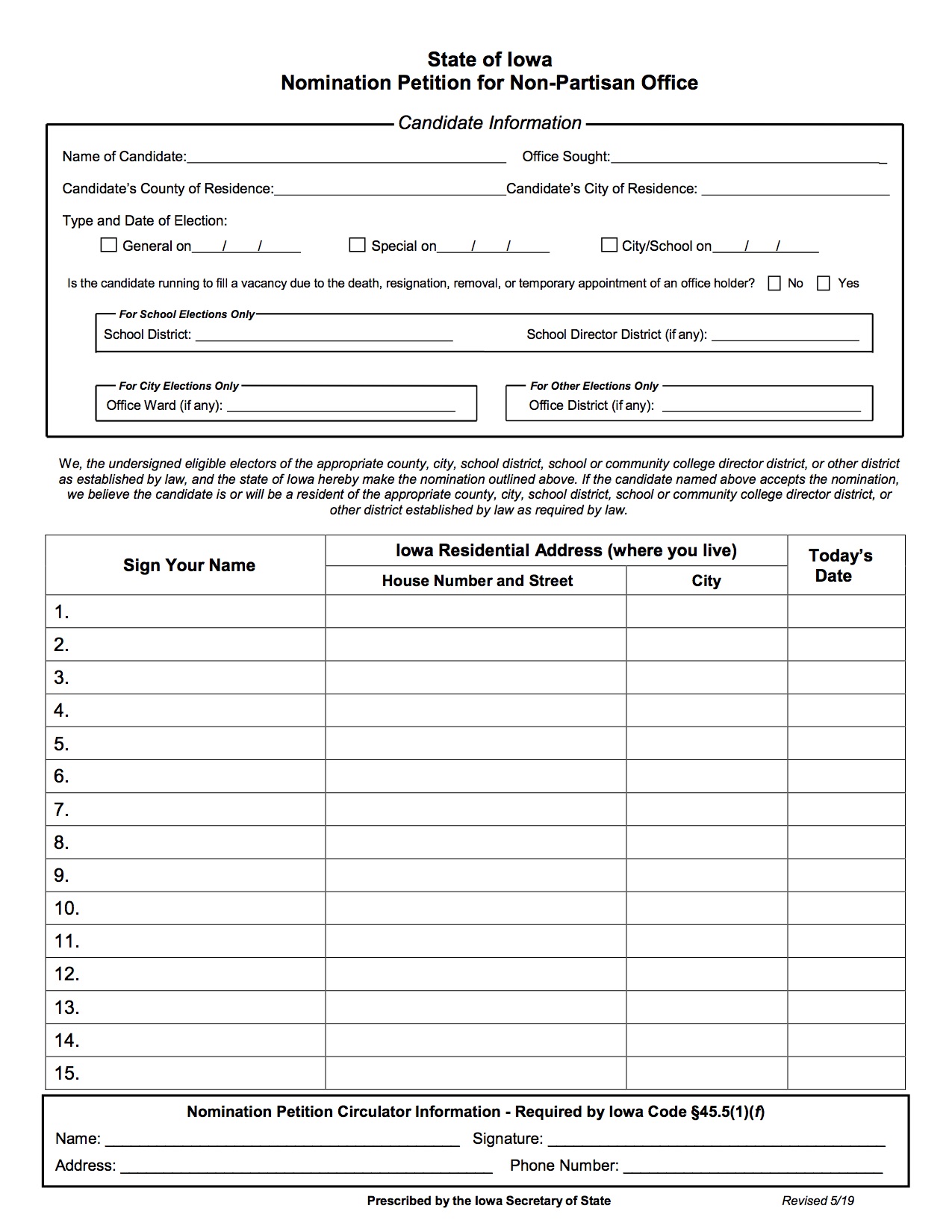 Before collecting signatures, candidates or volunteers must fill out the lines in the box near the bottom of the page. Don't leave that task for later. The whole page of signatures will be tossed if that section of the petition is blank.
5. Candidates should collect more than the minimum number of signatures.
In addition to an affidavit of candidacy, Iowans seeking city offices must turn in petitions signed by a certain number of people who are eligible to vote for their office. The threshold is low: 50 signatures for most school board positions, and for city offices, the greater number of ten or 2 percent of ballots cast in the last election for that position.
Your city clerk or county auditor's office can tell you how many signatures are needed to run for mayor or city council in your community. In Polk County, the number ranges from ten in the smallest cities to 336 for the at-large seat on the Des Moines City Council.
Since a few signatures may be declared invalid for various reasons (missing information, voter doesn't live in the district, etc.), candidates should turn in at least 20 percent more signatures than the statutory minimum. Some will submit twice as many as they need, to be on the safe side.
UPDATE: If your school district or city council elects candidates from wards, make sure that voters signing your petition live in the ward where you are running. Residents of other parts of your school district or city won't be able to vote for you, so their signatures would be invalid on a nominating petition. For this reason, it may be more efficient to go door to door collecting signatures, rather than approaching voters at local festivals where many may live outside your territory.
6. Iowa voters may request absentee ballots for 2019 elections beginning on July 8.
Since school board or city races don't generate wall to wall news coverage or lots of television commercials, election day may be easily overlooked when November 5 rolls around. So candidates have good reason to push identified supporters to vote early.
If you're knocking on doors this summer–and you should be if you want to win a school board or city race–bring absentee ballot request forms along. Voters can request a ballot anytime between July 8 and October 25.
However: the first day county auditors will mail out absentee ballots is October 7. So make sure the voter isn't planning to move to a new residence before October. Otherwise the ballot will be mailed to the old address.
Bleeding Heartland will return to this topic later in the year with a review of key dates for voters participating in local elections.
Top image: Des Moines City Hall, photo by Iowahwyman for the English language Wikipedia, retrieved via Wikimedia Commons.