Democrat Ross Wilburn will be unopposed in the August 6 special election to represent Iowa House district 46. The deadline to file nominating papers was on July 12 at 5:00 pm, and Wilburn is the only name on the Iowa Secretary of State's candidate list.
A spokesperson for the Republican Party of Iowa told the Des Moines Register's Stephen Gruber-Miller that the GOP would not field a candidate for the special election, but did not indicate why. The Libertarian Party of Iowa also declined to compete for this district; Libertarians have occasionally nominated candidates in House district 45, covering other Ames neighborhoods.
In all likelihood, Wilburn would have won this election regardless of the timing or the competition, given the political layout of House district 46. The strongest potential GOP candidate, Ames City Council member Tim Gartin, took himself out of the running early, and several Democratic presidential candidates have either headlined events for Wilburn or had their staff help knock doors for him.
If Republicans weren't planning to play for this seat, it was exceptionally foolish for Governor Kim Reynolds to set the election on the first Tuesday allowed under state law. She could have scheduled the vote for late August or September, when most Iowa State University students would be back in Ames.
All Reynolds accomplished by picking August 6 was reinforcing the narrative that she doesn't care about constituents who don't politically align with her. She could have shown her commitment to fair play by picking a day that would give more House district 46 residents a voice. Instead, she used the levers of power to depress Democratic turnout--for nothing.

Speaking of dumb gestures, the Iowa House Democrats sent not one, but two e-mails on July 12 trying to raise money for the House district 46 special election. The first was barely defensible, because when sent shortly after 1:00 pm, it was still within the realm of possibility that some other candidate would file nominating papers by the deadline.
However, the second fundraising blast hit at 6:05 pm and referenced "our efforts in helping elect Ross Wilburn on August 6," without noting that he will be the only candidate on the ballot.
Have a little faith in your base. Instead of trying to trick people into thinking they need to give money for this race, House Democrats could have said something like, "Great news! Ross Wilburn's on track to win," then made a pitch for helping to elect other Democrats to the legislature next year.
After Wilburn is sworn in, the House will have 53 Republicans and 47 Democrats. Wilburn will be one of five African Americans serving during the 2020 legislative session; the other 95 House members are white. Before Lisa Heddens resigned to accept an appointment to the Story County Board of Supervisors, women outnumbered men among the House Democrats. Once Wilburn takes office, the Democratic caucus will have 24 men and 23 women.
UPDATE: Some readers have pointed out that the Democratic Party already incurred expenses for printing and mailing absentee ballot request forms or literature designed to support Wilburn in the special election. Another speculated that the 6:05 pm mailing may have been scheduled earlier, before Democrats realized Wilburn would face no opponent.
The first e-mail sent of July 12 stated, "we're facing a big deadline tomorrow: we need $10,000 raised for the Special Election on August 6th so we can go to print with the materials we need for our canvassers on Monday." That indicates House Democrats had not already printed much of the materials. If true, they should scale back their plans for literature to save money.
Furthermore, rumors that Republicans wouldn't put a candidate forward were circulating around Ames two weeks ago. So Democrats should not have pre-ordered expensive mailings and should have realized as the deadline neared that this outcome was possible--even probable.
In any event, the fundraising e-mails could have been worded differently, to ask for money to recoup already sunk printing or mailing expenses, without concealing relevant information about this election from supporters.
LATER UPDATE: There's no excuse for the e-mail blast Iowa House Democrats sent on July 13 (images added below).
The sooner we have the resources we need the more doors we can knock, the more voters we can engage, and the more we can ensure that Ross Wilburn is in the strongest position possible to win on August 6th.

But we can't do it if we don't hit our fundraising goals. And right now we are JUST short of where we need to be. [...]

Winning back the House starts by defending this seat.
News flash: being the only candidate on the ballot is by definition "the strongest position possible to win."
Democrats need to stop trying to trick people into thinking Wilburn might lose if they don't give money today. Just be honest that House Democrats need funding to support staff for next year's Iowa House races, which will be critically important.
Appendix: Mass e-mails from Iowa House Democrats on July 12: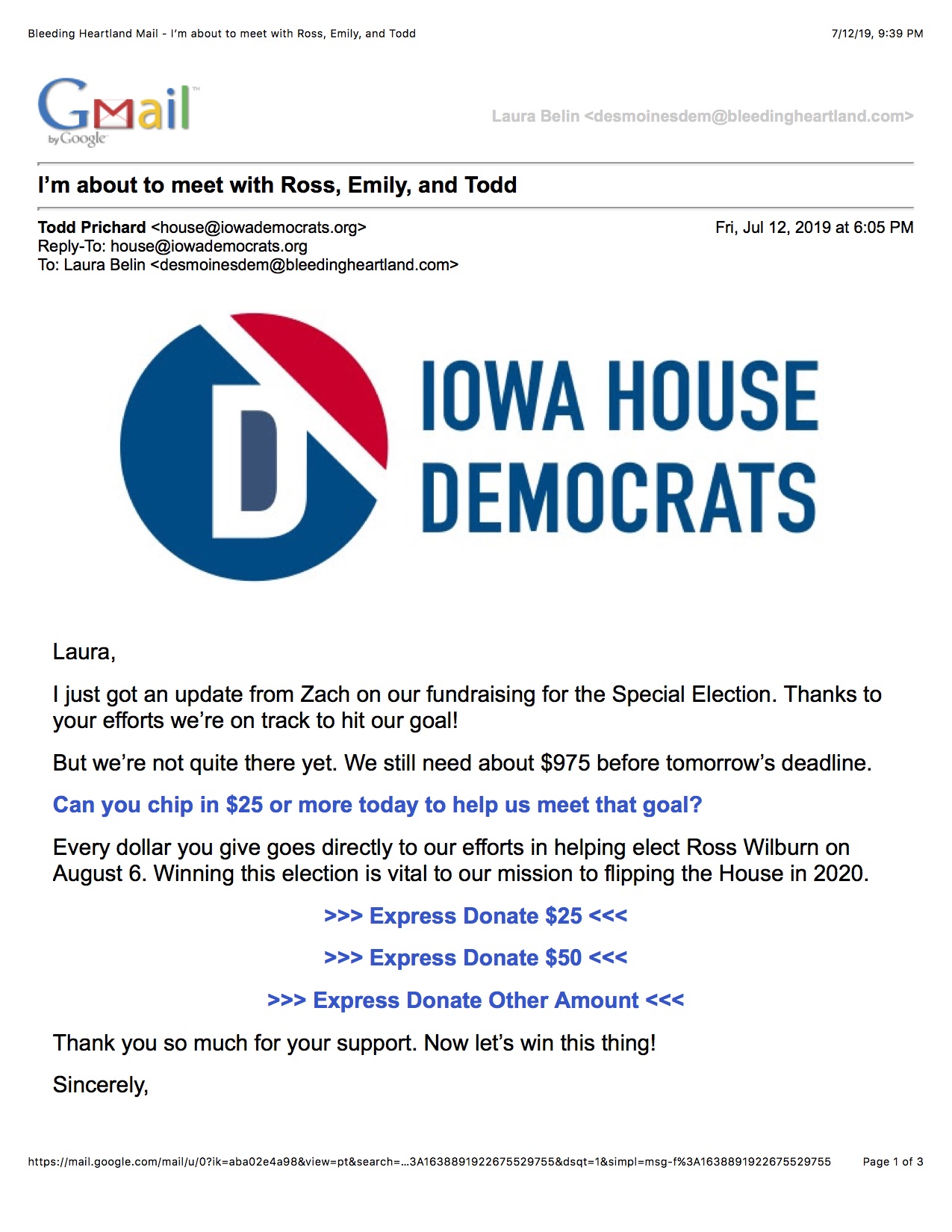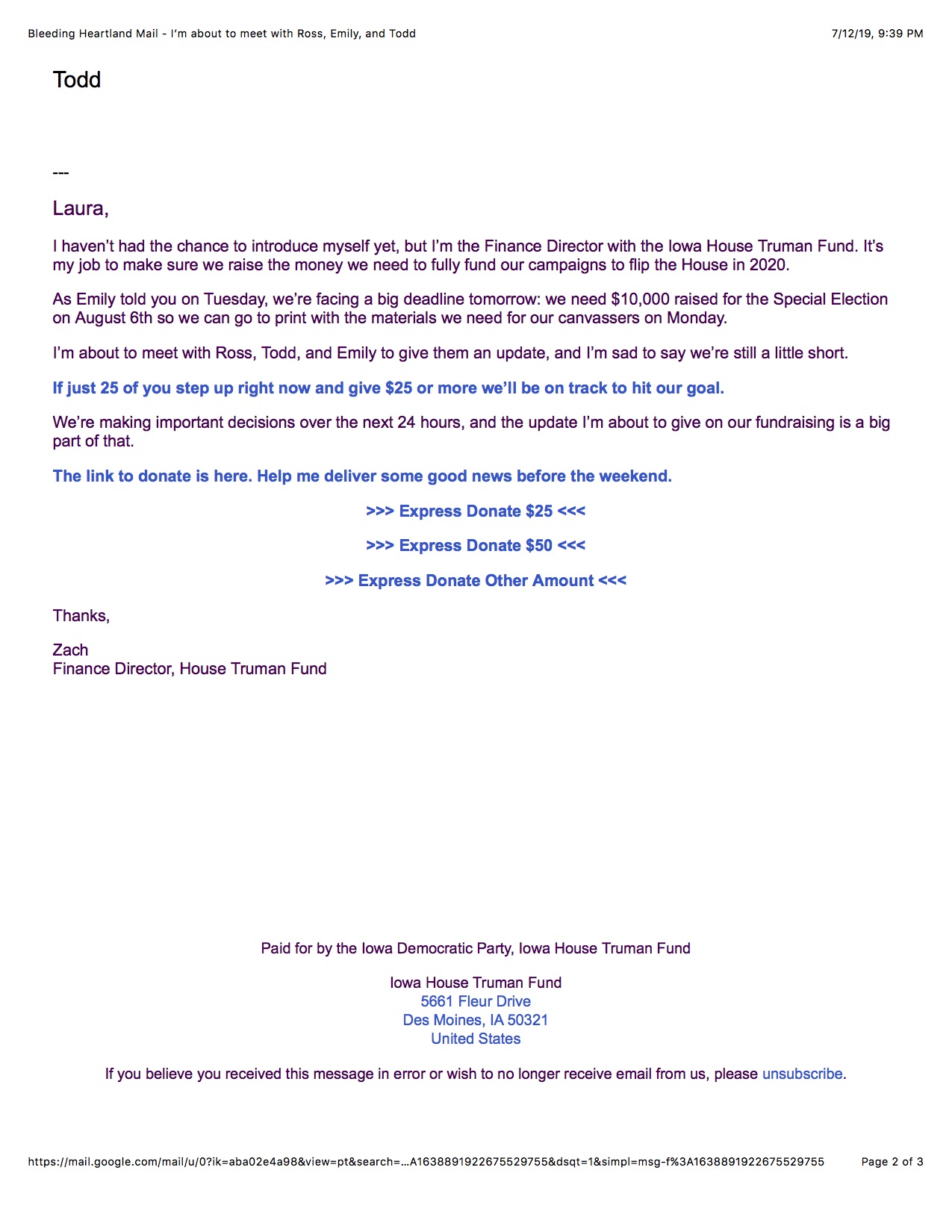 E-mail blast sent on July 13: