Ross Wilburn will be the Democratic candidate in the August 6 election to represent Iowa House district 46. Delegates to a special nominating convention in Ames on June 29 chose Wilburn on the second ballot.
The former Iowa City mayor, who has worked for Iowa State University Extension and Outreach since 2014, recently told Bleeding Heartland that if elected to the state House, he wants to address problems with privatized Medicaid, climate change, and gun violence. Other priorities for Wilburn are strengthening public school districts, restoring collective bargaining rights for public workers, and making Iowa more welcoming and inclusive for marginalized groups such as the LGBTQ community, people of color, veterans, and people with disabilities.

I am not aware of any announced Republican or Libertarian contenders for this seat, which opened up when longtime State Representative Lisa Heddens was appointed to the Story County supervisors. Neither the GOP nor Libertarians contested House district 46 in 2014, 2016, or 2018. Heddens defeated a Republican opponent by a comfortable margin in 2012. Candidates have until 5:00 pm on Friday, July 12 to submit nominating papers to the Iowa Secretary of State's office (see special election calendar enclosed below).
Although Governor Kim Reynolds scheduled this election for the earliest possible time, presumably to minimize participation by Iowa State University students, Wilburn will be heavily favored to win. The district is less competitive than it appears on paper, with 7,190 active registered Democrats, 5,138 Republicans, and 8,015 no-party voters as of June 1. Independents in this college town have increasingly favored Democratic candidates; Hillary Clinton gained 57 percent of the vote in 2016, and Fred Hubbell managed a 65 percent vote share in these precincts in 2018.
If House district 46 residents elect Wilburn on August 6, Democrats will continue to hold 47 Iowa House seats for the 2020 legislative session, while Republicans will hold 53. Wilburn would be among five African Americans serving in the state legislature; the others are Representatives Ako Abdul-Samad, Ruth Ann Gaines, Ras Smith, and Phyllis Thede.
Also if Wilburn is elected, men would outnumber women in the House Democratic caucus by 24 to 23. Following the 2018 election, 24 Democratic state representatives were women, and 22 were men, the first time in state history women comprised a majority in any Iowa legislative caucus. Representative Andy McKean brought the number of Democratic men in the House up to 23 when he switched parties in April.
I believe it would be healthy for the party to have a competitive Democratic primary in this House district next spring. This has nothing to do with Wilburn; I think highly of him, and so do all of my acquaintances who know him. I would say the same thing if Ames City Council member Amber Corrieri or Ames board member Jamet Colton had won at today's nominating convention. As a matter of principle, more than a few dozen party activists should decide who will represent some 30,000 Iowans living in this part of Ames after the 2020 election.
On a related note, 27 Latinx leaders from around Iowa had urged the delegates in House district 46 to select Colton, noting in a letter,
Although the Latinx community is Iowa's largest racial or ethnic minority, we have never had a Latina or Latino elected to the Iowa Legislature. There are more than 180,000 Latinos and Latinas in Iowa and the median age is thirteen years younger than the rest of the state. Our community is young and growing and prepared to be a larger part of the future of Iowa. But to make our voice heard we need representation and you can provide that. […]

We believe it is long past due to see a member of the Iowa Latinx community serving in the Legislature. Because of her track record of progressive leadership in the Ames community and her deep sense of service we feel that Jamet is someone we can count on and the best candidate for House District 46. We ask you to consider her many qualifications and the potential to make Iowa history with her selection.
I enclose below a district map, the special election calendar (taken from the Iowa Secretary of State's website), and the full text of the letter from Latinx leaders.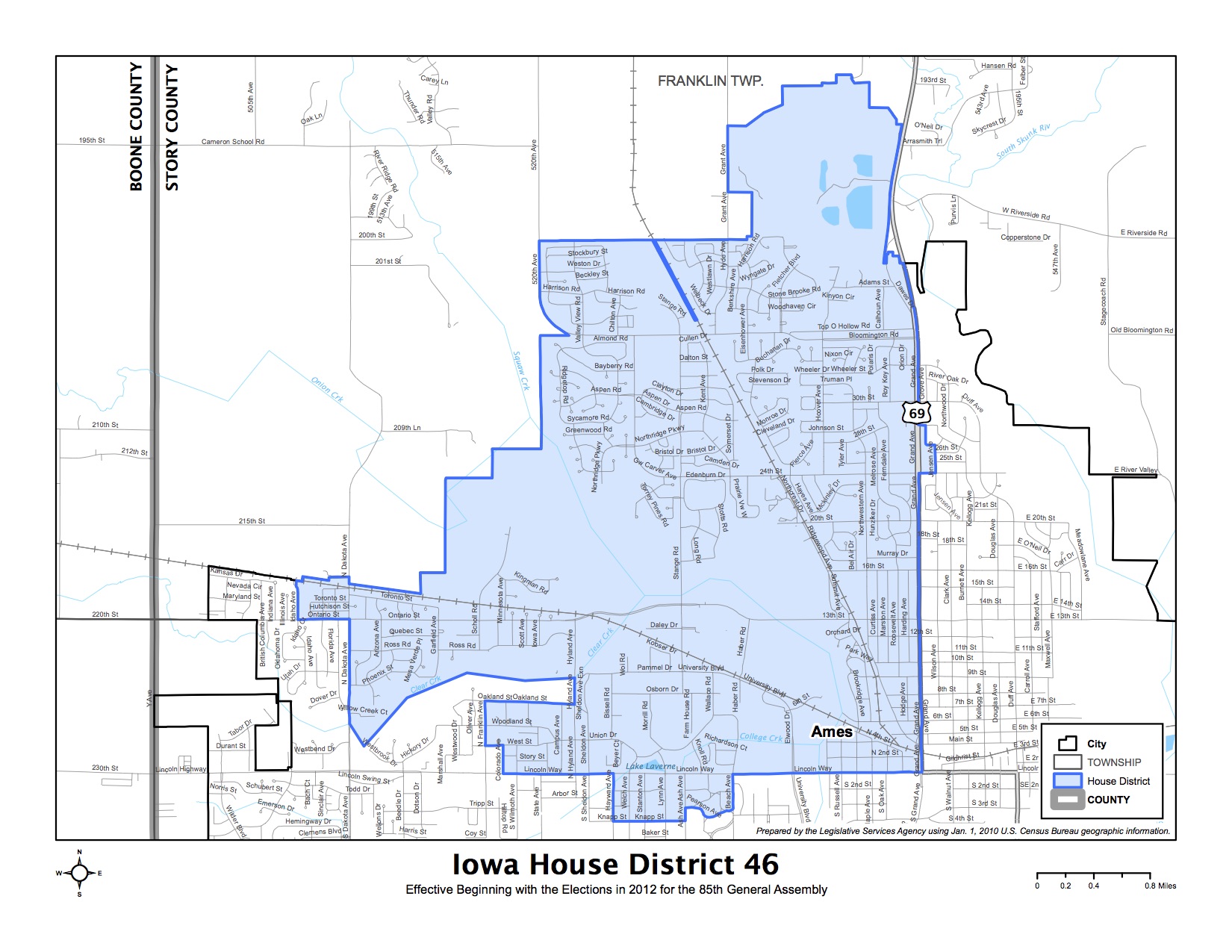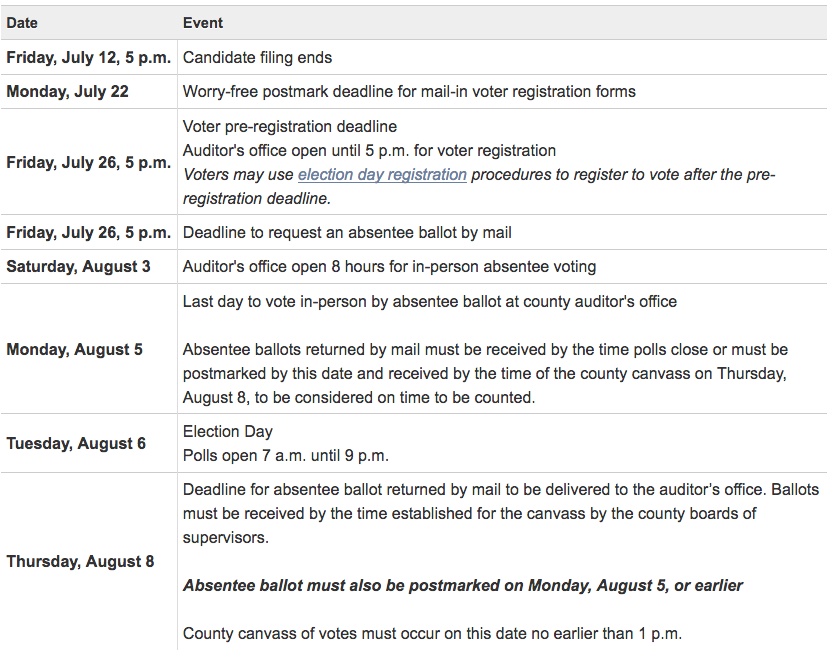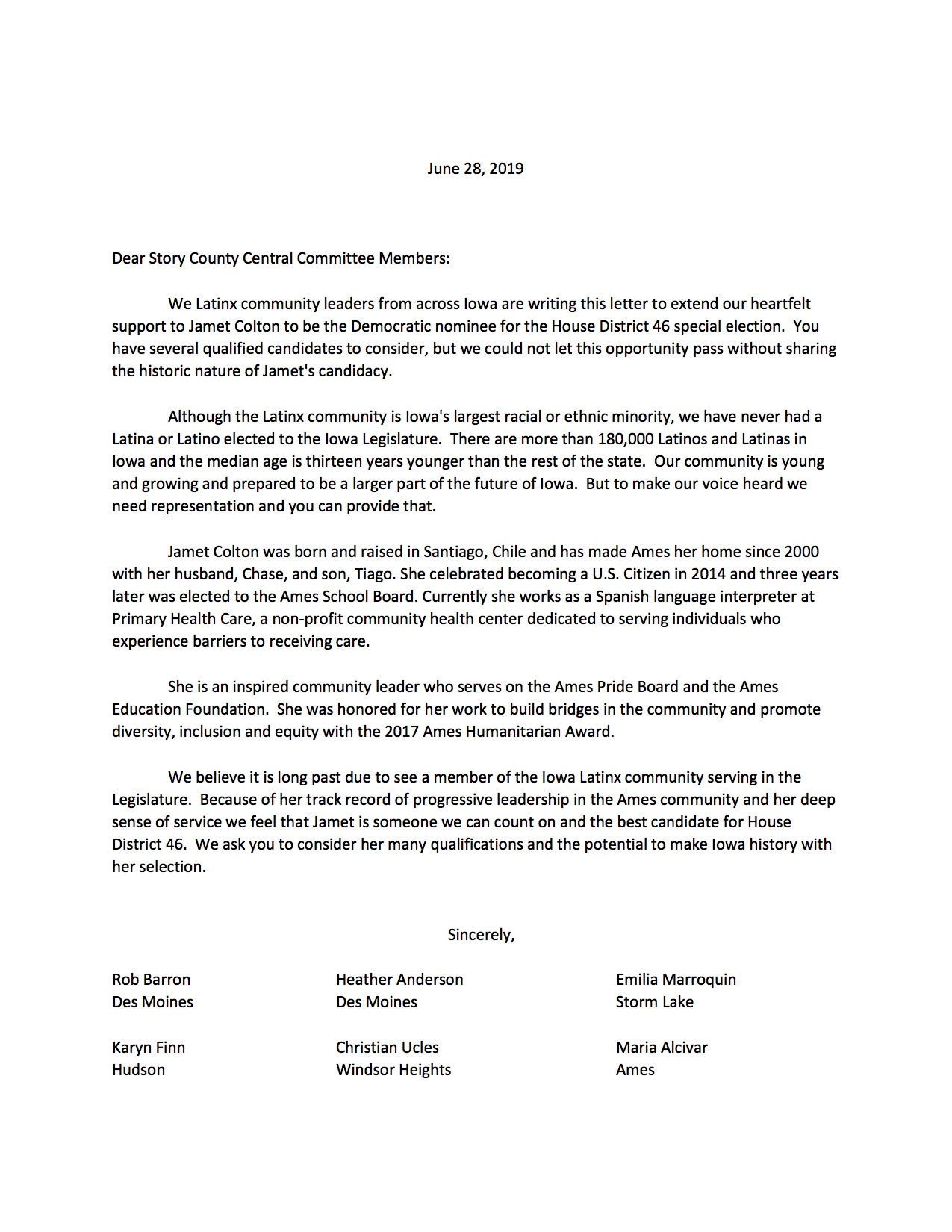 UPDATE: Beto O'Rourke became the first presidential candidate (to my knowledge) to formally endorse Wilburn on June 30.
.@BetoORourke with an official endorsement of @letsbeiowa in the HD-46 special election on August 6th!

Sign up here to volunteer for @iowahousedems and bring everybody into this election and democracy: https://t.co/6WoTh7DLRG pic.twitter.com/B6dUknwK0h

— Beto For IA (@BetoForIA) June 30, 2019